"It's old world colliding with new world" – meet our Maker of the Month
How can you make heritage skills relevant for a modern market? Ed Neale, founder of Brazilian tailoring brand Reunidas, is putting a new twist on luxury.
How can you make heritage skills relevant for a modern market? Ed Neale, founder of Brazilian tailoring brand Reunidas, is putting a new twist on luxury.
When launching a business, brand positioning is one of the most exciting parts of the journey. What do you align yourself with – and where's the most comfortable fit for your products? More and more, entrepreneurs are finding that the story their products tell is as important as the products themselves. And for Ed Neale, MOO customer and founder of luxury fashion brand Reunidas, his story is one that demands rapt attention.
Reunidas describes itself as 'rediscovering Brazilian tailoring'. And Brazil's role in creating high-end, tailored shirts like those Ed's in the process of introducing to the rest of the world, is a fascinating one. We caught up with Ed to find out more about his business, his background and 'Brand Brazil'.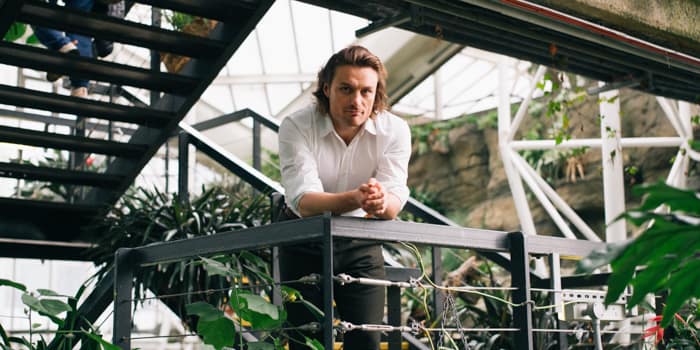 How did your journey take you to Brazil?
I was fascinated by Brazil. I knew there was a lot of interesting history. I knew it was an interesting country, and so aged 25 I decided to roll the dice and move to a small town in the south near Uruguay, where I enrolled at university to learn Portuguese. I always had this curiosity about why 'Brand Brazil' was so narrow. Why is this huge, fascinating place just about the beach and Samba?
Straight away, I remember looking at the opportunities. In Brazil, there are a lot of people importing stuff from abroad, but I very quickly started to see all these other skills that weren't talked about or championed. I started my own business to try and champion those things at a higher level.
The mid-century aesthetic is a strong part of your brand – where did that come from?
In the story of Brazilian tailoring, the 1950s was the golden age – they'd refined their craft and it had become unique. It was a kind of glamorous time – Sao Paulo and Rio were glamorous places.
Brazil's a large country with huge Italian and Japanese migrant communities, who contributed to this craft. This led to a fusion in design which is very on-trend – an aesthetic that's extremely coveted right now. The younger generation who are more aware are using this old branding in bars, coffee shops and restaurants in downtown Sao Paulo.
There's a word in Portuguese that means 'cannibalisation' – in design they say that the Brazilian style cannibalised the old world and out came this beautiful style of design, tailoring and furniture.
You see it in furniture too – it's the Brazilian style of curves, of being relaxed. You start to see that being applied to tailoring. They removed the old world's very rigid structure. We've moved away from this structure to make something that's more relaxed – the yoke at the back is curved to make our shirts more comfortable. The collar is an appropriation of the classic Brazilian collar. It has a curve to it – it follows the natural line. The button is lowered so when you wear it without a tie, it looks better. It's the traditional but adapted. Little tweaks, little twists that make it uniquely Brazilian, but still familiar.
When it comes to reaching the right audience, how do you find the right brands to collaborate with?
You're at a starting point where it's very positive. People want to visit Brazil, or they've been. But then it's about the education – people do want to understand more about what Brand Brazil is all about.
When you talk to people about Brazilian fashion, they're used to one thing – beachwear. I used to spend a lot of time banging my head against the wall with fashion brands but actually, the story is starting to make a lot more sense when you come at it through the design angle. The collaborations I'm doing now – events with furniture, with art – are like explanations. People get it straight away. As soon as you put the tailoring next to this wonderful mid-century furniture, the backgrounds and stories are the same.
So I'm working with Frescobol Carioca, who are high-end fashion but more casual, more beachy – because of course that's still relevant. It's a conduit to explain the heritage. It's starting to become cool again. It's about putting all of these things together and trying to educate people about the history. I love giving lectures about the history – but the product's got to be good too.
Why do you think the time is right for new countries to move into the luxury space?
I believe that over the next 50 years we're going to see a lot more brands coming from developing countries. And I think they're also going to be able to compete at a luxury level as well as a consumer level. The product is improving, the story is improving and history tells us that this is definitely going to happen in luxury goods too.
I refuse to believe in 50 years we'll be buying the same Italian brands. There will be space, however big or small it is, for new countries to emerge in this market and in my case Brazil has a very interesting proposition. It's a positive one, it has a lot of raw materials and a lot of history. And importantly for a Western consumer, you've got essentially crafts and culture that people are already familiar with and covet – like Italian and Japanese – but all with a twist. It's old world colliding with new world.
Get your own piece of Brazilian tailoring history at Reunidas
Keep in touch
Get design inspiration, business tips and special offers straight to your inbox with our MOOsletter, out every two weeks.
Sign me up!