Get a closer look at our new paper
All you could possibly want to know about Eco, our new 100% recycled paper.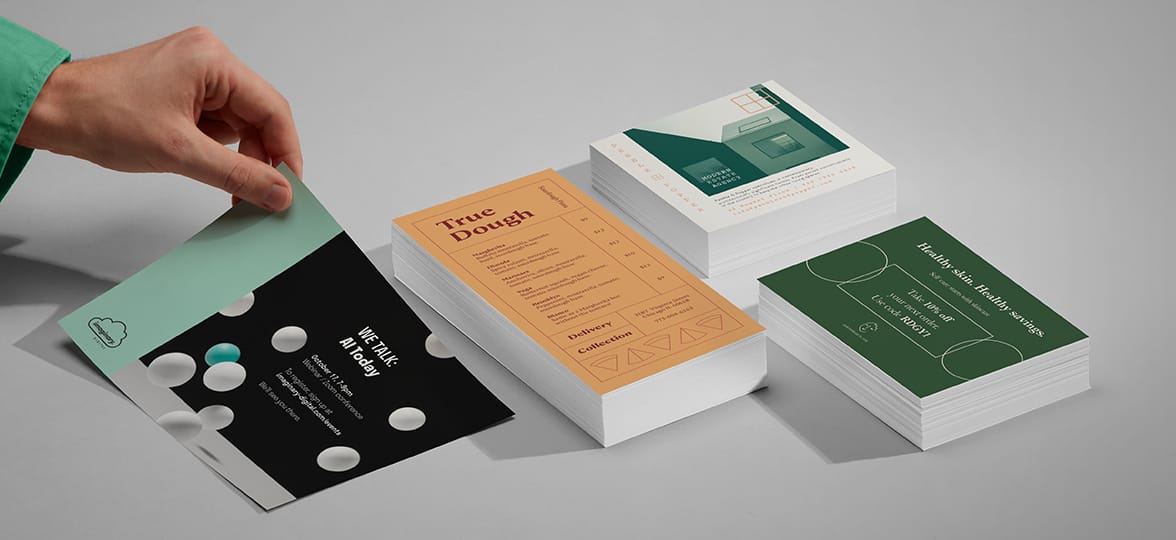 Where should we start when talking about Eco, our brand-new paper option? Let's go right to the beginning, in upstate New York.
Where's it made?
Generations of fine papermakers have honed their craft in Mohawk's family-owned New York mill. Today it's where you'll find Eco, our newest paper, being manufactured. Like every paper produced here, it carries the "Mohawk windpower" designation. This means all electricity used in the process is matched with Renewable Energy Credits (RECs) from Green-e-certified windpower projects.
That's just one way that Mohawk have gained a reputation for environmental leadership. They've also installed state-of-the-art steam plants to reduce air pollutants, and they play an active role in state sponsored conservation programs. Their values and commitments continue to inspire our own sustainability goals. 
But all that wouldn't be nearly as impressive, if the paper itself was "quite nice". Fortunately, that's not what Mohawk are about – as any fans of our Luxe range (another Mohawk paper) will already appreciate.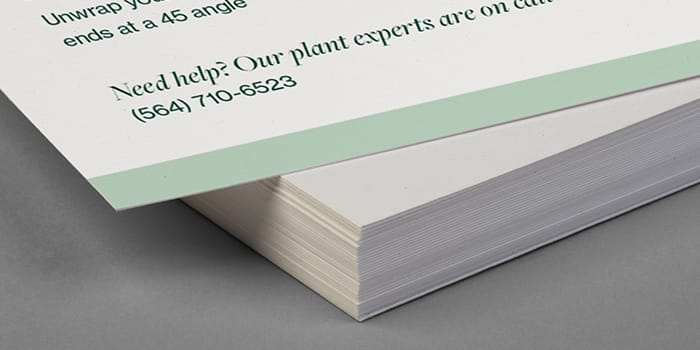 What does it look and feel like?
Many papers force people to make a choice. Want an environmentally friendly option? No problem, as long as you're willing to accept a slight drop in quality. Print quality your focus? Go for a coated paper. All about the feel and character? Uncoated is for you.
But with Eco, there is no compromise. It marries the tactile feel of uncoated paper with the sharp detail usually associated with coated paper. If you're not quite as paper nerdy as us, that translates to "feels great and prints great too". Plus, it does all this while also being environmentally friendly. Not only is it 100% recycled, it's also easy to recycle – thanks to the water-based inks we use for your designs.
All uncoated papers have what are known as hills and valleys. These occur naturally during the paper-making process and give it that lovely texture and uniqueness. Sometimes this can cause a decrease in print smoothness, though. But thanks to the technology used, you can expect smooth, even print quality with Eco. Every single time.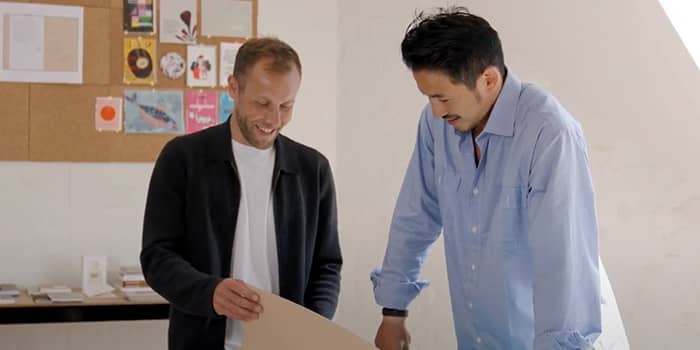 Here's Felix Ackermann, our Lead Product Designer to explain more: "It's been a real pleasure to work with paper-making experts like Mohawk who obsess about every detail and apply a high level of craftsmanship to everything they do. It really shows in our Eco offering – look close and you may notice some small speckles of recycled content, which add subtle character and can enhance your message even more. You can really see, but more importantly, feel it."
The feel of your Eco project will also depend on which weight of paper you choose. Eco comes in two stock weights – a lightweight Flyer, and a sturdier Postcard. They're both ideal for your large-scale events or promos. But the type of event, or how long you anticipate a user to hold onto your print, could sway your decision either way.
What sizes does it come in?
Eco is available in four of our most popular sizes. Square (4.72" x 4.72"), Standard (4" x 6"), Medium (5" x 7") and Rack (3.67" x 8.5").
This is hopefully good news for all of you who use those sizes. But it's also more good news for the environment. Using these particular sizes helps us to reduce waste in the manufacturing process, making the most of each and every sheet of paper that we use.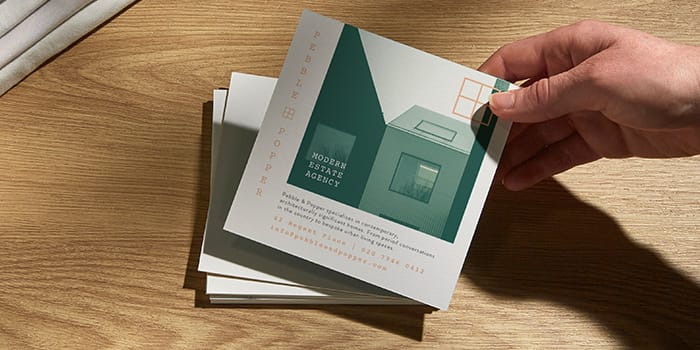 What should I use it for?
There's no right or wrong use for Eco. But we think the weightier Eco Postcard gives it a quality feel for product launches or hard-to-miss brand inserts. Whereas an easy-to-fold Eco Flyer may be more suited to your next tradeshow – ideal to share with (and impress) all those passing potential customers. And because of its environmental credentials, you don't have to worry about some of your Flyers inevitably ending up in a nearby trash can (sorry). It's a numbers game, and with great value bulk ordering, you'll have enough to reach the customers who do love what you're about.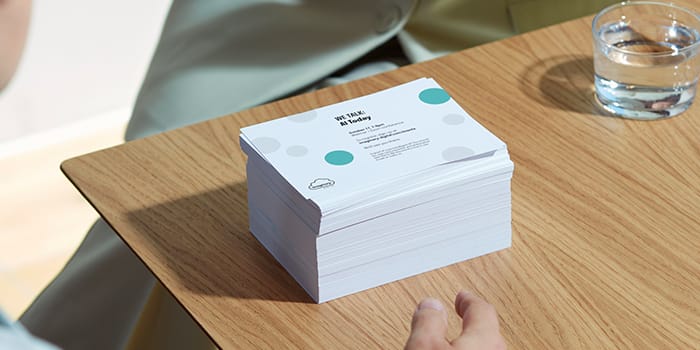 What do I do next?
Well, hopefully, you're now ready to give Eco a go. If you've got a MOO business plan already, it's available in our exclusive catalog.
If you haven't yet made the jump to one of our paid plans, it's easy (and a really useful way to get MOO expertise, support, and savings all year round). Just choose which one is right for you. Then our team will be on hand to help you bring it all to life. For more information, simply fill out the form below and we'll be in touch. 
Keep in touch
Get design inspiration, business tips and special offers straight to your inbox with our MOOsletter, out every two weeks.
Sign me up!