Corporate wellness gift ideas for employees: What you need to know
Whether you're an experienced gift-giving pro or are fairly new to the concept, it's easy to feel overwhelmed when hunting for the perfect wellness gift for bosses, coworkers, clients and prospects. This has only gotten more true as an increasing percentage of professionals conduct all or most of their work remotely.
It's challenging enough to find the right present for someone you spend five days a week with — let alone a peer you've never actually met in person. The good news is that all it takes is a little research and a bit of strategy. Afterward, you'll be well on your way to finding a gift that not only secures a permanent place on their desk, but also inspires healthy habits in and out of the workplace.
With all of that in mind, let's break down some best practices for corporate giving and how the right gift can foster corporate wellness across your network.
The rise of wellness products and programs
Corporate wellness programs have been gaining some serious traction over the past few years. From the ability to positively impact peers' mental health to fostering stronger connections among coworkers and clients alike, a well-thought-out health initiative can make a major difference.
Although the concept of corporate wellness may seem like a recent development, the idea has actually been around for over 70 years. As Corporate Wellness Magazine writes, companies such as Texas Instruments, Rockwell and Xerox had all instituted employee fitness programs by the 1950s. As leaders became more aware of the negative impact stress had on workers, these early programs were created in an effort to help employees address work-life balance.
However, we should keep in mind that we've come a long way in just a few decade's time. We all know that health comes in many forms — physical, social, mental, you name it. Just some examples of health-focused movements you may see out in the wild today include:
Taking clients or employees out to exercise classes as a way to get out of the office and stay moving.

Offering on-site lessons ranging from different physical activities, crafting, and professional development courses.

Creating fun, competitive challenges to hit a certain amount of steps per day.
And while the idea of promoting healthy behaviours among employees may not be an entirely new one, COVID-19 and its global impact redefined the market in a major way.
The corporate wellness market is estimated to reach over $87 billion by 2026
One study from ReportLinker has found that the corporate wellness market is estimated to reach over $87 billion by 2026. Looking toward the future, the mental and physical wellness of business professionals will be viewed as a must-have for corporate strength, stability, sustainability and growth. Additionally, today's health programs are no longer just limited to coworkers — companies across every industry have begun expanding these initiatives to clients as well. It's a great way to demonstrate a company's values to both current and would-be customers. Not only does your company talk the talk, but you can walk the walk.
As leaders around the world work to adjust their corporate wellness plans to match the needs of their network, pulling inspiration from these concepts across workplace gifting initiatives will similarly become a top priority.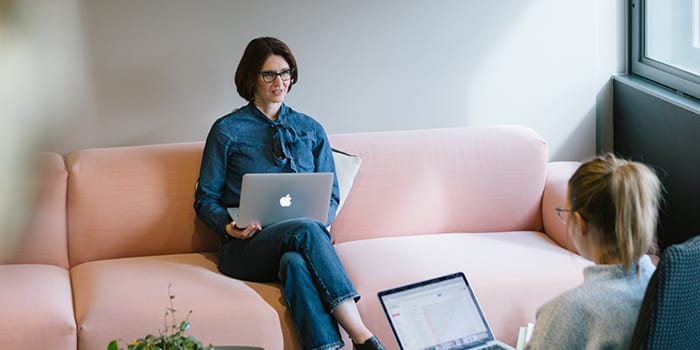 The benefits of corporate wellness gifts
While offering a comprehensive health program will help organizations establish a powerful competitive advantage down the line, there are several benefits already being associated with these initiatives and their related gifts:
Increase productivity:

Across the board, organizations that incorporate health-based values into day-to-day operations have seen lower rates of absenteeism and a

higher degree of productivity

, as explained by the SHRM.

Boost engagement:

When employees are given the tools to manage their long-term health, it becomes far easier to achieve a healthy work-life balance and avoid

creative burnout

.

Reinforce strong corporate values:

For clients and employees alike, having a tangible reminder of your company's values will serve as a strong demonstration of your culture and your commitment to your peers.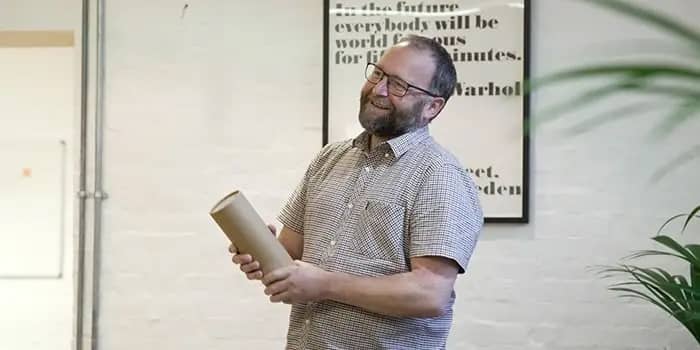 In addition to these benefits, leaders who offer health-focused gifts to their customers and clients are also positioned to attract and retain some of the world's top talent. In MetLife's annual U.S. Employee Benefit Trends Study 2021, the company identified the top three factors that will affect the workplace of the future:
Employee well-being (74%).




The ability for employees to work remotely (71%).




Employee mental health,

stress

and burnout (70%).
Alongside these considerations, more than 70% of professionals rank work-life management offerings among their top five priorities if they were to switch companies. And while almost every organization has found a way to offer employees the option to work remotely in some capacity, creating a wellness program and corresponding gifts that tick all of these boxes remains pretty elusive.
70% of professionals rank work-life management offerings among their top five priorities
Good thing we're about to change that together.
Developing your own corporate wellness program gifts
As you begin to consider which gifts make the most sense for your company, let's start from square one: your mission statement and values.
Your company culture needs to be innately aligned with wellness in order to present a genuine and organic message that both employees and clients can relate to. Otherwise, your gift can come off as confusing or, in the worst-case scenario, inauthentic.
To ensure your gifting program aligns with your organization-wide message, keep these tips in mind:
Listen and learn:

One of the most valuable resources during this time will be your own employees. Create feedback forms to better understand what initiatives they're interested in and the gifts that they would appreciate receiving.



Do your research:

The goal here is to find a gift that will be used for years to come. What you don't want to do is give your employees — or your customers — something that breaks or is no longer useful in a month's time. Take your time finding the right vendor and feel free to ask for samples of their previous work. The best gifts will last for years to come, which will also help you cut down on potential waste.



Start small:

If this is your first gifting rodeo, it may be wise to start within your own company and gradually work your way to external stakeholders. That way, you can apply any lessons you learn along the way to future iterations of your gifts.
As you begin to better understand your employees' interests and priorities when it comes to wellness, it will become much easier to find the right gift.
Picking the perfect gift: Top five ideas
When it comes to all things corporate wellness, remember that the industry is only set to keep on growing. However, that's great news for you. With that expansion comes an almost infinite amount of options for you to choose from as you select presents for your peers.
To narrow down your search — and save you some serious time — let's go over our top five favourite gift ideas:
1. Water Bottles
It can be tricky to find that perfect gift that works for everyone on your team. We recommend starting with something that's a must-have item for any desk: a reusable Water Bottle.
When your team members and clients have a reusable water bottle, it'll become much easier for them to drink water in any scenario, whether they're running errands, at home or taking time off to travel. Wherever they are, they have a little piece of your brand alongside them. Plus, it's far better for the environment than relying on single-use plastic water bottles. Think of it as corporate wellness meets sustainability.
And if you're wondering about the cost of ordering lots of water bottles, think about buying from somewhere that offers corporate pricing. Like MOO Business Services, which offers print and design support for businesses of all different shapes and sizes. But more on that later.

2. Standing desk
Whether your employees are working in the office or at home, sitting for eight hours a day can quickly become tedious — not to mention the long-term health risks associated with these periods of inactivity. A convertible standing desk can be a great way to get on your feet while keeping up with the work at hand.
When organizations across the world adjusted to a remote workplace, many were left making do with the "home offices" they already had which often consisted of dining room chairs, kitchen counters or wherever a surface and an outlet were available. Even if you decide to offer a non-standing desk for their home or the option to select their own, making them more comfortable will help them stay focused in a not-so-traditional work environment.
While not every employee may be interested in using a standing desk, those who are will definitely appreciate the gesture — and we can all stand to benefit from a gift that helps reduce back pain after sitting all day long.
3. A wellness experience
A great gift doesn't always have to be tangible. Another way to bring healthy living to the office — or give employees a way to get moving outside of the workplace — is by offering a wellness experience!
Group classes:

It can be pretty intimidating to step into your first

fitness

class. Offering employee-only lessons can break down that barrier and introduce your peers to new ways to stay active.

Local, health-related wellness events:

Look no further than your own community as a great source of inspiration, whether it's an annual 5K or a weekly farmer's market. Something as simple as a carpool list or giving employees time during the day to participate can make all the difference.

Employee sport or recreation teams:

Nothing fosters some healthy competition quite like an adult rec league. Send out a poll of which sports employees would be interested in and battle it out on the field. Teams can compete for bragging rights or a special prize.



If you're feeling stumped, the best place to find ideas for your wellness experience is your very own team. Send out a feedback form asking for ideas that they'd be interested in, and maybe more importantly, those they would pass on it.
4. Headphones
Take one look around the gym and you'll find nearly every member is using the same piece of equipment: headphones. One of the biggest benefits of opting for headphones is that they can be used in and out of the workplace, ensuring that recipients get even more use out of them. In fact, for many professionals, earbuds are just as important in the office as they are in the gym, helping them to really zero in on the project they're working on.
As you select the right headphones for your wellness gift, look for Bluetooth-enabled options that will help you avoid any potential connectivity issues across different types of phones and computers.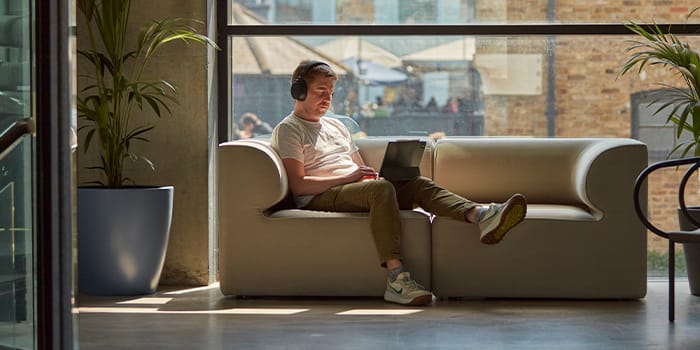 5. Planners
Planners are a thoughtful gift that goes beyond scheduling meetings and jotting down to-do lists. They give your clients and employees a space to capture ideas and express themselves – a space to think. And they can open that Planner again and again. Take our Perpetual Planner. It's Swiss-bound so it opens perfectly flat, and it's dateless – that means you can buy it at any time in the year. It also comes with a Calendar Clip, that helps keep track of the days. And best of all, you can customize it how you like – so they'll be thinking of you every time they open it.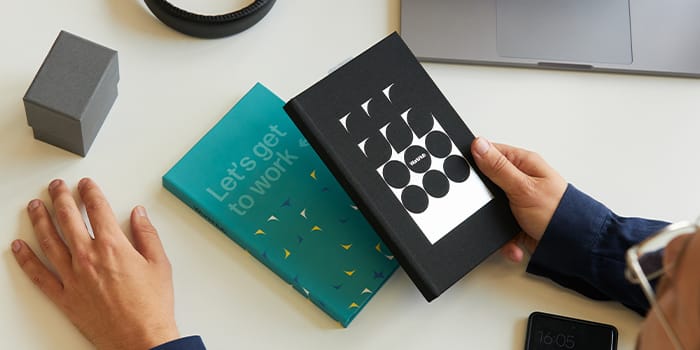 6. Wellness gift baskets
Still can't pick just one idea? Create a gift basket.
A basket of different products can serve as a great way to kick off your peers' health journey while also making for a great presentation. Feel free to mix and match smaller wellness gifts, but always remember to prioritize quality over quantity. Spend some time considering each item you'd like to put in your basket. Rather than picking a random selection of gifts with no real rhyme or reason, explain your approach. You can even include a card that thanks employees or clients while also explaining the theme of the basket's connection to your company's values.
The secret to fostering connections through gifting is to ensure the presents you select will last over time and be something your recipients think of fondly. If you can't see yourself using the item for over a month, it's probably a better idea to select a different option.
As you begin creating your very own line of wellness-inspired gifts, look no further than MOO Business Services. There are three business plans to choose from. And each gives you access to our full catalog of branded products, easy customization and printing, support from our lovely team, and special pricing. In a nutshell, everything you need to get your new wellness initiatives started.
Want to know more about MOO Business Services? Fill out the form below and we'll be in touch.
Keep in touch
Get design inspiration, business tips and special offers straight to your inbox with our MOOsletter, out every two weeks.
Sign me up!