How to welcome a new employee like a pro: 7 tips
Discover creative, practical tips for onboarding new staff and creating engaged employees.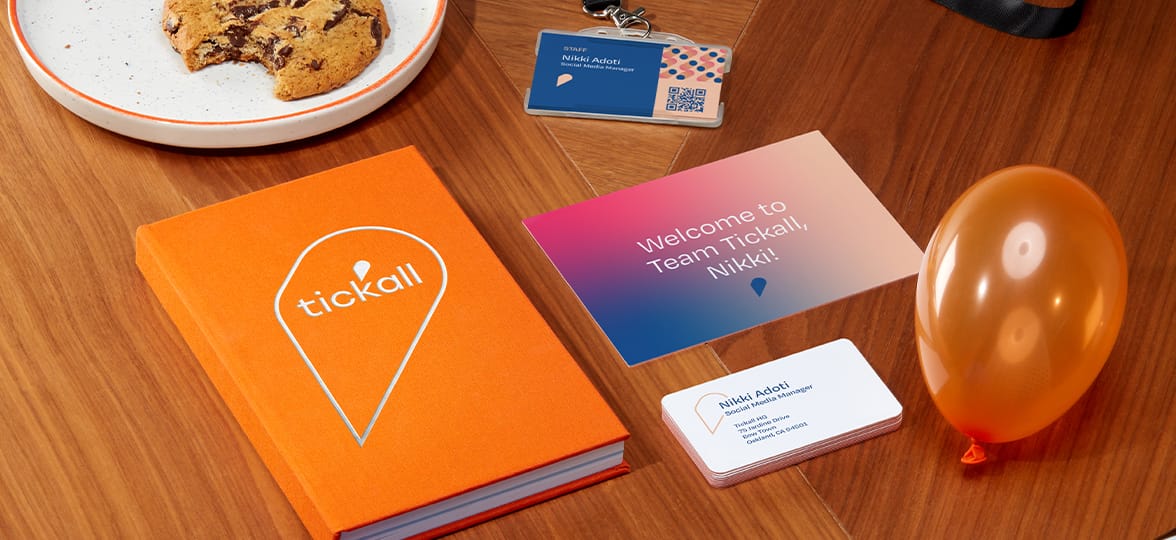 Joining a new company can feel like the first day of school. Not knowing the WiFi password, or where the bathroom is – we've all been there. To banish those new employee jitters, it's easy to offer a helping hand and make it as easy as possible for new employees to join your business.
What is onboarding and why does it matter?
It's more important than ever to make sure staff are happy. If they're excited, personally invested and feel valued at work, they're more likely to stay longer and perform better. It can also help you to build trust with them.
In every employee experience, there are certain points that are more memorable and meaningful than others. These engagement make-or-break points are known as "moments that matter" – and you guessed it – onboarding is one of them.
By bringing new employees on board thoughtfully, you set the stage for an engaged, confident and fulfilled workforce. And this in turn helps your employees care about your company – win-win! It's all part of what makes a great company culture.
Here are 7 tips to help onboard new hires for a positive company culture…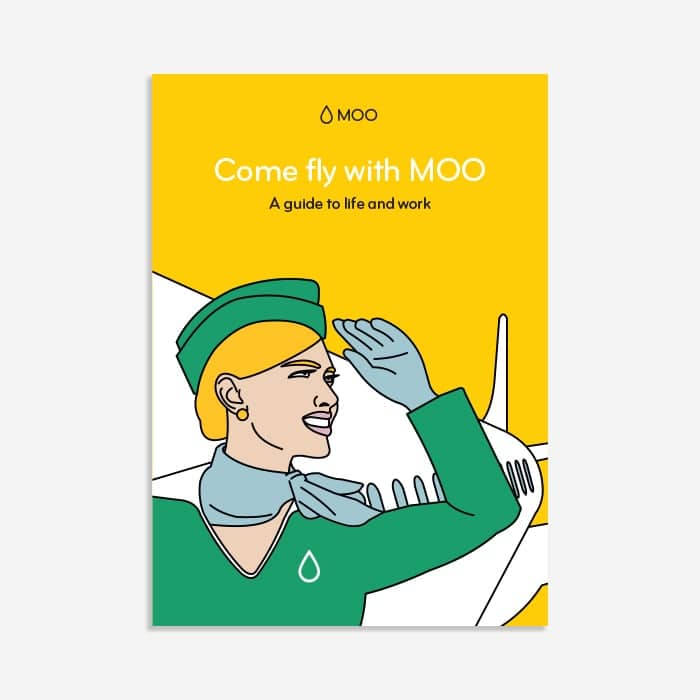 1) Break out the binders
No doubt, your employee will have a load of questions. But they might not come up at the most convenient times. That's why a Binder filled with helpful info about the office is a crucial part of onboarding.
Fill it with handy reference material about their job role and the company in general to show you care that they get comfortable.
A killer Binder for your company should include:
An office map printed on a Flyer that highlights important locations – like the kitchen, conference room – and the best vending machines when some afternoon cravings are calling.
Postcards with photos of people in their department, with some fun facts about them. This makes remembering names so much easier, and helps spark conversations between colleagues.
A calendar marked with company outings and meetings (gotta know when the office happy hour is!).
A map of fun things to do in the area — comedy clubs, great restaurants, date night bars and pub quizzes.
Your mission statement, printed on your company Letterhead (check out our Letterhead design tips).
A personalized welcome letter.
2) Get your swag on
Nothing says welcome like customized gifts — so make it rain. Welcome your employees like the VIP they are with company Water Bottles, Planners, Stickers and Business Cards –whatever shows them what your brand's all about.
As well as being generous (and giving your new hires a cast-iron excuse to brag to their friends) merch is a smart way to get your new hires familiar with the company culture. They'll be more in tune with your brand and values, feeling like they're a part of the company from day one.
Design-focused brand? Throw in some items that show new employees that your company takes great design seriously (like cool Notecards).
3) Help them capture new knowledge
Starting work at a new place is one of the steepest learning curves there is. Your new hires' brains will be buzzing with facts, impressions and ideas during their first few weeks. That's why it's important to give them the tools to process, capture and sort that deluge of new information.
A neat way to do this is with a custom Hardcover Notebook. Not only is a branded Notebook a pretty sweet addition to your branded swag, it's also the perfect place for your new employee to write down what they're learning – think of it as a place exclusively for onboarding knowledge.
After carrying it with them during their first weeks, they'll be able to look back at it once they've settled in and reflect on how far they've come.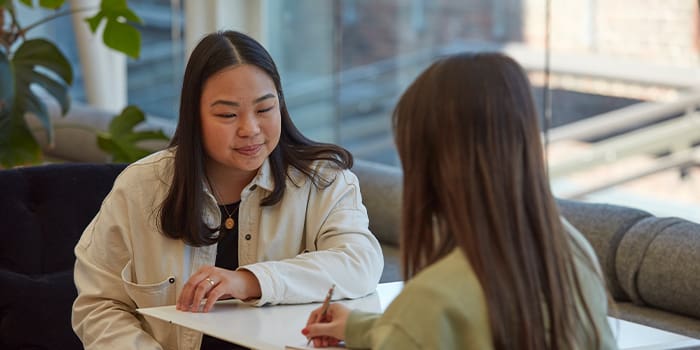 4) Make introductions
One of the scariest parts of being the new person is getting to know new co-workers. Make this process a little easier for your recent hire by doing some introductions.
One way to do this is to ask your new hire to write a little about themselves, then send it to you before their first day. Depending on your company culture, have them give a selection of fun facts and a reason why they're excited to be at the company.
Then, before your new employee arrives, pass out name tags for everyone in your team, and send them their new teammate's intro on company Letterhead.
As a result, people will know to expect a different face, and the new hire's bio can be a handy source of icebreakers. Plus the awkward exchange of "What's your name again?" can be avoided.
As an alternative to name tags, why not draw out or design up a desk map for your new employees? For each desk, you could add the person's name and job title, plus handy information like "ask Duncan about any stationery requests" or "Hannah is the Excel wizard of floor 3".
5) Post passwords
Hang Flyers in the office wherever there might be some confusion about passwords or access codes. After all, the new hire can't carry a binder everywhere. Handy information includes: Wi-Fi passwords, conference room logins, bathroom codes and printer instructions.
Bonus: Post your brand manifesto big and bold in common areas, too, so your company values are loud and clear.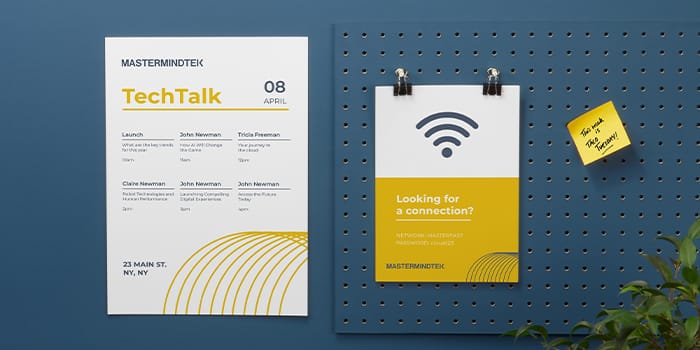 6) Use your mentors
No one's ever too old for the buddy system. By pairing new hires with more established employees, you ensure a smoother transition into the company. After all, onboarding doesn't end just because the first day is (finally) over. Mentors can answer your newbie's questions as they settle in over the next few months, as well as introduce them to more people in the office.
This relationship is especially helpful if your new employee's recently moved to the area, and is still forming their network of friends. A mentor can extend invitations to parties, suggest fun outings in the area, and recommend good furniture places to kit out their new home.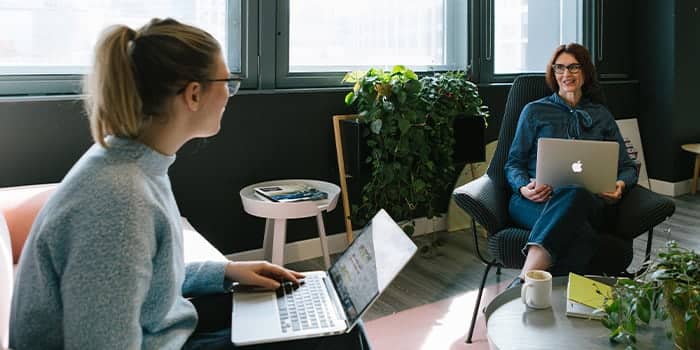 7) Get feedback
Want to know if your new hires are settling in well? Easy – just ask. Onboarding surveys are a useful tool for finding out how your employees really feel, as they help avoid honest views being clouded by the instinct for politeness or positivity with a new manager.
Use onboarding surveys to check in with new staff about how they've experienced their first days with you, and how the company came across during hiring, including job ads, interviews, and the application process. You can then use their feedback to help make your onboarding process even better.
By following these steps, your new employees will feel welcome at your company, be more likely to be loyal, understand your culture and know where the bathroom is. Onboarding complete.
Keep in touch
Get design inspiration, business tips and special offers straight to your inbox with our MOOsletter, out every two weeks.
Sign me up!