Restaurant marketing strategies designed to help you bounce back
As you start creating your new restaurant marketing plan, here are some important ideas to remember.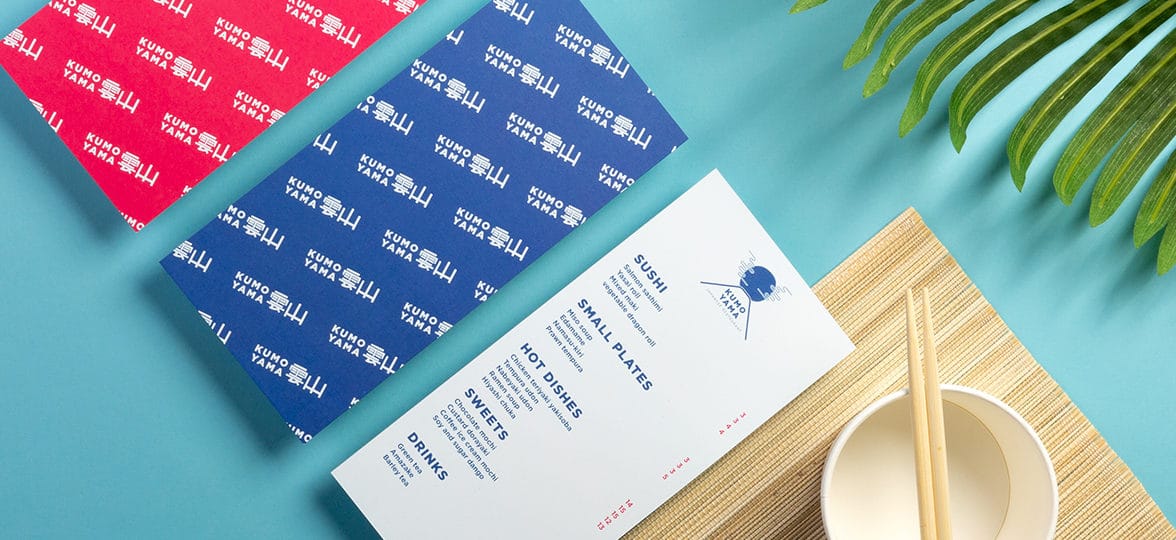 For businesses in the restaurant industry, 2020 presented a year like no other. Virtually overnight, sales took a dive as owners had to close their doors amid safety concerns and ever-changing restrictions.
Faced with these challenges, restaurants proved exactly how resilient they could be. Menu items were altered for takeout and delivery, meal kit options became available across the country and heat lamps for outdoor dining became more popular than ever. However, even with these changes, far too many local businesses and beloved neighborhood establishments were forced to permanently close their doors.
Now, as the country finally seems to be turning a corner, small-business owners are looking toward a far brighter future — the National Restaurant Association has predicted a 10.2% leap in industry wide sales for 2021. As guests are ready and willing to return to their favorite local restaurants, revamping your marketing strategy can help put your establishment back on the map.
How a restaurant marketing strategy revamp can help you bounce back
While your food, ambiance and quality of service will ultimately speak for themselves, far too many eateries go underappreciated because they don't put enough emphasis on restaurant marketing.  
In one TripAdvisor study, the majority of restaurateurs surveyed said they spend 10% or less of their time on marketing their business. But what's even more interesting is that restaurant owners want to be doing more: 71% globally believe they need to up their marketing efforts.
So, let's change that.
Whether you added some new safety precautions, changed up your menu or altered the layout of your restaurant itself, your business has probably changed quite a bit in the past year. A new marketing strategy is a great way to put your best foot forward, introduce yourself to potential new customers and bring past visitors back into the fold. The most successful restaurant marketing ideas take advantage of technology, create new buzz and focus on converting a potential customer into the kind of regular whose name and order you remember.
As you start creating your restaurant marketing plan, here are some important ideas to remember:
Focus on creating regulars
While a surge in new interest is always great to see, repeat customers are the ultimate key to longevity and steady success. 
Stop us if you've heard this one before: It costs as much as five times more to attract a new customer than it does to keep an old one. Sound familiar? The statistic was first seen in the Harvard Business Review in 2000, and two decades later, it's the prevailing number when it comes to all things customer-related. And, although you've likely run into that number before, there's another side of it that many fail to mention: Increasing customer retention by just 5% can increase profits by 25 to 95%.
Not only are your regulars great for business (you probably counted on a few familiar faces this past year), they're also far more likely to recommend your entrees to their own friends and family. In an industry where word-of-mouth referrals still have an outsized impact on sales, repeat customers offer the kind of social proof that money just can't buy.
One of the best ways to keep diners satisfied and coming back is with a loyalty program. These programs reward a loyal customer who keeps coming back with a free drink, appetizer or even full meal. Try using custom-made Loyalty Cards that make it easy for you to track visits with a mark or a hole punch, for example.
In addition to creating your very own loyalty program, experiment with the following tactics to generate a following of regulars:
Take on a customer-centric approach:

Think about how you're currently handling dining services. Are the menus easy to read? Can your guests find the answer to any question they may have on your restaurant website? Does your dining room's layout make sense to diners?



Streamline your employee onboarding:

Just one bad experience could turn off a would-be regular. Ensure onboarding includes a shadowing period that gives new staff the opportunity to see how your best employees interact with customers.



Personalize your marketing:

If you already have a list with customers' email addresses, you're ahead of the game. Sending birthday coupons or highlighting an event that specific guests will be interested in (such as a happy hour special or football watch party) can add a more personal touch to otherwise generic outreach.
Not quite sure where to start? The secret ingredient to the recipe for success might just be hiding directly in front of you: your existing customers.
As you build out your strategy, think about the regulars you already have. As one restaurant owner told Eater.com, "Regulars are an important part of not just our survival, but also of the culture of our restaurant. They help create our atmosphere, setting the tone for the menu, service and the experience."
You already have a great restaurant. All you have to do now is figure out which aspects of your unique dining experience help bring back customers again and again. 
Just one word of caution: Don't feel like you have to totally overhaul your current operations. Instead, try testing just one or two of these tactics to begin with. Over time, you'll be sure to see the regulars streaming in.
Up the social media ante
One of the key ways restaurants are connecting with customers both new and old is social media marketing. With the potential for high ROI, it's no wonder more than 90% of brands have at least two social media marketing channels, according to Brandwatch.
Even prior to the pandemic, customers were placing a heavy emphasis on restaurants' social media game. In 2019, 77% of customers reported that they always check out a restaurant's website before paying them a visit or even placing a takeout or delivery order, as found by marketing group MGH. That same study also found that nearly 70% of guests will look for a different restaurant if they aren't impressed by your website, ouch. 
Throughout each of your posts, try to establish a strong restaurant brand identity that stands out from the competition and lets customers know what you value. Let's say you run a Texas-style BBQ joint. Your posts could play up the tradition and authenticity of your recipes by detailing the slow-cooking process for followers. Some other ideas for social media posts include:
Recipes

: While you don't have to post the ingredients in your secret sauce, you certainly can share some of your more simple recipes with your followers. Another option is to include the story behind how you created a certain dish.

Videos: Give your recipe posts a little more "oomph" by sharing a video of you or your head chef walking through each step in your own kitchen. Plus, if you're not comfortable publicizing your recipes, just a video does the trick too.
Community events:

Think about it — how many local events, fundraisers or sporting teams do you sponsor every year? Posting about it on social media platform not only generates additional support for your neighbors, but it can also help solidify your position as a member of your community.
In addition to showing off some mouthwatering entrees, you can also use your posts to get important updates out to your followers, such as your current COVID-19 safety guidelines or any changes to your hours. Not only will this help put potential customers at ease for their dining experience, but it also ensures that patrons know what's expected of them when they arrive. 
While it's important to focus on boosting your own social media presence, you should also find ways to make it easy for your customers to post about you. Encourage your guests to geotag their posts with your restaurant's location.
One way to do this is to develop an original hashtag that social media-savvy customers can use to tag their pictures of your food. For example, a group of restaurants chains recently asked fans to tag pictures of their food with #thegreatamericantakeout — and quickly got the hashtag trending. You can even offer discounts or free meals for the most popular customer-generated posts.
Campaigns like these build brand enthusiasm and let a person's followers see exactly where they ordered that colorful cocktail or delectable mu shu pork. Think of it as free influencer marketing.
New plan, new menu
Marketing doesn't end when a new customer walks through the door. Your Menu isn't just a list of your offerings but another chance to show off your brand identity. A fresh new menu design that creatively incorporates all of your logos, fonts and color schemes can show guests old and new alike that you're ready for your bounce back.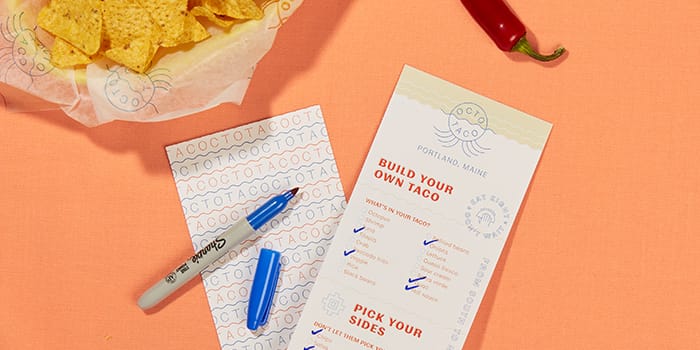 Think of your own menu as the best advertisement for your restaurant. It should serve as a place where you can show off the type of cuisine you serve, highlight specials that help you stand out from similar local joints and guide your guests to the dish they're craving — even if they don't know it yet.
When it comes to refreshing your menu, keep the following tips in mind:
Less is more:

It can be tempting to fill your menu with high-definition pictures of all your delicious food options, but that will only distract your guests — and drain your printing budget. Keep things on the simpler side and stick with one or two images a page.



Play with illustration:

Speaking of pictures, sometimes an illustration can be far more impactful when it comes to boosting the overall aesthetic of your menu. Plus, if you decide to change up the way you plate a certain dish, you don't need to worry about updating its photo.



Use logical sections:

If you have an especially large menu, be sure to split up your menu items into clear sections such as appetizers, salads, entrees and desserts.



Once you've designed your menu, be sure to share it online so any guests who are coming to your restaurant for the very first time are able to get an idea of the different types of food you offer.
In addition to overhauling the design of your menu, consider making some adjustments that make your menu accessible online. 
Placing a QR code on your menu that links to its online counterpart, for example, allows patrons a no-touch way to order and pay right on their phones. According to Restaurant Business Magazine, the QR code trend is now "everywhere," especially for smoothly handling takeout orders. It's a touch-free and more hygienic option that's also convenient for customers and servers alike. 
It's important to keep in mind that QR codes aren't just a passing phase, however. Tech experts foresee the food and beverage industry getting a lot more use out of them in the years to come, with just some potential applications including:
Feedback:

Added a new dish to your menu? Changed up the layout of your restaurant? Or, are you just looking to hear what your customers have to say? Creating an anonymous feedback form and including its link on your menu's QR code can help you keep a pulse check on what your customers are feeling. 

Customer information

: Wondering how to amp up that customer loyalty program we just covered? Using a QR code to collect your customer's contact information can allow you to send coupons and special offers straight to their email or phone to say thank you for all of their support.

Revamping your menu:

If you're using a QR code-based system to take orders, you're also collecting live data about your customers' ordering habits. That includes the meals they love, the combos they always order as well as the dishes they can pass on. As time goes on, you can tweak your offerings to align with what your diners love to chow down on.
Plus, once you've created a digital copy of your menu, you can tweak your offerings and prices as you need to adjust for any changes such as inflation, fluctuations in food prices and other variables impacting your restaurant.
Use analytics to bring new customers to the table
Once you've begun to implement parts of your restaurant marketing plan, it's important to measure the results, see what's working and make adjustments. 
Many restaurants turn to marketing analytics to get the job done. Analytics is the way businesses comb through data from their website, social media posts and paid ads and other online presence to look for trends and draw conclusions. Some of the major key performance indicators (KPIs) restaurants use to determine if a marketing campaign is reaching your target market include the following:
Click rates:

CTR is the number of clicks that an ad or campaign receives divided by the number of times your ad is shown. This helps you know whether a specific ad was effective or if you may need to go back to the drawing board.

Engagement on posts:

When customers like, comment or share a post, they're engaging with it. Try experimenting with different types of content as well as when you put it online to see what garners the most attention.



Website traffic:

This metric gives you insight into how many visitors your website gets over a specific period of time. If you notice traffic is especially low, the social media tactics we outlined earlier can help give you a boost.
All of these KPIs can feel a bit daunting to the uninitiated, but don't let it stress you. Social media platforms like Facebook and Instagram offer user-friendly business pages that give restaurant owners immediate insight into all of this data. You won't have to worry about spending your days creating a marketing budget or adjusting information in a spreadsheet. Just keep focusing on what you do best already: serving up delicious meals.
With these numbers, you can start to fine-tune campaigns to speak to the right target audience and begin attracting new customers. Notice a specific post on your website is getting more attention than usual? Make a Facebook post or SMS messaging campaign about it too.
The COVID-19 pandemic has already forced some radical changes to the way you do business. As the world begins to move forward from the pandemic, now's the time to craft a marketing strategy that's kept pace.
Getting started with your new restaurant marketing strategy
Your doors are open wide, the kitchen is officially back up and running and you're ready to welcome guests back to your dining room. All that's left is time to ramp up your marketing efforts. Just a few small changes will help you generate some extra buzz about your restaurant and bring guests back for a delicious meal.
Ready to bring your new restaurant marketing materials to life? Check out MOO's small business print solutions. 
Fill out the form here and a friendly Account Manager will reach out to you.
Keep in touch
Get design inspiration, business tips and special offers straight to your inbox with our MOOsletter, out every two weeks.
Sign me up!