5 smart ways to use our new Postcards and Flyers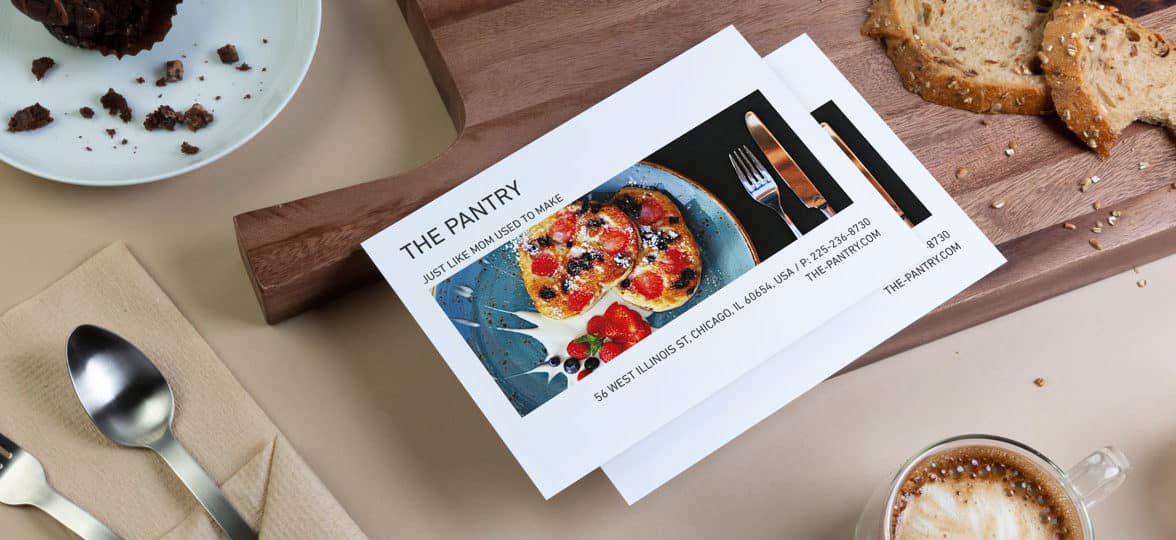 Heard the news? Our MOO Postcards and Flyers now come in a fresh range of sizes with some brand new paper stocks. Here are some fun ways to put them to use.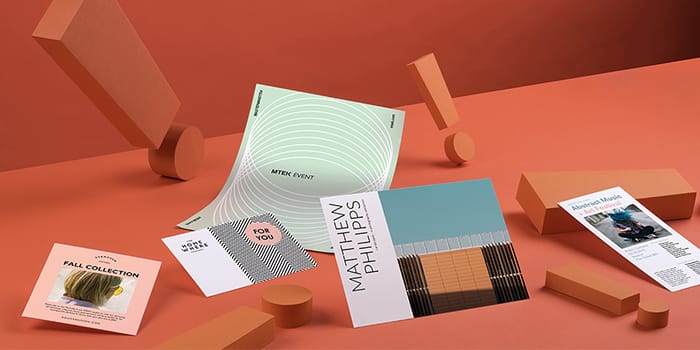 1. Mouth-watering menus
They say the first bite is with the eye… so it's worth making your menus as tempting as possible. Customers pay a lot of attention to menus, so use the opportunity to give them a positive impression. Good quality materials and a professional-looking design show you're a credible business that cares about perfecting the details, and carefully-crafted descriptions will convey the love and care taken over your dishes, not to mention making their true deliciousness come across. Sarah Hyndman, founder of type studio Type Tasting explores this idea in our interview with her: "If a menu or recipe is written in a Serif typeface, the chef is perceived as more skilful, and the recipe is assumed to taste better". Want to learn more about why fonts matter? Check out the full article.  
Our Flyers make a great basis for a memorable menu for your cafe, restaurant or takeaway. What's more, they're available in high-quality paper stocks sturdy enough to withstand minor spillages and general wear and tear, so they'll last longer. Our Essential Flyer paper stock is 160 gsm, which is 20% thicker than your average flyer.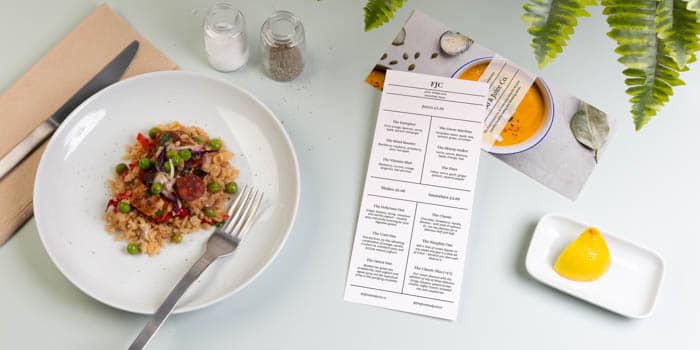 2. A welcome card for new homeowners
Real estate is all about making people feel at home. If you're the kind of realtor who believes in thoughtful details, here's an idea –  distil your warm welcome into a lasting memory using a Postcard or two to welcome the new owners. Propped up on the dining table along with a bouquet of fresh flowers, it's the type of thing that will leave homeowners with lovely memories of their arrival.
It also makes it super-convenient for them to recommend you to other people. Having your card on hand means it's straightforward for your customers to pass them out to housewarming guests when they're chatting about the process of buying their home.
Check out our tips for making yourself invaluable to your real estate clients.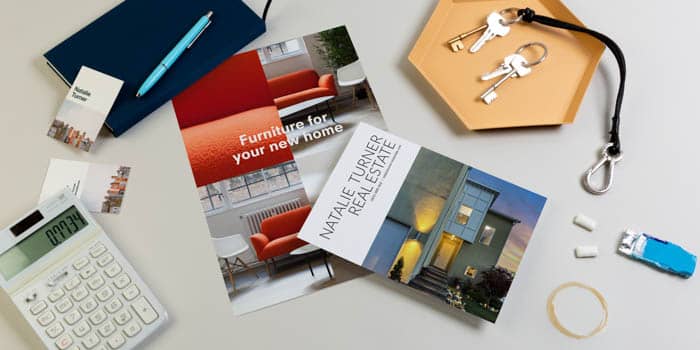 3. Loyalty cards they'll be keen to keep hold of
Repeat business is the best kind of business, which may be why the stampable loyalty card has become a staple for coffee houses and bakeries. But it's not just for purveyors of morning treats – you can use them to encourage loyalty for all kinds of establishment.  Why not invite your customers to collect nine stamps and get their tenth item on the house? Or offer a tenth-visit discount on your services, whether it's hairdressing, cut flowers or even car servicing?
A good loyalty card needs to be tough enough to stand up to wear and tear, and clearly and attractively branded. Ideally it should do double duty, reminding customers about the quality of your products and services via images and text. Business Cards work well for this job, but if you want a little more room for your design and message (and also to make that precious card more difficult to lose) try using one of our new Square Postcards.
Whether you choose our Original or Super Postcards, or go all-out with Luxe, at least one side of the card can be uncoated for successful stamping (no smudging). And with weights ranging from 330 gsm to 600 gsm, they're all sturdy enough to put up with an extended stay in a customer's pocket.
Read our interview with Coffee House, ALL THAT JAVA and get inspired by the ways they brand their business.
4. Perfectly presented price lists
Like the restaurant menu, the price list is a part of your marketing collateral that customers pay close and focused attention to, so it's worth getting it right. Look and feel really matter – and that's especially true if your business is one that's focused on aesthetics, like a hair salon, nail tech emporium or popup blow dry bar.
Make a great first impression by greeting customers with price lists printed on Flyers. They're printed on premium paper stock that's 160 gsm, 20% thicker than the average flyer, so they're anything but flyaway. While your customers are poring over the options, they'll notice the quality and care that's gone into producing your price list.
Try using texture and color to the full and create something that's part price-list, part souvenir – all the better to keep you front of mind when a customer next needs your services. MOO Flyers are available in a beautiful Pearlescent metallic finish, which makes the colors in your design really pop.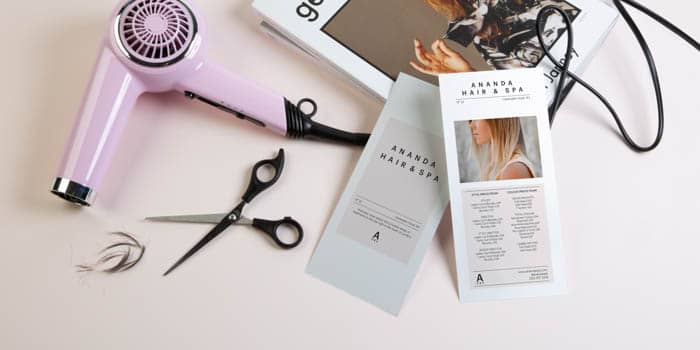 5. Pocket portfolios for ninja marketing moments
Designers, architects, artists and illustrators all know that a portfolio is a crucial marketing tool. You're probably already well established on digital portfolio platforms like Behance or Carbonmade. But what if you could put a real-life paper portfolio in your pocket ready to showcase your talent whenever, wherever? You never know when you're going to meet a fantastic new client in the coffee shop or movie theater line.
Printfinity means you can print up to 50 designs in a single set of Flyers or Postcards, at no extra cost. It's a handy way to get all your best work printed up on high-quality Postcards that will look impressive without breaking the bank.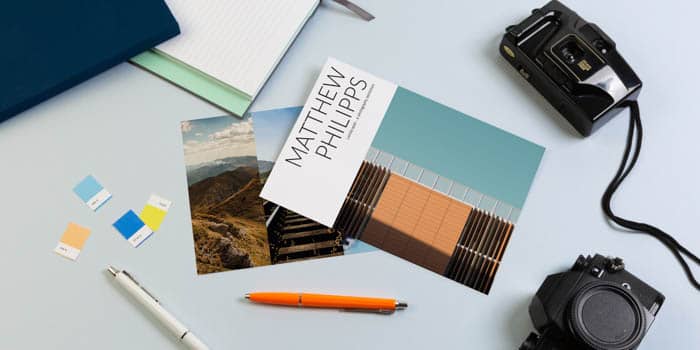 Prefer your MOO treats with smaller dimensions? Explore our
Business Card
and
Sticker
range
Keep in touch
Get design inspiration, business tips and special offers straight to your inbox with our MOOsletter, out every two weeks.
Sign me up!