Wisdom and watercolours – meet Emma Block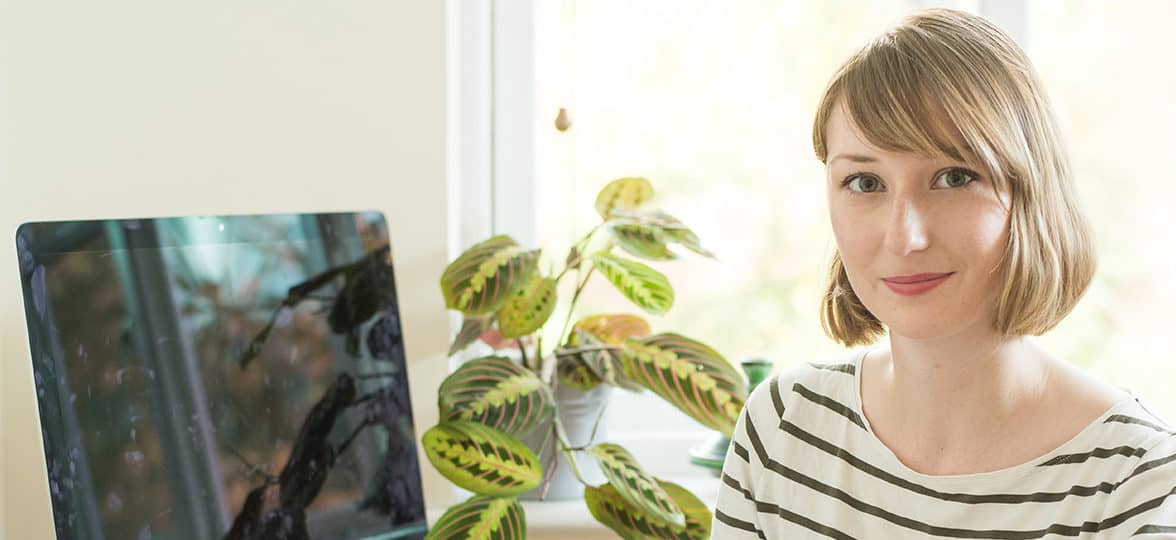 Artist, illustrator, author and painting teacher Emma Block is one of the first artists we collaborated with. 10 years later, we caught up with her to find out how her career's grown –  and why sometimes it's best to step away from Instagram…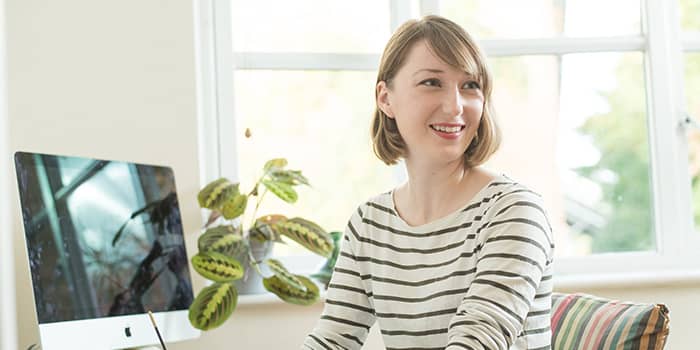 Emma's natural talent with watercolours runs in the family – her bright, beautiful home studio is adorned with artworks from those closest to her – one by her husband, a Jazz musician, and another by her grandad – as well as her own delicate, lively paintings.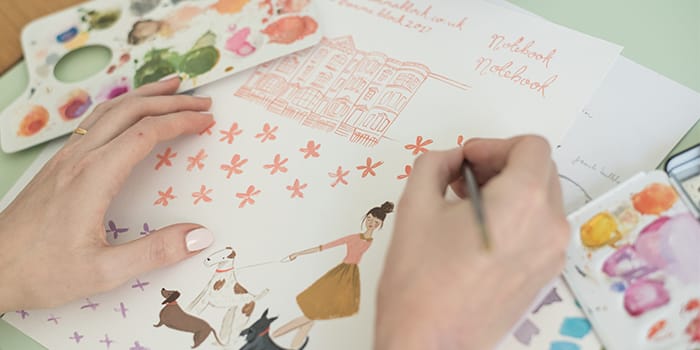 Emma's relationship with MOO goes back right to the beginning of her career – she was one of the first artists we collaborated with, designing a set of MiniCards featuring her illustrations. Now, 10 years on, we met her at her London home to hear how she built her niche out to include illustration, books, live events and painting workshops.

You started your illustration career online – how did you find your audience?
I got into illustration when I was still at school. I'd just started 6th form – I'd been quite ill as a teenager and missed 3 years of high school so having a blog and being online was a really great way for me to talk to people. It was my only way to talk to people! It didn't matter that I was ill, I could blog from my bedroom, and it was amazing to connect with people through my artwork from all around the world. It's weird because people who read my blog 10 years ago still follow me, or will buy a print sometimes.
I started doing these regular challenges, like Illustration Friday, which was a weekly challenge at the time. There'd be a new theme each week – it really encouraged me to keep going.

How do you think illustration has changed since?
I found those challenges really good to give me a theme to interpret. I look back at my earlier work now and it really was more experimental. I think because I hadn't found my style as much. I had some really great tutors when I was in school who encouraged me to keep blogging, told me to get Twitter and used to help me push the boundaries of what I was doing. I was printing onto fabric and making 3D models and that kind of thing too.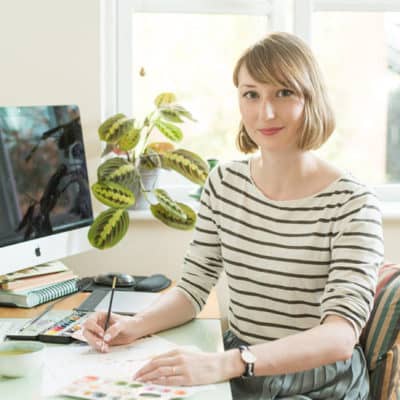 Today, illustration's become a lot more visible as a discipline and a lot more people want to be an illustrator. There are a lot of opportunities for illustration that didn't exist before. When you've just graduated you think about doing books, greeting cards, magazines, but now there's actually so much you can do with live illustration and packaging, plus large-scale illustration like on windows and walls.

How did your workshops come about?
It's been a new thing over the last few years. I don't think I'd have had the confidence to do that at all when I started. But it's been great – I  love teaching. And I really enjoy live illustration. It's funny, I like working from home because I love the peace and quiet but I'm really easily distracted. I tend to have music on in the background or a podcast, and if I think of something I'll have to pause it, have a think, then come back and play it again. I'm that easily distracted!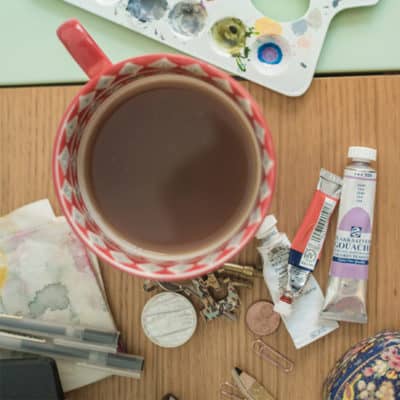 But with something like a workshop or live illustration I think I just really go into the zone. Because it's quite intense – you're painting portraits of people as they stand in front of you, in about 10 minutes, and you've got people watching you, normally you're working really frantically for 2 or 3 hours.

What kinds of things are you doing the live illustration for?
I get invited to do live illustration at things like press events, blogger events… promotional in-store events… I've just confirmed I'm going to be doing some live illustration in the children's department in Harrods, which I think is going to be really cute. So yeah, it's a variety of things. When people see it and they see how popular it is as well, they get it. And Instagram is huge. I get a lot of work through Instagram.

How do you balance your literary work and workshops?
I find normally everything fits around illustration commission, which is at the heart of it. I like having lots of other things going on. I try not to do more than 4 workshops a month and I run my online shop and occasionally do live illustration. So I tend to just look at my calendar and see how much I can book in.
I find I need a balance of being at home in the studio to being out doing stuff. If I'm just here and don't leave the studio all week, it's not good but then if I'm out and doing events every single day I don't get any proper drawing work done.
What inspires you?
I think it's really good to see what else is going on in the art industry. Instagram can be a bit of a double-edged sword, especially if you're a new illustrator, because you'll just see so much beautiful work all at once, so it can be a little overwhelming. And you kind of think 'I can't do anything, everything's been done!' so I love the community and connecting with other illustrators, but for inspiration, for new work, it's more about travel, going to museums and galleries, being out and about in London. That's what inspires my work. With Instagram, it'll be more about colors. A photo or an illustration that makes me think 'ooh that's a nice colour theme, I'd like to try that sometime.'

What would your advice be for someone just starting out?
I would say to remember that the people you're seeing on Instagram have been doing this for a really long time. I've been doing this for 10 years already, it's just lots of practice, lots of drawing, lots of putting your work out there. It takes time to get the momentum, to find clients, and get the kind of work you want. But just stick at it – don't be intimidated.
It's funny, the people whose work I admired when I was just starting out, the people whose work I'd print out and put it in my sketchbooks as research are now my peers, which is really strange, but really nice.

You've also worked as an influencer with some brands – how did that come about?
I've worked with Polaroid and P&O on campaigns including illustration. P&O was really nice – they invited people to upload photos from their holidays over 2 weeks. Then they'd pick a winner and I would paint an illustration of their holiday photo to share on Instagram. It was a really lovely campaign to be a part of – a lovely use of social media and lovely to make the illustration such an integral part of it too.
I've also run workshops for brands – I recently ran one for Oasis at London Zoo, because they were doing a collaboration. On the day, the team from Oasis were running a bit late, so I got to hang out with the keepers and help feed the pygmy hippos.
You've got a beautiful home workspace – what are your best tips for people working from home?
I try to keep it tidy! My husband works from home as well – he's a jazz musician – and he's got another room full of guitars and banjos and things where he works that we can just shut the door on. I think you've got to know yourself and how you work. I know a lot of people who have a studio and it works for them, but I know what I'm like – I love chatting and I'm really easily distracted, so I'd just end up not getting any work done in a studio space.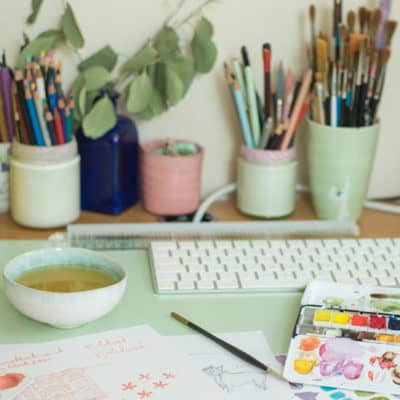 I like peace and quiet and being in control of the space. For me it's just knowing how I like to work. I schedule in breaks, pop out to the Post Office or to get a coffee. I work really flexible hours, because my husband works really odd hours. He'll get home from work at midnight or 1am, so often we'll spend mornings together, then I'll work after lunch right up late into the evening.
I'm often teaching at weekends too or working at events, which means we'll then try and take Mondays off. I've really learned the importance of scheduling in time off.

What do you use your MOO Business Cards for today?
I love MOO because it always solves the dilemma of when you meet people and you say you're an illustrator, they immediately ask 'what's your work like?' and I find it really difficult to describe. So if I say 'oh it looks like this', and get some business cards out, it's much easier. It's like having a mini portfolio.
What else have you got coming up – what's next?
I've just finished writing a book – how to paint watercolours. That's been a dream project. I had the idea for that last summer and I was thinking that there was a gap in the market for a really lovely modern, colourful watercolours book. And so I approached some publishers, and got a book deal at the beginning of the year. I've been working on that all summer – it's been a total dream of a project. It's coming out in August 2018.
Photos by Paul John Bayfield
Keep in touch
Get design inspiration, business tips and special offers straight to your inbox with our MOOsletter, out every two weeks.
Sign me up!