They make MOO: Meet Phil, lead designer
Phil tells us about his motto, his current read, and his unofficial role at MOO.
It takes a talented bunch to make the MOO magic happen. Lucky for us, that's exactly what we're made of. Meet the people who make MOO a great place to work.
Phil Bailey is the lead designer in our (award-winning) creative team. He's also a paper nerd, a proud north Londoner and MOO's unofficial hand model. We asked him a few questions about his role, his secret superpower and more.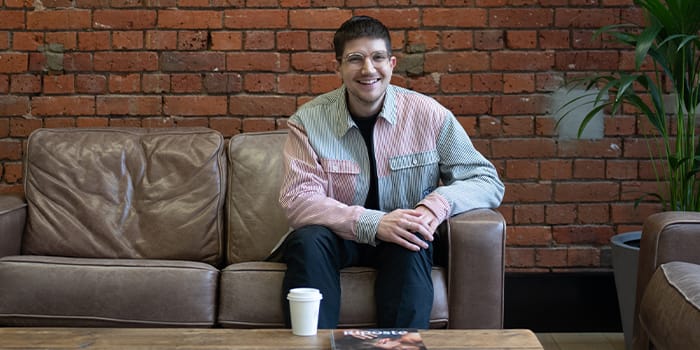 What do you do at MOO?
I'm a lead designer on the Creative team. I'm responsible for creating work that meets commercial goals, feels on-brand and resonates with our customers in some way – either to help, inspire or delight.
I work on all kinds of things alongside my very talented team, from digital campaigns and product launches to events and direct mail – essentially anything the brand puts out.
I should also add "hand model" under my job description, as I feature in a LOT of shots!
Who is your fictional hero(ine)?
I don't think she's entirely fictional but Julia Roberts in Erin Brokovich is really powerful. The perseverance in her mission to take down the corp who poisoned the town's water coupled with her strong insult game is truly inspiring. She teaches us to not be scared by our challenges.
What does your typical working day look like?
A big coffee to start the day, and a creative team stand-up at 9:15 am. Depending on the project stage, I could be concepting ideas with our copy team, in the studio art directing or set-building for a shoot with our photographer, or working with our artworkers. It can be quite varied day to day.
I'll often connect with marketing teams and our traffic coordinator throughout the day to share work and make sure we're all on track.
What do you like to do when you're off duty?
Brunch, jog and explore my way around my north London suburb of Stoke Newington. I love a bit of modern art, so trips to the V&A or The Courtauld get me inspired creatively. Nothing beats family time though.
What's your secret superpower?
I am a paper nerd and a bit of a whiz with a craft knife. I once helped to create a small-scale London set for a Selfridges window display. Occasionally I'll get to flex those model-making skills if we need any props made for a shoot, which I LOVE to do.
Who's worth a follow on Instagram?
If you like Brutalist buildings and architectural photography, I'd recommend BRUT Builds. For absurd, gross and badly-designed graphic tees, head to Good Shirts (NSFW content). And I follow the supremely talented Amaury Guichon for works of art sculpted in chocolate.
What's your favourite shop or food place to visit near the office?
A very good friend of mine works at Botanique Workshop, a nice florist that's on Exmouth Market. It's perfect when we need plant props shoots – which is surprisingly often. Last year we featured a bunch of their flowers in our April campaign (if you scroll on our Instagram feed, you'll find a behind-the-scenes).
Also can't beat a Powerhouse Coffee for the caffeine fix.
What would your motto be?
They aren't my original words but I like Anthony Burrill's "work hard and be nice to people." A simple phrase I apply to my world; making work I am proud of and connecting with others.
What book would you recommend right now?
The Secret Lives of Colour by Kassia St Clair. It's a collection of stories about every colour and their historical impact. Like how Kelly green, the colour of St Patrick's day used to be blue until the 18th century, or how prison cells used to be painted Baker-Miller pink to reduce the aggressiveness of inmates. It's pretty fascinating!
MOO is…
Not just a business card company! They are innovators looking to make an impact with great design. I'm excited to see what MOO does next, and what it will look like 5 years from now as it moves deeper into a world beyond print. Can you tell I'm a big big fan?
Want to join the MOO crew? Connect with us on LinkedIn and check out our current vacancies here.
Keep in touch
Get design inspiration, business tips and special offers straight to your inbox with our MOOsletter, out every two weeks.
Sign me up!