D'luxe Sweets' founder on baking a mindful brand
Alexis Sanders tells us about starting her online bakery and giving back as a business.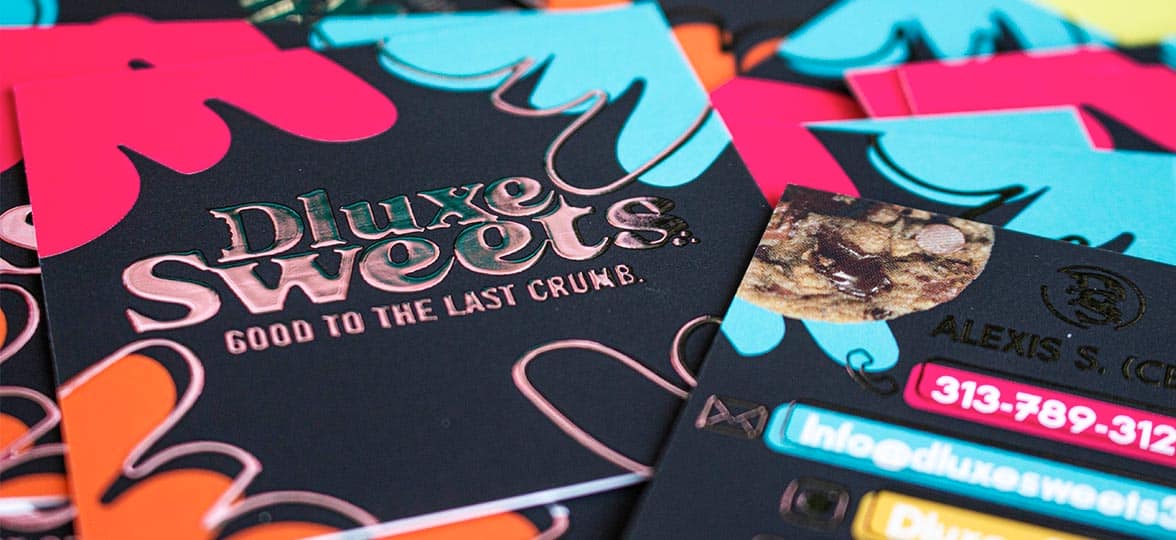 Alexis Sanders is nothing if not a creative soul. A graphic designer by trade, she discovered her passion for baking almost by accident. Now, she's the mind (and hands) behind D'Luxe Sweets, a joy-filled Detroit-based home bakery that gives back to the community.
We asked her about her move to baking, the social mission of her business and how she approached her promotion strategy on social media as a small brand.
Where does your passion for baking come from?
I've always been super creative and love teaching myself how to do new things. I've always enjoyed watching the different cake decorating shows on Food Network.
One day I needed a cake on a small budget and decided to try it myself. I thought cake decorating looked pretty easy so I baked my first tiered cake. It looked a mess but I found that I actually liked baking. I watched countless hours of baking videos and learned different techniques. And the rest is history.
When did you decide to take the leap and start your own online bakery?
I graduated from college in 2019 with a BFA in graphic design. I love graphic design but I just didn't want to sit in front of a computer all day. I decided to make baking more than a hobby, so I started off decorating custom cakes.
Earlier this year, I decided that I wanted to revamp my business. I stepped back from decorating cakes and started focusing on smaller more easily shippable desserts. I plan to scale my business and that means focusing on things that could easily be made at scale.
What's your signature dessert?
My signature dessert is probably my strawberry crunch cake. Everyone always says how much they love it! I'm hoping to be able to ship cakes very soon with D'luxe Sweets.
You mentioned that you're also a graphic designer. How did your creative skills help with your blossoming business?
Being a graphic designer has helped me create a brand that stands out. I've been able to do everything myself. I designed my website, all my marketing materials, and I also take my own photos and videos. This has really been helpful because, as I'm just starting out, I wouldn't have been able to pay someone to do all those things for me.
What's your favourite part of running your own business? What's the most challenging?
My favourite part is the control I have over how things are done. I get easily overwhelmed, so the ability to step back when I need to is a lifesaver. I'm building my business around my life and what works for me. 
On the other side, the most challenging thing about running my own business is creating a healthy work-life balance. Since my business is in its infancy stage, it's very easy to work 24/7. I have to be very intentional about including self-care and time with my loved ones into my routine. It can be challenging but it's definitely something I'm working on.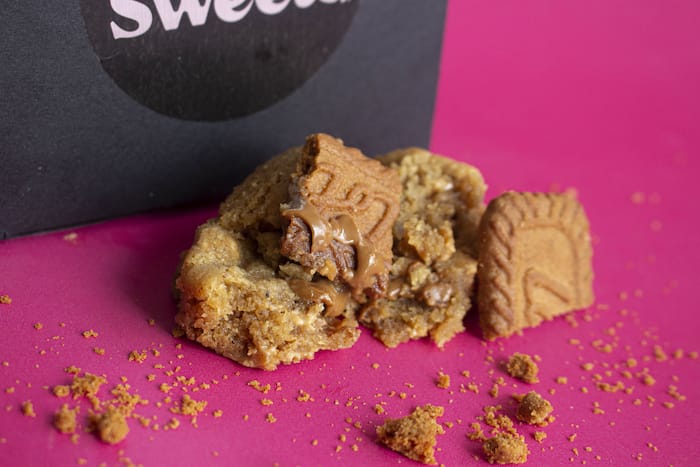 Your company gives a share of your proceeds to domestic abuse victims and those struggling with mental health. Is it important for you to give back as a business owner?
It's very important for me to give back as a business owner. I've always been the helping type. With D'luxe Sweets, I chose to give to organisations that help those struggling with mental health and domestic abuse victims, and more recently to those who serve underserved communities because I've been there too. 
It's very important for me to give back as a business owner
I struggle with anxiety and depression, I've been through domestic violence and I've lived in an area that was underserved. I can truly empathise with individuals in similar situations and I just want to do what I can to help. 
As my business grows I plan to do more than just give to non-profits. I also want to have my own programs and resources to help people out and let them know that they're not alone.
Can you tell us more about the mentorship program you're working on?
I want to start a mentorship program to help those with limited resources to get going in business. When I started out, I had no idea what I was doing, and I couldn't afford to pay for any business courses. I had to learn as I was going. It's very confusing and overwhelming to do it alone.
I want to be able to show people the ropes and create different affordable courses that will help people who are starting out their entrepreneurial journey. I'd like it to become a real community where people can come for guidance and meet like-minded people in different phases of entrepreneurship.
I've had to put this project on pause but I'm looking forward to developing it further once I have less on my plate.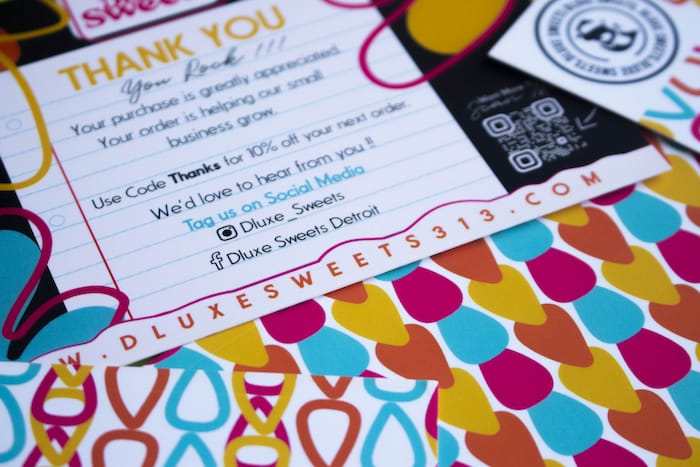 You're very active on social media. How did you approach your promotion strategy as an online business?
I've been playing around with different things to see what works best. I've been experimenting with different types of organic and paid promotions. Unfortunately, I experienced some growing pains with shipping perishables in the high temperatures this summer, so I decided to cut back my online offerings and focus on cookies for now – much easier to ship. As a result, I'm now in the process of revamping my social media channels completely to account for the shift in my business.
This means having to create a lot of new content. It's been a lot of work totally changing my promotion strategy, so I have had to take a step back from social media to get things together. I'm excited to get back to social media and try out some new strategies I've been working on.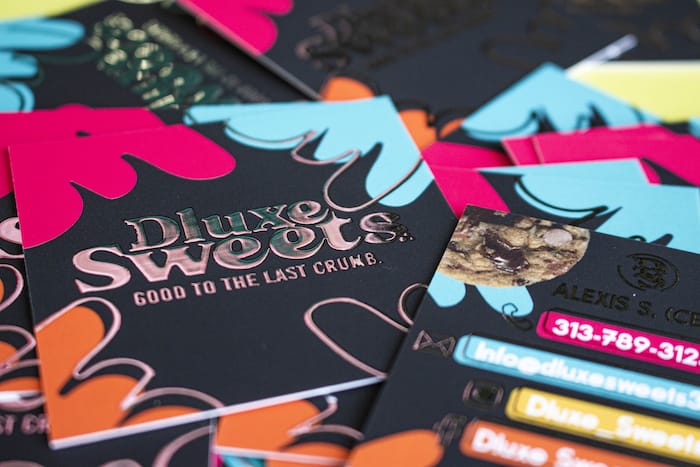 How do you use MOO for your business?
I use MOO to print my Business Cards and thank you cards. I wanted them to feel luxurious and I knew MOO was the place to go. I actually found out about MOO from one of my graphic design professors and fell In love with the quality of the prints. 
I opted for the Silver Foil on my Business Cards which made them really stand out. I get compliments from everyone I hand a business card to!
What's your vision for the future of D'Luxe Sweets?
I want to continue expanding the company and get our products into some big-name stores. The biggest thing is that I want to be able to inspire those who feel like their dreams are impossible.
I want to inspire those who feel like their dreams are impossible
A couple of years ago, in the midst of crippling episodes of anxiety and depression, I thought so too. But I was able to overcome this feeling and build a blossoming business that I once thought I wouldn't be capable of.
If you had one piece of advice for aspiring business owners, what would it be?
Never give up. Having a business can be very rewarding, though at times running or starting a business can be very disheartening and downright frustrating. Those are the times when it's imperative to push through and keep going.
Get the word out about your business and bake a successful brand with Silver Foil Business Cards.
Keep in touch
Get design inspiration, business tips and special offers straight to your inbox with our MOOsletter, out every two weeks.
Sign me up!