Unconventional WFH business cards for the new normal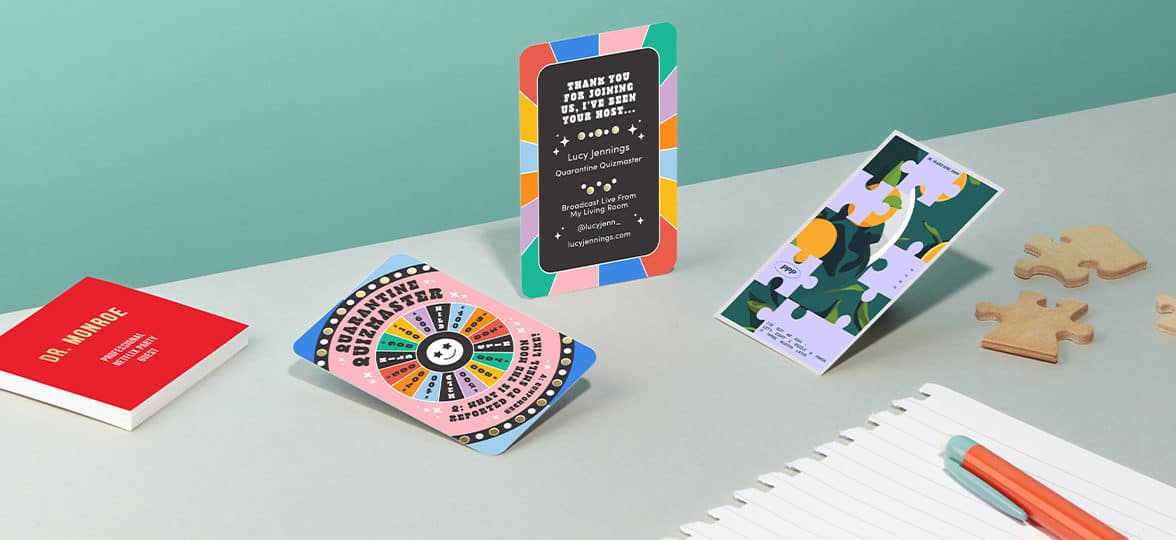 We've ALL taken on some unexpected new roles recently. Our community created business cards to match.
We set our community a special challenge to keep their creativity flowing while they were spending more time indoors. Entrants had a couple of weeks to design their very own WFH business cards, showcasing the new skills and roles they'd taken on during this extended time of working from home. We saw over 600 entries, each one proving that no virus could stop the creativity of our community. 
Our team here at MOO had the tricky task of choosing three winners, who each received a $250 MOO gift card (and our eternal admiration).
Ready to meet the winners? Drum roll, please…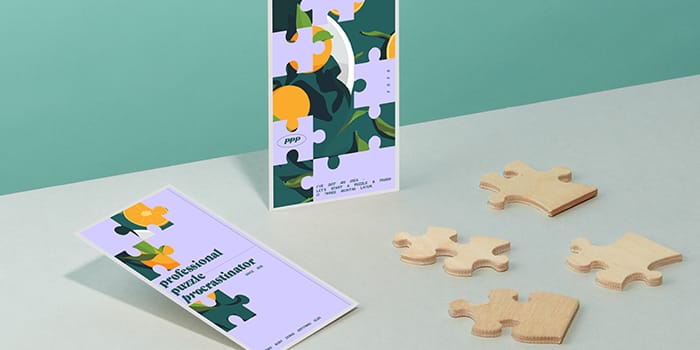 Tell us a bit more about yourself…
I'm a graphic designer and illustrator in Denver, CO, where I live with my husband and our cat, Moo (good name choice, I know). I really enjoy reading cookbooks, researching ingredients I've never heard of or don't know how to use, and learning new recipes. It's been very beneficial lately!
Talk us through your entry. What's your WFH role?
My name is Marney, and I'm a Professional Puzzle Procrastinator. At the beginning of quarantine in March, I started working on a Charley Harper puzzle. I used our large dining room table as my puzzle station. Thanks to my procrastination, we weren't able to eat at the table for about 3 months as there were piles of puzzle pieces sectioned out across the table. My name is Marney, and I'm a Professional Puzzle Procrastinator.
How have you had to adapt your plans since all 'this' happened? 
My adaptation has been to assume all "immediate" future plans are out of the window! We are so fortunate to have the internet to keep us occupied. Live streaming DJ sets are where it's at right now. 
How have you stayed inspired at home?
I've been able to stay inspired in a few ways. My husband and I are design book junkies, so it's been nice to kick back and crack a few of those open. I've also been taking photos and illustrating the subject matter – mainly food or flowers, the only things we've been seeing a lot of these days!
What are you looking forward to as we get back to some kind of normal?
Short term, I'm looking forward to going out and having a cocktail, and traveling. Preferably both at once. Long term, I'm looking forward to seeing what the 'new way' of life translates to in business, travel, work, play, the WORLD, all of it. 
Any advice for other people trying to get themselves noticed right now?
My advice would be, don't get in your own way, just put something out there. My trouble has always been taking my time on projects, expecting to wake up on a random Thursday, and have the perfect solution. The best work I've done is based on an idea that popped in my brain, and I executed within the day. Sometimes all you need to do is get it out of your head, get it on paper (or on your screen), and then you can decide if the idea is worth going with. *shoulder shrug*
Tell us a bit more about yourself…
My name is Lucy, I'm a Graphic Designer & Illustrator based in London working primarily on branding, merchandise, social graphics, and of course: business cards! I worked in-house as a digital designer for a few years but about a year ago I made the leap to full time freelance.
Talk us through your entry. What's your WFH role?
I chose 'Quarantine Quizmaster' as my lockdown WFH role. Almost all of my friends and family live outside of London, so even a distanced visit isn't feasible – instead we've been hosting weekly quizzes and murder mysteries over zoom. When it's my turn to host I see it as an excuse to get creative (one week I photoshopped family members into scenes from famous films for a picture round). I wanted the cards to look really over the top like the set of a 1970s game show, so lots of lights & colour! I like to make things that feel nostalgic.
Have you had to adapt your plans since all of 'this' happened? If so, what's changed?
I've been working from home since last year, so there hasn't actually been a huge impact on my day-to-day when it comes to how I work. The main difference now is that my partner is also having to work from home, which I'm not used to. I've definitely walked through the background of his Zoom calls a few times by mistake! I also can't have in-person meetings anymore, which is something I always enjoyed doing if a client happened to be in London. I'm in virtual meetings a lot more now which is tricky when you've got two people competing for the WiFi!
How have you stayed inspired at home?
I've had a little more time recently to read some of the design books I've been collecting! My favourite so far has been Fake Love Letters, Forged Telegrams, and Prison Escape Maps by Annie Atkins. I've been trying to make time for more personal projects recently and graphic props is something I've wanted to explore for a while. Personal projects are so fun because they're purely a labour of love, you can take them in any direction you want without having to consider the needs of a client. 
What's been your favourite self care activity or treat while working from home?
I've been trying to support more small and independent businesses since lockdown began, and as a result I've ended up treating myself a LOT. Illustrated prints, handmade jewellery, mail order brownies, it's nice to reward yourself when you've had a productive week! I've also been aiming to finish my work earlier to free up my evenings – if I finish at a decent time I usually treat myself to a bath. The lines between work and home are so blurred now, I've been trying to get more downtime so I can appreciate the difference between my office and my living room (which happen to be the same room).
Any advice for other people trying to get themselves noticed right now?
Some of the most popular projects I've worked on have been personal projects! It's an opportunity to really demonstrate what you're capable of without the pressure of client expectations or deadlines. You could create an entire fictional brand to show off your logo making skills, create a series of experimental illustrations of a subject you're interested in, or maybe redesign the cover of one of your favourite novels. If it's something you're passionate about, it will show in the final piece – plus it's always good to brush up on your skills! Even something as simple as redesigning your business cards can catch someone's attention.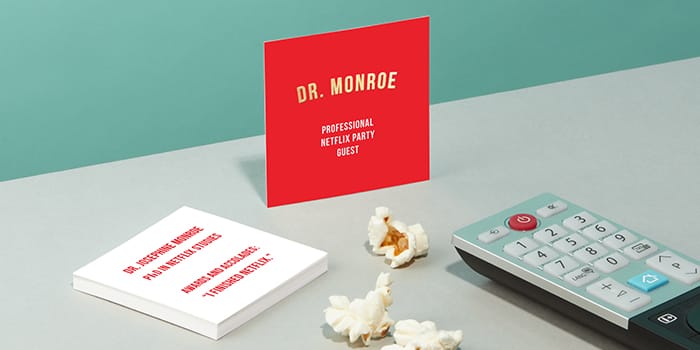 Tell us a bit about yourself…
Power couple, design junkies, brand incubators, serial entrepreneurs. However you may like to define us, Marbl Digital Marketing (MDM) was founded by Brajan, a Ryerson University graduate with an eye for design and an employment background in SEO and social media management and Xhenet (pronounced 'Jen-net'), another Ryerson grad with experience in interior design and marketing sales management, with one sole purpose in mind: to offer their expert skills and services to business owners seeking innovative, bespoke, engaging solutions to their digital marketing, branding, and design woes. 
So, what's your WFH role?
Much like everyone else during these unprecedented times, we wear a number of hats. From business owners to proud dog parents, we've managed to keep busy and inspired. 
Our entry in particular, is courtesy of one of our late-night guilty pleasures: Netflix binge-watching. We all do it, and so we thought, why not be proud of it? Doctor Monroe seems pretty cool, and truly is the perfect Netflix party guest. Questionable PhD aside, finishing Netflix is quite an achievement.
Have you had to adapt your plans since all of 'this' happened?
All of 'this' happened so quickly and without warning, and just like everyone else, we were concerned about how well our business would be able to pivot. Naturally, questions like whether we could generate leads during this difficult time would dominate, as we were concerned that business owners wouldn't be interested in marketing and branding when their businesses couldn't even operate. Coupling this fear with our concern for the safety of our loved ones, front line workers, and community led to a number of sleepless nights.
In addition to the hits our business took, we also made the difficult choice to postpone our May wedding to ensure the health and safety of our guests and vendors. This was tough for us, as we were so excited to celebrate our love with our family and friends, but we knew it was the safest choice, and although the wedding date changed, the love hasn't, and that's all that matters. 
Have you stayed inspired at home?
Whether we're scrolling through instagram and marvelling at some beautiful content and imagery, or going out for a morning run with our dog Ernest Hemingway, we're always looking for inspiration. When we can't find any, we'll download an ebook and read it aloud to one another, discussing insights and inspiration collaboratively. 
What are you looking forward to as we get back to some kind of normal?
We don't know about you, but we've had to cook way too many meals in a row, and can't wait to hit up some of our favourite spots in Toronto for some amazing food that we don't have to cook.
Jokes aside, we cannot wait to get back into the swing of things and meet with our clients in person. Conference calls and Zoom meetings are great, but we love meeting with our clients in their place of business, as it helps us to understand how it operates and how they envision their brand.
Any advice for other people trying to get themselves noticed right now? 
While our advice may seem a little tired, it most certainly remains true: Keep it consistent and plan well in advance. 
The key to capturing attention and getting noticed is to build a presence. This requires a commitment to sharing beautiful, innovative content regularly, and in a way that is consistent with your mission and message. 
Plan diligently to build an audience of loyal followers who are inspired or moved by your message and aesthetic. This extends beyond social media: it's important to ensure that your marketing materials and website are consistent with your social media image and messaging. 
Getting noticed involves taking people on a journey, you have to make sure that this journey is as beautiful as it is consistent with your message and goals.
Ready to create your new business cards? From gold foil to spot UV and Letterpress, print business cards with extra eye-catching papers, colour print that pops and oh-so-customisable templates.
Keep in touch
Get design inspiration, business tips and special offers straight to your inbox with our MOOsletter, out every two weeks.
Sign me up!