They make MOO: Meet Radvile, software engineer
Rad tells us about her career journey and the real (and fictional) women who inspire her.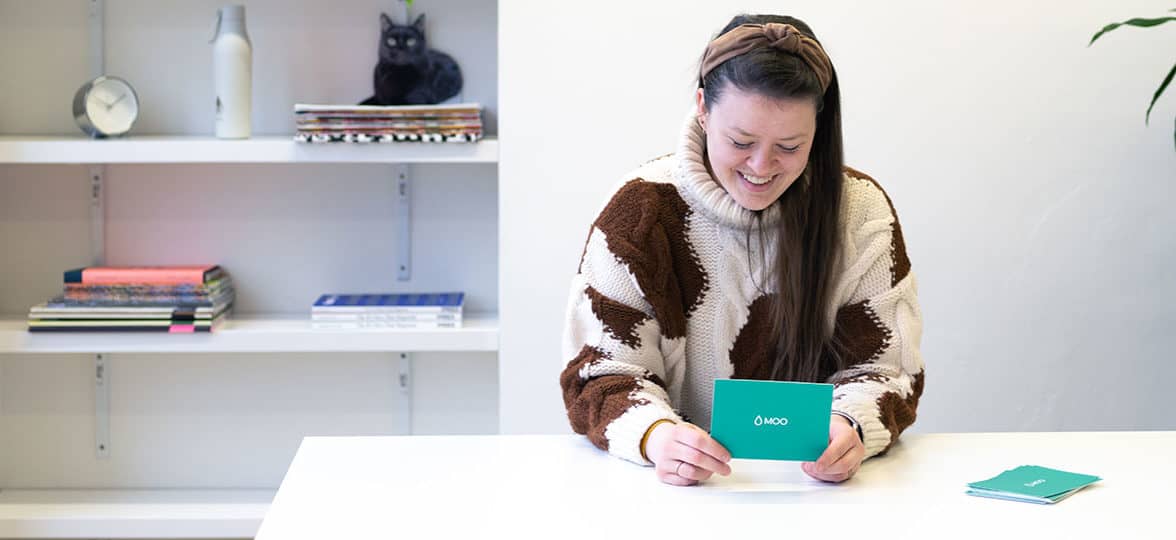 It takes a talented bunch to make the MOO magic happen. Lucky for us, that's exactly what we're made of. Meet the people who make MOO a great place to work – including Rad (the clue is in the name).
Radvile Didvale is a software engineer in the London team. She's also a gif master, a cat lover, and an absolute goldmine when it comes to fun facts. We stacked a deck of questions to pick from in front of her and let chance decide her (interview) fate.
What do you do at MOO?
I'm a software engineer focusing on front-end development. I create and maintain online tools that allow our users to craft beautiful designs using our website.
What's your secret superpower?
It's not so secret but I remember thousands of interesting facts (at least, to me) and will bring them up all the time. On a long tiring car drive or maybe in a boring queue. Did you know that male reindeer lose their antlers in the winter but females don't? Therefore Santa's sleigh is pulled by a team of strong independent ladies. Or that Neil Armstrong backwards is Gnorts Mr. Alien? I could go on.
What's something most people don't know about your role?
How many hours we spend collaborating on meetings to create pixel perfect applications with best user experience in mind. It's a lot! 
What do you like to do when you're off duty?
I love going on long walks and training my cat new tricks. She can fetch, sit on two legs, give kisses, fist bump, wave hello, do high five and many more! I also have a slight obsession with fountain pens and perfecting different hand writing styles.
What's been your proudest moment so far?
Changing careers. I have BA degree in international tourism management. In my four years in online customer service, I hated seeing how frustrating some user experiences were and only being able to say "I'm sorry".
I wanted to take control into my own hands
I wanted to take control into my own hands and fix issues myself. After learning coding at home after work, I decided to quit my CS role and join a tech bootcamp after which I successfully started my first front-end development role. It was one of the most challenging experiences in my life but I had my wonderful husband supporting me twenty-four seven.
How would you explain your job to your grandma?
"I work with computers" is my common answer. She doesn't understand technology well but that doesn't prevent her from being the best grandma on this planet.
Who is your fictional hero(ine)?
They change all the time but currently, it's Rayla from The Dragon Prince. She is a moonshadow elf, an assassin sworn to protect Xadia. However, she lacks a desire for war and unnecessary bloodshed so instead, she helps to bring unity and peace to Earth. Go watch it and dare to tell me she isn't awesome.
What's your favourite Slack channel at MOO?
#cats, obviously! I love all animals and could talk about my cat for 600 hours straight (ask anyone, they will confirm).
What's the one piece of career advice you would give?
Opportunities don't happen by chance or luck, you create them.
What would your personal business card say?
Rad – software engineer by day, owner of a gif library by night.
What's on repeat in your playlist at the moment?
For a while now, Aurora has stolen my heart. She is a Norwegian singer-songwriter who manages to create a perfect balance of soul and nature nicely packed into a four-minute song. Time after time. 
Rad has been a staple of life at MOO, but moving on to her next adventure. Interested in filling her shoes? Read more about those "shoes" and apply here. (And good luck, Rad!)
Keep in touch
Get design inspiration, business tips and special offers straight to your inbox with our MOOsletter, out every two weeks.
Sign me up!