Packaging ideas: how to power up your unboxing appeal
With a little thought (and a few fancy extras) you can send packages that make every customer feel like a kid on Christmas morning.
Run a small business? If you sell anything online, you'll be pretty handy with a roll of packing tape. But packaging is about more than just boxes and bubble wrap. With just a bit of extra effort, you can give your customers an unexpected smile, and make them feel extra-good about their new products while you're at it. In fact, this is now such a big part of online shopping, a quick search will find you unboxing videos from virtually every brand going. Power up your deliveries with unique packaging ideas, and you could find your customers making one about your products too…
What is unboxing?
The unboxing experience starts the very moment a customer receives their delivery and includes unpacking, discovering and examining everything inside. It captures that exciting, suspenseful feeling of the first moments with something you've wanted and waited for. No wonder unboxing videos are big among bloggers and vloggers, who open their packages in front of the camera so their watchers can share the excitement.
Why does packaging matter?
If you're an online business, your packages may be the only physical touchpoint with your customers. As they open the package, they're getting an all-important first impression of you. If your items are packed with care in thoughtfully chosen packaging, it shows you're a careful and thoughtful seller who's worthy of repeat business. A survey by dotcomdist.com found that 52% of consumers said they were likely to make a repeat purchase from a seller who uses premium packaging.
Interestingly, packaging can even affect their perception of what's inside the box. A report from SealedAir (PDF download) found that 48% of online shoppers felt that better packaging meant a better product. One more reason to find some out-of-the-box packaging ideas!
How to power up your unboxing appeal
The great thing about unboxing is that it doesn't take much to make a happy experience even better. Many of us love opening packages just to see the things we've ordered in real life. If there's something more that we weren't expecting, like a sample, a hand-written card or even some ribbons or stickers that add a personal touch, it's nothing short of delightful. Here are some cool packaging ideas…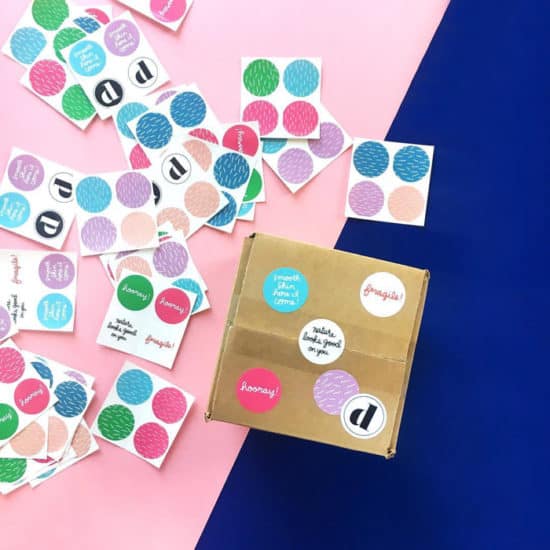 Bling up the box
The dotcomdist.com survey found that 4 out of 10 customers would share a photo of their online order on social media if it came in a unique, branded or gift-like box. Your box could feature brand colors, printed cardboard, ribbon or string ties, or an embossed logo.
If you're watching your budget, some branded Stickers are an inexpensive way to make plain packaging your own. As Micaela from Drifter Organics tells us, "Small details like these are easy to overlook, but they really tie the brand together and contribute to the full brand experience."
Rather than regular old bubble wrap, you could change things up with a filler inside your box. Some colorful padded bags, lightly scrunched tissue in your brand colors, or something to match a more sustainable ethos – such as biodegradable cornstarch pellets to cushion your products.
Add to the dramatic tension
Think about the unboxing experience. Imagine your favorite blogger opening up a package from you in their latest video. Lifting the lid, what's the first thing they see? A postcard with your logo on it? A little gift? How about an inner wrapping of tissue paper tied with string, with a MiniCard that says "your treat is inside" or "we hope you love it"?
Treat them to something extra
Gifts and samples are always an unboxing win. The beauty of a free sample lies in its surprise value – even a sachet or a mini product is an unexpected bonus. You can also add thoughtful gifts unrelated to your products, like a treat-size pack of sweets or some miniature soap bubbles.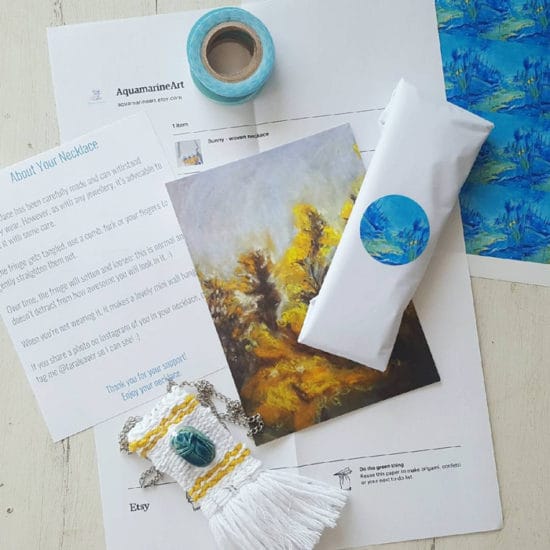 Include a personal touch
One of the best bits about selling online as a small business is the chance to add a personal touch to your orders. Unlike bigger stores, your shop's smaller order volumes make it possible to make a real person-to-person connection. Handwritten "thank you for your order" notes are always nice to receive. Show customers they're one-of-a-kind with unique packaging ideas!
A neat option is to write your notes on branded Notecards, Postcards or Flyers, so your customer gets all the information they need for future orders as well as your personal message. It can create a nice balance between personal and professional, as artist Tara Leaver tells us. "I love writing cards featuring my own work – it makes it more personal while helping to spread the word in a low-key way."
Carry on the relationship
A joyful unboxing experience is also the perfect moment to introduce your customer to the rest of your brand, or remind them of the other things they spotted on your site. Include a catalogue or flyer with some of your star products on it to encourage them to come back and shop again soon.
And if your package includes a special Business Card with a discount on their next order, it's the perfect recipe for the start of a long and beautiful friendship.
Looking for more packaging ideas? Meet the woman who built her business around unboxing.
Keep in touch
Get design inspiration, business tips and special offers straight to your inbox with our MOOsletter, out every two weeks.
Sign me up!