Meet the #MOOcrew: Marcus, Software Engineer
Our MOOcrew are pretty awesome. Wonder what it's like to work at HQ? Take a peek behind the curtain at a day in the life of a MOOster…
Marcus Mathioudakis
Hey guys, I'm Marcus – I've been at MOO for a year, working as a software engineer on the MOO Business Services team.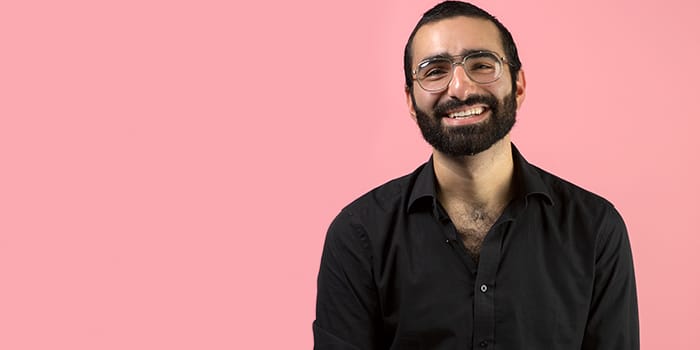 At MOO, I'm responsible for…
working on moo.com's b2b application, "MOO Business Services". I'm also the bassist in the company rock band Print Floyd.
I got my role at MOO by…
Meeting MOOsters at Silicon Milk roundabout. I came in for an afternoon of interviews about a week later; I really liked everyone who interviewed me, and the work sounded interesting. The whole interview process took about two weeks.
My morning routine is…
I run into work (about 4km ) and get in about 9am. When I arrive I'm 50% human 50% sweat, so I shower, then have some breakfast while checking emails and slack.
A typical working day is…
My crew standup is at 10.30, and we run through what everyone's working on and if there are any blockers. 11-13.00 I try and keep meeting free, so that I can get through 4 focused pomodoros and 3 mugs of tea. If I'm working on something that I'm less experienced in (e.g. something relating to our pipelines) I might grab one of the senior developers on our team and pair with them. At 13.00 I'll head to the kitchen area to heat up my lunch, and join one of the groups of people eating there or on the roof terrace (weather permitting). After lunch I'll continue the morning's work, breaking for a team huddle to discuss any interesting technical challenges we might be facing, or a quick game of ping pong. I normally wrap up my work around 5.30, at which point I will either head home, or grab a beer from our fridge and make my way to our little rehearsal room for band practice.
Something people don't know about my role is…
Although I was hired as a front end developer, I probably spend just as much time on back end stuff. No one tells me what stories I need to work on; I'm free to pick the pieces of work that I find the most interesting and challenging, and if it's not something I'm experienced in I always have the option to pair with one of our senior developers.
My proudest moment at MOO was…
Helping to build our consent service in time for the GDPR deadline. We really came together as a team and delivered something awesome.
The thing I like most about working at MOO is…
The focus on making sure that we're building things in a way that will scale, as well as on learning by pairing with others; these two things combined mean that I've picked up a ton of new skills since joining. Working with a lovely group of people definitely helps too!
On the weekend, you'll find me…
Making electronic music in my bedroom studio, and going to gigs around London/Europe.
If I wasn't doing this as a career, I'd be…
Playing live electronic music full time!
The best career advice I've ever been given…
I've been told to consistently try and push myself outside of my comfort zone. I find that for me at least, this is the best way to keep growing as person and as a professional.
Stay tuned. We'll be hosting a guest blog every week from one of our crew across the business to tell you what it's really like to work at MOO HQ. Up next, we've got Nick, our Account manager
Keep in touch
Get design inspiration, business tips and special offers straight to your inbox with our MOOsletter, out every two weeks.
Sign me up!