Pretty pins meet beautiful business cards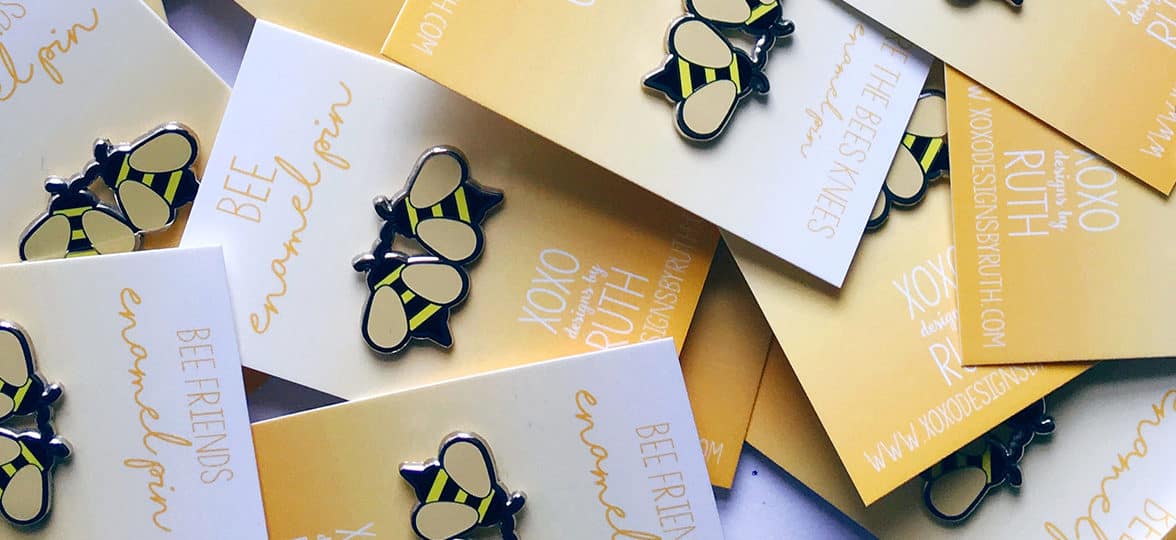 We can't resist a pin. And when they're paired with perfectly designed cards like these, we don't think you'll be able to either. 4 of our superstar customers share their brilliant badges – and how they got their design businesses started.
These 4 designers all have something in common – they all make seriously covetable pins. And when we spotted them, we just had to share! Their gorgeous designs are all set on beautiful #MOOcards, which their customers love. Which one's your favourite? (We can't decide).
Ruth Tullis, owner of Xoxo Designs is based in Glasgow, UK and describes herself as "an artist and all round creative". Ruth creates and sells colourful greeting cards, motivational prints, and cute enamel pins and says she "always finds herself dreaming up new ideas". Ruth currently works part-time on her business and juggles a four days a week retail job alongside her creative work. It's her dream to work full-time on her business!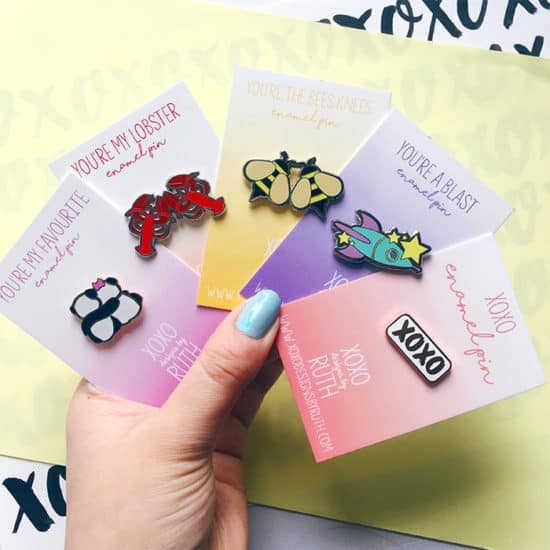 Ruth's inspiration for her designs comes from "pattern, flowers, space, typography, books and social media". She's recently got into calligraphy too, and is currently practicing her hand-lettering and trying out different techniques. When she's not being creative, you'll find her off "hunting for the perfect brownie and watching F1". She also "obsesses over NASA" – Ruth visited Florida last year and is totally fascinated by space.
Ruth created her first ever MOO Business Cards for her university degree show. Now, she uses postcards and business cards to promote her business with her Business Cards doubling up as backers for her gorgeous enamel pins. "I put a Business Card and thank you Postcard into every order I send out – my orders have gone all over the world. I love designing my cards – the website makes the whole process easy and fun, too."   
Thank your customers with Postcards
Tim Nerney's on fire! His boutique branding and design shop, engine7design, is in Troy, NY. He comes from a family of firefighters and has himself been a volunteer firefighter for 30 years too. He told us he "actively responds to blazes and rescues cats in trees when he's not putting out creative fires". Tim's marketing and design career started 20 years ago in a print shop and over the years, he's worked in a number of creative agencies before 'dispatching' E7 in 2009.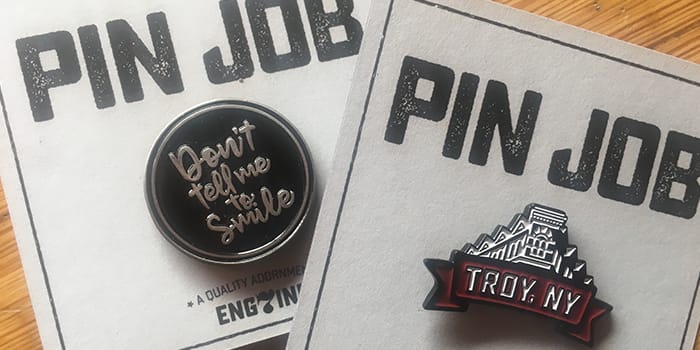 Tim's awesome pins caught our eye and when we asked him what inspired them, he told us: "PIN JOB is an emergency services term as well as a brand-consistent tagline. One pin pays homage to Troy, NY's historic architecture and the other is the perfect non-verbal response for grumpy teens everywhere."
These particular cards were designed to hold Tim's series of enamel pins, created as a fun, personal side project but he's also used MOO to print cards for his 1000s of clients over the years. Tim uses Luxe Square Business Cards describing them as: "uncoated thick stock that allows the card and pin to stand proudly while on sale at Anchor No. 5 Boutique" – a beautiful little store across the street to his studio, specialising in local, handmade goods. Tim added, "ordering my cards is easy and I know I'll always get great quality products at a great price – plus the occasional cake!"
Stand out from the crowd with Luxe Square Business Cards
Rachel is based in Canada and freelances for a design agency. She designs super cute enamel pins and prints as a side project. Last year, Rachel and her colleagues took part in a 100-day illustration challenge and following the event, people started asking Rachel for prints of her illustrations: "I was so humbled and surprised that somebody wanted a piece of my work". It was then that Rachel moved onto creating pins of her illustrations, too.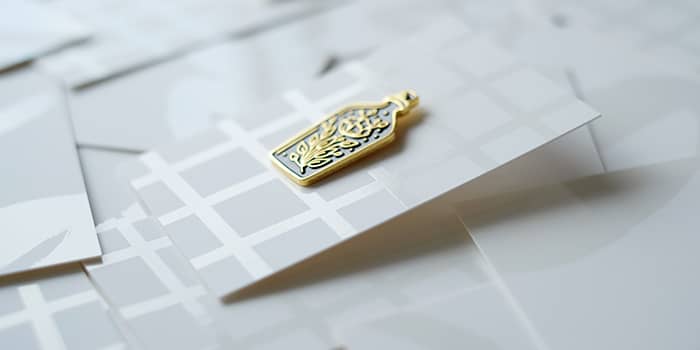 Rachel has always been interested in the creative arts: "my father gave me my first camera and his collection of lenses at 15 when we were in Hong Kong. Since then, I've been heavily inspired by travel, nature, and nostalgia." Rachel also takes huge inspiration from the creative people she works alongside in the agency.
When designing the backers for her pins, Rachel wanted a design that could work in tandem with any of her enamel pins – whatever the colour or finish. "The spot gloss finish against the white matte Business Cards is subtle enough that it doesn't take attention away from the pin whilst still adding a touch of fun. The print and paper quality is amazing and I love the texture contrast between the glossy varnish and soft card stock."
Make your brand shine with Spot Gloss Business Cards
Mette Hornung Rankin has been running her design and illustration company, Bureau of Betterment for the last 7 years. She's always had a passion for design – after graduating with a degree in print management, she went on to work in both design studios and branding agencies before deciding to go solo. Mette loves to work on both large and small projects, from corporate branding and packaging to design and illustration for books.
Mette gets her inspiration "from the smallest of details in everyday life". She likes to create "happy mini-worlds that are somewhat naive and fantastical with an underlying adult point of view". Her Love Bird pin was created as a side project for a Design Week Portland event. "Pin makers from around the world donated their pins for a group art show, with all proceeds going to support arts education. I had a pin collection when I was a kid and really wanted to take inspiration from my favourite – a white unicorn head with a multi-coloured mane – giving it a modern update."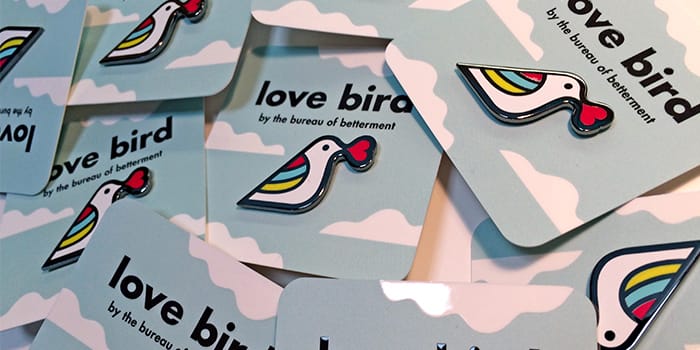 "My cards were originally designed as a backer for my pin but they also act as an alternative business card that I hand out too – it really surprises people and they always say, "I can keep this?!". I chose raised spot gloss, square Business Cards with rounded corners because it matched the tactility of the pin. The spot gloss on the white clouds shines in unison with the white enamel and the quality of the black shiny type matches the polished nickel border. The cards were an affordable way for me to take my presentation up a notch, giving me a great giveaway piece."
Take your presentation up a notch with Square Business Cards
Keep in touch
Get design inspiration, business tips and special offers straight to your inbox with our MOOsletter, out every two weeks.
Sign me up!