Our holiday checklist to spread the cheer on paper (and beyond)
Here are some holiday product ideas to celebrate the end of the year.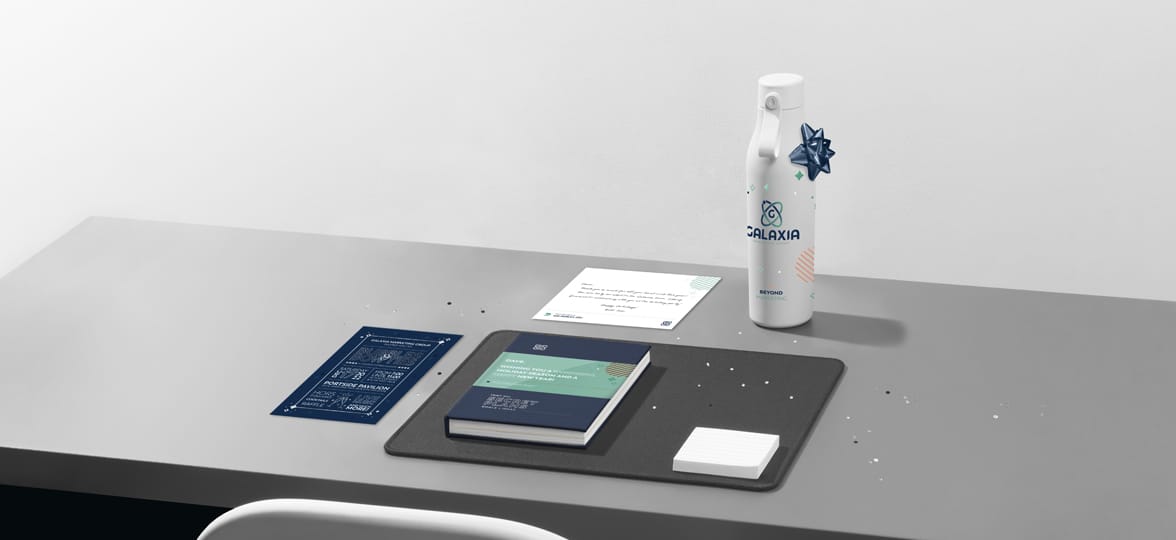 Can you hear Mariah Carey faintly humming in the distance? That's right: the holidays are just around the corner.
As a business, it's your time to reward employees, show clients your gratitude, and make sure everyone starts the New Year with your brand in mind.
Not sure where to start? Our design services team put together some product inspiration for your business this holiday season.
Desktop delights
Nailing your brand's holiday products starts with employee gifting. This festive season we've got employee appreciation covered, whether it's customised Water Bottles or invitations to the office party.
Plan on paper
After all their hard work, your employees deserve something special to end the year with. Gift your team personalised products that they can use in 2023 and beyond.
Custom Perpetual Planners
Customise a beautiful work Planner with your brand colours to help your team start the New Year happy and organised. Choose a colour and add your logo to show your brand in style. You've also got the choice between a brass or stainless steel Calendar Clip.
Belly Bands
A MOO Business Services exclusive offering that goes along with your Planner. Belly Bands are a way to add more personalisation to your gift. Why not add employees' names on each Belly Band to make them feel extra special?
StickerBooks
Everyone loves a good StickerBook. With a different design on every Sticker (up to 90 in a pack!), you get tons of creative variety to help your employees track their goals and plans. Don't know where to begin? Our design services team has plenty of ideas to help.
After-party hydration
Spread some festive cheer with a handwritten thank you note, a flashy invitation to the office party… And a customised Water Bottle to hydrate the next day.
Custom Water Bottles
Available in five colours, the MOO Water Bottle is the perfect ally for hybrid workers and anyone who's listed "hydrate more" as their New Year's resolution. Put your spin on it with our customisation options, from laser engraving to 360 wrap printing (our personal favourite).
Foil Postcards
It's difficult to find a print that screams "holiday" more than a shiny Silver Foil Postcard. Maybe a Gold Foil one? Use these dazzling cards as invites to the office party to get the whole team excited. And if you're looking for some more Silver Foil inspo, head this way.
Luxe Notecards
A handwritten thank you note goes a long way. Show your employees you care with a beautiful Luxe Notecard with a personalised message thanking them for their service this year. Choose from 8 Luxe colour seams to match your brand colours, and voilà.
Postal surprises
Who doesn't love receiving mail? Customers and clients are no exception. This year, show some appreciation with memorable holiday printed products. Tick all the boxes with our holiday checklist.
It's all about the details. Gift with festive flair by treating your customers to a shiny Greeting Card and enclosing a special gift inside. We've got custom options to suit all your needs.
Silver Foil Business Card
MOO Business Cards can be so much more than a way to share your contact details. Use a shiny Silver Foil card as a gift voucher by adding a QR code. They can use it to retrieve the special gift or discount you've prepared for them.
Greeting Cards with Silver Foil
Another Business Services exclusive. Add a metallic touch to your Greeting Cards to create an all-around dazzling experience for your favourite clients and customers. Don't forget to thank them for their business this year!
Custom Envelopes
Our Small Envelopes are a perfect companion for Greeting Cards. With MOO Business Services, you can create custom Envelope designs for your brand.
Round Stickers
Seal the surprise with a custom Round Sticker. You can add your logo, your brand colours, or any festive designs you've created for the occasion. With MOO, you can print a different image on every single Sticker at no extra cost.
Company party materials
Out of office, and into party shoes. Make sure you've got everything you need to celebrate the end of the year with your team – from directional signage to drink tokens and everything in between.
Long Flyers
Use our DL Postcards to create beautiful menus for the night. You can use the back to share your holiday wishes, thank your employees for a beautiful year, or simply show a beautiful custom design.
Round Stickers
Every employee is unique – and that applies to their diet, too. Use small Round Stickers to label food and drink options, so everyone finds their glass slipper. No starving vegans at your party!
Rectangular Stickers
Can't seem to recall that person's name from the Marketing department? Our Rectangular Stickers make for great name tags. You can write on them, and even create different designs for people to choose from.
Floor Decals
This way to the buffet! Choose between round or square Floor Decals (available with MOO Business Services) to point out the directions to the bar, buffet, and more. Your party should be all about having fun, not getting lost in the venue.
MiniCards
Don't forget the fun and games. Customise some MiniCards for a holiday raffle and gift each guest with a token (or two) for drinks or small presents.
Square Postcards
Why not let your guests spread some holiday cheer by writing personalised notes to their teammates on beautiful square Postcards? It's a great way to spread holiday cheer and make your employees feel valued and recognised.
Want to create your own custom holiday products? Get in touch to learn more about everything you can get with MOO business services.
Keep in touch
Get design inspiration, business tips and special offers straight to your inbox with our MOOsletter, out every two weeks.
Sign me up!