6 Cotton Business Cards that leave a sustainable impression
Get inspired with these beautifully designed (and textured) recycled Business Cards.
Being green doesn't have to be boring. Done right, making your business more sustainable can actually look and feel amazing, and make an impact your clients won't forget. Yes, you read that right: you can do good AND look good.
At MOO, we developed a tree-free Cotton paper made from 100% recycled T-shirt offcuts. It's bright white, subtly textured and 18pt thick – so you can live your values without compromising on your look. And our community is making the most of it.
Get inspired with six brands and creatives who left a sustainable impression with beautifully designed Cotton Business Cards.
Emma Alviti: cotton to cotton
Manchester-based textile designer Emma Alviti creates textile and paper-based homeware made in the UK with natural materials. From cushions to wall hangings and art prints, she designs nature-inspired gifts with a soothing colour palette.
With waste reduction at the core of her brand values, Emma chose Cotton Business Cards for their environmental credentials – but also their tactile finish. "I love that they use recycled T-shirt offcuts which would otherwise go to waste. I'm always keen to use every scrap of fabric myself and will soon be launching some "waste not" products to do just this. I also use cotton and linen for my textile products, avoiding the use of synthetic fibres as much as possible, so the 100% cotton stock is a lovely link."
Emma put her graphic designer fiancé Nick Yates to the task, to develop a design that would convey her brand identity in a powerful way. "My logo incorporates a unique hand-drawn mark which reflects my designs as they are all originally painted by hand. We've combined the logo with a simple layout as we felt we should let my products do the talking."
As colour is a central aspect of Emma's work, they matched the Business Cards with her designs with a muted, natural palette of alpine green, terracotta, taupe and a ldusty pink. That's where Printfinity came in handy: "Other than the environmental aspect and beautiful finish, I love that I was able to print four different colourways of my business card to add extra interest."
Brook & Earl: natural healing
North Yorkshire-based floral studio Brook & Earl came as an epiphany for founder Jane Bradley. After over 25 years in design and styling, she had become a carer for elderly family members, leaving her creative roots behind. Creativity was in her DNA, though, and it felt like something was missing. So when she attended a wreath-making course in 2016, something clicked. She'd found her happy place. A few years later, Brook & Earl (named after her two labradors) was born.
Beyond flowers, Brook & Earl is about nature and wellbeing, and supporting and empowering women. Jane uses creativity, mindfulness and floristry to nurture a safe creative sanctuary. Sustainability and seasonality are also at the core of the studio – so when Jane found that even her Business Cards could support her brand values and ethos, it was a no brainer.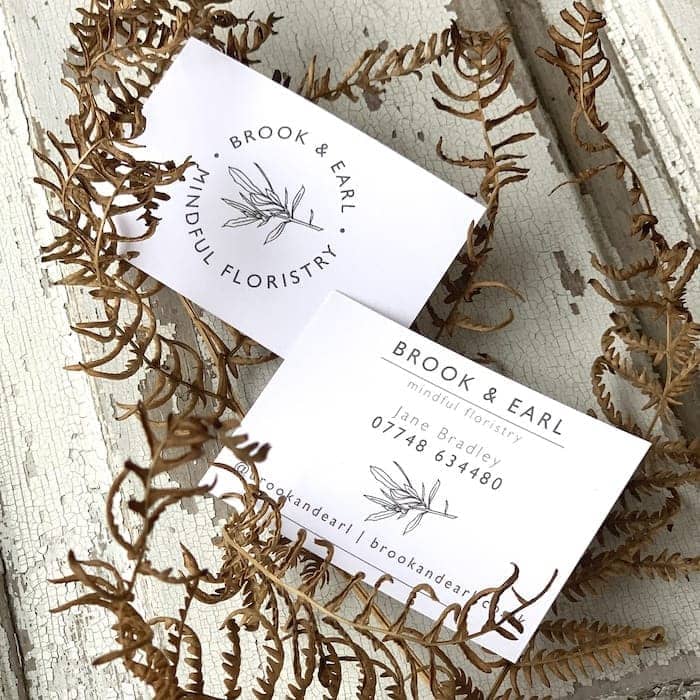 "I absolutely love my recycled Cotton Business Cards. They ooze quality, sit perfectly alongside the principles of my brand, and give me great pleasure in knowing that they are made from stuff that would normally get thrown away! I'm also very slightly smug when I hand one over to a new client, as I know they look and feel amazing!"
A lover of simplicity, Jane's branding is clean, sophisticated and memorable. She wanted to design something new that would also provide a sense of comfort and familiarity. The central olive branch symbolises peace, friendship, reconciliation and is associated with cleansing, healing and light. A perfect summary of her journey and values.
Alexandra Necula: organic texture
Alexandra Necula is a creative studio based in Transylvania, Romania. It's dedicated to helping sustainable, ethical and eco-friendly brands connect visually with their tribe through strategic, emotional design – a promise they keep for a variety of brands worldwide.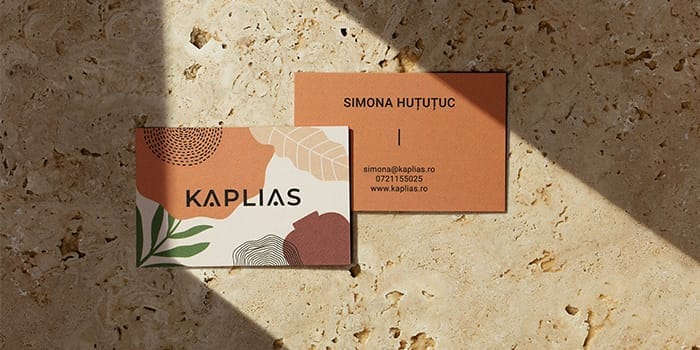 For home decor brand Kaplias, the studio developed branding that reflects their love for all things natural and hand-crafted. "The logotype has some subtle, Scandinavian motifs that remind of subtly slanted and minimal tables and chair, while the brand illustration reminds of natural, hand-crafted objects used in interior design, such as plants, ceramic vases, jute rugs and placemats, all designed in a hand-drawn, organic style."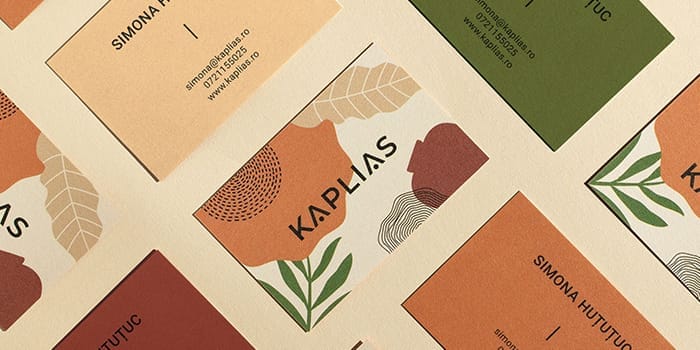 Cotton Business Cards were a perfect fit for the sustainable brand. First, because of their commitment to planet-friendly packaging. But they also perfectly complement the design, highlighting their illustrations with beautifully textured paper. "We absolutely love the natural texture of the Business Cards and the matte look and feel of the colours. They also have a really nice feeling to the touch."
Jodie Newman: a winning combo
Jodie Newman is a passionate creative director and graphic designer based in Oxfordshire in the UK. She specialises in packaging design and print, specifically in the wine industry. This self-proclaimed "design geek" is always looking for the next label trend or font to play with – and it shows on her cleverly designed Business Cards.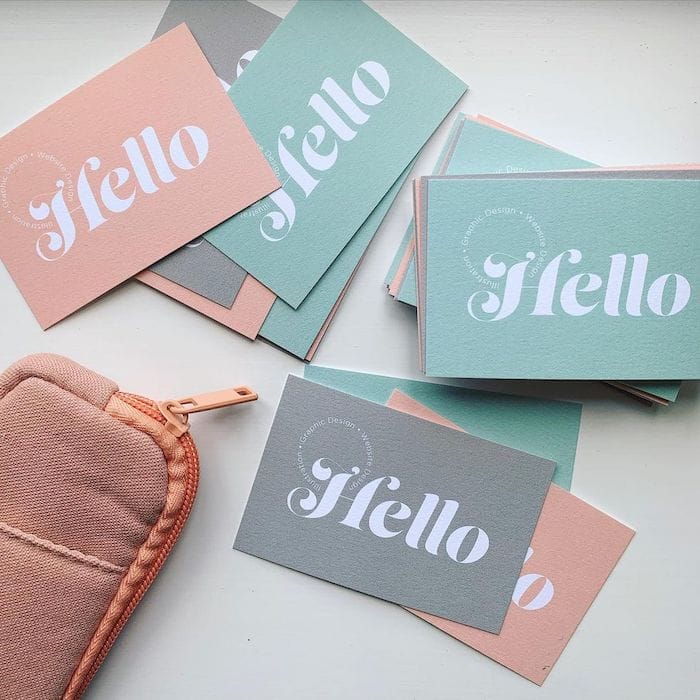 She combined a lovely rounded serif font with a lightweight sans serif, curving the text into a circle like a halo. Thanks to Printfinity, Jodie was able to print her cards in three different colours, with a soft grey, a coral pink and a muted blue.
Passionate about the environment, Jodie practises what she preaches when it comes to sustainability. So for her own Business Cards, she chose MOO's recycled Cotton paper. "They look fantastic, feel great and the quality of print and colour is always super strong, meaning the information I'm communicating stands out and is easily legible whilst also being kind to our planet. A winning combo!"
Rey Riley: peaceful empowerment
Rey Riley is a British digital artist inspired by women, boho home decor and fashion. Her work aims to convey a sense of peaceful empowerment, often embodied by women relaxing in a tranquil environment, sometimes accompanied by plants and cats. "My art serves as a reminder to slow down and appreciate life's simple pleasures, to look within, discover that you are enough and that it is never too late."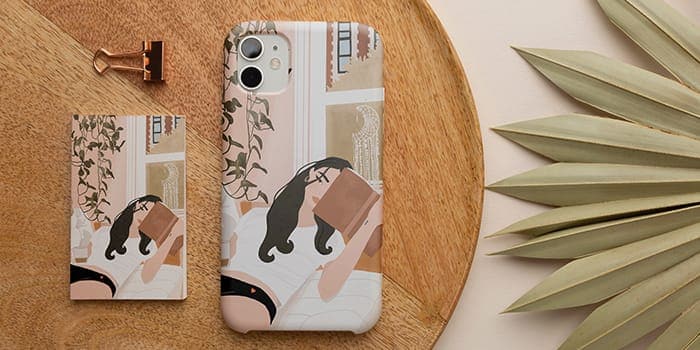 As a small business owner, Rey is committed to making her brand more sustainable. "With online shopping increasing more and more and the Earth temperatures following along, every business can make a difference and it is my goal, as the business grows, to rethink how I design packaging and marketing materials."
That's where our recycled Business Cards came into play: "I was thrilled when I discovered MOO's recycled Cotton Business Cards. As well as being tree-free, they are also bright white and have this amazing texture which elevates the designs, making each card look like a tiny painting!"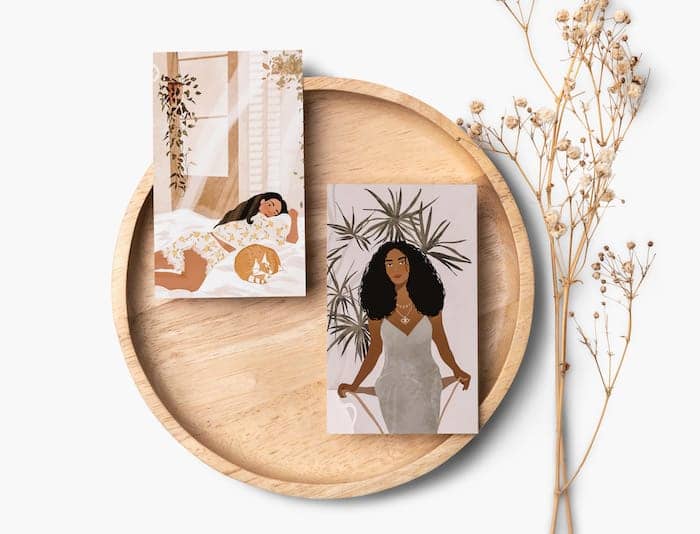 Rey used MOO's Printfinity option to print a different design on the back of each card. "I have a small gallery of my artwork and wherever I go, people can choose which card design they would like to remember me by. […] They are also perfect to pop into every order."
Studio Cari: simply timeless
Based in Dortmund, Germany, Lisa is the mind and head photographer behind Studio Cari Photography. She specialises in wedding, couple and portrait photography. When her business grew faster in 2021, she decided it was time to design her first business cards.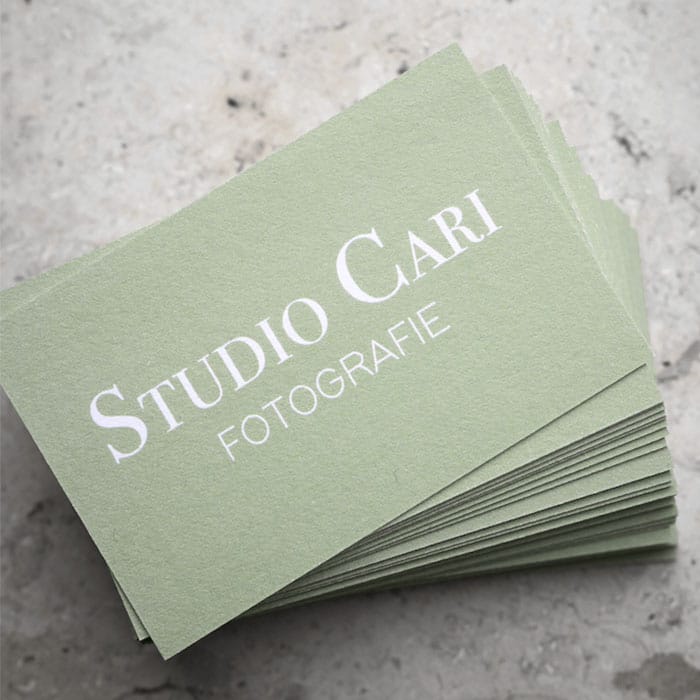 She created her cards with her values in mind: care deeply, make a difference every day and be sustainable. What better way to embody them than with tree-free Business Cards? With their natural texture, they're also giving depth to her beautifully minimalist design.
"Because I like to let my photography speak for me, I wanted my business cards to have a very simple and timeless design. The only striking things are the colour, which looks fresh and modern and the special texture of the card. The sustainable thought underlines my values and makes them very special for me."
Feeling inspired? Leave a sustainable impression with our bright white and beautifully textured Cotton Business Cards.
October 2022 update: This article references the way we used to make Cotton Business Cards. We now use a different process.
Keep in touch
Get design inspiration, business tips and special offers straight to your inbox with our MOOsletter, out every two weeks.
Sign me up!