Rule of thirds: 3 pro photographers share their inspirations
Collectable mini-prints, pocket portfolios and branded Business Cards – just a few ways these photographers are getting their work out there.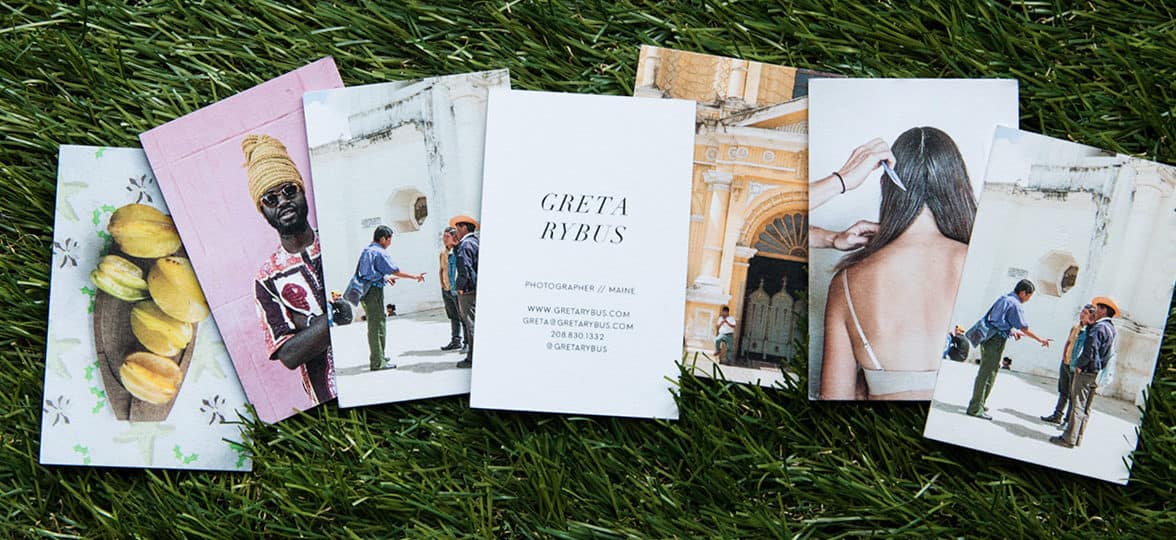 Collectable mini-prints, pocket portfolios and branded Business Cards – just a few ways these photographers are getting their work out there.
Do you ever scroll through Instagram and stumble upon an image that just stops you in your tracks? We love it when that happens! Here, we check in with three photo pros who capture that very feeling and find out how they've turned their digital snaps into printed products.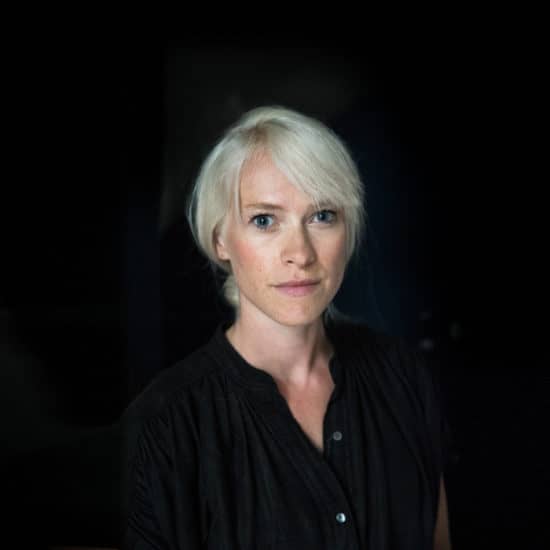 Greta Rybus is a globe-trotting photojournalist based in Portland, Maine. Working primarily in portrait and documentary photography, Greta's work focuses on the relationships between humans and the natural world. After her family moved from Idaho to Northern Japan in her teenage years, her passion for photography flourished as she explored new and invigorating scenery in an entirely foreign setting. Her experience abroad led to a wanderlust that has continued into her photography career.
No matter where she is in the world, Greta's inspiration takes direct influence from her surroundings at any given time. "When working on a shoot, I'm documenting a unique moment," Greta says, "and thus a lot of the inspiration is simply reacting creatively to the light, landscape, and personality of the space and subject." And it shows—Greta's photographic style remains consistent, while leaving room for the setting to show its unique characteristics. This holistic approach to her photography inspiration has proven effective—landing her photos in a variety of publications, from the New York Times to The National Geographic Channel, to name a few.
When working with new clients, it was important for Greta to lead with her best foot forward, which is why she printed some of her favorite portfolio shots on the back of her Luxe Business Cards. "As a photographer, I'm very picky about printing quality," she tells us. "I love that the color quality and tonality stays true on the finished cards." Using Printfinity, Greta is able to showcase a wide variety of her portfolio to her clients. "Printfinity allows me to select a Business Card that best reflects the interests and aesthetics of the individual I'm giving it to."
Print your portfolio on Business Cards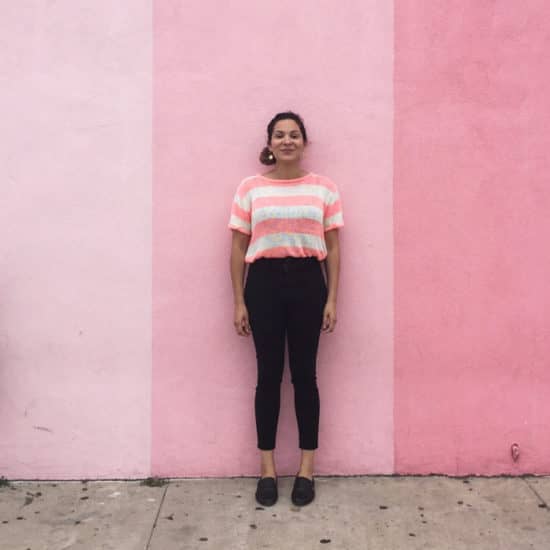 Bold colors, playful art direction, and quirky imagery are all characteristics of San Diego-based photographer Vanessa McKenzie. After 8 years of working as a professional graphic designer, Vanessa decided to focus on broader outlets of creative work, including photography. She made an effort to refine her own brand and focus more on freelance activity while allowing for more personal time spent on artistic pursuits, both solo and collaborative. The shift in focus paid off—Vanessa's clients include an impressive list of everything from art museums to high-end grocery stores and restaurants.
But how was she able to land these big clients? Turns out, social media can do more than just inspire. "I am an inspiration hoarder," Vanessa tells us. "I am constantly taking in eye candy via Instagram and Tumblr." What started out as a creative inspiration archive, Vanessa's Tumblr page quickly started to gain like-minded followers that have stuck with her for years. "I never even advertised my page, it just grew and grew the more I began posting," Vanessa explains. "The Internet is a strange place. I also appreciate all the animal .gifs." Us too, Vanessa.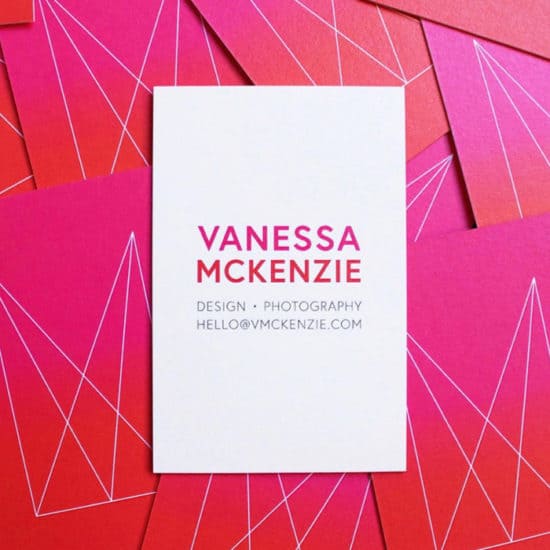 Her rising popularity on social media channels had Vanessa thinking more about her brand and how to communicate it to her followers. "I tend to get picky about my brand, so I came up with a design that could have many different color combinations. Her bright gradient logo and text perfectly mirrors her website and online portfolios, and captures the buzzing vibrancy of the work she produces. The positive response to her Business Card designs allowed her to hand them out with pride."I get a ton of compliments from non-industry people and potential clients." But perhaps most important of all: "My Grandma even asked if she could keep one!"
Build your personal brand on Luxe Business Cards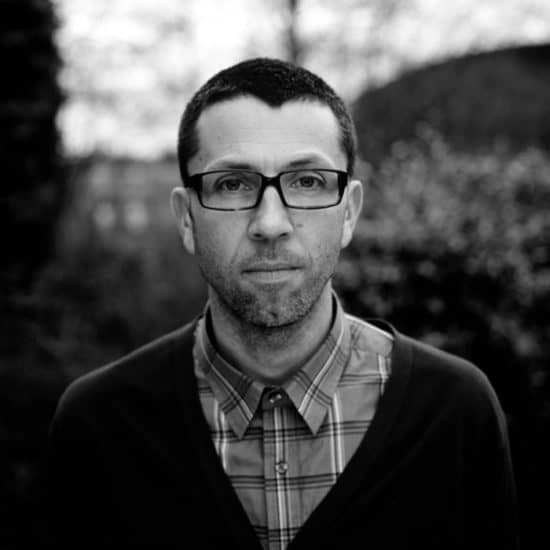 Marc Provins is a visual artist and photographer currently working at the Liverpool John Moores University in Liverpool, UK. Marc's stunningly simplistic photographic works fuse together graphic design elements that show a keen sense of color theory and lighting. For years, Marc taught a photography course at Trafford College, Manchester which allowed him to immerse himself in the photography and art world, while being able to support his side projects and creative outlets.
Nowadays, he's trying to bring his love of the natural world together with his interest in design. The result is an amazing body of work made in his small improvised home studio. He uses natural light and specimens from his garden to create images that feel altogether familiar yet foreign. "It feels very personal, as I've nurtured these plants and do photographic studies as they develop and change—choosing just the right moment to document them." He then takes a color sample from within the image to pair as a graphic element on each, giving it a modern feel.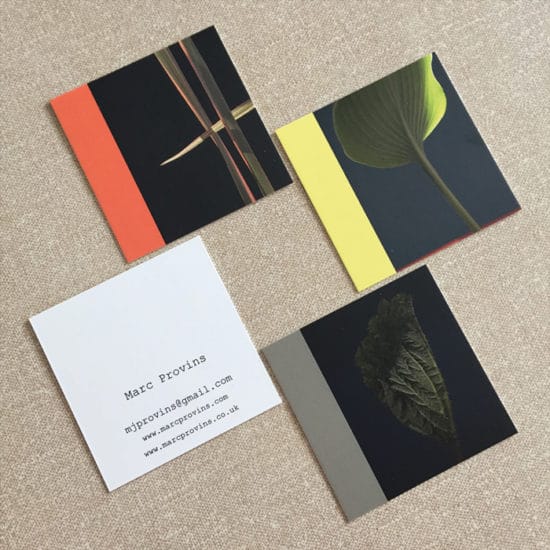 Marc's work brought him to a photography festival in France, so an order of Business Cards was a must. He printed some of his favorite images on Square Business Cards that perfectly match the ratios of his work, so he could not only hand out his portfolio to galleries, but his contact information as well. He used a matte finish on his cards to maintain the visual simplicity that doesn't take away from the image. "I've had a great reaction to my Business Cards," Marc tells us. "People have come up to me telling me that it feels like I'm giving them mini artworks and that they want to collect the set!"
Hand out mini artworks on Square Business Cards
We're so happy we found these photographers. Use the #MOOcards hashtag on Instagram and Twitter to share your designs!
Keep in touch
Get design inspiration, business tips and special offers straight to your inbox with our MOOsletter, out every two weeks.
Sign me up!