The rebranding process: from strategy to design
A rebrand is a total overhaul of your business look, feel and positioning. Exciting? Absolutely. Daunting? It doesn't have to be. Here's how to plan and execute a rebrand.
1. What to think about 
Before you can roll out your beautiful rebranding campaign to the world, there's lots to be done behind the scenes to make sure your approach is on point. Businesses rebrand once every 7-10 years on average, so it's worth taking your time and planning every step in detail. 
Why are you rebranding? 
From positive reasons, like stratospheric growth or a successful merger, to problem-solving rebrands following negative coverage or a dip in engagement, there are many situations that prompt a corporate rebrand. 
One thing is for sure though – because of the effort involved and the impact a change of brand can have, a rebrand should always be a strategic move that's carefully considered. Before deciding if it's the right step for you, it's a good idea to dig deep into the reason you want to rebrand and explore other approaches to make sure a rebrand is the best solution.
For many businesses, a brand audit is a worthwhile exercise. It can help you to take stock of the strength of your brand and pinpoint which issues you want your rebrand to address. It can help you come up with a clear set of goals and indicators of success for the rebrand.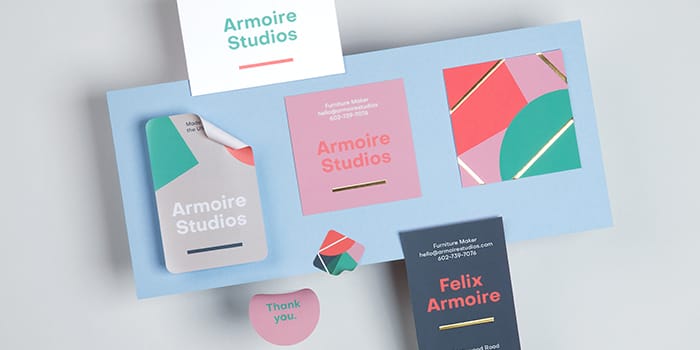 Rebrand vs. refresh
A total rebrand isn't the only way to sharpen up your brand identity and stay up to date. If you've weighed up whether you need to rebrand and decided it's not an urgent necessity, a brand refresh could be right for you. 
Rebrand

: A new identity for a business which may include a revised name, slogan, visual identity or brand values.


Rationale:

becomes necessary after major changes to a company or its business model.

Refresh: Changes to an existing color palette, logo or font style that are subtle improvements on your brand.
Rationale: keeps visual identity fresh, up-to-date and appealing.
Not just a name
It may be new names or revamped logos that grab attention when companies rebrand, but they're just the tip of the iceberg. There's a lot more work to be done in changing all of the smaller, less-obvious aspects of your branding. This is worth considering when you plan your rebrand, as it will impact how much time the process will take and what the cost implications might be. 
Your rebranding checklist will probably include digital assets:

Web

domains (including those for different territories)

Social media accounts (including migrating content over to a new account if your handle can't be changed)

Digital ads and campaigns

, including PPC (pay per click) and social

Email templates

Recruitment ads and marketing

SEO and metadata on web pages

Internal document templates like PowerPoint decks

Your app, if you have one
And, offline branding, including:
Print marketing material like

flyers

and posters

Office or retail store decor

Personal stationery and

business cards

Product packaging

Vehicle signage

Staff uniforms

Trade show

stands and booths
The brand personality itself, including:

Your brand values

Brand manifesto

Tone of voice guidelines

Brand style guide 
In short, just about every touchpoint your business has with the rest of the world may need to be updated when you rebrand.

2. Steps to rebranding your business
Once you're clear on your goals for rebranding and you've decided on the scope of the project, it's time to get started on making it happen. 
Choose your rebranding agency
A creative agency can be your biggest rebranding ally, as they'll be able to help you plan the strategy as well as carry out the creative execution and the promotion of your new brand. Here are some tips for finding a great rebranding agency to partner with. 
Compile a shortlist
To narrow down your choices, ask for recommendations, look up campaigns you admire or successful rebrands you know about, and find out which agencies were involved. Find out how the agency charges for its services and whether they're considered expensive or low-cost. It's also worth finding out what the scope and capabilities are, to make sure they offer everything you need.


.

Invitation to pitch


Invite the most promising agencies to

pitch

for the rebranding project. You'll need to issue a brief for the work to help them decide, and be available to answer any questions. 
Your brief should include some background to the project, including your business story to date, the reason you want to rebrand and what your expectations are for the process. You should also give the agencies a clear scope of the deliverables for the project, as this will help them match their in-house capabilities to your requirements. 
Meet and greet
You may want to hold a brief meeting with each agency before the pitch day to test out the fit of personalities and whether their company culture and ethos is in tune with yours. Getting this right can help enormously with communication and collaboration during the rebrand process.
Know what to expect from a pitch presentation
A pitch is the agency's chance to show that they understand your business challenge and that they have the right experience and talent on board to come up with a successful solution. Remember they probably won't come up with new creative at the pitch stage, as this depth of work needs to be paid for. However they should show an understanding of your current brand and your challenges, and have a process in mind for how they'll get the rebrand done.
Engage your new rebranding agency
With the pitches delivered, hopefully you'll have a clear idea of who you want to work with. All that remains is to agree on financial rates, sign a contract – including agreements on timeline and deliverables – and then get to work.

The rebrand design process
No two businesses are the same in their approach, but there are some core building blocks to a rebrand that are nearly always present. Your rebrand is likely to follow along these lines: 
Discovery phase
This period helps your agency or brand team get totally immersed in your current brand, while carrying out valuable research to give you a deeper understanding of your business context.
Competitor research


A rebrand should set you apart from the competition while staying in line with broader trends in your market niche. It's a delicate balancing act, as you'll want it to be clear that you're part of a specific industry and up to date with its trends, but not that you're just like everyone else. 

Market research


An important part of the discovery phase is a deep dive into your customers' perceptions of your business and what they want and expect from you. This can help update any existing market segmentation to incorporate new audiences. It can also point towards negative perceptions that you want your rebrand to counteract. This process might involve social media listening, surveys, focus groups and data from your loyalty program, if you have one.
Creative phase
Once you've got a handle on where your brand currently is and where you want to be, you're ready to develop a messaging approach. This is how you'll position your brand, and it will be the starting point for things like your brand tagline, tone of voice and brand values. Your core messaging can include:
An elevator pitch


A short statement that sums up your brand and what it offers

User personas
Detailed profiles of imaginary people who represent your main audience groups, including their motivations, backgrounds and what they want from your brand

Key features and benefits


The things that your products and services offer, and how those add value for your customers. For example, 'made of fiberglass' is a product feature, while 'tough and long-lasting' is a benefit.
This is the part most people think of first when they hear the word 'rebrand'. It's the color palette, logo, fonts, artwork and illustration and any brand marques that will be updated or introduced. 
Execution phase
Your rebranding agency or team should now be ready to come up with some suggested approaches for messaging and visuals, as well as new candidate brand names and taglines if applicable. 
The final contribution the business stakeholders need to make is to feedback on these. Here are some tips for giving your rebrand designers useful and successful feedback: 
Collate feedback from different stakeholders


To avoid conflicting suggestions or an overload of comments, assign a single point of contact who will deliver the feedback to the creative team, after resolving any contradictions between comments and removing any duplication. 

Refer to the brief


The creative brief is the agreement made between designer and client about what will be done, so it has an important role to play when it's time to review. Check that everything on the brief has been covered to your satisfaction and that the revisions you ask for are within the original scope of the work. 

Be clear and specific


Give feedback that can be acted on, rather than overall judgements like 'it feels dull' or 'it's not really us'. Explain what it is about the suggested design or creative that triggers your reaction, such as 'the pale colors don't make enough visual impact'
Once the feedback has been resolved, you'll start receiving the final deliverables. These might include a new logo, brand guidelines, color palette or design assets. Congratulations – you're ready for your rebrand rollout!
Rebranding explained
This article is part of our rebranding guide series. For more tips, check out 'How to promote your rebrand' and 'How to work out when it's time to rebrand'.
Looking for more branding inspiration? See how to choose a name for your new business
Keep in touch
Get design inspiration, business tips and special offers straight to your inbox with our MOOsletter, out every two weeks.
Sign me up!