How we MAKEIT: flattening our carbon footprint
Felix Ackermann and Ebba Long tell us more about our new planet-friendly packaging.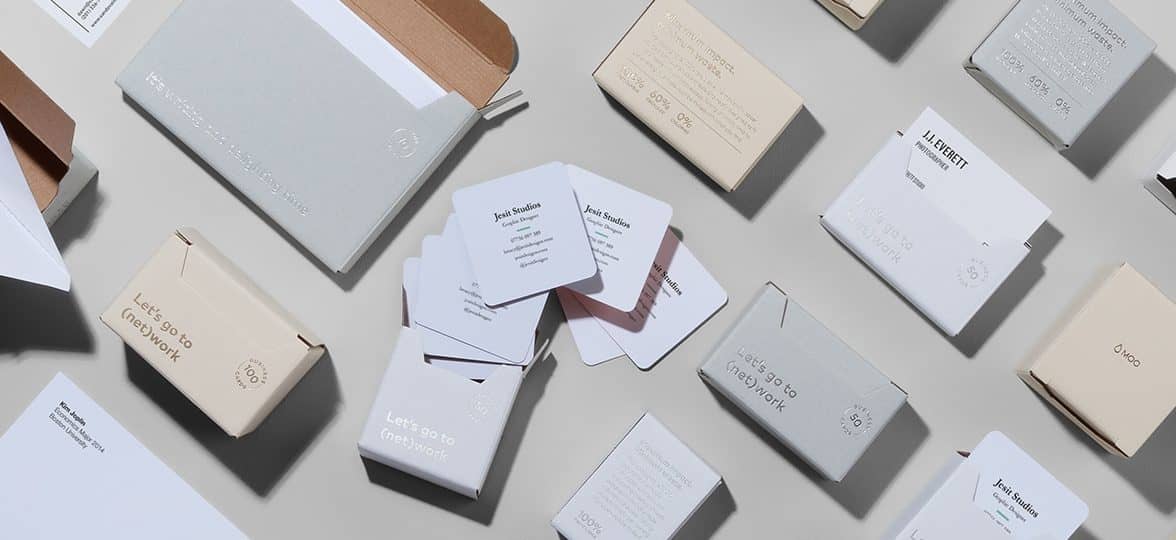 In the next coming months, you might notice our new packaging. Or you might not – it's been designed to make as little impact as possible. No more plastic. Much less waste. Just what your business (and our planet) need.
Behind that change is a multi-talented team with a mission: reducing MOO's carbon footprint. We asked Felix Ackermann, principal lead product designer, and Ebba Long, head of brand marketing, to tell us more about how we flattened our environmental impact with new, cleverly-designed packaging.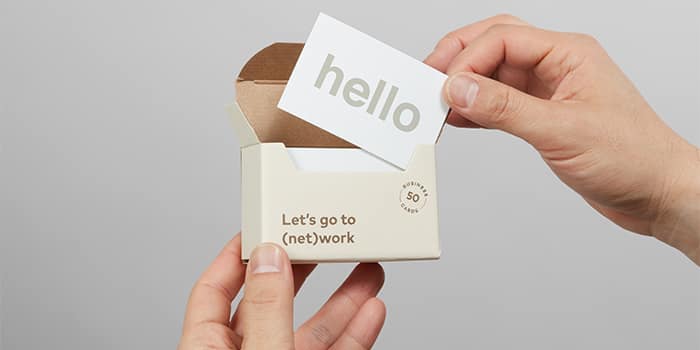 Why now?
The idea to revisit our packaging was prompted by a realization. While we'd changed and evolved, our boxes had remained the same for many years.
For Felix, the time had come to move forward. "Our packaging has always been setting a high bar within the industry and has been very well received from customers. It was designed a number of years ago now and the world around us as well as MOO itself has changed since then. It presented a great opportunity and challenge to ensure we imagined this extremely important touchpoint of our brand better for people and our planet."
To ensure we are evolving sustainably, our packaging needed to reflect that as well
As we're taking the steps to become a more sustainable business, it made sense to reassess our packaging through this lens – a commitment that was central to Ebba's approach. "As a purpose-led business, we are always looking within to see how we can continuously improve our company's impact on both the planet and society. To ensure we are evolving sustainably, our packaging needed to reflect that as well. This led to a conversation and ultimately an excellent opportunity to see where and how to minimise waste by reducing excess packing without losing the premium quality and feel that MOO is known for."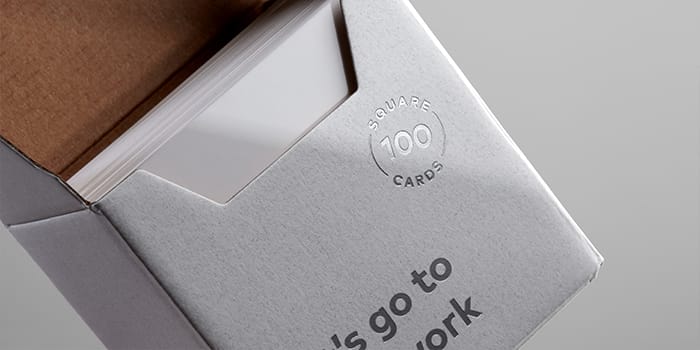 A fond farewell
MOO's former packaging was well-liked by our community. When asked if it was a difficult choice to retire something people love, Ebba highlights the challenge of making the right choice – but one that needed to be made:
"Our packaging is the first physical touchpoint of our brand, and it has to convey what MOO is about. As a premium brand, our challenge was to maintain the look and feel that our customers expect from us while also being eco-conscious. [It means] taking necessary steps to show our commitment to become a better sustainable partner to our global customers."
Why change something if it receives so much love?
Felix is all about thinking with the future in mind – even if that means taking risks. "When talking about changing something I'm often reminded of Ford's quote 'If I had asked people what they wanted, they would have said faster horses'. While our change of packaging is tiny compared to the introduction of the automobile, first and foremost it was scary to embark on the journey of changing our packaging – why change something if it receives so much love? I do think though that it is important to look at the bigger picture, so we used this opportunity to ensure our packaging reflects our premium brand values [while being] more sustainable."
Bringing the new packaging to life
At MOO, we love design. We also love a good challenge. "The two main boxes to tick were to strengthen our premium brand values and sustainability – individually they are easily achievable but combined they provide a big challenge!" says Felix. Giving the new packaging a premium look and feel while protecting MOO products effectively were also top priorities on our list. And we worked hard to tick ALL the boxes.
Finding that sweet spot involved a lot of research and collaboration every step of the way. "The biggest challenge was to find a way to find a solution that satisfies the needs and wants from a variety of origins. Warehouse storage space, brand values, customer expectations, protection during transit, workflow within our warehouses and touchpoints for assembly and sustainability – everything had to be taken into account. Oh, and it cannot cost the world," he explains.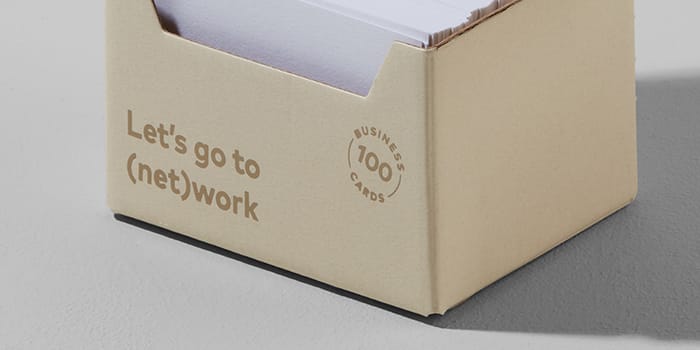 Creating the boxes was the result of fantastic teamwork, with a variety of teams committed to imagining a beautiful, practical, and more sustainable product. For Felix, this is where the magic happens. "The bit I enjoyed most was to work with many, many fantastic colleagues, all specialists in their field, to get to a simple, yet beautiful and functional solution."
60% recycled, 100% recyclable
The new packaging is plastic-free, 100% recyclable, made with over 60% recycled material and chlorine-free. For Ebba, keeping the highest standard was of the utmost importance. "We looked for the most premium material with high sustainable credentials. We looked, touched and tested many until we found the right ones. They had to shout MOO in their simplicity: quality, beautiful texture and refined finishes."
We got a little help from our friends at Mohawk. "We were able to find three different papers that reflect coherence and individuality at the same time with a wonderful uncoated texture and finish. It has a high content of recycled fibres and uses very little colour dye" Felix explains. 
It shows great design can be achieved with any material
"The real game-changer came from using micro-flute, though. This is a corrugated board with very fine flutes. It offers surprising stability and protection for its weight. Ultimately, this means we are using a lot fewer wood fibres (which means fewer trees) in our packaging than conventional packaging materials. We decided to use regular brown kraft material, which is 100% recycled, for this part of the packaging. By combining these two materials, we were able to reimagine and elevate a basic packaging material to have a clean, architectural, simple yet beautiful look." Ebba adds, "It shows great design can be achieved with any material."
Felix's favourite part of the boxes are their clean, simple design. "I think the neutral colours along with the minimal yet beautiful finishing are very attractive. It allows the most important thing to take centre stage, which is our customers' products."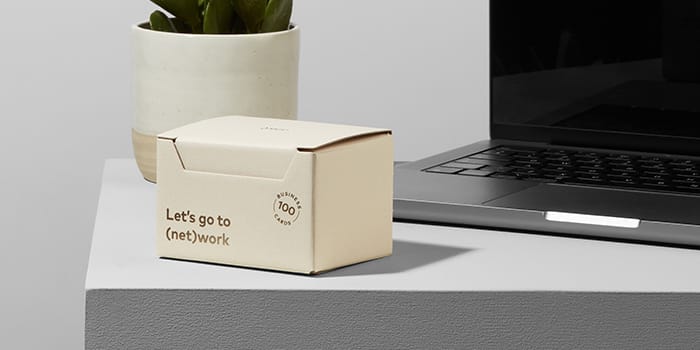 A sustainable future
As an online business, our packaging is the first physical touchpoint with our products and our brand. That's why it's so important for it to reflect our commitment. And with these new boxes, Felix feels we hit the nail on the head.
"Our new packaging is made of 60% recycled materials. The rest comes from sustainably managed forests, using local materials. Our production partner is just down the road from our US warehouse, which will help tremendously to reduce our carbon footprint. We estimate that, on average, each item of packaging travels approximately 8000 miles less when shipped from our US warehouse.
"On top of that, the packaging is much lighter which will also have a positive impact on our carbon footprint. Oh, and it is shipped flat, which means less air shipped and a huge amount of space saved in our warehouses. It is then simply 'popped' into shape before your cards are added to the boxes."
So, what's next on the agenda? For Felix, packaging is only the start. "There is a lot more we want to be doing in the future. Every new product that we design and launch is an opportunity to reimagine the existing market landscape and ensure we come up with a sustainable solution. And this should not only include the material choice or production method, but also the afterlife of those products."
Keep in touch
Get design inspiration, business tips and special offers straight to your inbox with our MOOsletter, out every two weeks.
Sign me up!