Red Bull: A lesson in competitive brand-building
MOO caught up with Red Bull's brand team to talk about the importance of branding and how design is in the detail — right down to the Custom Notebooks handed to the company's new employees.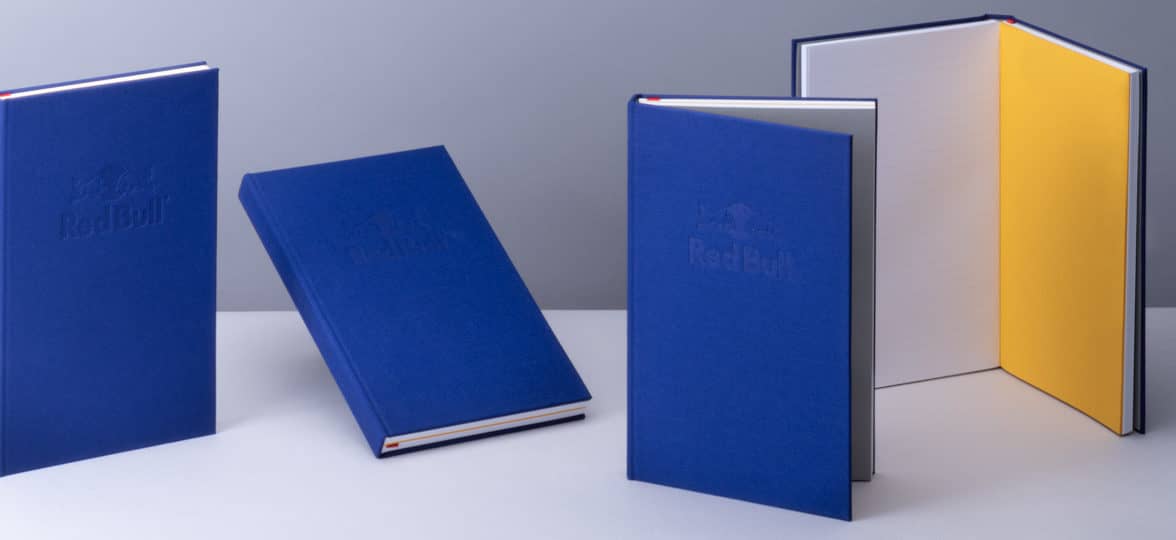 From
that
slogan to a truly iconic can design, find out how Red Bull's brand identity has paved the way for flyaway success.
MOO caught up with Red Bull's brand team to talk about the importance of branding and how design is in the detail — right down to the Custom Notebooks handed to the company's new employees.
Red Bull's built-in branding
Austrian marketing strategist Dietrich Mateschitz chose April Fool's Day 1987 to launch his pioneering energy drink. But he took his branding very seriously indeed.
Ask the average person on the street what Red Bull gives you, and you'll be hard-pushed to find anybody who doesn't reply: "wiiings!" And most will be able to identify the brand's iconic palette of blue and silver with red and yellow logo.
"Having a strong brand identity is one of the most important parts of the business," Red Bull's brand team tells MOO. "The company is credited with creating the energy drink. We started an entire market, and needed to let people know what our products were all about."
The brand wanted to create a connection in customers' minds between the need for energy and how Red Bull can supply it.  "Red Bull was a philosophy and a way of behaving, which is connected to the idea of 'giving wings' to customers. The tagline has been a constant for the brand."
Today, Red Bull is sold in 171 countries worldwide, with 70 billion cans flying off the shelves thanks to those wings.
Energy in mind
Red Bull's always-on strategy relies on a constant online presence coupled with strong branding and design. The company runs sporting events including The Red Bull Cliff Diving World Series and the Red Bull Air Race, and owns two Formula One teams.
Its YouTube channel offers its 6.9-million-strong subscriber base thousands of adrenaline-fueled films, including Felix Baumgartner's Red Bull-funded 39km free-fall from the edge of space, which to date has garnered over 43-million views. And whether they're emblazoned on an F1 car, a helium balloon on the edge of space, or an aluminum can, the Red Bull color palette and logo, unchanged for over 30 years, are instantly identifiable.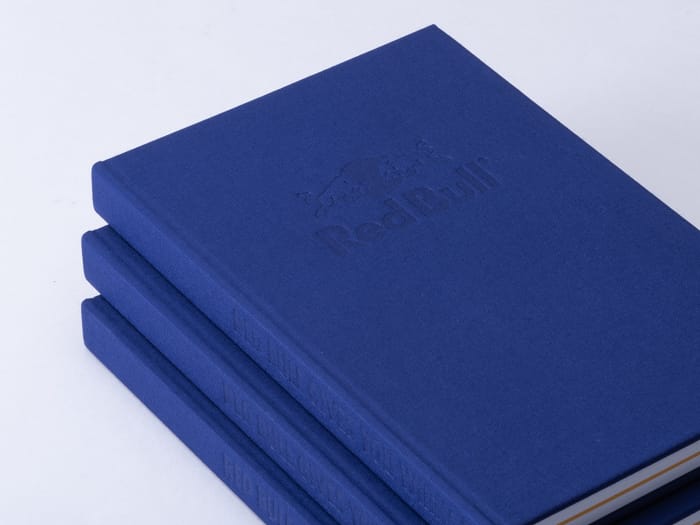 Joined-up design
Red Bull acknowledges the importance of carrying this unique approach to strong brand-building throughout the business. And MOO recently worked with the team to design custom, hardcover cloth Notebooks to match its branding.
"All new employees get a four-day onboarding experience at our HQ, where they get acquainted with the brand," Red Bull's brand team explains. "We needed a notebook for these sessions that perfectly matched our branding."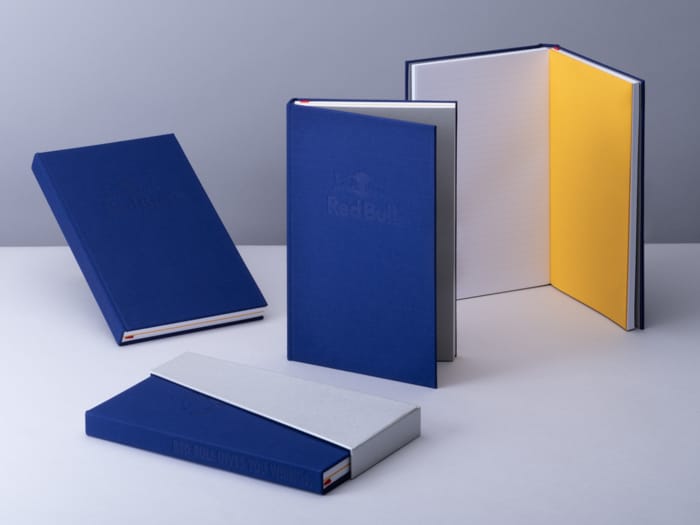 "Previously, we were using basic notebooks, so we were looking for a solution that had a minimal look but was premium as well, which is what MOO offers."
The custom Notebooks feature the Red Bull color palette, with yellow inserts, a section of blank yellow paper in the middle, and a red wayfinder.
The Red Bull logo is debossed into the cover — "We don't like the logo to take center stage or shout too loudly,"—and, of course, the brand promise, 'Red Bull gives you wiiings' is included too, on the Notebook's spine.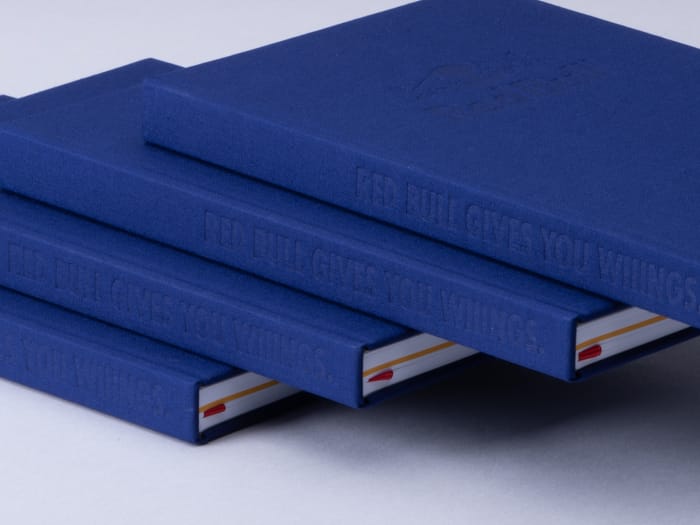 Collaboration and design
The creation of the Notebooks was a collaborative effort that balanced utility, branding and style, while being consistent with Red Bull's other branded stationery, such as their Business Cards.
"It was a very hands-on creative process. We were asked to sketch something that would resemble our ideal branded notebook. Then, working with some of MOO's technical designers, we made decisions for branding that we were all happy with. By imitating some of the customized options the result was a beautiful, minimal adaptation of our ideas."
The resulting Notebook fits in perfectly with Red Bull's other brand materials. And the Red Bull employees can't seem to get enough: "Everyone wants one—I have to keep some of them hidden in my office!"
---
Interested in making Custom Notebooks?
We have a dedicated team of MOO Designers ready to take your artwork and add it from cover to cover. Just fill out the form here and one of our friendly Account Managers will reach out to you with the next steps.
Keep in touch
Get design inspiration, business tips and special offers straight to your inbox with our MOOsletter, out every two weeks.
Sign me up!