Becoming an Instagram superstar – how one painter cracked it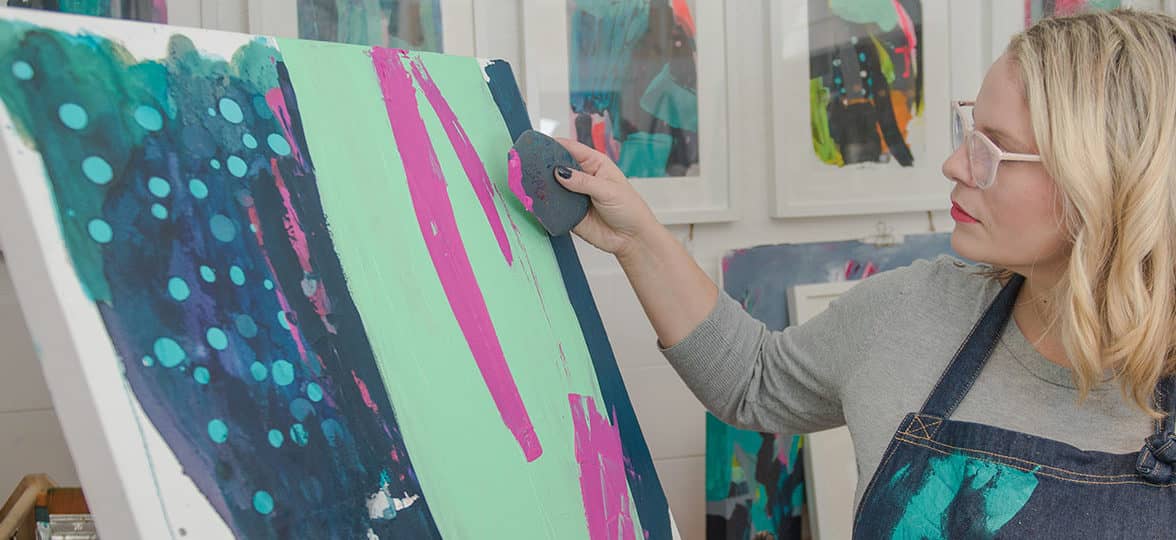 Kia Cannons is one inspirational hero – an artist who was told she wasn't allowed to paint, she's grown her style, her business and a community of adoring admirers all through her own persistence (helped along by a healthy dash of humour).
In rural Surrey, you'll find a leafy village called Farnham – the unlikely scene of an artistic idyll – the studio of abstract artist Kia Cannons. Kia, who goes by the name of Sticks and Ink invited us to her garden workshop to find out more about her remarkable talent – and how she, who as a student was told she wasn't allowed to take art classes at school, has built a hugely successful living as an artist.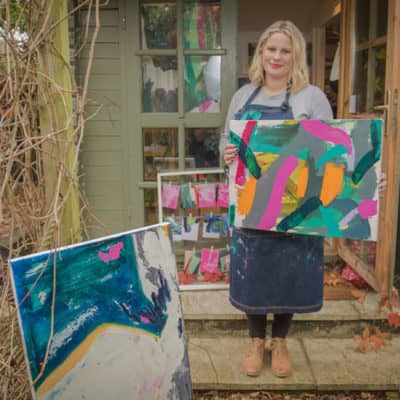 Kia! You've become huge on Instagram, known for your distinctive style and gorgeous palette. How did you get started?
I'd always wanted to do something creative. I was doing project management and admin for years to support my husband, who was setting up his business as a graphic designer. When we finished uni he knew what he wanted to do and I didn't. So we said I'd support him while he was doing that, then we'd swap and I could do whatever I wanted to do after that.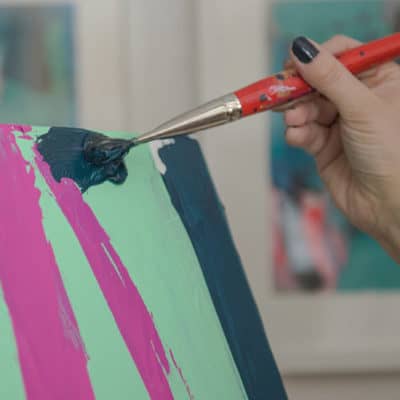 I knew I wanted to do something creative, but I didn't know what. When I was at school, I was told by the art teacher that I wasn't allowed to pick art, because she said I couldn't draw. And as a child, I absolutely took that on and fully believed it.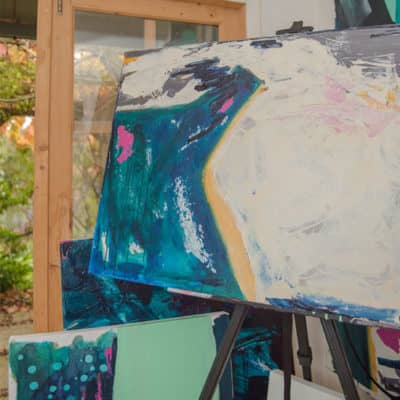 I was always waiting for permission – I don't know who from – and I remember always walking past the art department window. If I got to go in there to see a friend or something, I would see all the paintbrushes in jam jars on the windowsill and it would make my heart race with desperation to get in there. I spent years looking longingly at studio windows.
What was the catalyst to get going?
It all came about when my youngest, who's now 5, was 2 at the time – I was at a local arts venue doing a sewing cafe with a friend, and there was an exhibition on there. I was so unarty, I hadn't ever really been to an exhibition. There was all this abstract art and I immediately felt like… "I think I could do this! And I think I want to do this!". My friend suggested I take a course or something.
I was still telling myself "oh I can't draw, it'll just be a waste of the materials." And then when we were leaving we picked up the prospectus for the venue and it had all these experimental classes in it.
It was starting in September when my youngest was about to start pre-school – for the first time in about 5 years I hadn't done anything for myself, I'd just been a full-time mum. So the thought of dropping my youngest off at school and going off to an art class just felt so decadent!
From then on, I fell in love with it very quickly – 2 months in they were having an exhibition and I put a few studies in. As a test, I priced them as high as the value was to me – and a piece was bought. So that was the catalyst for me. I told myself I had 2 years to make this work because I just didn't want to go back to the city, to admin and project management!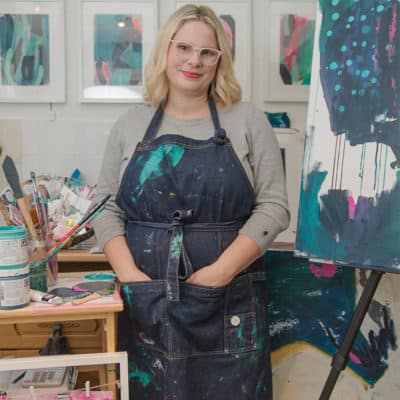 Your style combines this gorgeous, gestural style with hot wax batik – where did you learn this technique?
I learned the hot wax batik method in that experimental drawing class and just loved it. We learned all kinds of techniques there – weaving, painting botanicals and I got to the end of this course and learned that really it was paint and brushes I wanted to work with. So then I started experimenting there and discovered that I just love painting instinctively with big, gestural strokes. And in fact, not even with brushes, I like painting with blades.
Then I got to know Instagram and discovered there were lots of other abstract artists around. I didn't ever want to end up looking too similar to what's going on with the masses. I knew I needed to find something really distinctive. The hot wax batik had never left me – so I thought I need to see if I could try and combine the two.
So – that's where I began. I'd learned my painting style is gestural, I still love hot wax batik and I'm inspired by nature: mountains, lakes, the sea and the weather. Over the last 18 months, I've melded those things together – and this is what's come out of it!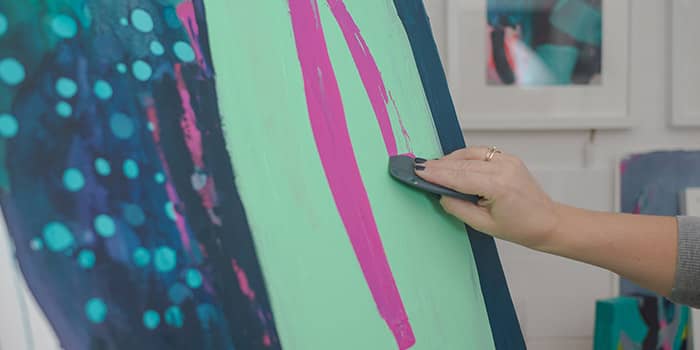 Your palette's so consistent and so distinctive – where did that come from?
This is a benefit of having no experience whatsoever! I went into an art shop halfway through this course and just thought 'well, I want to paint.' I knew nothing about the difference between oil, acrylic, watercolour, gouache, NOTHING! I thought instead that I was just going to buy what appeals to me – what I'm drawn to.
I really like pastels, they were lovely and oily, like butter, so I picked up a few of those. Then I went to the acrylics and found I really loved all the colors. When you start art classes you can buy a big palette with everything in it, but I was looking at them and thinking 'well, they're all primary colors.' And subconsciously I was just a bit repulsed by those so instead I just walked round and picked up what I liked. Then I looked down when I'd got to about 6 of them, and I thought 'these go together so well, I don't even need to look further. This is it!'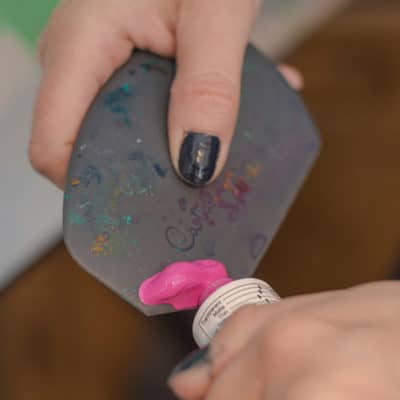 I'm sure at some point I'll move away and start using other colors but I simply just love them. So that's the first reason I've kept it so consistent, and the second is for Instagram. I was looking at how people get really beautiful, aesthetically pleasing feeds. In the early days, I was posting things I was painting in my classes and then realised that I didn't like it – I wanted to make a beautiful feed, because I wanted to inspire other people to paint.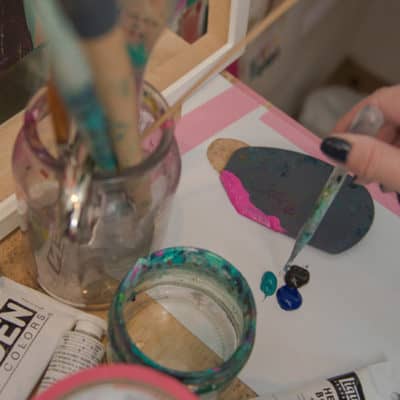 I get so many people following me saying that my work inspires them to paint too. So I feel like making a beautiful feed is key in doing that for them.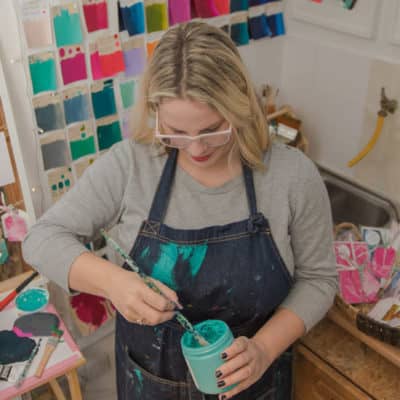 Instagram's been such a big thing for you in developing your work – how did that come about?
So, I was thinking I wanted to be able to showcase my work, to see it visually together. As the most visual platform, I went with Instagram and then spent evening after evening researching everything involved: hashtags, the algorithm, how to do the best photography… and I spent probably a whole year turning up to webinars in China at midnight to listen to someone who might know something I didn't.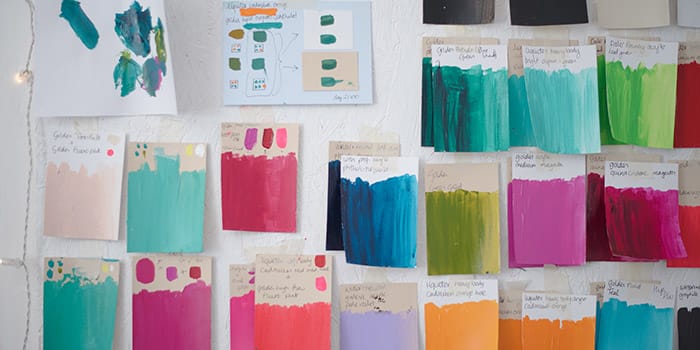 I literally spent a year geeking out and learning everything I could because I thought if I'm going to sell my work, and use Instagram to do it rather than a website or anything else, I've got to know everything there is to do it. So then I started, and as my engagement started increasing and my follower count started increasing, I started selling work. About once a week or so, I was posting something and saying it was for sale, and in 3 minutes it'd be sold.
At that point, that was about 6 months in, that everything came together – my style came together, my feed started looking beautiful, I knew how to engage with people and create great-looking content. Around then, I started getting lots of people DMing me to say "how are you doing it?"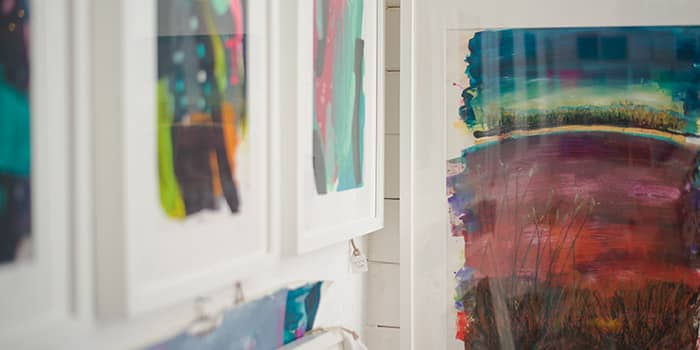 You've also written a really successful ebook to share your expertise – where did that come from?
I found I was spending quite a lot of my day telling people there was so much I could tell them, I'd need to write a book to get it all done. So in the end, after saying it so often, I did.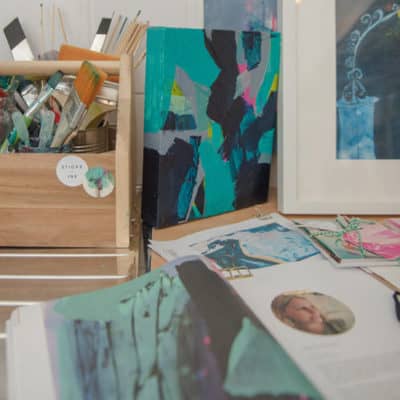 This is what I'm all about – finding what you love in life and doing that. Because I'm so passionate about it, I'll meet a complete stranger and want the same for them. So I've written this ebook in the hope that people will have the same growth that I've had, and also so I'm not going to end up tying myself up emailing all the time when I should be painting.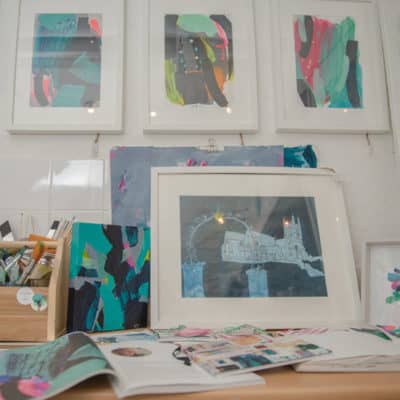 I wrote it in small increments. I was travelling a long way once a week to visit a specialist physio. I was always terrified of being late and missing my appointment, so I'd turn up really early, sit in a coffee shop and write this book instead. And very quickly it just came together – I felt like I'd put everything in my head onto paper and it's still selling really well. It's basically been a year's worth of advice, all in one place. By selling that, it means I can keep concentrating on my painting.
Is your audience made up mainly of people looking at your art as potential collectors, or looking to you for inspiration for their own art?
It's a challenge to look after everyone as I do have a real mix – potential collectors, lots of artists that are in an earlier phase in their career but also creative small businesses who've seen how I've grown, stumbled across me and thought 'ooh, how's she done that?'
Every Sunday I do tips and tricks – it's just a little bit of information and help for people. I get people that follow me from that point of view. I get lots of messages from people saying they think of me as a mentor – that's why I call myself an accidental Instamarketeer because I hadn't really planned to do it like this!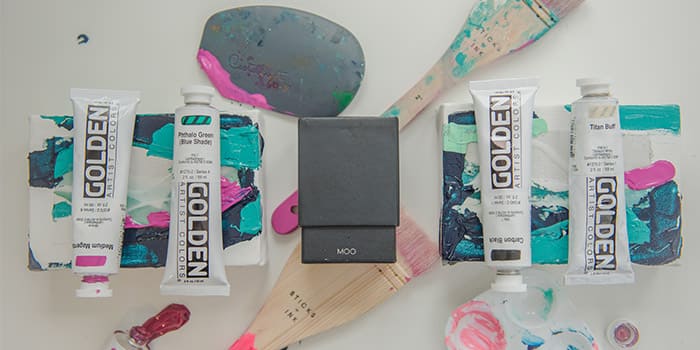 Tell us about your MOO cards!
MOO's been with me the whole way! I was offered a solo exhibition in a bar, in the really early days. As soon as I knew I had an exhibition coming up, I knew I needed Business Cards! I knew I needed to brand my paintings because if anyone bought them from the bar and I wasn't there, they'd be taking home my details too. So, I gold-taped a Business Card on the back of every piece.
Then, when I started selling online I wanted to put Stickers on my packaging to make them really beautiful and exciting to receive. Next, I did a pop-up so made and sold Notecards in packs, together with other cards that I trimmed and made into gift cards. When I sell a big painting, I'll also handwrite a thank you card to go in the package too. So MOO's always with me.
You've just recently moved from working at home into a studio space – how do you manage your work life balance?
I've been saying for ages I wanted to paint large-scale – but I was quite literally limited by the size of my dining table. I had stuff all over the place, falling over on chairs and so I knew I really needed a studio. Luckily, through The Maltings, an arts space in Farnham, I found this space was available – so I called up and got it straight away.
The hardest thing is that with my work, the hot wax batik layer has to be done flat, you can't do it on an easel. And as it takes so long for each layer to dry, I tend to work on up to 20 pieces at once. Which, if they're small pieces of paper or canvas it's one thing, but on large ones it's almost impossible in a small space. So I'm not sure what's going to happen – but I really need to find a bigger space!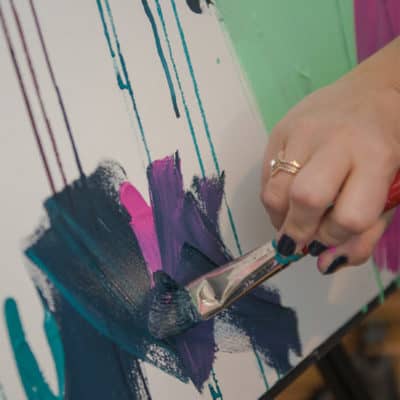 In terms of balancing my time though, I'm very serious about the fact that I'm either an artist or a mum. Once my children are home from school, that's it, I'm just mummy again. I tried to do both, but I realized I want to do both well – but that means they need to be separate. But as soon as they're in bed I'm back on the webinars and things because I'm always learning – I always want to keep an eye out for the next thing!
Photos by Paul John Bayfield
Keep in touch
Get design inspiration, business tips and special offers straight to your inbox with our MOOsletter, out every two weeks.
Sign me up!