Ayca Kilicoglu: the art of joy
We asked the founder of Mūr by Ayca about the inspirations behind her colourful designs.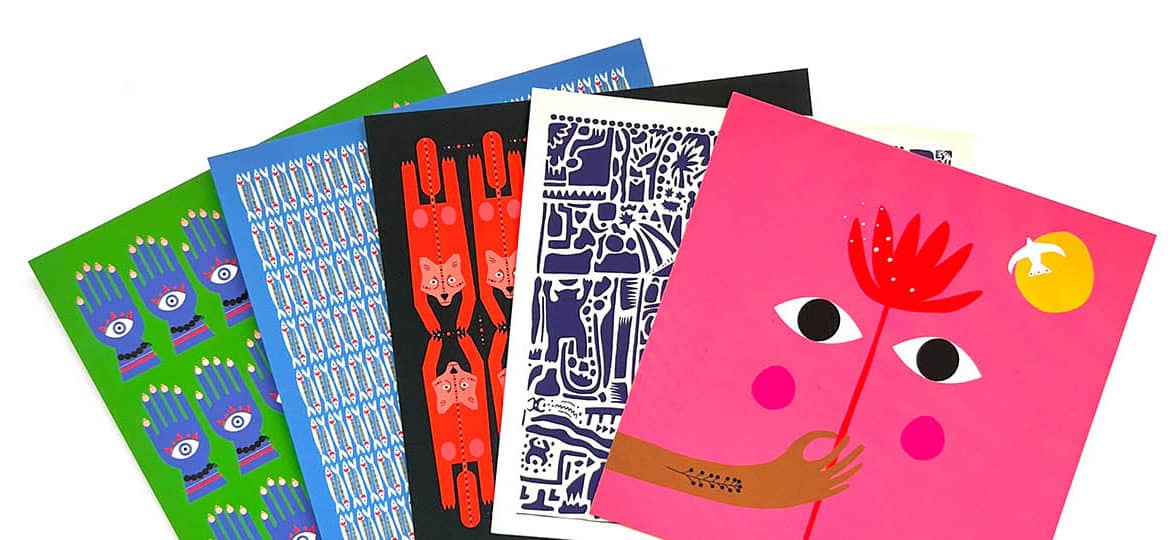 Ayca Kilicoglu is a designer, illustrator and educator. She's also the mind behind Mūr by Ayca, an art brand dedicated to spreading joy. Based in San Francisco, the Turkish-born entrepreneur finds inspiration everywhere to design collections that ooze energy and joie de vivre.
We asked Ayca Kilicoglu about her inspirations, the perks of collaboration and the importance of being in touch with your roots.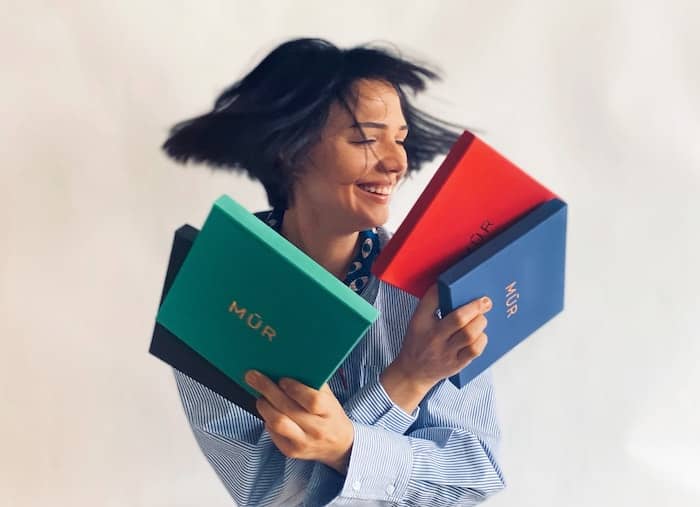 Tell us a bit more about yourself
I was born and raised in Turkey where I studied public administration and worked in the field of economics. I moved to the US in 2010 to join my then-boyfriend, now-husband, Emrah Kilicoglu and pursue my artistic dreams. I studied graphic design at UC Berkeley Extension and received my masters' degree from the Academy of Art University. 
Colours and patterns were always so important to me
For as long as I can remember, I have always loved art, design and drawing. I grew up in an incredibly artistic household and my family inspired me and fueled my creativity. Colours and patterns were always so important to me – even at a young age. I remember there was a Turkish brand, Sümerbank, that was well-known for their textile pattern, which I am still in love with even though they no longer exist.
When did you decide to take the leap and start your own business?
After graduation, I had a chance to explore and work as a freelance graphic designer at multiple design firms. As much as I appreciated my time there, I felt like something was missing. I realized that I needed to focus on creating my own vision. Mūr by Ayca blossomed from this realization.
How do you balance being an artist and a business owner?
It's quite challenging to strike the right balance of creativity with business priorities. I'm honestly still figuring it out, but have learned that knowing my priorities and staying organized is very important.
How would you describe your style?
I am not and have never been afraid of using colours. I love bright, sunny days. When it's foggy, rainy and cold, I get depressed. My style has not evolved so much as I'm heavily influenced by the space around me.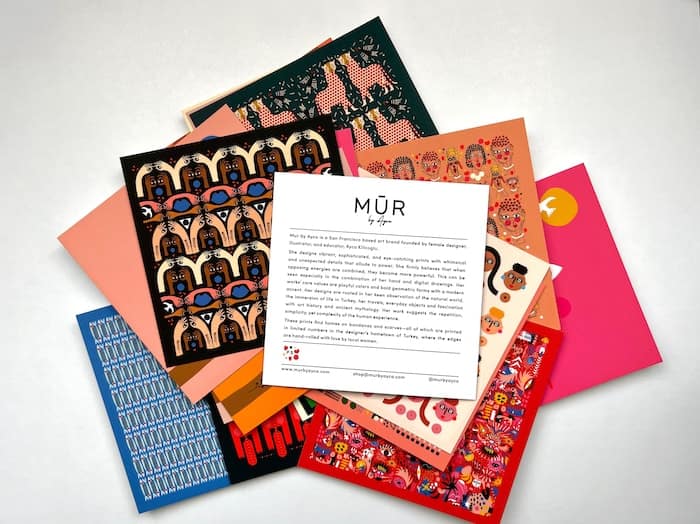 How do you find inspiration?
One of the turning points in my life was moving to San Francisco, going to art school and learning about art history, design, technical skills and how you can bring a vision to life. I love the Art Deco style very much but I also love Art Nouveau. The combination of all these variations opened doors in my mind to create my own style. Everything is inspired by something else, right? 
The original inspiration comes from my subconscious visual archive
The most important thing is to make it truly yours. It takes time and courage. Sometimes I sit and I know what I want to draw but most of the time I don't know. My drawing might start with a flower, abstract shape, animal, etc and become something else entirely. The original inspiration comes from my subconscious visual archive that can be all of the above or from my travel to other places, a short walk in the neighbourhood, a book I read or visiting a museum.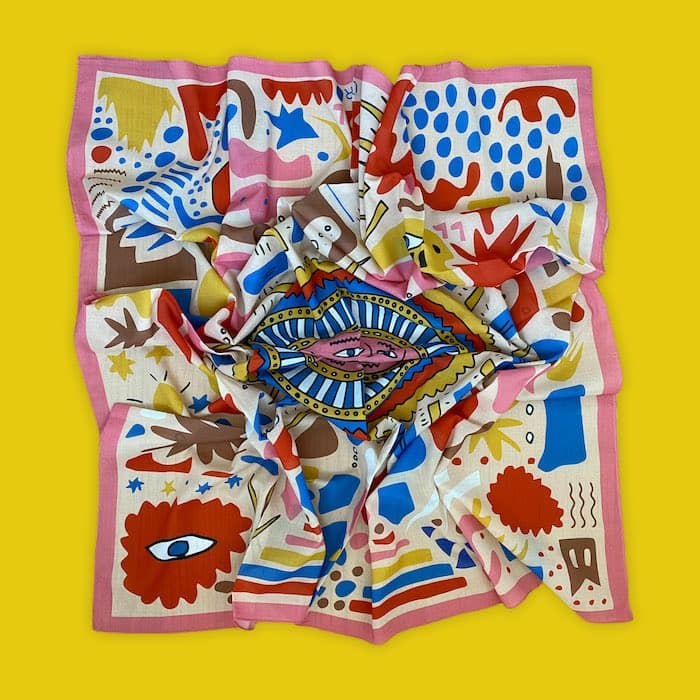 You mentioned you believe combining opposing energies makes them more powerful. Can you tell us how this is reflected in your work?
I love drawing very organic, rough, abstract shapes and complex designs. But I also very much enjoy creating geometric shapes and minimalist clean designs. I like to combine these opposites together – they become more powerful and dynamic and create original striking work.
Your scarves are printed and hand-rolled in your home country, Turkey. How do you feel art and design can help us connect with our roots?
I am very much inspired by my own culture but I also find San Francisco and the city's architecture inspiring. I think knowing both cultures allows me to express myself in a unique way and share the various cultures and roots that are a part of me with others around the world.
You've worked on various brand collaborations. Is that something you enjoy doing?
I love love love collaborating with brands. It is such an amazing feeling to see your work recognized and loved by other people. Seeing my work on other various products makes my heart beat. It motivates me, pushes my limit and keeps me creative.
What would be your dream collaboration?
Painting on a museum wall. Seeing my product in the Met, Color Factory or MoMa museums. Collaborating with Adobe, Google, Apple or brands that create home products like William Sonoma. Designing with clothing brands that promote an Earth-positive future like Pangaia. I like variety!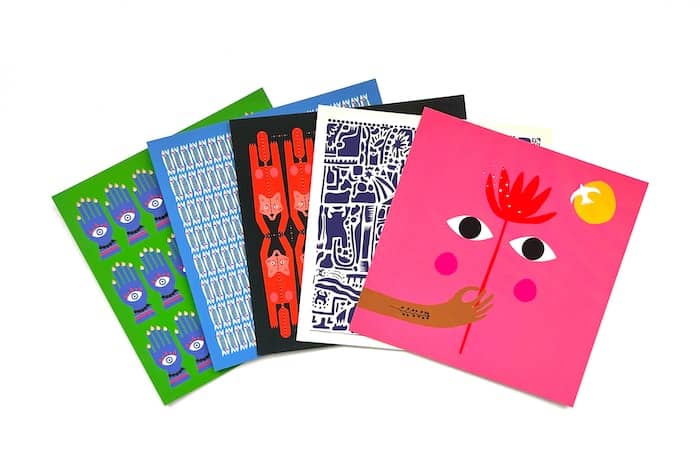 How do you use MOO for your business?
I use MOO for printing my "business cards", which are actually Postcards. One side has my artwork and the other side includes a short story about me and my work, plus contact information. People are loving them so far and often take several different cards at a time.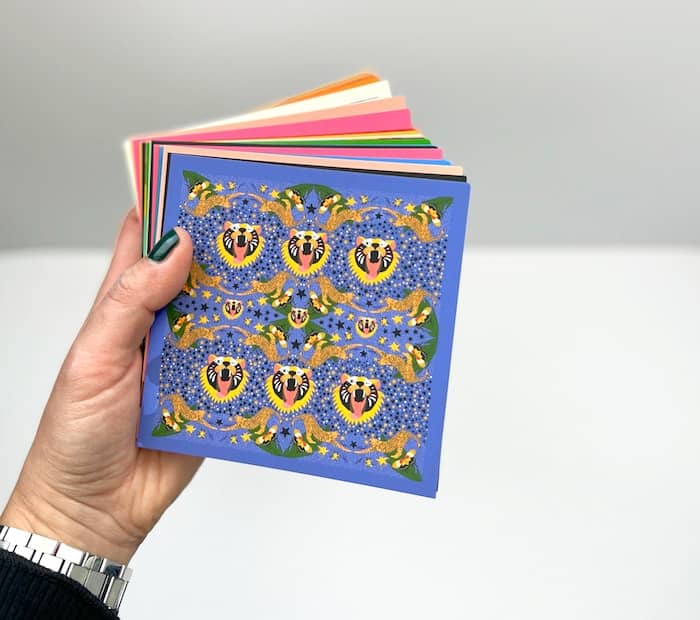 Any other exciting projects coming up you'd like to share?
I have a few collaborations coming up this year that I'm excited to announce soon! One of them is my dream come true – a collaboration with MoMa San Francisco. You'll be able to find some of my work in their shop this summer.
What piece of advice would you give to aspiring business owners?
If you want to start a business, make sure it's focused on what you are most passionate about.
Get a bigger canvas to tell your story in colours with MOO Postcards.
Keep in touch
Get design inspiration, business tips and special offers straight to your inbox with our MOOsletter, out every two weeks.
Sign me up!