6 pet portrait artists who unleashed the power of print
Ever seen your dog on a greeting card? Discover 6 pet portrait artists who MOO.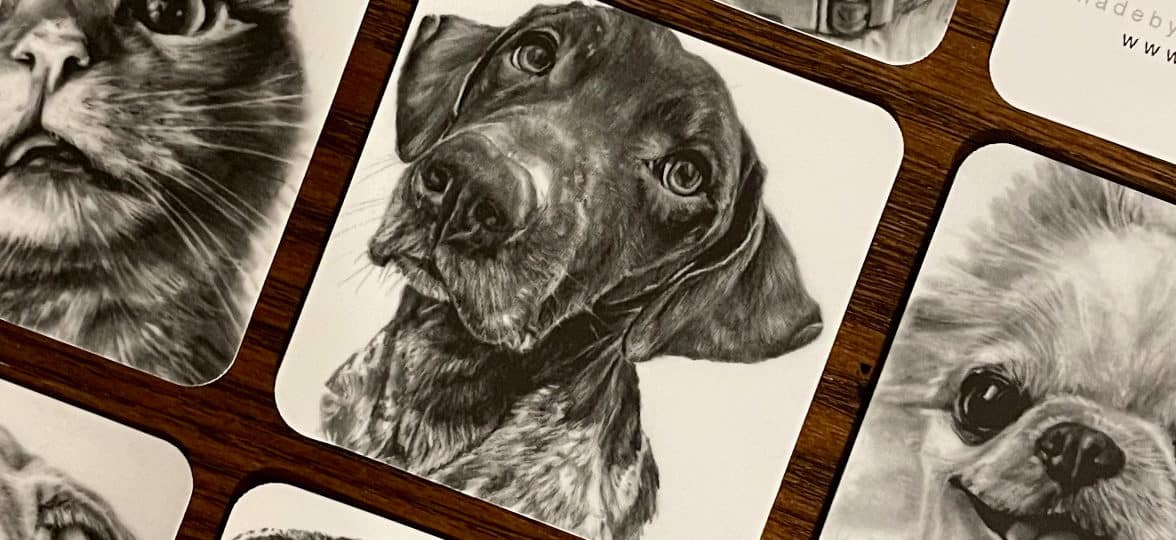 Ever seen your dog on a greeting card? We might not all be ready to get our portrait painted, but our four-legged friends have become a subject of choice for unique custom gifts. Discover how these 6 pet artists have used MOO in creative ways to showcase their favorite artworks.
Deanna Lee: it's all in the eyes
A master of realism, Canadian pet portrait artist Deanna Lee uses pencil drawing to encapsulate the dogs she loves to draw. Who'd have guessed she started her art career because of a cold? Picking up a few old art supplies to pass the time, Deanna soon kicked off her 20-year art hiatus by sketching a friend's pet. "Most of my friends have sweet cats and dogs. They all take many many loving photos of their fur kids. I had unlimited content to sketch each time I'd open my Facebook or Instagram". Her favorite part of the job? "Knowing I have captured a loving fur kid's energy and expression perfectly. That, and connecting with their human family. So many wonderful people. I have stayed connected with many of my clients!"
With her Square Business Cards, Deanna showcases some of her favorite portraits in closeup. Looking at the incredibly lifelike depiction of eyes in her dog portraits, there's no doubt they're the window to the soul. "I revel in the details but crave simplicity. I think it comes through in my realistic yet minimal graphite, grey-toned portraits". She chooses a matte finish and rounded corners to convey the softness and muted elegance of her pet portraits. "They have an amazing satin quality and look to them. They feel quite special!"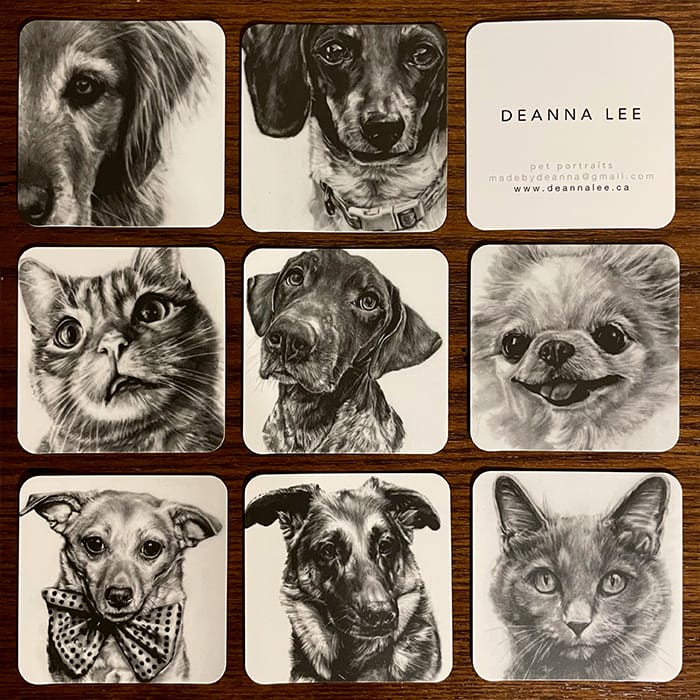 Rebekah Mushinski: the softest touch
Rebekah Mushinski's paintings are nothing if not the epitome of grace and tenderness. In her home studio in Warwickshire, UK, she creates custom pet portraits that ooze affection. With their lovely gentle glow, her pet portraits have a soothing quality that successfully reflects the candid charm of pets. Leaning towards realism, her style keeps an illustrative edge that gives her art personality and character. Rebekah works with pastels and colored pencils to depict them. "I love animals! Something about bringing an animal to life on paper pulled me in, and I am hooked on creating art that represents our special pet pals."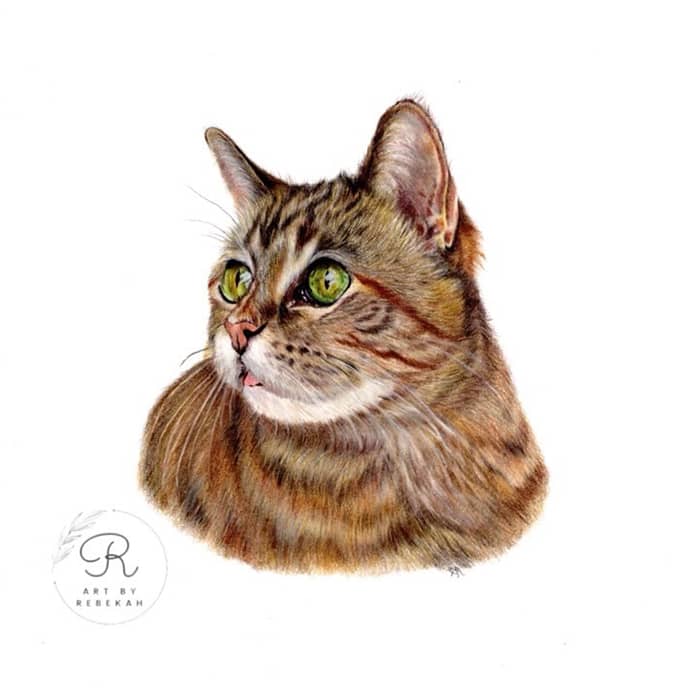 The first UK lockdown sparked the start of her portraiture journey.  "I had just moved from Texas to start a new life in the UK with my husband and our cat in tow, where I needed something to keep me grounded and give me purpose, and I have not looked back since!" What she loves most about pet portraiture? "Every single portrait presents its own new challenges. I enjoy getting stuck into a drawing and creating a likeness of a special pet, then seeing the reaction of the pet owner when the piece is finished and delivered to its forever home. I believe that pets are such an important part of the family, regardless of what type of family you may be a part of, and it is so nice to celebrate them for all of the love and joy that they provide."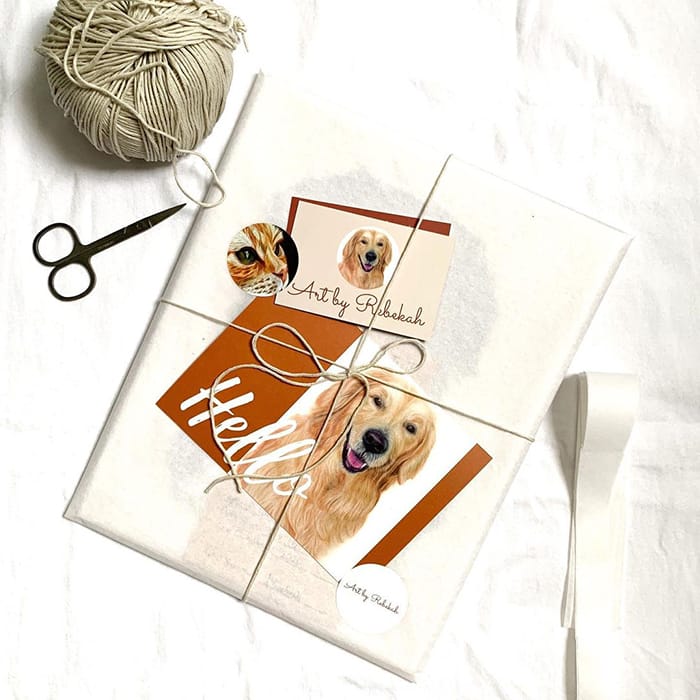 For her custom MOO Postcards and Business Cards, Rebekah chose a shine-free matte finish. "I have found that the matte finish papers really bring out the texture from my original artwork. [It] provides me with gorgeous marketing materials and creates a luxurious aesthetic when packaging orders. The perfect cherry on top are the custom stickers that I ordered from MOO, featuring some of my previous artworks and my logo, which are used to secure the marketing materials in place onto the packaging. This extra step adds a special touch to the pet portrait experience."
Jess Kerr: emotion in colors
Specializing in custom pet portraits and wildlife art, Perth-based artist Jess Kerr embraces her love for nature in colorful pieces, full of emotion and personality. She enjoys experimenting with a variety of mediums – her favorite being acrylic on canvas – to capture the uniqueness of her subject and explore the relationship between them and the viewer. "I've been creating art in one form or another since I was a child, and I've always been drawn to portraits – but it's a lot easier to get your pet to agree to having their portrait done than it is another person!" Jess moved from sketching her own pets over and over to drawing other people's animals, eventually developing her own painting style.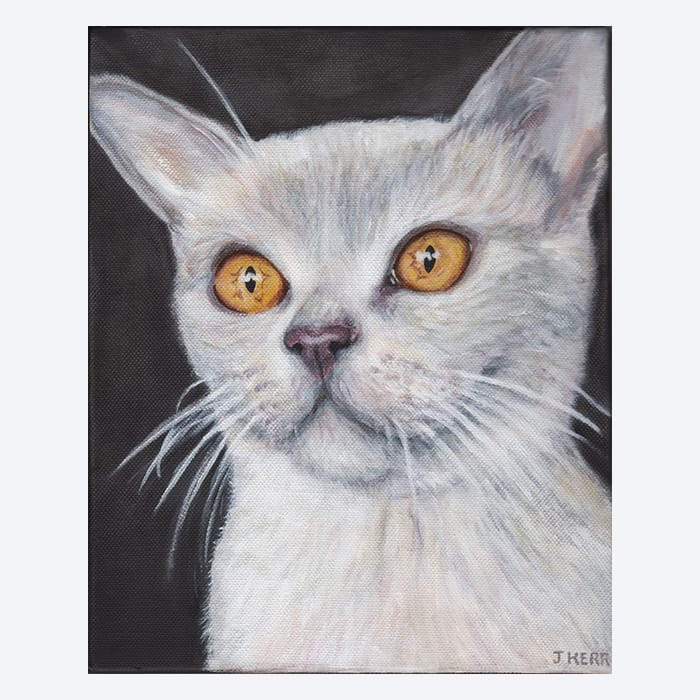 Describing her work as expressive realism, she aims to convey the pet's personality rather than just replicating their appearance. "Whilst most people might see a brown dog or a black cat, that pet's owner will see the way they always tilt their ear to the right, or the funny frown lines in their fur – those are the things I aim to capture. I try to find a balance of showing the brushstrokes of the art at the same time as showcasing the colors, patterning and expressions that make each pet unique." While she built her career on her love of painting and animals, the reaction of her clients has become her favorite part of the job. "We all have such beautiful connections to our pets and it's lovely seeing the reactions people have to seeing their pet's portrait for the first time. Receiving a lasting keepsake of their pets brings them so much joy, and it's really rewarding to be a part of that process for them."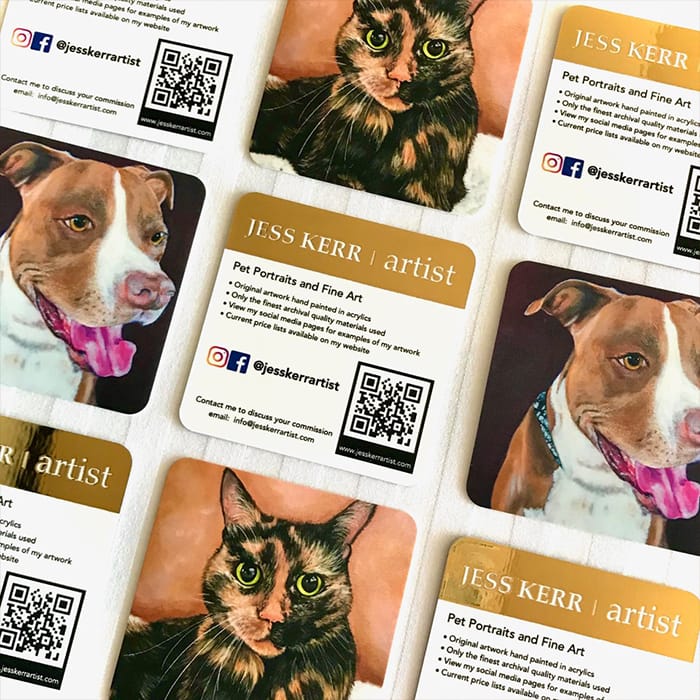 For her artist Business Cards, Jess chose the square format, a great way to give that creative "Instagram" feel and showcase her beautiful dog and cat portraits. Like collectible miniature works of art, her cards are guaranteed to please dog and cat people alike. "I love the soft touch finish. It's really clever for marketing as it makes people want to keep holding my Business Cards – and the longer my card stays in their hands, the more time I have to get my business message across." On the other side of the Square Business Cards, she added a Gold Foil special finish to make her name pop – and a QR code for easy access to her site. (You can generate a QR code directly from moo.com. Good, eh?)
Hayley Smith: a spark of life
British artist Hayley Smith has a gift for likeness. Working primarily with pencils, she captures the personality and liveliness of her subjects – pets and otherwise – in a kind and honest way. Her incredible work on fur, light and movement brings the drawings to life. Hayley started her pet portrait journey by drawing her sister's dog. "I've always been a keen artist and would say I have a colorful, realistic style, so when my sister asked me to draw her cocker spaniel, Hunter, I realized maybe I could combine my drawing with my love for animals. So I'm currently dipping my toe into the dream and seeing if this can become a full time venture." To her, the best part of the job is speaking to people about their pets and seeing their reactions when they discover the finished portraits.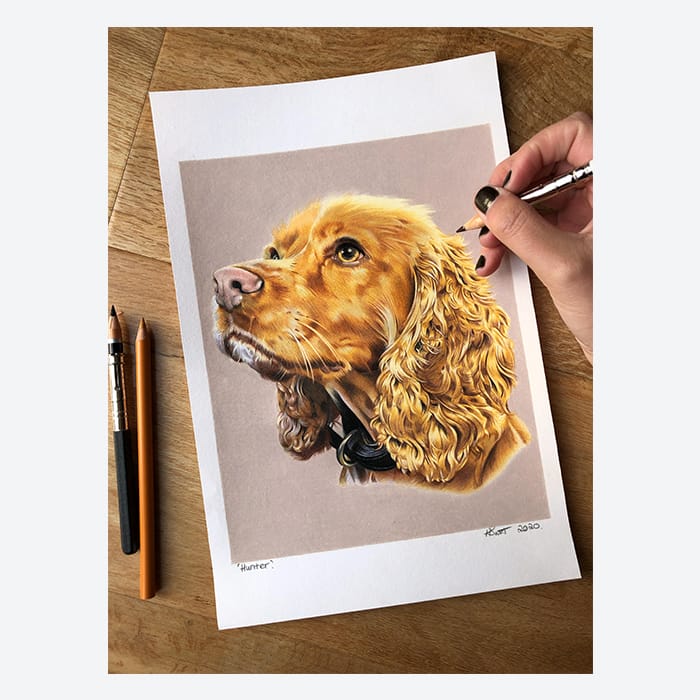 For her beautiful thank you Postcards, Hayley chose a work in progress rather than a finished dog portrait, highlighting her creative process and the love she puts into every piece. "I saw the featured thank you Postcards and loved the size because I would be able to add a bigger detailed image to showcase my drawing. I chose the Super Postcards with Soft Touch paper and the one-sided finish so I could also add a personal message. I was so happy when they arrived they came out beautifully!"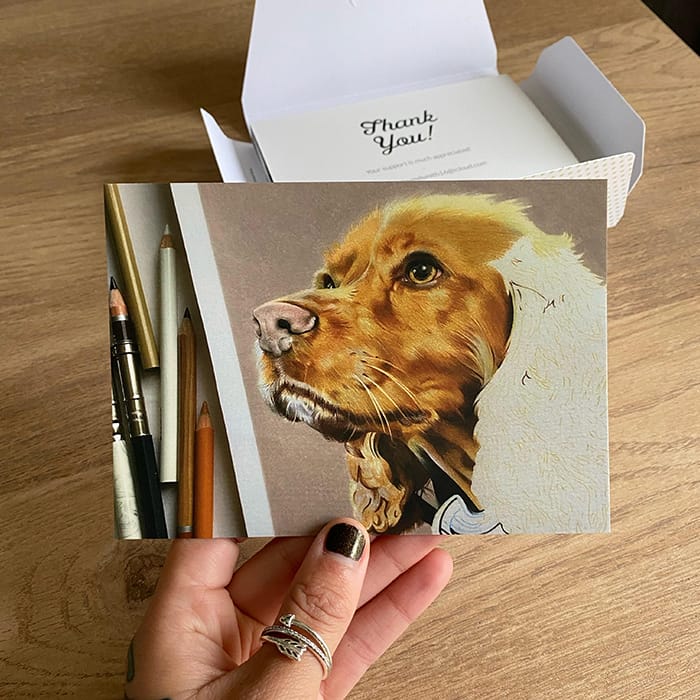 Patto: capturing the essence
Originally from Argentina, Miami-based Patricia "Patto" Galbani expresses the essence of nature and life with bold, colorful paintings. She likes to experiment with color and movement to capture the inner core of the subjects. These include her dachshund, Dayman, her muse and emotional support. Her love for nature goes back a long way: "Since I was a kid, I've always had a strong sense of union with animals. The simplicity with which they express themselves had been key for me to understand and move through this world."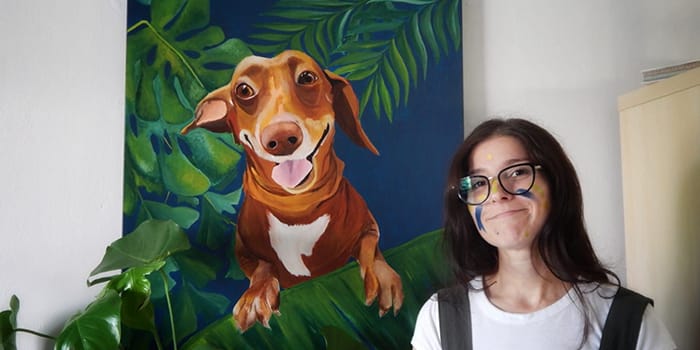 Patto describes her artistic style as a mix between semi-realism, motion and Post-Impressionism. "Giacomo Balla, Dalí and Van Gogh have been my greatest influences and I love combining bold colors, dark and light, to create movement within the animals' expressions, especially in their eyes and overall aura." While she loves to sit down and imagine the color palette she's going to use, seeing the look on her clients' faces is what touches her deeply.
Patto chose MiniCards to showcase her portfolio in a creative way. "I wanted that sense of connection between the image in the cards and my love for animals and nature as the whole first impression." With their bright colors and rounded corners, these cards double as bookmarks, making sure potential clients never lose her details.
Gilmore the Dachshund: an adventurous dog
Liz Huller Eisemann is the storyteller and pet artist behind Gilmore the Dachshund. She lives in San Diego with Gilmore, the wiener dog who lent his name to the project. Liz draws inspiration from the relationship between humans and their pets to create heartwarming dog portraits and comics.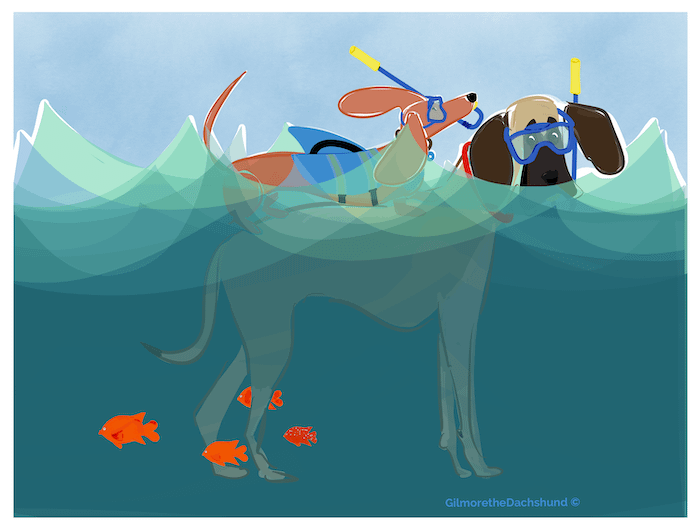 Since she first saw him as a puppy, Gilmore has become a constant source of inspiration. "[He] is a very long red standard dachshund bursting with personality. And although he is much better behaved and not quite as adventurous as my drawings portray, with him at my feet all day every day I continue to work hard and dream about all the things I can accomplish with one very sweet dachshund as my muse." When she's not drawing Gilmore's adventures, Liz designs Greeting Cards, Stickers and creates adorable custom pet portraits.
Looking for a cute dog greeting card? Liz used MOO Greeting Cards to feature Gilmore and friends in fun, heartwarming situations. With a simple white background and few words, her designs really pop. "I love making drawings that make people happy and MOO works very hard to help me accomplish that goal with extraordinary customer service." And we didn't even have to pay her.
Enjoyed these pet portraits? Design your miniature artworks now with MOO Greeting Cards.
Keep in touch
Get design inspiration, business tips and special offers straight to your inbox with our MOOsletter, out every two weeks.
Sign me up!