Six easy ways to elevate your holiday packaging
You're just a Sticker away from holiday packaging perfection.
A gift without wrapping is just a thing. What makes it exciting, mysterious even, is that blanket of wrapping – and all the things surrounding it. The gift tag, the ribbon, the message. Holiday packaging also lets you add a ton of personality – whether it's your branding or a handwritten message. Best of all, these little extras are inexpensive and really quick to do. Here are six to try…
1. Start with a Sticker
Because they're so small, Stickers let you easily spruce up any part of your holiday packaging. Round Stickers are perhaps the most versatile shape, with rectangular ones also great if you're mailing your gifts (think address labels and the like). Both can be used instead of sticky tape for sealing up loose ends of wrapping paper – just as practical but full of personality.
2. Sneak in a Postcard
Holiday packaging is about enhancing the gifting experience. That means you add little printed extras without overshadowing the main star, the gift itself. It also lets you include some extra "mini gifts". One of our favorites? Turning a Postcard into a gift card or gift voucher for your brand. For an extra festive feel, try some Gold or Silver Foil.
3. Add a Greeting Card
Greeting Cards aren't just for friends and family. For businesses, they're a great way to really connect with your customers – even a chance to bring a bit of yourself into what you do. And with Printfinity, you can make every card different, so you don't have to limit yourself to just "happy holidays" – and make sure everything you create is relevant to your customers.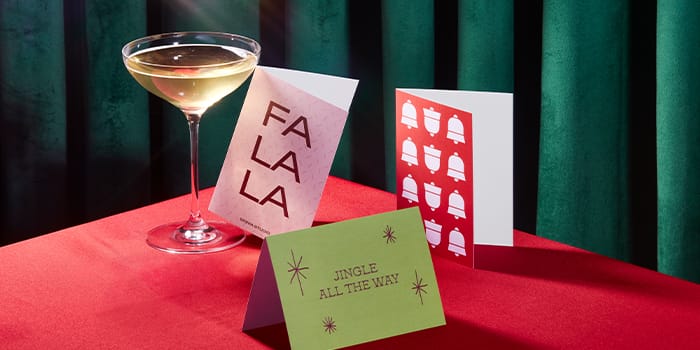 4. Wrap it in a belly band
Our custom Notebooks already let you get creative with them – perfect for creating a special seasonal edition. Now you can make them even more personalized with our new belly bands. These wrap around the Notebook and are fully customizable. So you can create a different Notebook for everyone in your team. It also adds an extra "unwrapping" element, which is always a good thing.
5. Create your own gift tags
Think of Business Cards and you don't immediately think "holiday packaging". But with the help of a hole punch, they're really easy to turn into gift tags, care cards and many other useful things. It's like it was meant to be. Feel free to add some Gold Foil if that's your thing. And if you're wrapping up some smaller gifts? MiniCards might be the perfect fit.
6. Add an extra gift
Holiday packaging isn't just about wrapping things up nicely (although that's definitely a part of it). It can also be a chance to include some extra gifts. These don't have to be anything massive – small and useful often works best. Something you can customize and brand, like our Softcover Journal. It's slim enough to fit into the narrowest of gaps, too. And super simple to wrap.
Ready to get gifty? You'll find all the holiday packaging essentials you need right here. From Business Cards to Greeting Cards.
Keep in touch
Get design inspiration, business tips and special offers straight to your inbox with our MOOsletter, out every two weeks.
Sign me up!