4 Gold Foil Business Card templates to shine through
Get inspired with our community's favorite Gold Foil Business Card design templates.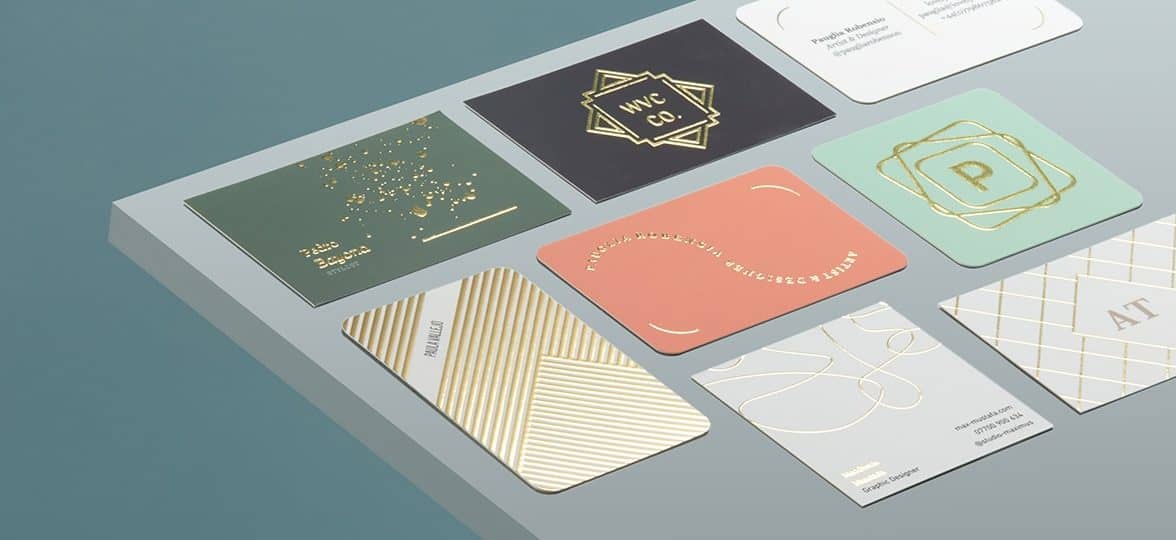 An eye-catching gilded finish is a sure way to make your Business Cards stand out from the crowd. But if you're not King Midas, turning your design into gold might not be an easy task. That's why we developed Gold Foil templates to help you make your brand shine (even without a graphic design degree).
Get inspired with four of our community's favorite Gold Foil Business Card design templates.
Speckled Stone: make a splash
The clue's in the name: Speckled Stone is here to make a splash. Splattered with precious drops of gold, this powerful design is all about spontaneity and confidence. Reminiscent of Jackson Pollock's action paintings, Speckled Stone puts a luxurious twist on audacity. On the front, a thin gold line structures the minimalist design and makes your contact details stand out with a subtle nod to the back's golden extravaganza.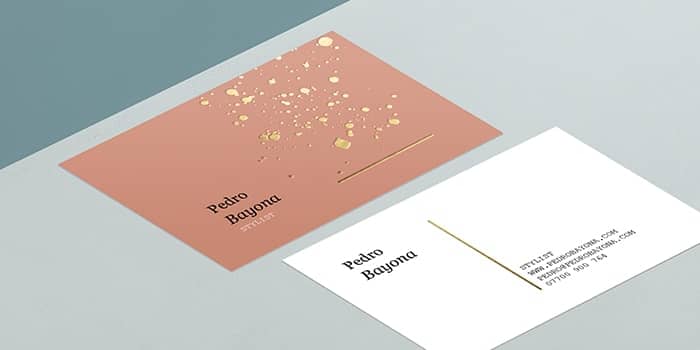 This bold design is perfect for the creative industry, from stylists to makeup artists. You have three back options in this Gold Foil template. You can use one, two or all three in your pack. A great opportunity to try different colors and fonts for even more eye-catching Business Cards.
Turn it Around: come into focus
Three rounded squares. That's all it takes for Turn it Around to catch the eye and spark a meaningful connection. With a geometric Gold Foil design on a simple, pastel-colored background, this daring template puts your initials in the spotlight – and makes people curious enough to turn your card over. On the front, they'll find your details framed by two golden lines to bring them into focus.
This shimmering Business Card template is great for designers, from jewelry to fashion and interior design. Choose from four back options with a soft color palette. You can use one, a few or all four in your pack to experiment with different hues. Our expert's tip: pick rounded corners on your Business Cards to mirror the Gold Foil design.
Emperor: break free
The Emperor Business Card template is all about embracing contrast. This audacious design revisits luxury by combining a chain link pattern with the opulence of Gold Foil. Cutting a hole in the luxurious fence to leave space for your text, this bold design gives your brand a look of freedom and adventure. On the other side, a detail from the fence acts as a precious underline to highlight your name and details.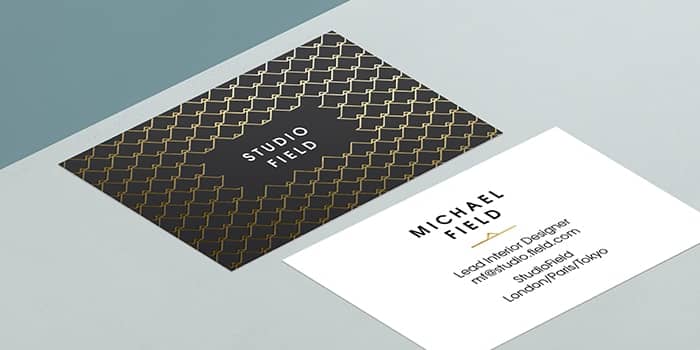 If your brand mixes premium quality with a taste for adventure, this gold Business Card design is the perfect match for you. You have four back options in this template. You can use one, two, three or all four in your pack. Keep the template colors, use your own brand palette or explore bold new color pairings to make the Gold details stand out.
Five! Golden! Rings: put (five) rings on it
It's impossible to go unnoticed with this opulent design. With its off-centered gold ripples, Five! Golden! Rings! is here to make an impact. Add your company name, logo or image in the bottom right corner. This golden halo is sure to make them shine. Your contact details can go on the other side of the card and you can also include your logo or a QR code.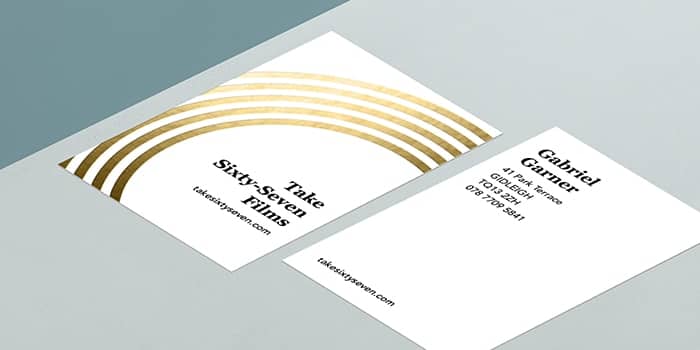 This simple yet dazzling Business Card design is ideal for the entertainment industry – but it wouldn't feel out of place for a jewelry brand. Customize it with your brand colors, fonts, logo and more to make it your own, and let it work its magic!
Ready to rise and shine? Explore our free Gold Foil templates and create your very own Business Cards with MOO.
Keep in touch
Get design inspiration, business tips and special offers straight to your inbox with our MOOsletter, out every two weeks.
Sign me up!