Get the shimmer factor: Gold Foil designs that turn heads
Shake up your branding with double-take-worthy designs that'll inspire serious card envy.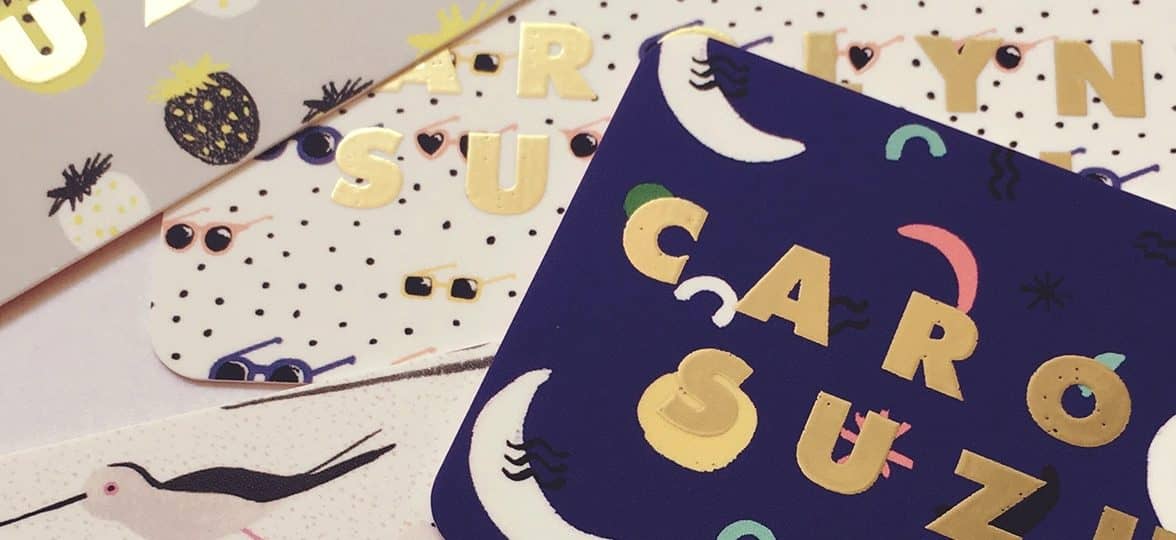 Who says business cards have to be boring? Shake up your branding with double-take-worthy Gold Foil designs that'll inspire serious card envy. Looking to add a little luxury to your designs, stand out from the crowd or simply just create that 'wow' moment? These designers tell you how…
Carolyn Suzuki: a spark of joy
LA-based artist Carolyn Suzuki began her creative career as an animation producer. Driven by her ambition to make a living through illustration, she rented a booth at the National Stationery Show in 2011. Here, Carolyn showcased a small print run of greetings cards that caught the eye of agents. She now runs her own studio in LA, and stocks retail shelves with her colorful creations.
Carolyn's inspiration comes from everywhere; from living in modern times to her Japanese heritage. "As I've grown as a designer, I've used bolder color combos. I also made a decision to create products that were designed in a happy, fun way but included people I rarely saw on products when I was young, explains Carolyn," I want people of color to see themselves in my work doing fun things; lounging, playing – enjoying life."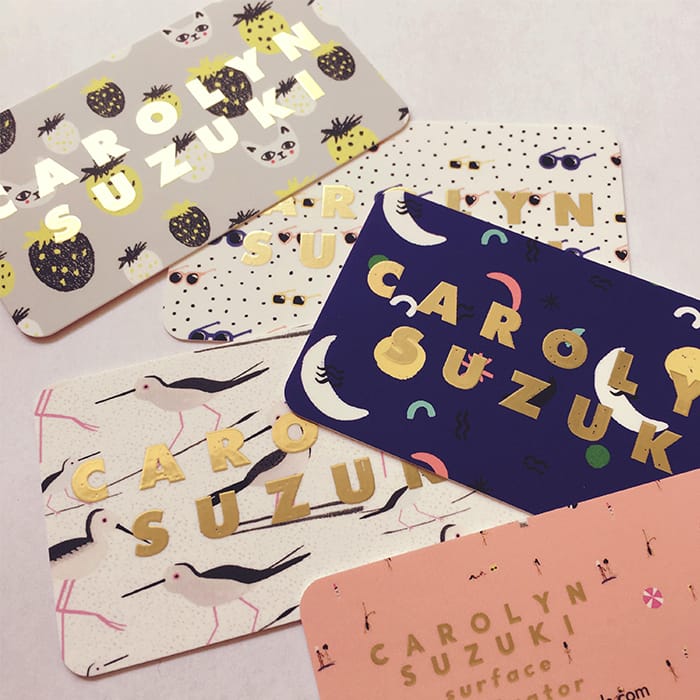 With such a wide product range, Carolyn is a serious print connoisseur. "I've been using MOO since the early 2000s, their customer service and quality of products fit into my story perfectly. I've created fancy Gold Foil Business Cards – the Printfinity option is so perfect. It really feels like MOO's products were made for a designer!"
The Coastal Kind: the shine factor
Textile and graphic designer Lauren York runs her own studio in Kansas City. Named after her love for the East and West coasts of the US, Lauren created her brand, The Coastal Kind, after working in customer service for a bridal company and freelancing as a graphic designer on the side. "My brand encompasses my love of creating space for beauty," explains Lauren, "whether that is in a home through my textile designs, branding for an event, or helping a small business shine."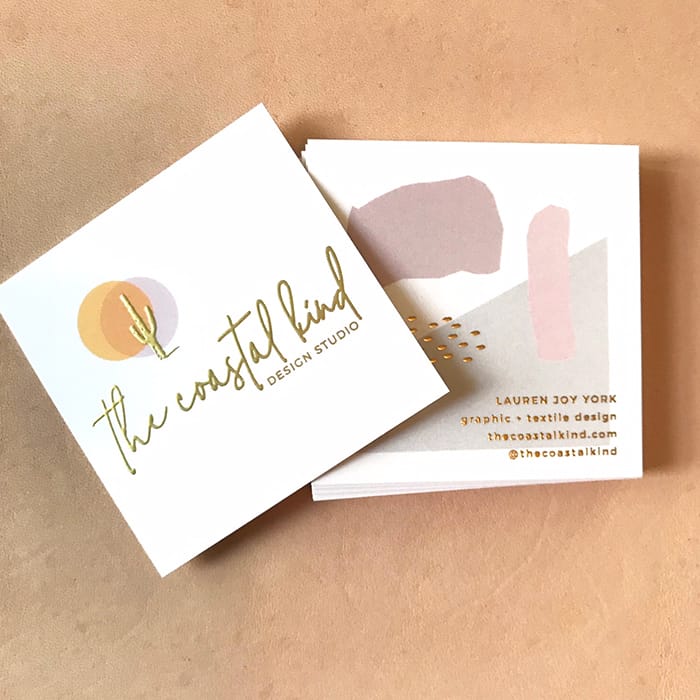 After spending her life by the sea, Lauren's biggest inspiration is the coast. "I love the East because of the old cities and the familiarity. I love the West because it's wildly beautiful and full of adventure. I am obsessed with interior design and creating beautiful spaces. My style is feminine yet bold, minimal yet fun. I'm all about experience design."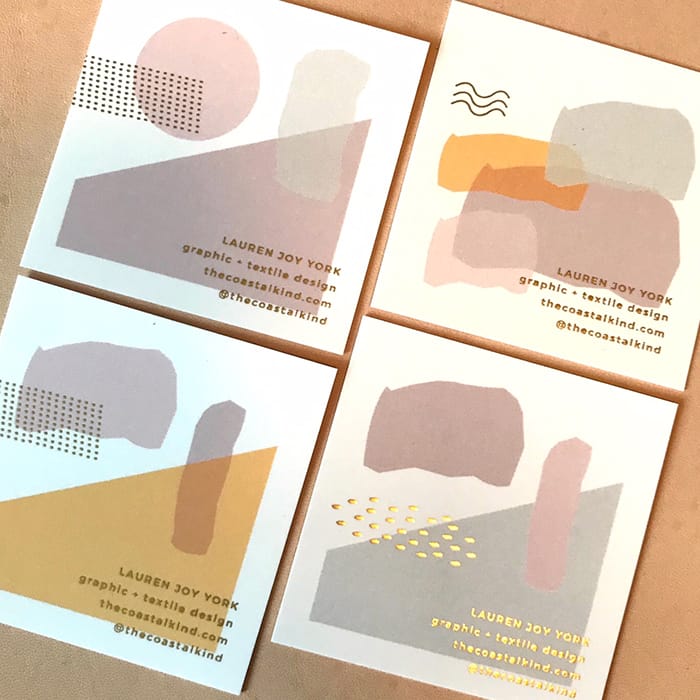 Lauren chose Square Soft Touch Business Cards with Gold Foil to connect customers to her passion for textiles. "I love that the cards are soft, almost like fabric. I went for Square Business Cards because they're not traditional, just like me, and I wanted that wow factor – which I got! Every time I hand out my card, people actually take the time to look at it, like its a tiny piece of art."
Hazel Imogen: luxurious contrast
Hazel Imogen is a British independent branding and illustration designer. After beginning her career in an advertising agency, she wanted to shake off the restrictions of working for a big firm and create more freely, so she took the leap into freelance design. She now works primarily on branding for small businesses and restaurants.
Hazel draws her inspiration from a mixture of personal research and other creatives. "If I'm designing branding for an '80s style restaurant, for example, I look at the architecture and fashions of that time. I take inspiration from the line work, patterns, and textiles related to it," says Hazel. "I also get a lot of inspiration from creatives on Instagram. It's a great platform to share work, stay current and expose yourself to different styles."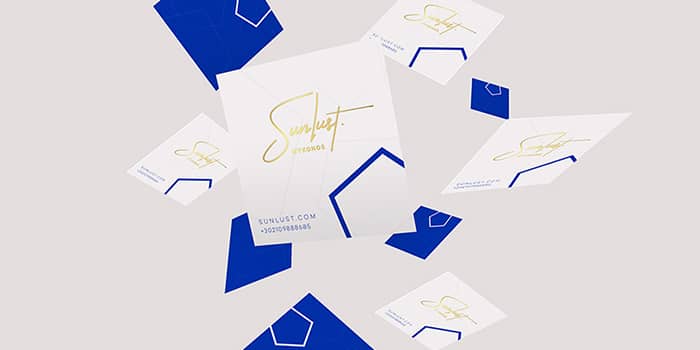 Designing for swimwear boutique Sunlust, Hazel created a Greek-inspired geometric design using Square Business Cards with Gold Foil. "The square shape felt more fun and style-forward, which was perfect for the brand, and we used a matte finish on the thickest stock to suit our premium audience. My client was beyond thrilled when they showed up from the printers! The contrast of the blue and white with the gold is fantastic."
Add a touch of luxury with Gold Foil Business Cards.
Keep in touch
Get design inspiration, business tips and special offers straight to your inbox with our MOOsletter, out every two weeks.
Sign me up!