When it comes to employee advocacy, Sprout Social walks the walk
Communication with customers is key when growing a business. Sprout Social knows this, and is on a mission to help brands make connections in a more organic way.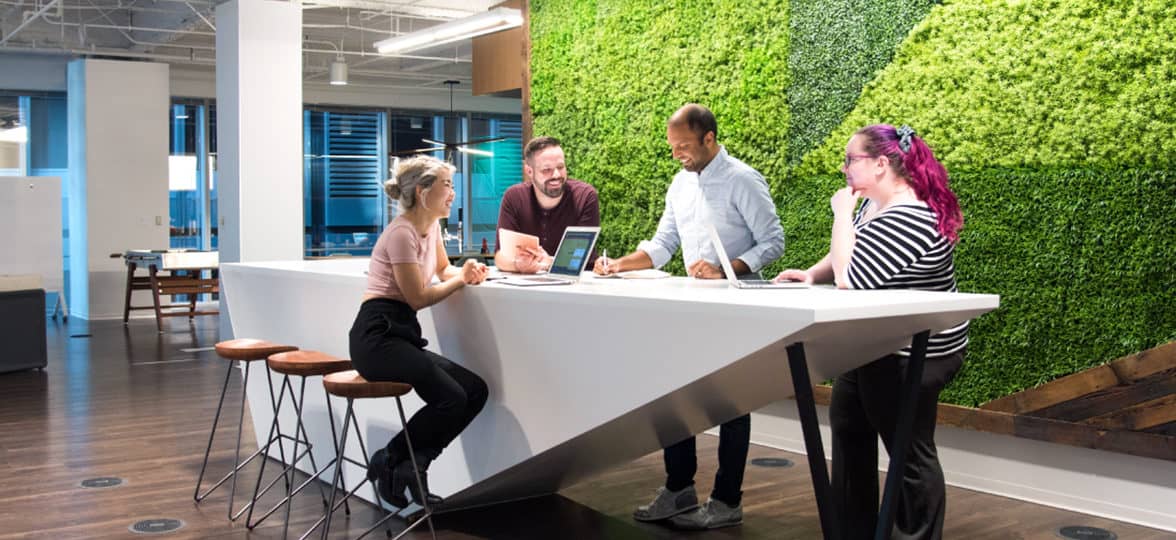 Communication with customers is key when growing a business. And that goes for connecting employees with each other too. Sprout Social knows this, and is on a mission to help brands make connections in a more organic way.
Sprout Social's mission can understood by their motto: "open communication creates progress." The company has developed social media solutions that drive conversations between customers and brands, as well as organizations and their employees. The Sprout team also serves as their own power users, employing their products to promote open communication with their customers and internal communications with their own team.
We recently sat down and spoke with Sprout Social brand designer Melissa Flowers and brand communications manager Alicia Johnston to talk about best practices for employee advocacy and communication tips for growing businesses.
Organic advocacy
While Sprout Social has only been around since 2010, the company has already expanded to almost 500 people across 25 cities worldwide. Sprout's initial offering, a social media management platform, helped the company grow to more than 20,000 customers, develop their Bambu employee advocacy platform, and recently acquire industry-leading social analytics provider Simply Measured.
The Sprout Social team also uses Bambu internally as a pillar of its team communications and employee advocacy strategy. Bambu allows content curators to provide both internal-only and shareable content, and each story includes suggested social media messages employees can use to share them on their personal social profiles. "There is no mandate here around employee advocacy," Alicia said. "We think it's best when people organically choose stories and news from the brand that are meaningful to them."
Sprout's team knows exactly how to use the platform for maximum employee engagement. Every day, the communications team curates company news, media mentions, and thought leadership pieces to share with the entire company. A network of contributors across departments—engineering, sales, HR and more—also submits content to provide greater insight into news across the organization. From day one, Sprout welcomes new hires through the Bambu platform. Each new hire is featured in an announcement post to help them feel like a part of the team. 
Yet don't be fooled: Sprout values in-person interactions just as much as virtual community-building. In fact, every new employee is given a two-week training at their Chicago office. "The onboarding isn't just about software. It's a chance to talk about Sprout's philosophy and brand, as well as how we collaborate internally," Alicia said. "Our motto is 'Open communication creates progress.' Onboarding is created with that philosophy baked in."
Startup feel, big impact
Sprout's management team understands that a strong sense of community will create loyalty amongst employees–and they put in the work to create that impact. For example, after their monthly all-hands meeting, the company opens it doors for people to bring their families and have dinner together. "It's a great opportunity to connect with coworkers on a deeper, more personal level," Alicia said.
The company also takes every opportunity to highlight their employees and community. These activities range from an Instagram series highlighting #NoTwoDays in the life of Team Sprout to giving quarterly Value Awards to team members who go above and beyond. They've also recognized Bambu's most active users through "surprise and delight" moments—giving them exclusive swag to say thanks for sharing—and recognizing them in an internal campaign. "For example, we produced a poster series with photography and tips from our super-users," Melissa said.
This campaign not only highlighted company community-builders, but also encouraged others to learn about new features and explore the tool. Talk about a win-win!

Getting employees onboard
Encouraging your staff to adopt a new technology can be difficult. Thankfully, the Sprout team has some pro tips to get their attention. "We've used MOO for a promotion campaign to encourage Bambu adoption internally," Alicia said. "One of our designers created some beautiful 'Take 5' Postcards that encouraged employees to take five minutes to check Bambu for company news and updates. We paired them with five-minute hourglasses in Bambu's distinctive shade of teal and left them on everyone's desks—and mailed them to our remote team members."
Using print products for an external promotion is a given. Yet within a company's walls? That's an innovative idea. "While we use plenty of tech tools to facilitate communication, I think it's so important to have a physical takeaway and reminder of the brand," Melissa said. "The 'Take 5' cards and hourglasses are still displayed on desks around the office."
Since giving out print materials should be fun––not stressful––the Sprout team recently upgraded to MOO Business Services. This allows Sprout users to upload and reorder print materials like business cards, without needing to get multiple approvals. "It makes my life as a designer so much easier," Melissa said. "I used to do all of the design edits by hand before ordering for everyone. A more automated process has made a world of a difference for me and our team."
Top Takeaways
Sprout Social was recently voted one of the best companies to work for in Chicago, and their employees aren't shy about sharing what they love about being part of Team Sprout. We asked Melissa and Alicia to reveal a few ingredients of their secret sauce for employee advocacy. Here's what they said:
1) Make buy-in easy:
"Have consistent, honest communication around what you are doing and why it matters. Help people see their role in the bigger picture by emphasizing ideas from across the organization and celebrating wins as a team."
2) Simplify sharing:
"Use Bambu to make staying up-to-date both fun and efficient. Providing employees with suggestions for their social posts helps remove one of the main barriers to advocacy—not knowing what or how to share. You want employees to get excited talking about their work, not afraid."
3) Rewards and recognition:
"Recognize excellent employees across the board. We use a Slack channel to recognize promotions as well as above-and-beyond efforts from anyone on the team. We also use Bambu to share when employees are speaking at or organizing an event."
Put simply, Sprout wants people to champion their brand and what it stands for. Their success illustrates the power of employee advocacy and a positive work culture.
What does your company do to reward its employees? Let us know in the comments, or tag us @MOO!
---
Tell your brand story with MOO Business Services
At MOO, we've been helping people make their mark in the world with amazing quality print products for over a decade. And as our customers have grown, so has our service offering. That's why for bigger businesses—with 10+ employees—we now offer MOO Business Services. It's MOO + benefits. MOO Business Services combines dedicated account management with an easy online ordering platform and expert design services. It's a complete package for businesses to give you more brand control and consistency—while saving you time, stress, and money in the process.
Fill out the form here and a friendly Account Manager will reach out to you.

Keep in touch
Get design inspiration, business tips and special offers straight to your inbox with our MOOsletter, out every two weeks.
Sign me up!