ELEMIS meets MOO: A holiday collaboration
This global skincare brand helped customers share their skincare stories in a fun, engaging and festive way.
It's never too early to start planning for the holiday season. Whether you're shopping for family or gifting a fanbase of loyal customers, waiting until the last minute can be a stressful experience. So, why not get ahead of the game?
We know inspiration isn't always easy to come by, which is why we're excited to share our work with ELEMIS UK. Read on to learn more about our holiday collaboration and how we supported ELEMIS on its mission to help customers share their skincare stories.
About ELEMIS
Founded in London back in 1989, ELEMIS is an award-winning face and body skincare brand. In the 30 years since its launch, the company has set out to develop a skincare range that exemplifies its commitment to "truth in beauty."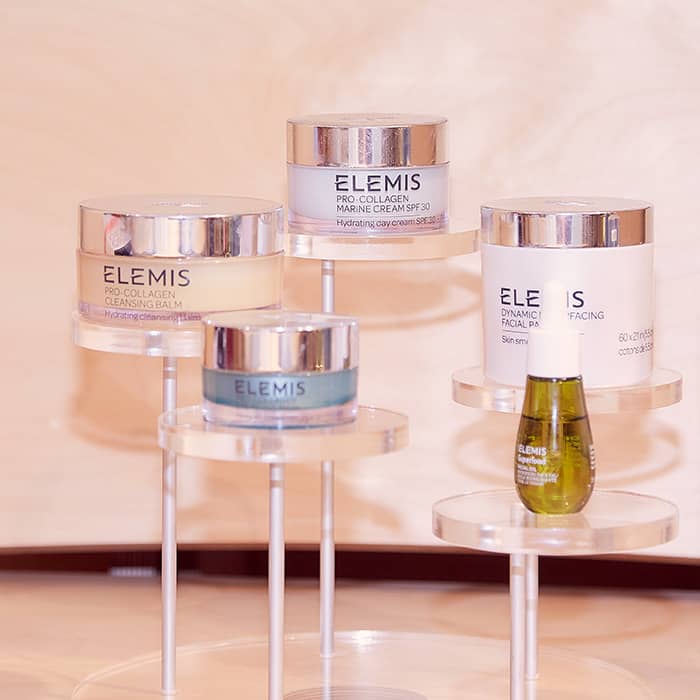 But ELEMIS doesn't just talk the talk — it backs up its mission with science and facts. From formulas and spa treatments to supplements and more, its products are clinically proven to deliver visible results. And the best part? They're powered by nature.
The company sources natural extracts that catalyze the world's finest active ingredients. Combined with its cutting-edge patented technology and blended aromatics, ELEMIS offers products that not only look good, but feel good, too.
Putting skincare back on the agenda
In 2022, ELEMIS was gearing up for the upcoming holiday festivities. Since it was the season of giving, the company started hatching ideas for gifts they might offer their customers as a sign of gratitude for their loyalty and support.
According to Nav Kaur, Senior Retail Marketing Manager at ELEMIS UK, people have a tendency to put their skincare routines on the backburner — especially during the busy holiday season.
"This is where the theme of unwrapping a beautiful story was born," she explained. "It's to help remind people to take time out of their hectic holiday schedules for some self-care and skin wellness, with the help of beautiful seasonal gifts."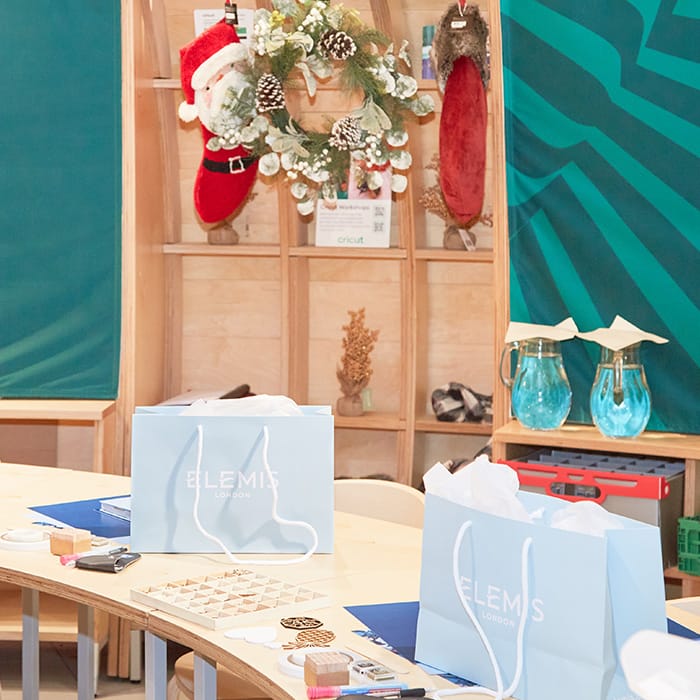 Nav and her team decided to support this campaign — which they named "Skincare Stories" — with a series of holiday-themed events. In partnership with John Lewis & Partners, ELEMIS planned festive workshops where customers could receive an exclusive skincare gift and a Custom Planner to jot down their Skincare Stories.
"We had a tight timeline and needed a premium Planner that would reflect our brand identity."
"Our goal was to give customers a hands-on event where they can create their own ELEMIS Planner, adorned with stencils," Nav said. "The customers also enjoyed having their portrait designed by a live expert artist."
Next, the ELEMIS team needed a design partner. Being a B Corp-certified company, they wanted to find a brand with a similar sustainability agenda. Luckily, they knew MOO would fit the bill.
Designing against the deadline
"As soon as we finalized the concept for our John Lewis Christmas workshops, we immediately thought of partnering with MOO," said Nav. "We had a tight timeline and needed a premium Planner that would reflect our brand identity."
Ultimately, her team decided on MOO's Perpetual Planner. Why? Because, as she explained it, ELEMIS strives to deliver the best customer experience, from product to events, and they knew MOO would help them deliver something special.
"We were excited that the Planner could be used however the customer wished, as it wasn't associated with a specific calendar year," she added. "What sealed the deal for us was the gorgeous gold clip! This was a unique selling point and provided a touch of luxury to our project."
Of course, with the holidays quickly approaching, they had to act fast. Fortunately, this obstacle phased neither MOO or ELEMIS.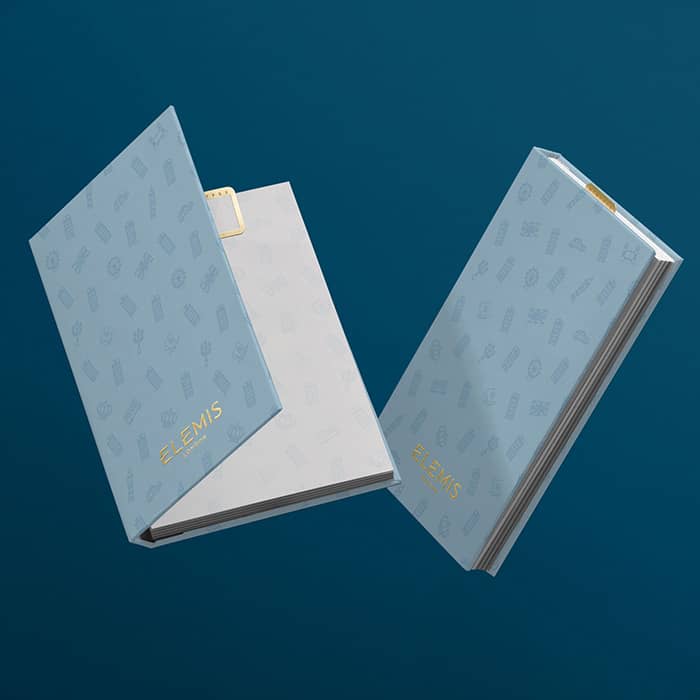 "Working to a tight deadline is always a challenge but we always manage to tackle it together to complete a project in time," explained Eleanor Shenton, Graphic Designer at MOO. "With ELEMIS being such a great company, and given the Planners would be used at such a cool event, we had all the motivation behind us to make sure we made the deadline."
For Eleanor, the design process began right away. She started with research to understand the ELEMIS brand identity. Once she had a clear understanding, she created a custom style guide in Adobe Illustrator and started sketching a few mockups.
"The initial request was to create two simple design options for the cover; one with the tissue paper print and one without," Eleanor said. "ELEMIS didn't mention anything about having a customized top sheet inside the Perpetual Planner. This option comes at no extra cost and is a great way to add branded elements, so I wanted to surprise them with a couple of options as well as additional covers. In the end, I was delighted when ELEMIS agreed to go with a top sheet design I recommended."
For Nav, it was an easy choice. "We trusted MOO to provide us with a few design options. There was an immediate winner — although all of them were beautiful!"
Landmark results for an iconic brand
Ultimately, MOO's final design encompassed everything ELEMIS is about. It incorporated the brand's British roots and unique approach to innovation, underscoring its dedication to setting a royal standard across the skincare industry.
"The design captures key London landmarks and, of course, the iconic phone booth in our signature ELEMIS blue," Nav added. "It's an important brand icon representing our bold and British approach through visual merchandising, store design, content strategy, marketing campaigns and products."
The Planner also highlighted ELEMIS' reputation as a luxury brand using a premium, gold-foil stamp of its logo on the front cover. Additionally, the cover featured the brand's iconic tissue paper pattern.
"I chose to incorporate the pattern in a subtle way by lowering the opacity of the graphics, allowing the logo to be at the forefront of the design," Eleanor explained. "This also gave the logo room to breathe, while drawing focus to the gold-foiled finish, emphasizing a sense of luxury."
In the end, Nav said ELEMIS was thrilled with the final product and couldn't wait to see how its customers would use them. Delivered in time for the John Lewis workshops, her team handed them out to rave reviews.
"Our customers loved the Planners," she shared. "They didn't have a calendar in them, which provided the customer with complete ownership on how they intended to use it. Most importantly, our goal was to excite and engage the customer by providing them with an item that they could use in their day-to-day life."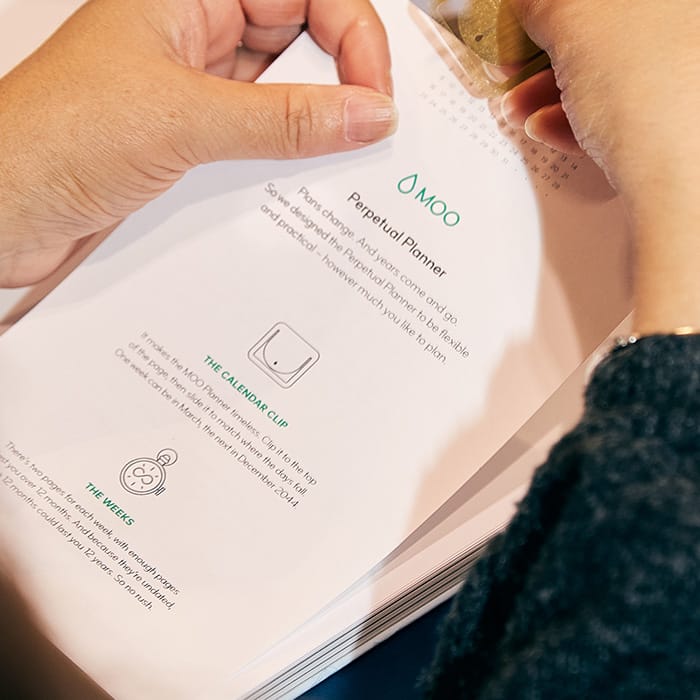 In just a matter of weeks, MOO and ELEMIS put their heads together to create something special. Why not get the ball rolling today? Contact our team to learn more about how MOO can help your brand spread some cheer this holiday season.
Keep in touch
Get design inspiration, business tips and special offers straight to your inbox with our MOOsletter, out every two weeks.
Sign me up!