Business Cards in the Age of Digital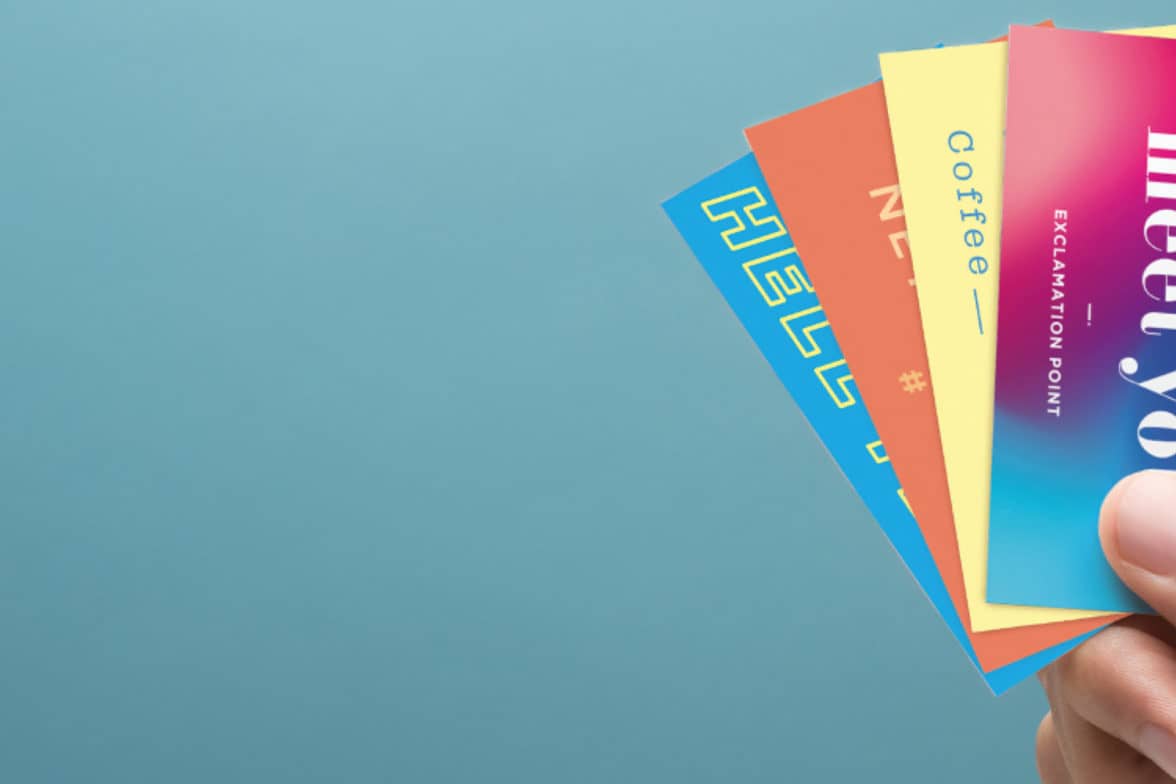 Has digital networking taken over? Does your carefully crafted Business Card stand a chance against Instagram? MOO definitely thinks it does.
Networking. What that meant ten years ago has now taken on a whole new dimension. Where once you might have handed Tristan from Seattle a Business Card, you now exchange LinkedIn information, or maybe even Instagrams – so, are Business Cards still relevant?
It's easy to think the importance of Business Cards has diminished in the era of digital. After all, why would anyone take the time to fish out your card from the dozens they receive when your information is neatly stored on their 'connections' list? Because, just like those dozens of Business Cards, you'll have hundreds of digital connections to contend with. That's precisely why Business Cards are still relevant – it's the old-fashioned ways that work best. Of course, they work even better if you have a Business Card design that's impossible to forget.
The Importance of Business Cards
The online community is a powerhouse of marketing possibilities, and you should certainly be tapping into it yourself with some solid omnichannel marketing techniques. Still, even with 100 images and endless status updates, a simple business card can rival them all when it comes to making impactful and instant impressions on customers and clients alike.
LinkedIn is great, but everyone's profile looks aesthetically similar. With Business Cards, the only limit to your creativity are the dimensions of your rectangle (well, unless you try our Square Business Cards), so that even in a single glance, you can tell people what they really need to know about your business, right down to your color palette. 
Perhaps one of the key reasons Business Cards are still relevant is because they demonstrate professionalism simply by existing. They're not a free social media account that's been hastily set up, an email address quickly scribbled on scrap paper or just another phone number listed under a first name. The importance of Business Cards comes from their status. They are proof that you have invested time, money, creativity and passion into your brand, and serve as a physical token to cement it into reality. Plus, taking a card from your Business Card Holder and handing it over is an unparalleled gesture of professionalism, so long as the card is sleekly designed, of course.
The Importance of Visiting Cards
Alright, so maybe visiting cards went out of fashion a few hundred years ago, but your Business Card can play a similar function. Whether you're placing stacks of them in local bars and cafes to inform regulars of your brand, slipping them into letterboxes or handing them out on the street, your Business Card lets your brand be present in spaces where you can't be. 
Your Business Card introduces you without a face or a handshake and helps extend your network without a single word. Even the Instagram influencer with 3+ million followers understands the importance of Business Cards, because making an impact in the digital world still requires a strong first impression in the real one.
A Pocket Portfolio
Unlike a name and number, your Business Card serves as a brand portfolio that shows off your aesthetics (feel free to be quirky with Mini Business Cards) or even your beliefs (100% Recycled Cotton Business Cards keep things green), while also keeping all your key contact info handy. 
However, if you ask us at MOO "are Business Cards over?', our answer is a resounding 'No' followed by: 'Have you tried our NFC Business Cards?'
NFC Business Cards
MOO prides itself on staying ahead of the game when it comes to all things printed, but we know the world of digital is hugely important too. That's why, for people who just don't want to separate the two, we've created our Near Field Communication (NFC) chip cards. 
A little bit old, a little bit new with a touch of magic, these Business Cards can be read by NFC devices like smartphones to automatically trigger a function when scanned, most commonly the opening of your website in the phone's browser – pretty incredible, right? If exchanging Business Cards is about making lasting impressions, then this is the product that ticks all the boxes.
So, are Business Cards over? Not at all, in fact,
at MOO
, they're living their best lives.
Keep in touch
Get design inspiration, business tips and special offers straight to your inbox with our MOOsletter, out every two weeks.
Sign me up!