Unlocking the power of design in pharma and healthcare branding
Unlock the power of healthcare branding to elevate your pharmaceutical company to the next level.
In today's fast-paced world, where consumers are inundated with loads of information and endless choices, it's even more important for pharmaceutical companies to make a name for themselves.
One of the most effective ways to do that is through design and branding.
Design has the power to communicate your company's values, establish a brand identity and leave a lasting impression on your clients. We'll explore the importance of healthcare branding, how to build a strong brand strategy and the role that design plays in growing your business.
What is healthcare branding and why does it matter?
Qualtrics defines healthcare branding as the development of a recognizable brand identity within the healthcare industry. Moreover, it's a process of shaping a company's public perception among its target audience and the world in general.
You see, healthcare is unlike any other sector. Pharmaceutical and healthcare organizations need to generate a deeper bond between them and their clients well before the relationship reaches the point of purchase. How? By developing trust and demonstrating empathy.
Healthcare clients need to know your organization genuinely cares about their well-being. After all, your products directly impact their customers. According to Deloitte, 55% of surveyed people said their trust in a healthcare provider had been damaged by a negative patient experience, convincing them to find a new provider.
That's why they want to know you're aligned on the same goals, values and beliefs, and that they can stake their own reputation on your business. Meeting these expectations isn't easy, but that's where a solid brand strategy comes into play.
Benefits of a strong brand identity
Branding instills a sense of familiarity and loyalty in the healthcare clients and consumers that buy, prescribe and use pharma products. A familiar medical brand is credible. More importantly, it's trusted. A healthcare provider is more likely to recommend a brand they know, just as people are more likely to buy a product they've tried before.
But here's the thing: A strong brand isn't just about who has the flashiest logo or the most memorable tagline — it's much more than that. If you want to reap the benefits of an unforgettable brand identity, you'll need to account for a host of other factors.
Trust us, it's well worth the time and effort. There's a reason why Johnson & Johnson, Pfizer and AstraZeneca are consistently among the top selling pharmaceutical companies in the world. Committing yourself to brand strategy can benefit your business in many ways:
Market differentiation: The healthcare landscape is flooded by generic products and competitors all fighting for a seat at the table. It's becoming increasingly difficult to stand out from the crowd — and if you can't do that, you may as well be invisible. Fortunately, a good strategy can help you cut through the noise and establish your medical brand as a positive force in the healthcare industry.

Brand awareness: Further to that point, creating a well-planned brand identity can also energize brand awareness and keep your name top of mind to both healthcare organizations and their patients. When a potential client sees your logo, they should instantly recognize your company and everything it stands for without skipping a beat.

Client acquisition: According to Qualtrics, 63% of consumers say brand reputation impacts their purchasing decision. By virtue of your branding strategy, you can better shape public perceptions and manage your reputation. This can go a long way toward converting a potential client into a bonafide (and hopefully repeat) customer.

Brand loyalty: Acquiring healthcare clients is one thing, but holding onto them is a challenge all in itself. A 2021 survey of B2B clients found that 9 in 10 companies switched suppliers in the 12 months preceding the report. A solid strategy can help you build brand equity within the healthcare industry, constantly reminding clients that you have their best interests at heart.

Patient experience: A strong brand carries over to patients themselves. It's kind of a two-way street; confidence trickles down to patients, which gives the healthcare provider confidence to continue recommending your product.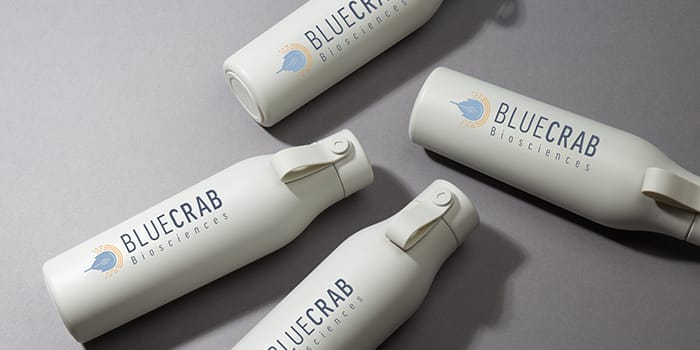 5 keys to building a brand in the healthcare landscape
It's clear that there are benefits abound when it comes to healthcare branding. That said, Moderna wasn't built in a day. There's plenty of work to be done; luckily, we're here to help you get started.
Here are five steps you can take to get your healthcare brand off the ground:
1. Conduct market research
What good is a brand strategy if it isn't founded in market research? The answer: none at all.
Simply put, you need to know your target audience if you want to meet their needs. Otherwise, you're just shooting in the dark. Here are a few questions you should ask:
Who is my ideal consumer?
How should I segment my audience?
What would a potential client look for within my category?
What are their pain points, goals and barriers?
What are their values?
It's extremely important you take these answers into consideration when finalizing the rest of your brand strategy. If you fail to meet expectations, you risk losing business. According to Salesforce, two-thirds of consumers have stopped buying from brands whose values don't align with their own — up from 62% in 2020.
2. Create a brand identity
As a pharmaceutical or healthcare company, it's possible that clients view your organization as homogenous with the rest of the industry — especially given how many copycat products are flooding the market. That's all the more reason to differentiate yourself through an original brand identity.
Think of your identity as encompassing all the elements that help healthcare clients distinguish your company from the competition. These can be visual, such as your logo, brand color, design assets etc. But they can also include more abstract qualities such as your:
Brand voice: According to Frontify, brand voice refers to the words and language you use to speak to your target audience and describe your own company.

Brand tone: Tone is an extension of your brand voice. It's the attitude you use to convey your values; the way you speak to clients.

Brand personality: If your brand walked in the room right now, how would it act? What would it do? What would it be wearing? In a nutshell, that's what determines your brand personality — it's traits, quirks and characteristics.
It's important to establish these qualities early, as they will inform your brand messaging framework.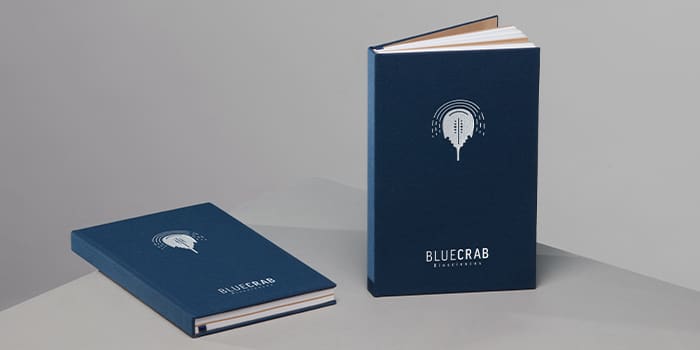 3. Build a brand messaging framework
Now that you know the way your healthcare brand speaks and behaves, you need to determine what it's actually going to say and how it'll say it. This is what's known as brand messaging.
Start by creating a brand promise and positioning statement.
The brand promise communicates the enduring value that your company commits to delivering its customers. Brand positioning refers to how you'll make good on your brand promise through your products and services.
For example, Apple pledges to help customers stay creative by seeing the world a little differently — hence its slogan, "Think Different." So, the company offers its target audience innovative technologies that allow them to do exactly that.
When creating your brand message, keep your market research in mind. Use this to tailor your messaging around your clients' wants and needs.
4. Focus on the customer
Customer-centricity is all the rage — both in the healthcare industry and beyond. The idea is to put your customer first at all times to offer a positive experience and foster a long-term relationship.
This strategy is especially effective when applied to your brand messaging. Consider where and how a potential client would interact with your company. Just like a provider would focus on the patient journey, you need to focus on your customer's journey.
Where are healthcare clients most likely to interact with your brand? Would they find you on social media? Or would they meet you at a trade show? No matter the touchpoint, it's critical you meet your target audience wherever they are relative to your sales funnel.
5. Strategize healthcare marketing
You've done your research, you know your identity and you have your messaging down pat. Now, you need to figure out what tactics you'll use to communicate all of that information.
From social media to display advertising, there are plenty of options at your disposal. That said, we'd like to focus on design — an overlooked area of healthcare marketing with an enormous impact on brand identity.
The role of design in pharmaceutical branding
Design is just as important as any other aspect of brand strategy, yet it's often misunderstood. It's more than just the company logo or its colors. Design includes anything and everything that you put in front of your target audience. Thus, as a reflection of your business, design assets are an extremely powerful branding tool.
Why? Because people are visual beings by nature. The human brain can process images 60,000 times faster than it does text. Thus, design is absolutely crucial to the pharma branding process.
Design has the power to:
Design assets — business cards, flyers, notebooks, etc. — are an especially valuable yet overlooked resource.
The healthcare landscape is heavily regulated, especially when it comes to marketing and branding. This makes it challenging for companies to effectively build trust in their target audience and reach new healthcare clients. Design assets present a great opportunity to simplify your branding with high-quality products that not only look and feel great, but instill a sense of familiarity and trust in your consumer.
How to use custom design assets to build a brand in healthcare
Still wrapping your head around how design can help your healthcare brand? No problem. Let's take a look at a few use cases where custom design assets can help you make a lasting impression:
Face-to-face event marketing
Pharmaceutical events are an enormous opportunity to connect with prospective clients. Take the National Association of Chain Drug Stores' Total Store Expo, for instance. Every year, 8,500+ attendees and hundreds of brand exhibitors gather at this trade show event.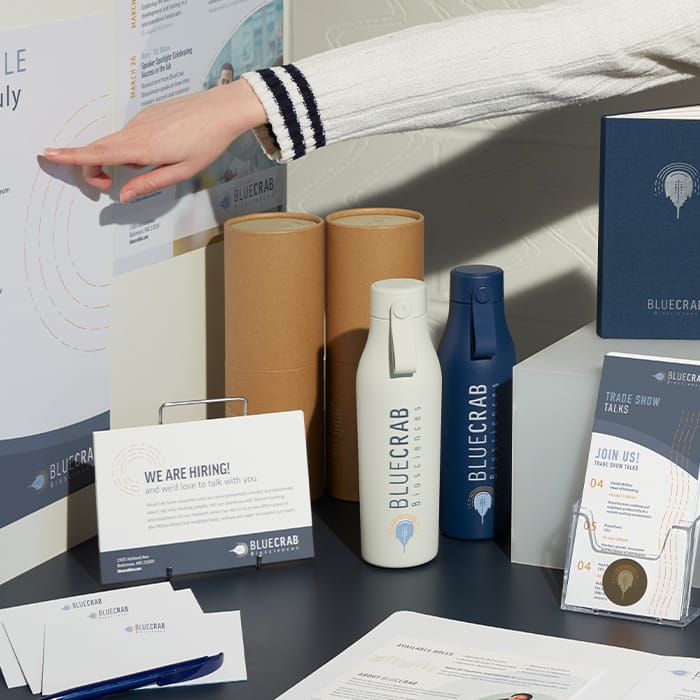 Imagine impressing potential clients with not just one high-quality design asset, but a whole collection of items. For example, MOO's Spot Gloss Business Cards feature both a soft-touch finish and premium shine to catch a prospect's attention and give off a truly professional feel. With your logo firmly fastened to the card, there's no question your brand name will be one to remember.
Custom Water Bottles and Notebooks also make a great first impression on your potential clients. More than just gifts, these assets can prominently showcase your brand on purposeful, thoughtful and well-crafted products that your customers will actually find helpful. As items people use everyday, you're sending the message that you have their best interest at heart. Better yet, you're inherently associating your brand with premium quality.
Sales and marketing reps can also host giveaways at industry events, handing out Custom Planners, Softcover Journals and other items that keep their brand top of mind.
Informational material
Keep in mind that trust is everything in the healthcare industry. If you want clients and patients to use your products, they'll have to trust you first. One great way to overcome this hurdle is by clearing the air with helpful information.
Whether handed out at events or given to healthcare providers to distribute to their patients, branded folders filled with info-rich material, such as a Custom Flyer or brochure, can highlight specific product information and answer frequently asked questions all in one bundle.
Branding your informational material is also an effective way to emphasize your brand personality and values in a subtle yet creative fashion. The benefit here is twofold: With branded items, your company stays top of mind with your potential clients. Then, even once they're in the hands of your audience, they continue to reinforce your brand name whenever they're used or distributed.
The possibilities are endless. For instance, you can even offer prospective clients free Stationery in which medication instructions and other important data can be shared with patients.
Simplify healthcare branding with MOO
If design and branding are outside your wheelhouse, that's okay — they're well within ours. At MOO, we know the value that custom assets bring to the table. Not only are they a great asset to your future clients, but they also help strengthen your brand well before the sales pitch begins.
Partnering with MOO means gaining the support of our design experts who can walk you through every step of the process from start to finish. We'll help you decide on the perfect marketing materials your specific audience will love, then we bring them to life using our in-house design team.
Don't see what you're looking for? No problem. Even if it's not in our catalog, we'll work with you to deliver custom products that meet your needs and exceed your expectations.
With our business printing services, you can rest assured that your brand is well supported by a dedicated account manager squarely focused on helping you wow your clients with premium and purposeful products.
Ready to get started? Fill out the form below to speak with a MOO Account Manager today.
Keep in touch
Get design inspiration, business tips and special offers straight to your inbox with our MOOsletter, out every two weeks.
Sign me up!