Meet the #MOOcrew: Phil, Graphic Designer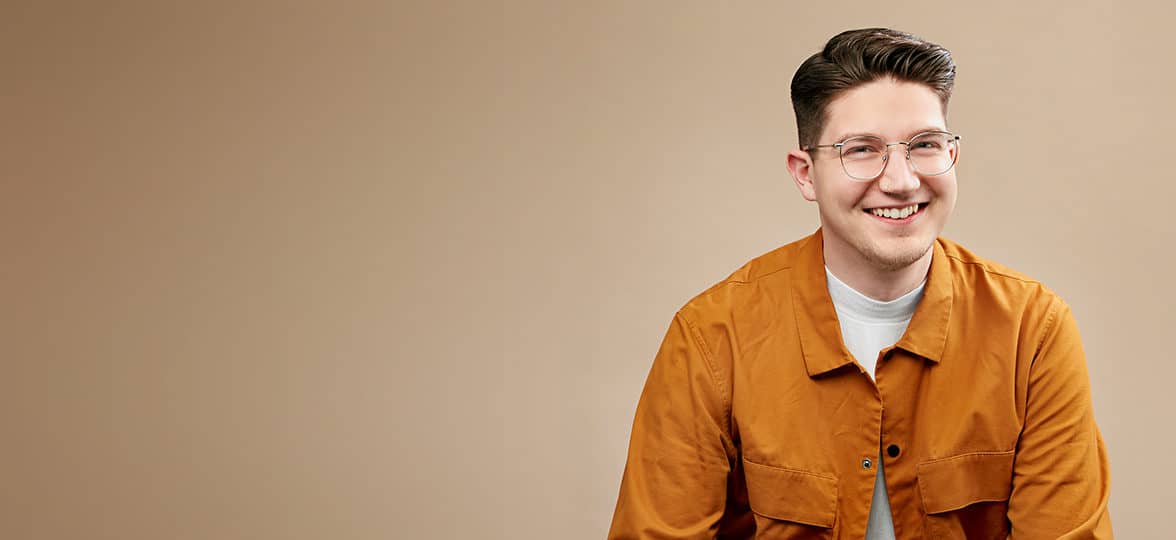 Our MOOcrew are a talented bunch. Wonder what it's like to work at our headquarters? Take a peek at what it's like to work a day in the life of a MOOster…
Phil Bailey
Hi, I'm Phil, I work in the creative team and I've been at MOO for 8 months.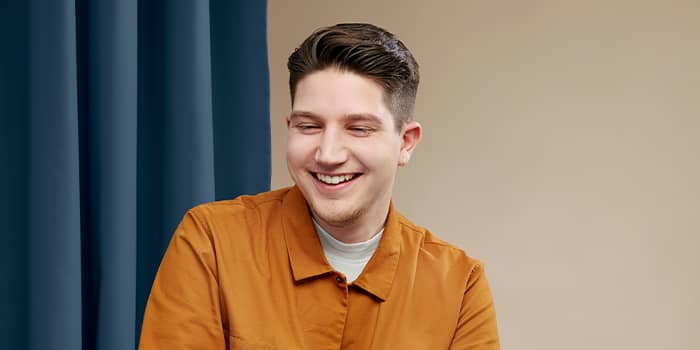 At MOO, I'm responsible for…
Creating commercially aware, innovative and on-brand designs for various stakeholders and areas of the business. My work varies a lot, which I love. I get to work across different channels which include email, direct mail print, social media, digital, MOO.com, PR, MBS (MOO Business Services), events, internal comms, and others.
I got my role at MOO by…
Applying through The Dots, completing a design task and winning over my lovely team during the interview stage.
My morning routine is…
Walking to work (if it's not raining). I have breakfast, with an Instagram scroll. Quick catch up with the team. Check emails, suss out my workload, and then get started.
A typical working day is…
A collaborative effort to meet deadlines and reviews! For me, a lot of my time is spent concepting or preparing presentations for reviews with our creative team or with stakeholders. I'll often be speaking to our copy team so that the messaging / visuals of a project are aligned. I work with our in house photographers to help bring our concepts to life in the studio through art direction & styling. I also work closely with our artwork team who do an incredible job retouching, editing and exporting final assets.
Something people don't know about my role is…
Well. My first project at MOO involved me dressing up in a boiler suit & goggles, I popped balloons filled with poster paint in the photography studio for a 'surprise email' I was creating. Not every day is like that, but sometimes I'm allowed to make a big mess, and it's absolutely fine. As long as it looks good.
My proudest moment at MOO was…
Completing my first MOO.com project, which was a refresh of our Luxe category & product pages. It was so exciting to see the images that I had worked on so intensely go live on the website, for everyone to see!
The thing I like most about working at MOO is…
The people; my team and colleagues are honest, diverse and inspiring; in London and across the pond. Also I love an occasional dog hug from Mango (the Ibizan hound) & Banyan (the Sri Lankan street dog).
On the weekend, you'll find me…
Amongst friends, probably at brunch. Or at the Tate. Or at home visiting my baby niece.
If I wasn't doing this as a career, I'd be…
Living in a warmer climate, maybe as a dog walker 
The best career advice I've ever been given…
Don't show any work you don't like or aren't proud of!
Keep in touch
Get design inspiration, business tips and special offers straight to your inbox with our MOOsletter, out every two weeks.
Sign me up!