99designs: the creative platform powered by designers
How the company helps talented designers over the globe connect and collaborate with clients who need custom design.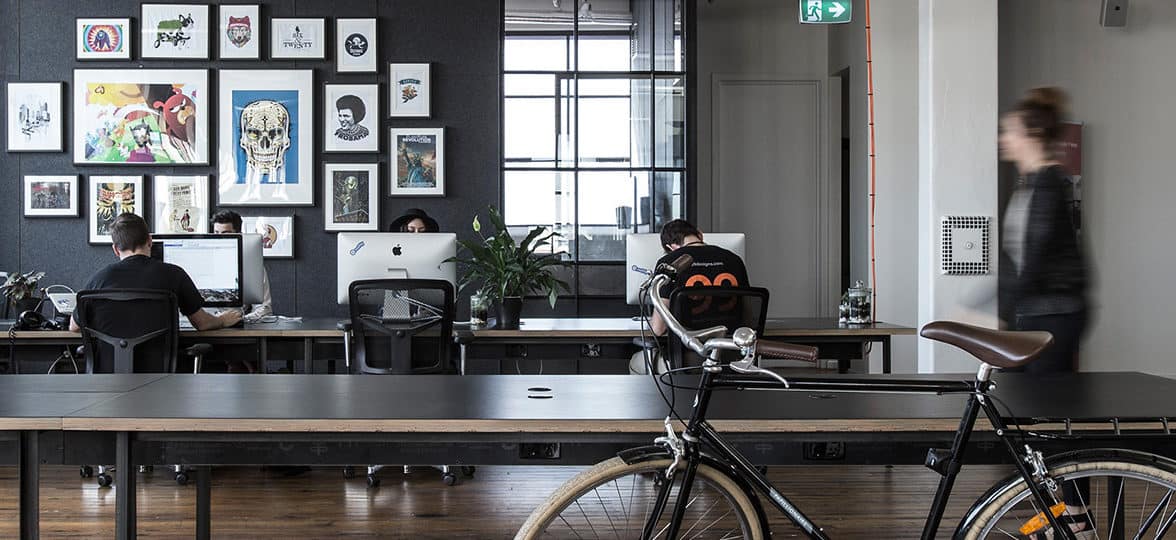 How the company helps talented designers over the globe connect and collaborate with clients who need custom design.
99designs is a creative platform powered by people from around the world that helps businesses get better design. MOO spoke with 99designs' Laura McLeod to find out the story behind the unique platform, and why she thinks design is the best way to showcase your brand.
Turning a craze into a business
Like the brand itself, the inspiration behind 99designs was beautifully simple, with design at its heart. In 2008, Matt Mickiewicz and Mark Harbottle, co-founders of web developer hub SitePoint, noticed a game of Photoshop Tennis being played on their design forums.
Graphic designers would exchange images back and forth, essentially creating a design competition on the forum. The most creative player would be declared the winner and, usually, the game would end there—the designers were only in it for their love of great design.
But when Mickiewicz and Harbottle spotted this low key-craze, the seed of an idea was planted. They envisaged a community of designers that could be tapped into by companies looking for new logos to enhance and communicate their brands. The platform would enable passionate designers to broaden their reach and work on projects that would further their design careers.
Today, 99designs connects its designer community with projects that extend beyond logos, encompassing everything from websites to book covers. By keeping the designers it champions at the heart of the business, 99designs has, to date, earned them $210m USD.
"Our mission is to help people create and grow by design. For designers that means we want to help them get access to great clients and quality design no matter where they are in the world," McLeod says. "We want to give them the best platform to find work online."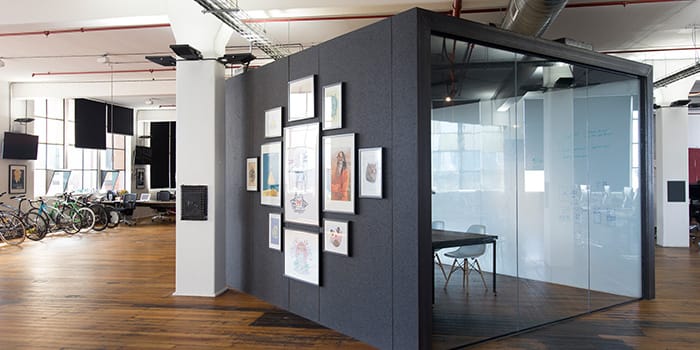 The essence of branding
On 99designs, businesses can work with designers two different ways. A 1-to-1 Project matches clients with a designer who fits their brand—a great option for businesses that have a clear idea of what they're looking for. Meanwhile, a Design Contest presents clients with multiple concepts from designers around the world, which is perfect for exploring different design perspectives.
"Your brand is the essence of everything you do — how you look, act and talk to your customers, and how consistently you do this," McLeod says. "Successful brands work very hard to maintain consistency because it's what conjures an emotional response in people — which establishes trust, loyalty, and a community."
And how a business executes this through design, McLeod thinks, is crucial. "It doesn't happen overnight—it's a journey and we love helping people get designs they love," she says. "You have to start somewhere. Getting started with your logo is most often the first step in showcasing your brand through design."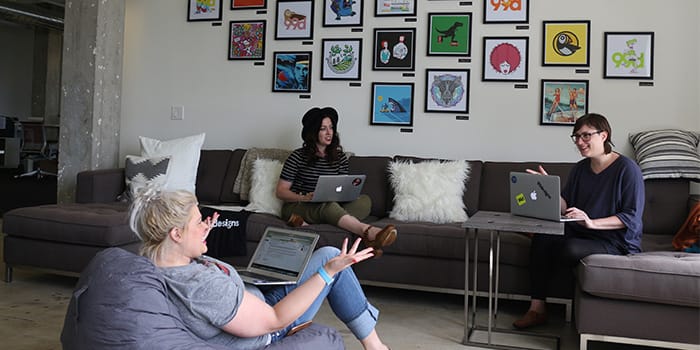 "For businesses — especially startups — it's important to bring this to life in a way that highlights your company name, values, personality, and positioning. Do this well, and your brand will resonate well with the people who need you most."
In 2016, 99designs went through its rebrand and tapped into its global design community to spark fresh ideas and inspire the new look for the company. Over 4,000 designs were submitted before the current, simple logo was chosen as the winner. "It was such an amazing response from the community, and we're so happy with the result," McLeod says.
Community matters
As for its own journey, 99designs has ensured its global staff of over 120, split between California, Berlin and Melbourne, have been on board with the company's culture and core values every step of the way. They include mantras "Design has no borders," "Put people first," and "The journey should be fun"—all of which encapsulate the company's ethos of creative collaboration.
"There's something very special about the 99designs community," McLeod explains. "We live and breathe our brand. We love design and seeing new ideas come to life. It comes through our actions and how we interact with each other on a daily basis."
To aid this interaction, 99designs' office spaces cater to creativity, with requisite touches such as ping pong tables, catered meals and terrariums throughout. And there are plenty of other initiatives on offer to inspire the team.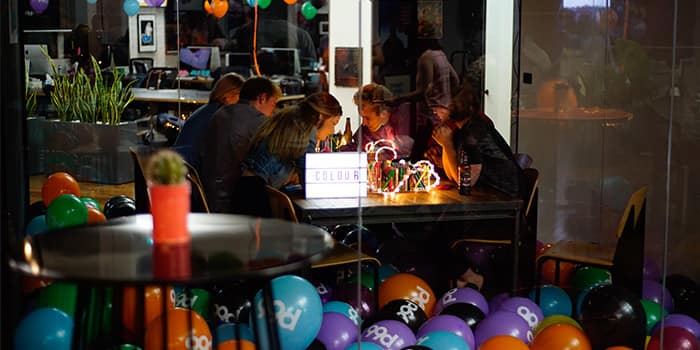 Each year, 99designs hosts Celebrate Design Day, a time for the brand to celebrate everything it stands for. "We celebrate on September 9 and use this time to give something back to the community, get creative, and get excited about design without borders," McLeod explains.
"It's a great way to bring everyone together, reflect and come up with new ideas." Plus every month, 99designs selects a group of not-for-profits to receive design support for free.
"We take care with how we are expressing ourselves to others; from how we present our job ads to the designs we select for the backs of our business cards," McLeod adds. "We also always ensure we credit the designer when their work is featured anywhere. We're here to showcase them."
Sharing the 99designs vision
With a strong visual identity at the core of the business, Laura sees MOO Business Cards as a key part of how 99designs shares its own brand values.  
"We selected some of our favorite designs from our MOO Business Services platform for our Business Cards," McLeod explains. "It's way of showing show the diversity, quality and choice that's available from the wealth of talent in our designer community.
"Stylistically, we feel it's important to champion all sorts of different approaches, so we like to mix it up as much as we can and allow the talent of our designers to speak for itself.
"I always let people pick the card they like most, and they often struggle to choose, because they're all so inspiring. I loved getting my cards when I started here and I love to give them away. They're the perfect extension of our brand."
Tell your brand story with MOO Business Services
At MOO, we've been helping people make their mark in the world with amazing quality print products for over a decade. And as our customers have grown, so has our service offering. That's why for bigger businesses—with 10+ employees—we now offer MOO Business Services. It's MOO + benefits. MOO Business Services combines dedicated account management with an easy online ordering platform and expert design services. It's a complete package for businesses to give you more brand control and consistency—while saving you time, stress, and money in the process.
Fill out the form here and a friendly Account Manager will reach out to you.
Keep in touch
Get design inspiration, business tips and special offers straight to your inbox with our MOOsletter, out every two weeks.
Sign me up!