5 clever ways to use Display Boxes
To get you started, here are some useful ways to make the most of our Display Boxes.
Our Display Boxes come in three different sizes, to neatly fit your MOO Business Cards, Notecards or MiniCards. And that's what we're most excited about –  seeing exactly what it is that you'll be displaying in them. To get you started, here are some things we've found them pretty useful for already.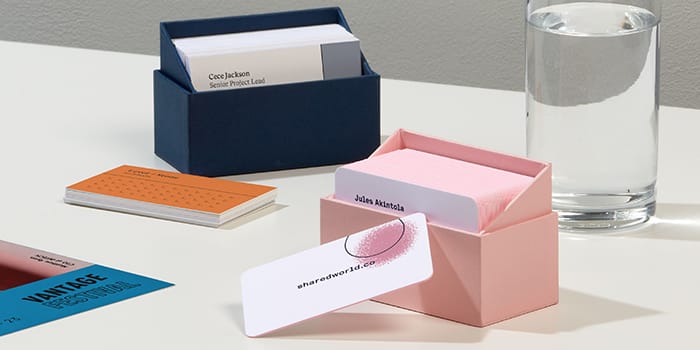 You're… a cafe owner 
You make a mean mocha. Your cakes are the talk of the town. Your loyal customers wouldn't dream of going anywhere else for their daily caffeine hit. But, just to make sure, a Display Box at the till will help everyone notice your loyalty cards (and your fancy taste in countertop accessories). Of course, this works just as well in other shop scenarios as well – we just always have coffee and cake on our minds.
You're… at a trade show
It's taken a lot of hard work to get to this point, don't overlook the little things now. Make your Business Cards unmissable – and keep your space much tidier, too with a Display Box in a colour that works with your brand.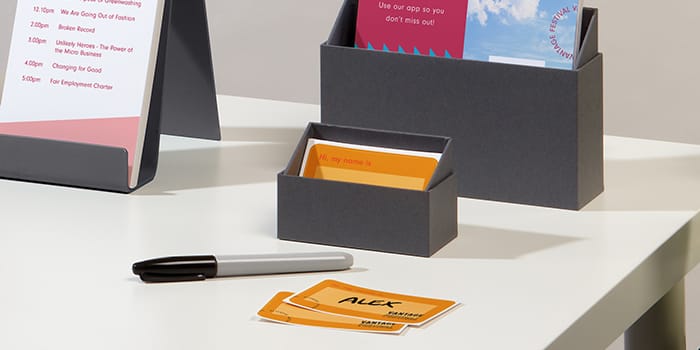 You're… at your desk
A Display Box is a simple way to add some order to your desk. And whether you're a solo business or a remote employee, it also helps to keep you focused on your brand. Literally, sometimes.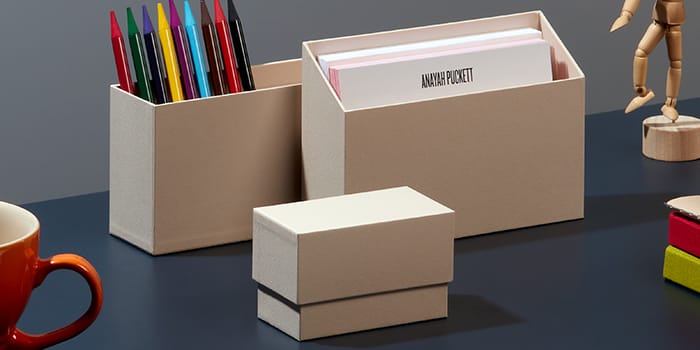 You're… feeling gifty
If a customer loves your designs enough to buy a whole set of Postcards – just imagine how much they're going to love receiving them in their very own Display Box. A lot, basically. It protects their order, will continue to be used long after the Postcards have been sent, and adds an extra little reason to share your lovely work on their social channels. 
You're… thinking outside the box
Yes, our Display Boxes have been specifically designed to fit our MOO-sized cards. But maybe you're feeling maverick. Maybe you want to display something entirely different in them? Go ahead, display your way. Sets of pens, mobile phones, photos. They can help you neatly store lots of non-MOO items.
So that's five ways you could use our Display Boxes. As with everything we make though, we bet there are loads of ideas we haven't even thought of yet. And we can't wait to see them out there in the real world soon. 
Ready to show off your cards? Choose your Display Box here.
Keep in touch
Get design inspiration, business tips and special offers straight to your inbox with our MOOsletter, out every two weeks.
Sign me up!