Greeting Card designs that deserve to be congratulated
We talked to four Greeting Card makers who take snail mail to new heights with folded works of art.
As we bathe in instant connections and struggle to focus on thirty-second reels, Greeting Cards have become a real statement of "slow living." We talked to four creatives who take snail mail to new heights.
Playful cat, joyful cards
Sarah is a Korean-American illustrator and designer based in the Bay Area and the mind behind Goyangii. Her colourful, animal-filled art oozes fun – a sentiment she wants to share with the world. She draws inspiration from everyday life and her interactions with loved ones. "I feel that my best ideas are rooted in experiences which really bring about the feeling of sincerity in my art."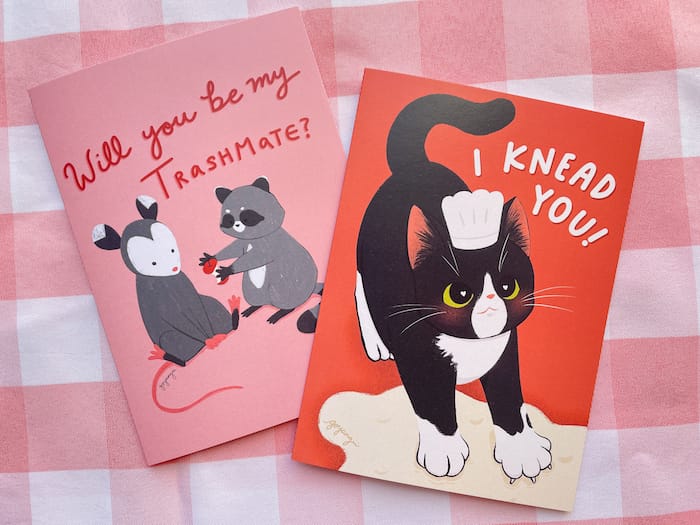 This love for connection and sincerity inspired her to make Greeting Cards, which, to her, are definitely here to stay, helping people "visually and tangibly express their feelings." Her favourite occasion to send her cutest card designs, you ask? "Valentine's Day, hands down. The sentiment of love can be expressed in such a range from silly and crude to ooey gooey sweet. I make it a point to illustrate a new Valentine's card every year for my partner with reflections on our year together."
"I make it a point to illustrate a new Valentine's card every year for my partner with reflections on our year together"
As an expert Greeting Card maker, Sarah is the perfect person to ask for tips. So we did. "When designing into your first batch of Greeting Cards, I find it helpful to narrow down your themes to help create a cohesive collection.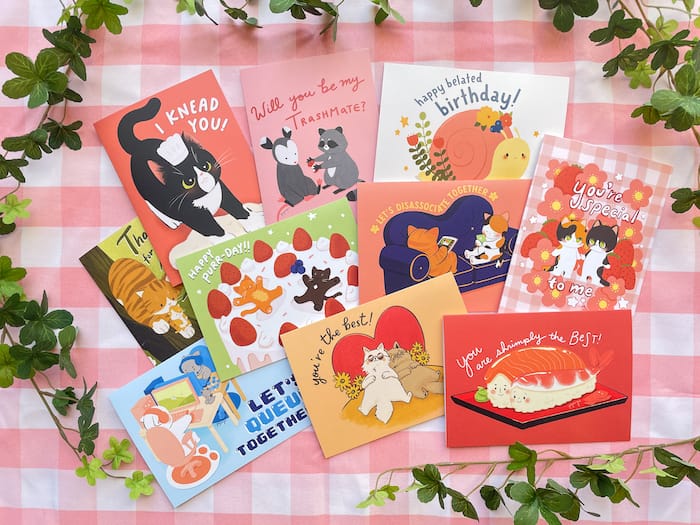 "Whether it be the occasion, reoccurring subject matter or colour scheme, you want to give your viewers both a quick idea of what it's about and an invitation to look on longer and take it all in. For example, the first glance at my collection screams rainbow vomit and kitty cats. If they like both, hopefully, they will linger their gaze long enough to draw a chuckle or an 'AWWW'."
West Coast inspiration
Based in British Columbia, Marina Hegedues is the artist behind Marina Jenelle Paintings. She specialises in West Coast-inspired pieces with a unique, colourful take. That's when she's not painting heartwarming animal portraits with a spark in their eyes.
Marina's creative process starts with colour – especially when she's creating Greeting Cards. She usually uses gouache or acrylic and adds the last touch digitally.
"When it comes to the subject matter, I like to consider what would be appropriate for a variety of occasions but also a unique art piece in someone's living space. I love that you can also frame my cards to turn them into affordable artwork in your home or office!"
She considers herself lucky to call Vancouver Island home. From the ocean to her own garden, it provides a constant stream of inspiration for her art and Greeting Card designs. "I love to paint what surrounds me – and I'm surrounded by beauty here."
"Nothing can replace the sentimental value of a Greeting Card"
Marina believes in the power of Greeting Cards. "From the unsteady handwriting of a child who recently learned how to print their name to the distinctive penmanship from a dearly missed loved one of a card you've held onto for years – nothing can replace the sentimental value of a Greeting Card."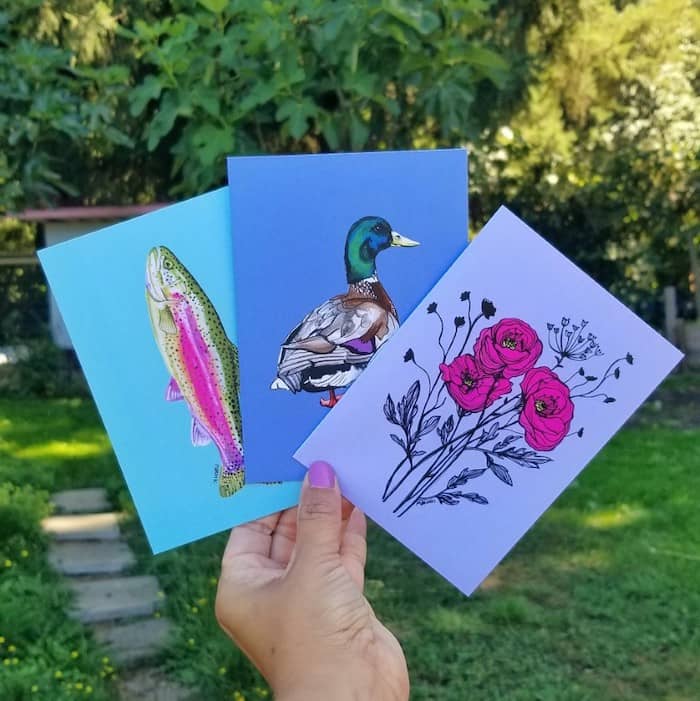 Birthdays are her favourite occasion to give cards. "Birthday cards are full of colour, maybe some humour, and heart. They allow you to reflect on how you feel about the person, what they love in life, and what would make them smile on their special day."
For your first batch, the artist recommends letting your imagination flow freely to find the best Greeting Card ideas. "Enjoy the process of making a card. Play with colour and different subject matters, and let your imagination run wild. I love that with MOO you are able to include several designs in a single order. Don't be afraid to show off what you can offer!"
The more, the merrier
Behind Little Something Co. is a trio of friends based in Portland, Maine. Sam, Bella and Sarah design Greeting Cards, stationery and other colourful products aimed at brightening anyone's day.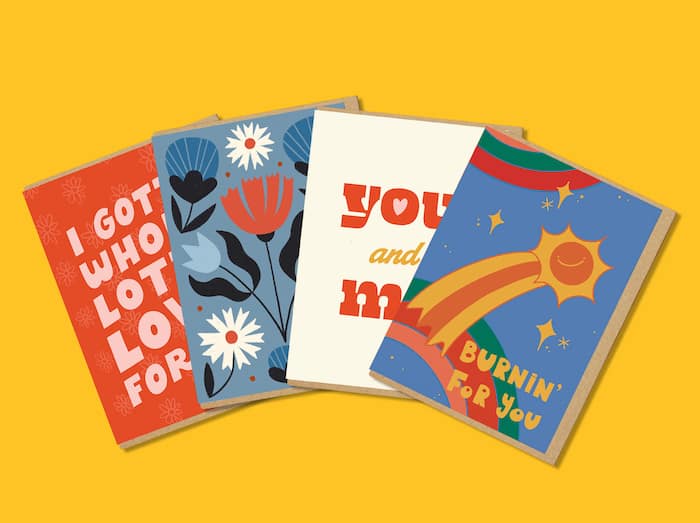 Fun is at the core of all their creations. "We aim to have fun with whatever we create. We make designs we would want to purchase or collect as a customer. Several of our designs are inspired by the state of Maine, while others are driven by what makes us feel good. Bright colours, positive messages, and fun imagery are all elements that are essential to Little Something Co."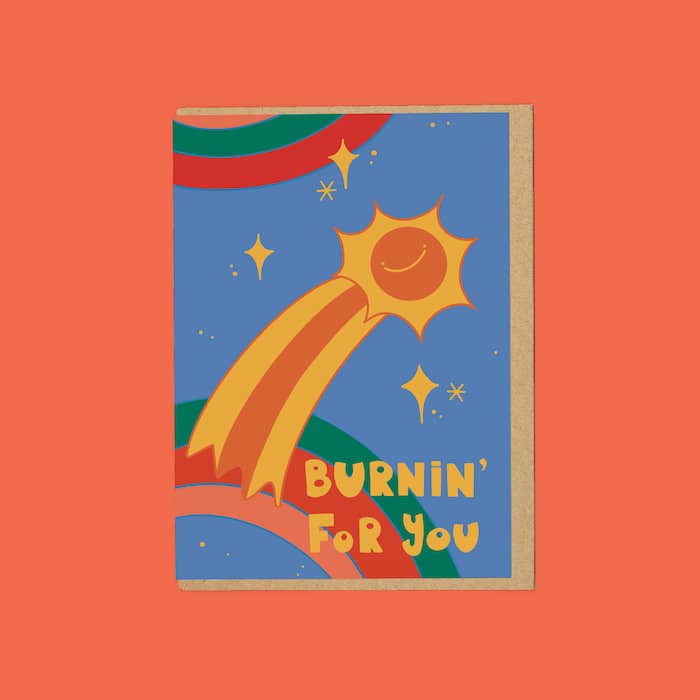 The three friends cite bonding as Greeting Cards' superpower. "There's something timeless about receiving a card with a handwritten message inside, regardless of the occasion. Greeting Cards create incredible connections wherever they end up!"
For them, no special occasion is needed: the best cards are the unexpected ones. "We've found that everyday Greeting Cards are the most impactful in some cases. You don't necessarily need a holiday or grand occasion to give someone a card. Small moments deserve some celebration too!"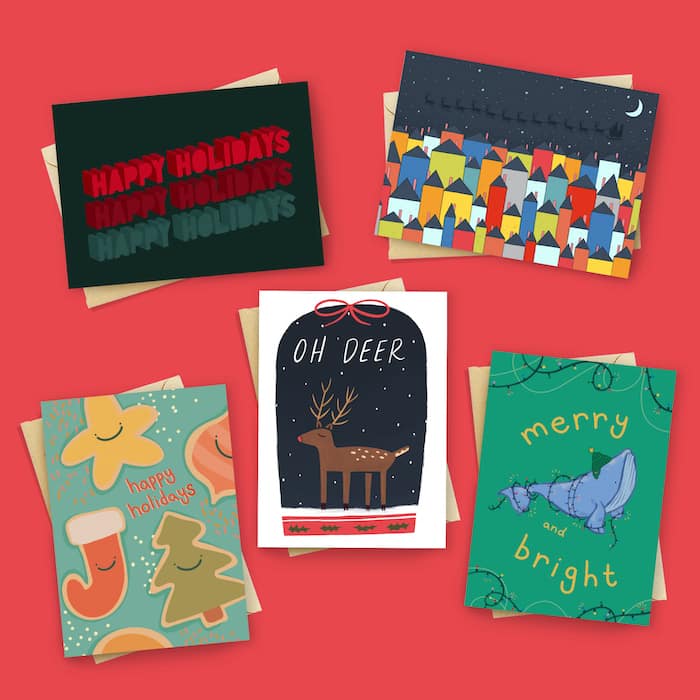 When it comes to advice, Sam, Bella and Sarah recommend, once again, to have fun. "If you're enjoying whatever it is you're creating, that authenticity will show in your final design. That joy will come through to others when they see your Greeting Card design and will make the moment all the more special in the end."
Serendipitous beauty
A MOOster by day, Jamie paints and runs her stationery brand JDG Creates by night from her plant-filled studio in the Boston area. She started her online shop in 2020 after losing her job due to the pandemic. "I finally had the time and energy to realise my dream of sharing my art online. I was probably one of the few people who was lucky enough to have something good come out of the pandemic, and I'm very grateful for that."
For Jamie, serendipity is key to finding inspiration… and Greeting Card ideas. "Daily walks around my neighborhood provide a lot of inspiration in the form of trees and plants, the sky, the moon, our local pond, etc. I also like painting things and places I love – like book covers, Burdick Chocolate, my favourite new paint colour, and the seaside.
"Once in a while, I also take part in a monthly challenge like Inktober or Roxane Coble's April Art Challenge to get my creative juices flowing, sometimes in surprising ways! Most of that ends up in my daily sketchbooks and some turn into MOO Greeting Cards. For example, the amazing tiger lilies I saw over a year ago and immediately wanted to paint, and one of my favourite houseplants, lucky bamboo, are now Greeting Cards!"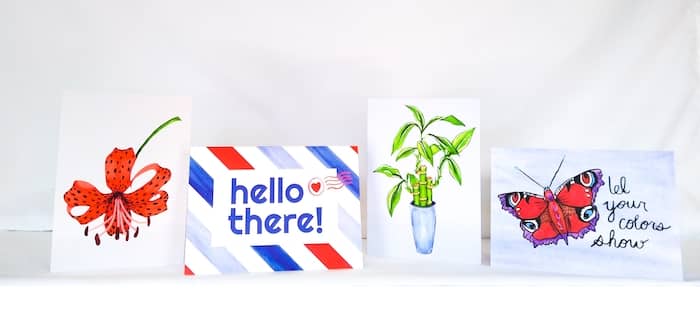 As a Greeting Card maker and avid MOOster, Jamie knows they're here to stay. "I receive a lot of Greeting Card orders, even more than Postcards, and while I love snail mail in any form, there is something extra special about getting a card tucked away in its (hopefully decorated) envelope that feels like opening a gift."
Like the Little Something Co trio, Jamie thinks Greeting Cards should not be saved for special occasions only. "Any occasion works for me! I love sending 'just because' cards most of all because people aren't expecting them so there's a bonus surprise when they arrive."

As a customer service representative, Jamie has a special advantage when it comes to design tips. "Working at MOO has taught me a lot of useful things about what makes for a successful print and I've definitely put that into action! I consider colours ahead of time and avoid ones that don't have a close equivalent in our CMYK colour gamut. I also stay away from borders because of our 2mm cutting tolerance – plus, full-bleed images are so much more eye-catching anyway!
"Have fun and create cards that make you feel good when you pop it in the mail, then they're sure to brighten someone's day."
"I have also made the mistake of getting cards in both portrait and landscape orientation in one pack, not realising that my logo on the back doesn't change accordingly. Luckily we have a super helpful customer service team (if I do say so myself) and we're happy to work with folks so the reprinted cards turn out beautifully."
Her advice is not all about bleed and orientation, though. "Creatively speaking, I'd say have fun and create cards that make you feel good when you pop it in the mail, then they're sure to brighten someone's day."
Create Greeting Cards for any occasion with MOO. Plus, you can print a different design on every card at no extra cost. Neat.
Keep in touch
Get design inspiration, business tips and special offers straight to your inbox with our MOOsletter, out every two weeks.
Sign me up!