6 positively blooming floral cards and nature-inspired designs
Discover how these creatives took a leaf out of nature's book to create beautiful designs.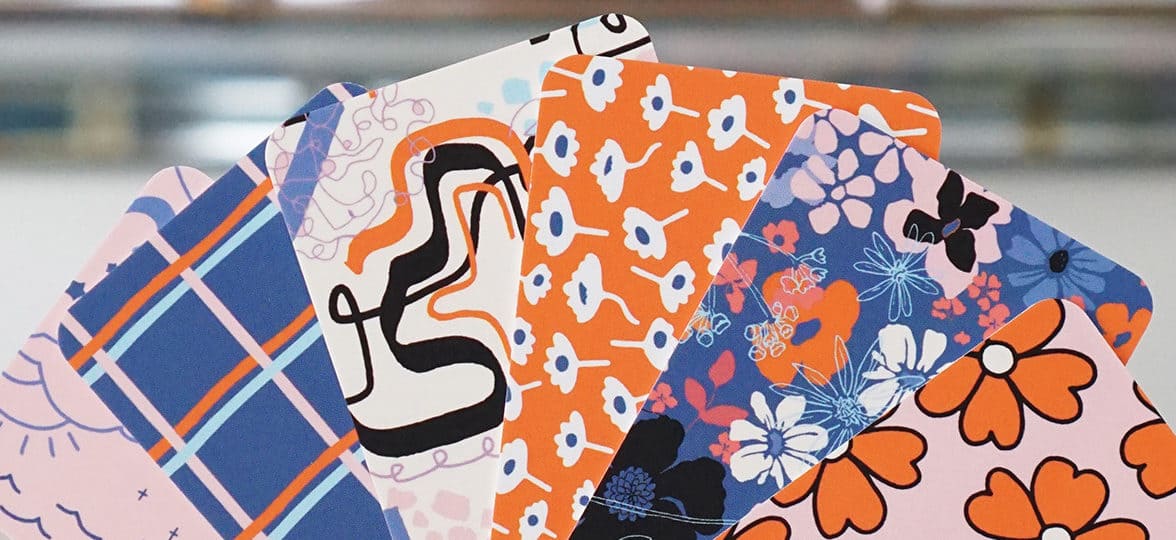 Nature will never cease to inspire creatives. It's no wonder David Attenborough has us hooked on nature documentaries. Because the natural world indulges our sense of wonder with a world of possibilities.
Discover how these artists and brands used nature as the source for floral prints, mountain views and plant cards.
Eljae studio: sweet pea
Based in Pittsburgh, Lauren J. Perwas is the artist behind Eljae Studio. Working with watercolour, a medium she rediscovered a few years ago, her botanical paintings put nature's beauty in the spotlight. "I'm always looking to capture the quirks and details in whatever I'm painting, and I try to highlight the beauty that nature provides us." Through commissions and the fine art prints, Stickers and Notecards she sells online, Lauren gives nature a second life on paper. And when she paints, she doesn't kid about research. "I enjoy the hours or days I spend researching a plant, even though I cannot seem to grow any plants myself, and it always amazes me to discover how many different varieties there really are! There's only so much that photos on the Internet can show you, so, when I can, I'll spend hours drawing and painting as many plants as possible at Phipps Conservatory and Botanical Gardens, here in Pittsburgh. Most of the fruits and veggies that I paint are of produce grown at local farms. It's a great way for me to learn more about what foods are available during the season and to get to know my local growers."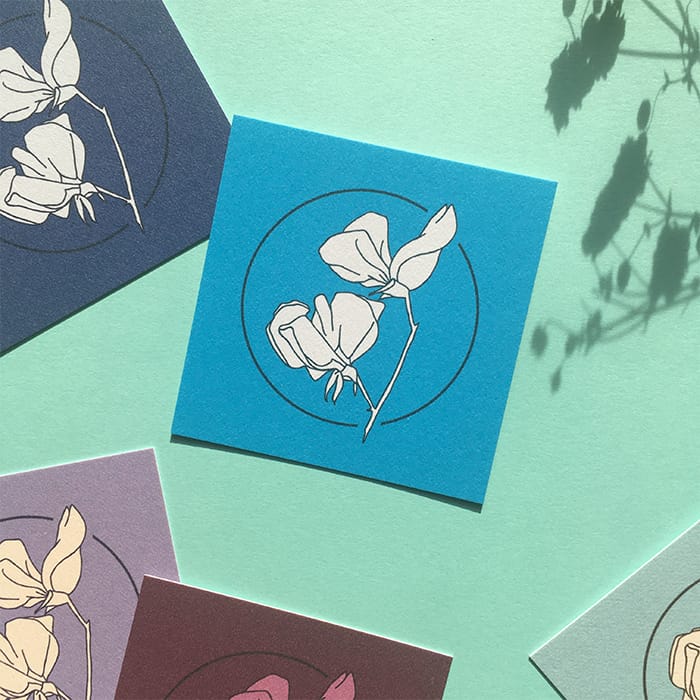 For her floral Business Cards, she uses MOO's 100% recycled Cotton paper in square format. "I really appreciate that the cards are made out of something that would normally get thrown away." Lauren created the flower cards as mini prints, with the idea that customers could hang on to them. "The design I used for my logo is based on my dark purple sweet pea watercolour painting. It's one of the first paintings I did after I got back into watercoloring, and it's still one of my favourite illustrations!" For her floral cards, she turned her painting into a digital line drawing, creating an impactful design that stands out on a small canvas. "I wanted my logo to still be connected to my artwork, but with a more simple design. And, just using line work for my logo allowed me to print the Business Cards in every colour combination I could think of."
Thanks to Printfinity, Lauren was able to print her flower cards in a variety of colours. And it got her even more inspired. "I actually placed two orders: one with standard Business Card information on the front, and one set up with some blank space so I could send them as thank you notes in orders. I love the rainbow of colours I was able to have printed in a single order, and I've been having fun matching the colour of the thank you note to the colours in the print or sticker when a customer places an order. After receiving my Business Card and thank you note orders, I immediately had ideas of creating more square cards with different designs and a coupon code to hand out at markets or to include with especially large orders. I'm definitely hooked!"
Kayla Ann Creative: uncovering the patterns of nature
Kayla Ann is a Minneapolis-based artist and surface pattern designer. Inspired by nature and vintage motifs, her work reminds us of our innate connection to nature. "All of my work derives from my connection to nature and the world around us. Nature inspires me to make art that illustrates the patterns and moments of joy I find when I'm exploring the world. Once you start noticing the patterns and rhythms of nature, you discover a harmony and balance in life. I try to tell that story through design."
With rounded corners and Gold Foil, Kayla picked a winning pair for her floral Business Cards. "I chose the rounded corners because the softness helps showcase my patterns on the fronts of the cards, [and] the Gold Foil detail adds a touch of elegance and nod to the vintage feel of my signature style." With a soft blue, a pastel pink and a bright orange, her six vintage and nature-inspired designs perfectly complement each other. Her favourite thing about her cards? "They are the perfect canvas to showcase my design! The softness of the surface and the gold foil detail always stand out to people when they see my card for the first time. I get compliments all the time!"
Ghost & Rose: the name of the rose
Ghost & Rose is an apparel company from Minneapolis. Behind the brand, Ray (aka Rose) and Kodie (aka Ghost) work together to design sustainable, ethically made, locally-printed apparel with a message. Their motto? "For the beauty. For the better". For Ray and Kodie, clothing is much more than simply functional. They believe it can tell stories and bring more beauty into our lives. That's why they create unique designs made in a sustainable and ethical way.
Thoughtful apparel needs thoughtful branding. Ray and Kodie chose to create a unique unboxing experience by including a set of prints from MOO in each order. "We love seeing our artwork come to life in a tangible hands-on form! [And]there's just something magical about holding something you designed in your hand!" For Ghost & Rose's cards and Stickers, they drew inspiration from the natural world. "We try to honor nature by being sustainable in our business practices, so we wanted to incorporate some natural beauty into our MOO designs as well. We chose a rose theme that was very on-brand, and also reflects the natural beauty that inspires our work. I am heavily inspired by flowers (I'm a florist by trade!) and enjoy film photography as a hobby, so I used a 35mm film photo of some roses to incorporate into the artwork. Our designs feature a combination of this photo artwork and our shop logo, which we designed together and represents each of us collaborating together."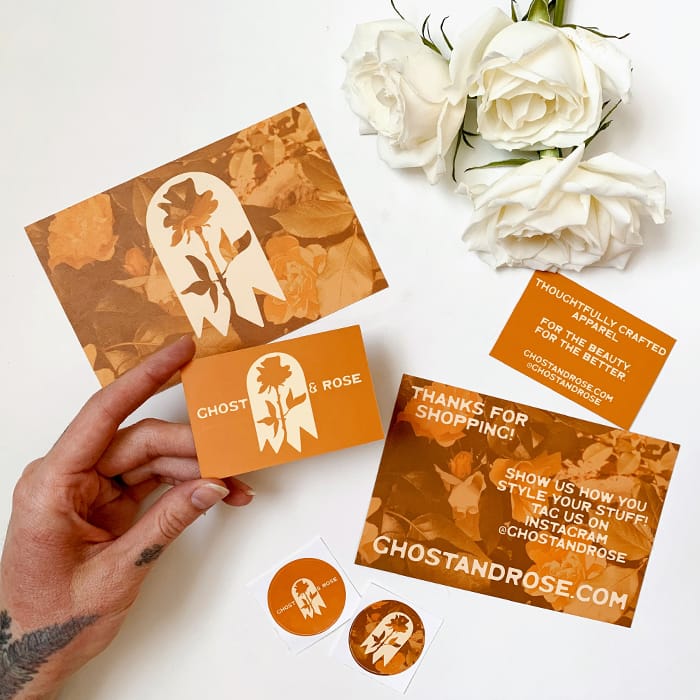 Ray and Kodie started with the essentials to create their branding goodies: a set of MOO size Business Cards with a smooth matte finish. With a warm orange background and an instantly recognisable logo, Ghost & Rose's cards really stand out. "We love the unique size of these cards, and they're the perfect way to share our business info in an eye-catching way." And with a Postcard included with every order, Ray and Kodie are taking the customer experience to the next level. "These have proven to be a great way to engage a little more with our customers and are the perfect extra touch to include with orders." But their favourite? Round Stickers. "We stick these everywhere. The quality is great and they're the perfect size. We love sticking these on our packages and tucking some extras in with our orders, which our customers are always excited about."
Anisa Asakawa: mountain high
Anisa Asakawa is a fine artist based in Portland, Oregon. After a career as a display coordinator, cake decorator and store visual artist, Anisa took the leap to pursue an independent art career. This multitasker now works from her home studio while raising her two children with her husband. She specialises in energetic paintings of landscapes and flowers, using her unique cake decorating painting technique. Nature and cakes – what more could we ask for?
The wonders of the natural world have always been a big source of inspiration for Anisa. "Born in Hawaii's cultural melting pot, as the daughter of a Malaysian botanist and a Texan forester, my life has been defined by creative curiosity and a reverence for Mother Nature. My parents' wanderlust allowed me to travel and live all over the world throughout my childhood. This infused my memory with scenes ranging from coastal mountains and midwest prairies, to tropical jungles and mountainous skies. To this day, I crave the escape of a beautiful landscape in order to relive that experience through my daily art practice."
For her colourful landscapes and mountain cards, Anisa chose Original Postcards with a matte finish. "I wanted my postcards to feel like a fine art print. The surface is super soft and the printing quality is superior." She picked her most popular paintings to create a set of inspiring, mood-boosting postcards. "I love how the colours are so vibrant and how large-scale paintings can still have such a visual impact on a small surface. I know that these images will bring joy to those that write Postcards and those that receive them no matter where they are located. These mini paintings even bring joy to the hard-working mail carriers while working their routes." Like windows on the world, these vibrant mini works of art remind us that there is still hope and beauty out there. A little mountain card can go a long way (literally).
Urban Lilli: the ultimate plant ladies
Urban Lilli is a Black-women owned plant boutique in Sacramento. Passionate about the soothing and bonding power of nature, Clarke, Teylor and Kim sell plants and accessories, providing greenery for all types of events. Their motto? "Don't have a green thumb? Borrow ours!" Plant care and gardening have a special place in the family. "It resonates deeply with us because it's what we do to bond and spend time with each other. When our grandmother – who is diagnosed with Alzheimer – moved in with us, planting and gardening is something we all enjoyed, and it helped smooth out our transition together. That is what inspired us to start Urban Lilli together and spread the joy and love the plants and process brought us."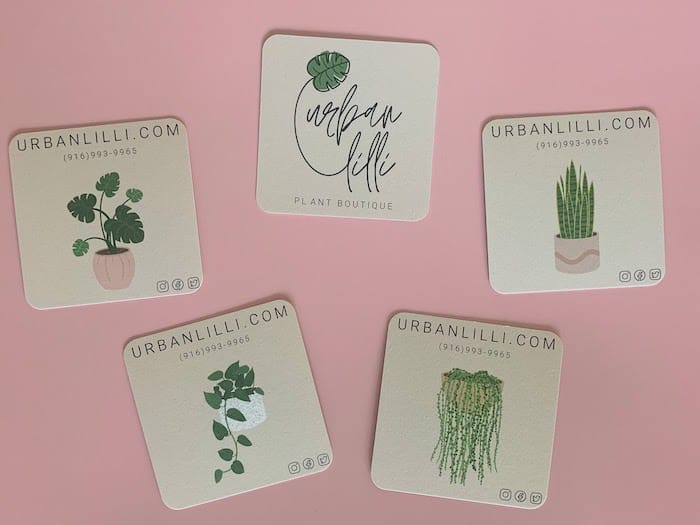 A planet-friendly brand to the core, they chose Cotton paper for their Square Business Cards. Made from 100% recycled T-shirt offcuts, these cards are naturally textured for an authentic feel. "We are a company that believes in recycling and trying to help our planet in any way and with this finish and design, using recycled products reduces the need to harvest new raw materials." For their house plant and succulent card designs, they teamed up with Litolpilea, an illustrator specialising in plants and pets. "We always knew we wanted to incorporate multiple plants on the card, and we wanted it to be fun and funky! We knew we wanted four different plants on the back of each card, so we found Litolpilea and she helped us come up with these perfect plant designs." With three founders, everyone has their favourite thing about the cards. For Clarke, it's the variety: "I love the four plant designs, with each purchase you never know what plant you'll get!". Teylor loves their playfulness, and how it represents all of their personalities. And Kim? "I love the fact that they're made from recycled t-shirt materials". Tree-free plant cards. That's the stuff.
June Armstrong: a riot of colour
British illustrator June Armstrong lives in Aviemore, in the Scottish Highlands, where she thrives on balancing her illustration work with a passion for the outdoors and the high places of the Cairngorms National Park. Surrounded by nature, she draws inspiration from her environment to create vibrant watercolour paintings. "I love nature in all its forms and am lucky living here to be able to enjoy it straight from my doorstep by bike or on foot. I have a passion for gardens and gardening and love to paint florals with a riot of colour."
June has been using MOO to promote her business for years. "For my [latest] batch, I used the Square [Business Card] format to make tiny reproductions of some recent paintings. I've been using them as tags to embellish the tea towels I have been selling." Like little windows, the cards are an invitation to explore the Scottish Highlands. "These cards show the birch tree silhouettes that I can see from my home. I love painting them against the ever-changing colourful skies we enjoy here. The winter sunsets have been amazing this year. The trees are often a feature of my watercolour landscape paintings." What she loves about her cards? "MOO Business Cards give an instant visual of my work and always draw a gasp! I like to think the recipient will stick them on their fridge or notice board and keep them forever."
Create your very own nature-inspired designs with MOO's Business Cards and Postcards.
Keep in touch
Get design inspiration, business tips and special offers straight to your inbox with our MOOsletter, out every two weeks.
Sign me up!