4 holiday card ideas to elevate your season's greetings
From Gold Foil details to flat design, get inspired with these creative holiday card ideas.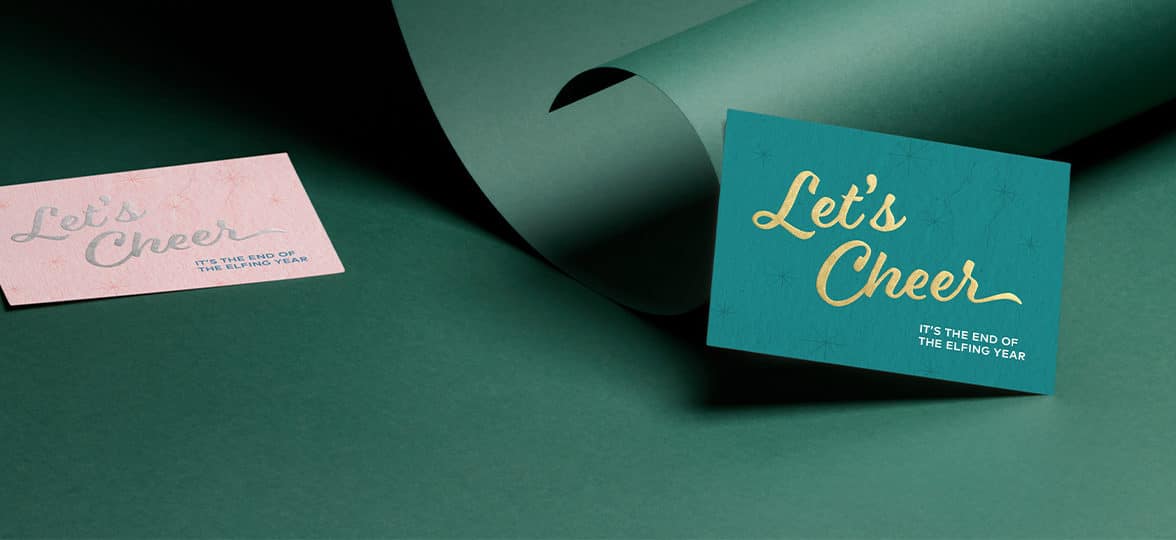 It's been a rough year – there's no denying it. With relationships becoming increasingly digital, feeling close to your clients can become challenging. As a little reminder of the physical world, holiday cards are a more tangible way to thank them for their business in the past year. Expressing your gratitude with a beautiful card and a personalised message is guaranteed to put a smile on their face and make sure you stay on their mind – even if they can't meet you in real life.
Looking for original holiday card ideas for your business? From Gold Foil details to flat design, create memorable designs with these creative 'happy holidays' card ideas.
Be topical
Put a positive spin on the new normal with a funny message for your season's greetings. A remote work-themed holiday card idea is a nice way to remind everyone we're all in the same boat and bring us closer together – virtually, that is.
Why not go for one of our holiday card templates? Our design team created a range of clever templates to help you spread the cheer – and the cheer only.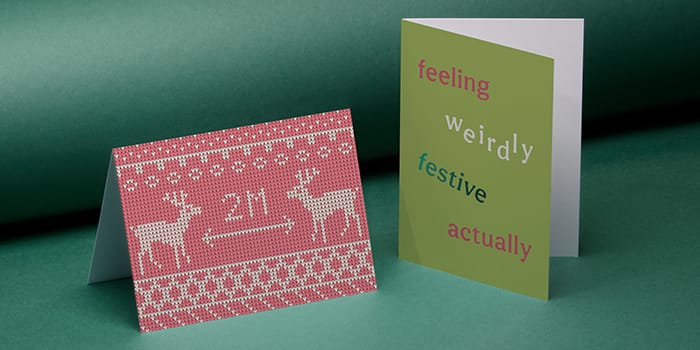 Download this holiday card template here >
Let it shine
Make your cards more eye-catching and memorable with shimmering accents. A little opulence can make a big impression! Elevate your season's greetings and make your designs pop with a shiny Gold or Silver Foil finish. Try it on text, photos, your logo – anywhere. And with MOO, you can add foil on both sides of your postcards, for the festiv-est cards ever.
Most of our holiday Postcard templates and Greeting Card designs can come with a Gold or Silver Foil option with MOO Business Services. It's even easier to add a unique twist to your business greetings.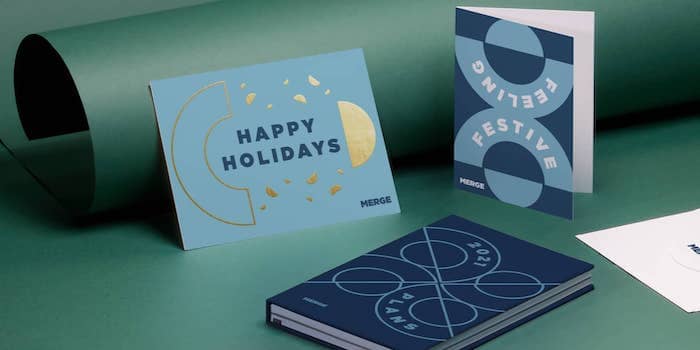 Give minimalism a go
Keeping it simple has definitely been the order of the day of late. But minimalism doesn't have to be boring. A clean holiday card template gives your clients a sense of (much needed) simplicity and wellness. Send your good thoughts loud and clear with a beautifully simple colour palette, an uncluttered design and a short and catchy message. Pick a premium, tactile paper stock like MOO Luxe to give your holiday card ideas a luxurious canvas to come to life.
Here at MOO, we're big fans of minimalist design. So, if you need some inspiration, use one of our simple yet pristine "happy holidays" card templates.

Download this holiday card template here >
Think outside the box
If you're looking for great corporate holiday card ideas, forget (almost) everything you know about holiday cards. Put your own twist on end-of-year clichés and dare to drop the usual colour palette for a more original approach. The best company holiday card ideas are the ones that surprise us.
Our creative team put together a range of out-of-the-box holiday card templates to help you celebrate differently. Whether you're creating festive Postcards or Greeting Cards, we have designs for every canvas.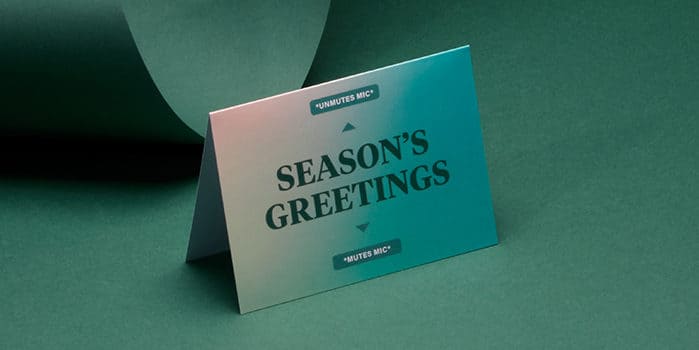 Download this holiday card template here >
Use our unique holiday card templates or design your very own Postcards and Greeting Cards with MOO.
Keep in touch
Get design inspiration, business tips and special offers straight to your inbox with our MOOsletter, out every two weeks.
Sign me up!