Your guide to choosing the best paper for Business Cards
The key to a memorable Business Card? Look no further than the paper.
Business Cards are tricky business. Whether it be the font and colour or shape and size, every detail matters. But the most important part? Your choice of paper.
As (quite literally) the foundation of your design, choosing Business Card stock can make or break your end result. That's why you need to know exactly which type of paper is best for your requirements.
So, what should you choose? In this handy guide, we'll address our customers' most pressing questions and discuss the best paper for Business Cards according to your specific needs.
Which paper is right for you?
As far as card stock for Business Cards is concerned, not just any old paper will do the trick. Luckily, you've got options. Our Business Card paper types are each crafted to help your design dreams become a reality.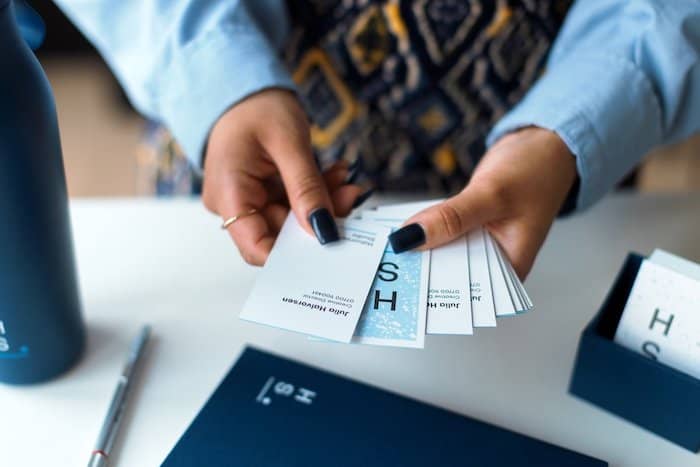 Raise your standards with Original
We believe premium should be standard. That's why our Original Business Cards raise the bar for standard cards. With Original, you get premium Business Card stock that can be customised to meet your needs.
Whether you want a minimalist design or something more elegant, you always get a card that feels just as good as it looks. Take your pick of two unique finishes:
Matte: Matte Business Cards have a smooth and glare-free finish; the perfect choice for any smart but understated card.

Gloss: If you want colours to pop off the paper, Gloss Business Cards are the way to go. They not only add depth to the card but also make it stand out with an eye-catching shine. This makes it the ideal choice for colour logos and photography.
MOO Original Business Cards are thicker and more durable than the average Business Card stock at 16pt and 350gsm weight. Print in full colour on either side of the card to make the most of your message.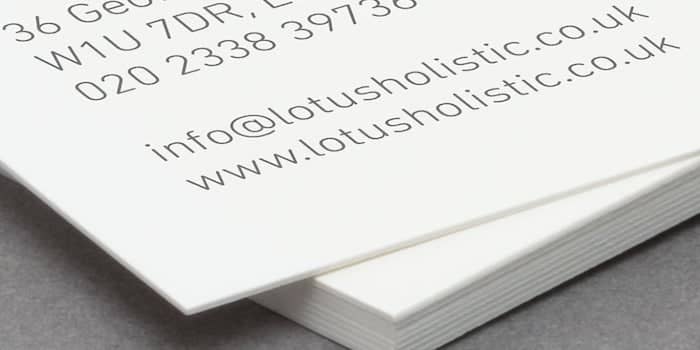 Make a (durable) splash with Super
Super Business Cards are uniquely designed not to bend despite their slim profile, making them the sturdiest option of the four. Take this durable card stock to the next level with two finishes:
Soft Touch Finish
Soft Touch Business Cards feel like velvet on the hands, meaning they're perfect if you want someone to hold onto them for a long time. With a glare-free finish, they won't be overly shiny or flashy. For an additional wow-factor, you can add a special finish:
Gold or Silver Foil: Add Gold or Silver Foil to your Soft Touch Finish to enhance your design with a hint of elegance. Check out our Gold Foil templates and our community's beautiful Silver Foil designs for more inspiration.

Spot UV or Raised Spot UV: Spot Gloss helps bring your design to life and adds transparent shine anywhere you like. On the other hand, Raised Spot Gloss has the same effect while also enhancing Business Card texture for an added tactile experience. Get inspired with 18 creatives who used Spot Gloss designs to shine.
High Gloss Finish
High Gloss Business Card paper offers attention-grabbing shine to your well-crafted design. If adding colour photos, High Gloss is the perfect way to make them pop off the paper.
At 18pt thickness and 380gsm weight, Super Business Cards are light as they are strong. In other words, they carry the weight of an impressive card without actually weighing down your wallet. Just ask Laulinea, a maternity and family lifestyle photographer:
"I loved the fact I could add different designs to bring variety," she said. "The printing quality amazed me, from the pictures to the colours and the text. Even the cards at the bottom of my bag are still in good shape!"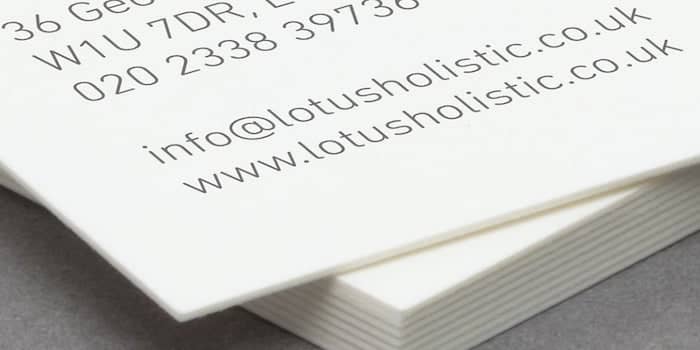 Luxe: Not your everyday paper
Luxe Business Cards are made from four layers of Mohawk Superfine — the best paper for Business Cards that need to go the extra mile. A double thick seam of colour is sandwiched in the middle, resulting in a beautifully thick and naturally textured card.
As an extra-thick and uncoated paper, this Business Card stock clocks in at 32pt and 600gsm (roughly the same as a bank card). That means it has a heavyweight feel while also offering a unique tactile experience. Keep it white and minimalist, or choose from another seven colour seams in the middle of the card.
Need some Luxe inspiration? Check out four designs that amazed us. And here's what Melanie Martin, a German graphic designer, had to say about Luxe:
"The eye-catching coloured seams and the extra thick paper just appealed to me," she said. "The Luxe Business Card not only has a great haptic but is also an absolute eye-catcher."
Letterpress packs a punch
Letterpress Business Cards are made from the same naturally-textured Mohawk Superfine paper as Luxe, but with the added value of the debossed design. This traditional technique creates a relief pattern on the paper, which gives it a unique Business Card texture.
The result is a truly one-of-a-kind feel. Choose from twelve different Letterpress templates, then edit them down to your desired Business Card. It's the same 32pt card with an extra tactile punch.
Business Card paper 101
Don't have time to dig through an entire blog? No worries. We've answered your most common Business Card questions below.
What type of Business Card paper should I use for photos?
If you want to include colour photography on your Business Card, it's best to use stock with a glossy finish, such as Original or Super Business Cards. Gloss adds an eye-catching shine to your card's colours and helps grab the attention of anyone you hand it to.
What is the most durable paper for Business Cards?
Super Business Cards are printed on uniquely sturdy and non-bendy paper, rendering it the most durable of our four Business Card paper types.
Can I use my own design on any paper?
Yes! With MOO, you can make every card your own. That means you can upload your own design files to make sure your Business Card is made exactly to your expectations. Check out our Business Card design guidelines for more information.
Can MOO help me design my Business Card?
If you need help kick-starting your design process, MOO has a library of exclusive and customisable templates to help spark some inspiration – no matter the paper stock. Leverage these templates as your starting point and craft the perfect Business Card according to your needs.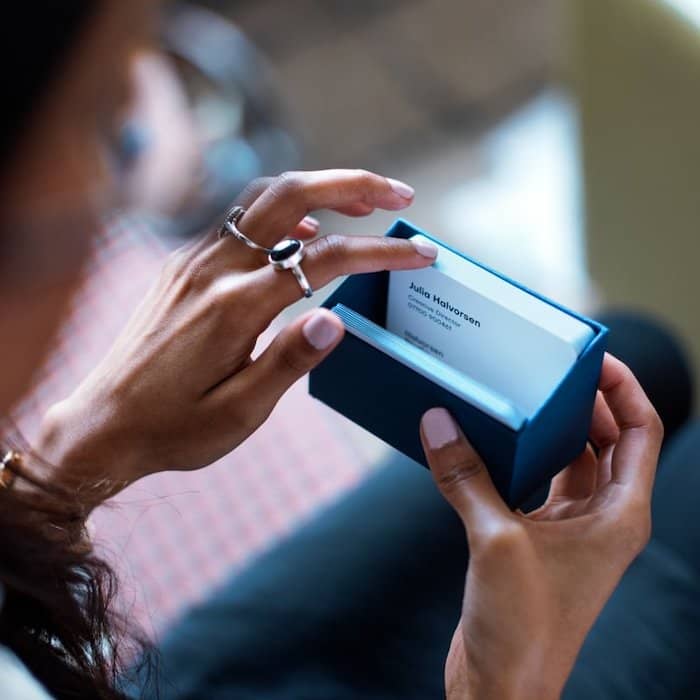 Paper, set, go
Whichever Business Card paper type you choose, prioritise readability over anything else. Size and dimensions are important, but make sure your message is crystal clear.
Use a font that's heavy enough to be seen beneath your finish and within your design. Also, check out our blog for more Business Card design tips.
Ready to get started? Design your dream Business Card today.
Keep in touch
Get design inspiration, business tips and special offers straight to your inbox with our MOOsletter, out every two weeks.
Sign me up!