Black and white design inspiration for your next cards
Get inspired with these cool black and white designs for cards that really stand out.
When it comes to simplicity and elegance, black and white is the ultimate staple. Clean and timeless, this classic palette is key to many simple yet striking designs. From lino printing to abstract design, black and white can enhance shapes and lines with powerful clarity.
Want to stand out from the crowd with a black and white Business Card? Get inspired with these effortlessly cool black and white designs by our creative community.
Beth's Branding Co: high-voltage design
Beth's Branding Co founder Beth Stefanczyk is a graphic designer from Brentwood, Essex. Her mission? Designing unique branding that makes businesses look the part – including electrical solutions specialists, Frederick's. Beth steered the brand in a classic, minimalist direction (a real jolt in a category not known for its design sensibilities). Now her minimal black and white design stands out on their uniforms, van signage and these MOO size Super Business Cards, with a Soft Touch finish.
Curtis Thornton: typographic wonders
Product designer Curtis Thornton met singer and songwriter Joseph Veazie shortly after moving to Dallas, Texas. Invited by Joseph to work on a rebranding project, Curtis created a range of designs for the artist, from logos to website design and business cards, and has continued collaborating with him ever since. His most recent batch of Business Cards included a custom QR code – a quick, useful way to send new fans straight to the award-winning performer's site to find out more. Curtis created 16 black and white designs, taking advantage of MOO's Printfinity option to vary typefaces and layouts. For a singer known for versatility, it's the ideal choice.
Molly Fraser: a taste for retro
UK-based costume designer Molly Fraser rediscovered her love for illustration during lockdown. She began creating poetic artworks with a retro feel, taking inspiration from historical costumes and children's literature. To promote the Etsy account where she offers prints and postcards featuring her illustrations, she created lovely MiniCards with a variety of cute black and white designs that can be used as tiny bookmarks.
Christian Azolan: a clean slate for creativity
Digital visual artist Christian Azolan designed his business cards with one objective in mind: making them a physical extension of his brand. To him, a business card remains an effective way to promote his work: "even as a digital artist and in a world filled with screen and digital communications I know and appreciate the value of the physical and a good business card can make all the difference. A business card is tactile, you can touch, hold, cherish and keep".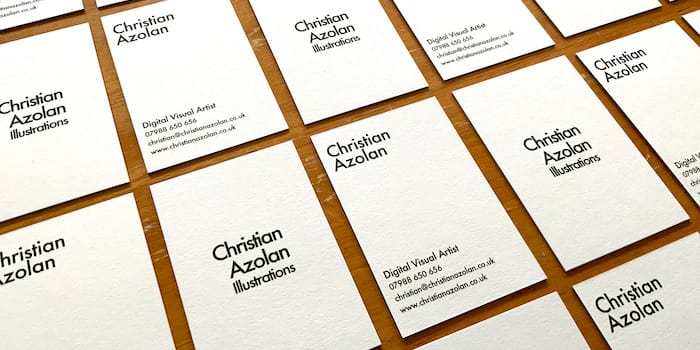 Using the same font and colour scheme as his website, Christian focused on simplicity and consistency for a minimalist yet luxurious feel. He created 10 beautifully simple black and white designs, enhanced by the thickness and rich texture of Luxe paper. To Christian Azolan, the devil is in the details: "Before someone sees my work, the cards need to give a great impression of who I am as an artist. It's important to me that potential customers and art collectors […] who receive the card know and understand that as an artist the little details are really important to me."
Design by Noa: the beauty of geometry
With her branding and digital studio, London-based designer Noha Saab-Modad specialises in creating the visual identity of new businesses for both print and online. For her client NJ Architecture, her objective was to express the uniqueness and creativity of the brand.  The distinctive monogram type design in Silver Foil, logo placement, asymmetrical line art and print finishing reflect the modern and nonconformist design of the architect. A beautiful black and white design and a great conversation starter – it's sure to catch the attention of potential clients!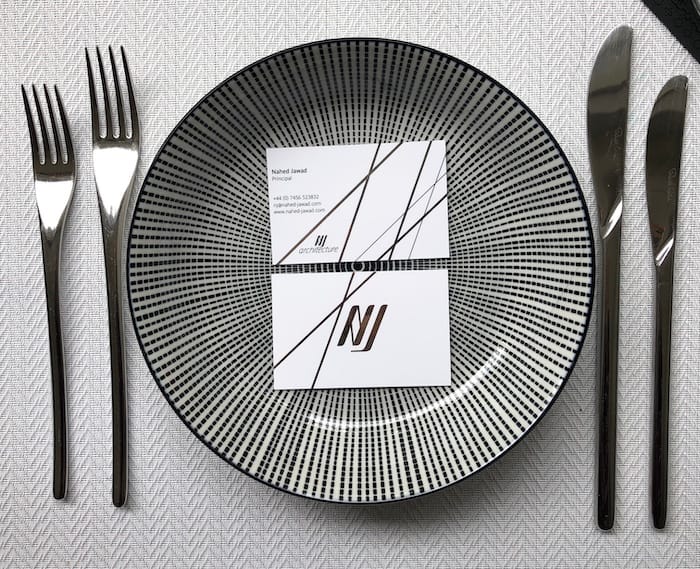 Oriana Donati: revealing personalities
When French costume designer Oriana Donati's work slowed down due to the coronavirus pandemic, she decided to make the most of her skills by creating her own clothing brand. Focusing on tailor-made, she draws inspiration from historical costumes, performing arts and cinema to create unique pieces that reflect the personality of her clients.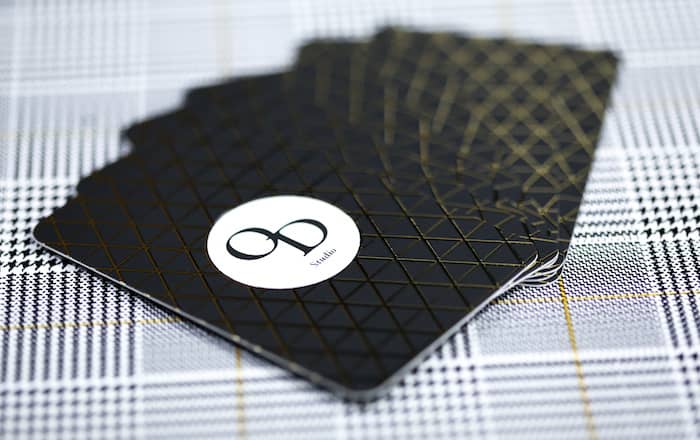 Oriana's bespoke designs are just as distinctive as each wearer. So she wanted to create a simple and elegant business card design that reflected this. Something that would enhance the creativity of her work. She chose the soft and matte finish of Super Business Cards with rounded corners to combine elegance and originality. For an extra touch of sophistication, Oriana added a geometric Gold Foil finish to her cards so they would glint in the light. On the other side of her business cards, the designer added one of her creations, a historical dress design from 1860 revisited with contemporary materials, a perfect way to define her work: the alliance between history, extravagance and modernity.
Midori Arquitectura: playing with light
Midori Arquitectura is an architecture and interior design practice based in Barcelona, Spain. The company's love for geometric design and clean shapes is reflected in a clever business card design using Raised Spot Gloss. Their design plays with light and creates a multisensory experience, that's both visual and tactile. With these clever black and white geometric designs, Midori Arquitectura wants to surprise and intrigue potential clients – and it works: "the result is quite surprising, very clear and bold. Everybody compliments them!"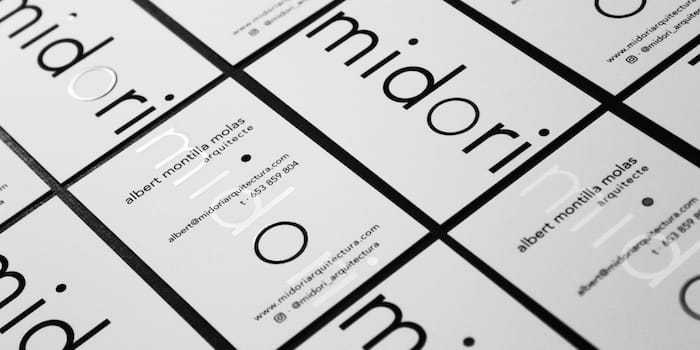 Ready to create bold black and white Business Cards? Explore our range of Business Card sizes, papers and finishes to design a card that reflects your brand.
Keep in touch
Get design inspiration, business tips and special offers straight to your inbox with our MOOsletter, out every two weeks.
Sign me up!