Make personal branding a piece of cake
Here are five tips to stay on top by building your personal brand.
Since you're here at MOO, there's a good chance you know the importance of a strong brand, but what about personal branding? 
Put super simply, personal branding is the way you present yourself to the (business) world, especially peers, clients, and potential employers. It includes your beliefs, purpose, values, and goals. It's similar to business branding but the difference is that you're marketing yourself.
In our always-on cultural shift and evolving job market, it's helpful to stand out when applying for a job or starting your own company. A personal brand is for (almost) everyone, but not everyone uses it to their advantage. Branding yourself can play a key role in your career or your business and help you stand out from the crowd. It's not just for individuals, it's important for small businesses as well. Customers often choose or stay loyal to a brand because they like the person behind it.
So here are MOO's five tips to stay on top by building your personal brand:
Be you
Building your personal brand needs a good look at who you are – like your core values, skills and beliefs – and figuring out how to convey them both online and offline. There's really no other way to go about it. Being your best self means your brand feels authentic, genuine and original. It'll also make your personal brand easier to maintain on a daily basis. As it's just you, it's easier to make content and have a consistent voice wherever you're speaking – whether it's directly to a customer or on social media. Don't forget your Business Cards when you're networking offline, too.
Say what you're good at
The best personal branding is specific. Tell your clients or customers what you do and why you're good at it! For example, at MOO, we help people build a brilliantly designed professional world they're really proud of – and have a little fun along the way. Don't be afraid to share your knowledge as well, and help everyone to benefit from your unique experience as well as build your expert reputation. If you're super skilled at something in particular, your reputation alone can help you build the brand you want.
Consistency is key
Being consistent is similar to being specific – it's much easier to get recognised for one topic if you consistently create content around it. To make sure everything you do is 100% you, it's a good idea to sense-check your ideas against some guiding principles. Finding your voice helps your personality shine through in the way you talk. And email. And tweet. And blog. So whether you're creating a fun brand or one that's more conservative and corporate, consistency is key so your audience always knows it's you.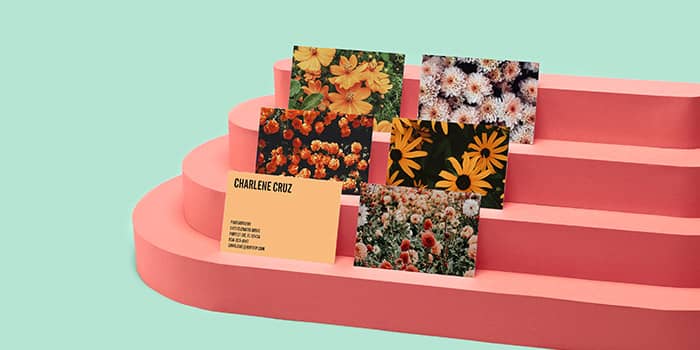 Tell your story
Once you know who you are and what it is you want to say, it's time to find an interesting way to say it. Instead of shouting about yourself or your brand into the social media void, create a story that sparks conversations and that your audience can engage with. Make a personal connection with your audience or potential clients and employers by sharing things you're interested in and how you got there. Try different formats too – send a video message to make a personal connection with prospective clients and connect with co-workers.
Create a community
Create a community around you, by engaging with your audience and reaching out to like-minded people and brands by liking their posts and leaving comments. Have digital conversations instead of building a one-way channel that just broadcasts information. Be your audience's number one fan and the kind of person who waters their plants when they're away. Or feeds their fish. Keeping a positive attitude and helping others will nurture your community and help grow your brand in the long run. 
That's it! Creating a brand for yourself takes time but we can't wait to see you out there. Go and put your best foot, face and brand forwards, and don't forget your Business Cards when you're networking. And if you're a creative or business, show what you're making with MOO using #hashtagmoo.
Keep in touch
Get design inspiration, business tips and special offers straight to your inbox with our MOOsletter, out every two weeks.
Sign me up!