How to Take your Real Estate Online Marketing Offline
Most would argue that professional relationships are built online in today's digitally charged world. Kate Lance, founder and CEO of Katie Lance Consulting, would argue that isn't entirely true, especially in the Real Estate industry. As a loyal MOO customer and enthusiastic print advocate, she uses offline marketing to step up her real estate business strategy.
Katie still relies on offline channels to connect with Real Estate professionals and believes that online connections alone, cannot build your Real Estate brand as much as involving offline channels. What exactly is an 'offline channel'? She shares her best practices with us and how to find the perfect fit of online and offline marketing for the Real Estate professional.
Do you ever feel like there is a lot of noise online? Often, when I log into Facebook, I feel like I am standing at the side of the freeway watching cars fly by.  Getting (and keeping) someone's attention is the name of the game, especially in Real Estate. One of the most effective and authentic ways to do this is to take the online, offline.
Social media is that easy button, but it should never replace a real conversation.
I know, for myself, this is something I've believed in for years and years, and I am excited to recommit myself to the importance of a handwritten note, a phone call, and most importantly, that face-to-face time. At the end of the day, Facebook and Instagram are awesome, and it can certainly help build relationships, but it will never replace that face-to-face, personal time.
What are some ideas and ways we can do this? Here are a few ideas and suggestions: 
Reach out to someone today. Reach out to that colleague that you haven't talked to in a long time that you see on Facebook all the time. Call them, text them or facetime them if you don't have the capacity to meet in person. Just let them know that you're thinking about them.


.

Surprise someone with a note in the mail. Look for opportunities every day to send a thoughtful hand-written note in the mail to your list of contacts. I have a running list of contacts, whether they be recent clients, referrals, or prospective customers with their contact information. I aim to send one note per day to someone on that list. One or two cards a day doesn't sound like a lot – but it sure adds up over time.  Relationships are built with small interactions over the course of time – every like, comment, and connection truly adds up.


.

Be a good finder

. Use Facebook and Instagram as inspiration for taking the online, offline! Bonus tip – did you know with Facebook birthdays you could see whose birthday it is for the entire week or month ahead? Go to

https://www.facebook.com/events/birthdays/

and scroll down to see upcoming birthdays. This makes it really easy to plan ahead to send a card!
In addition – there are many ways real estate professionals can take the online, offline with their marketing. Print marketing is a great way to reach people because it is tangible (which is why I love the quality of MOO products!). Here are a few of my favorite ideas for real estate pros:
Referral program cards. Real estate pros can create business cards to hand to happy customers that encourage them to refer new business to them. You may be able to offer an incentive like a gift card to your local hardware store or favorite restaurant as a 'thank you' for referrals you receive. Make sure to check with your broker and local MLS on their referral rules.


.

Creative marketing materials. Create something unique and different for your open house or mailable marketing materials. Perhaps a square flyer with a shiny finish or unique sized postcard that really showcases the unique features of that home! Include links right on the marketing materials taking them to the video tour of the home or additional information.


.

Open house packets. Are you marketing a home with a plethora of upgrades and designer details? You may choose to create an open house packet, which can be handed out to prospective buyers. This packet could be housed inside a folder or perhaps bound together. On the packet you can include links to the property website and other resources available about the home online. Don't forget to include  your business card!


.

'Coffee on me' cards. Looking for something really unique? Next time you are at your favorite coffee shop surprise the person behind you with a coffee on you! Ask the barista to hand that person a card you created that says "Enjoy coffee on me!"with your contact information. You never know when they might be ready to buy or sell!


.

Community information flyers and/or packets. You may already have some great community information on your website – why not take some of that copy to create small flyers or postcards you could share in a packet for potential buyers or for open houses? When people are buying or selling a home – it is so much more than the four walls of the house – they are buying into the community!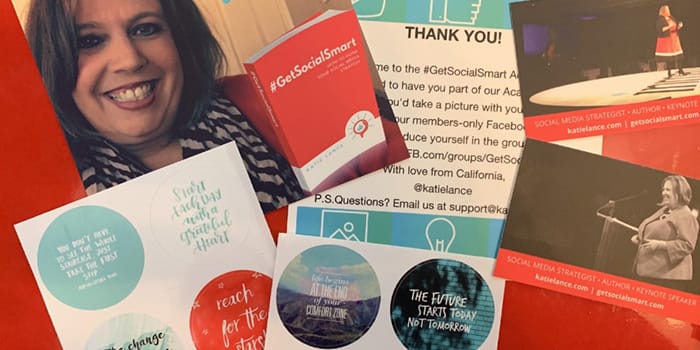 One of the reasons I am writing this blog post over on the MOO blog is I have been a MOO customer and fan for years. I love the quality of their products. The quality of the products you share and how it feels in your clients hands is small, yet overlooked many times. Handing out a high-quality personalized item is what makes you look like the rock star you are! 
I have ordered thank you cards, holiday cards, business cards and stickers over the years and I love the reaction my friends, colleagues and clients have when they receive something from me created by MOO, in the mail. 
I would love to hear from you – let me know what you think about this post. Do you agree or disagree? Message me over on Facebook or Instagram!
Katie Lance is the author of #GetSocialSmart and founder and CEO of Katie Lance Consulting, a social media strategy firm. She's been recognized by Inman News as one of the 100 most influential people in real estate and is a featured keynote speaker at many industry events. Her #GetSocialSmart Academy features on-demand social media education to help real estate professionals take their social media strategy to the next level.
Interested in learning more about MOO and how we can support your Real Estate business? Complete the form here and we will reach out to you shortly!
Already a customer? Log into your Business Services account to start ordering or contact your Account Manager if you need additional assistance!
Keep in touch
Get design inspiration, business tips and special offers straight to your inbox with our MOOsletter, out every two weeks.
Sign me up!