Building an online community and solid social media presence
Now more than ever, online interaction is key. From Facebook groups and Instagram feeds to old-school forums and message boards, there are endless ways to stay connected to your customers. Discover how to build your online community while creating a social media presence that lasts.
These days, there's a pretty big overlap between an online community and a customer base, thanks to the wonders of social media. The folks who buy products, leave reviews and recommend you to each other make up one big online community across multiple channels. Not only are they a brilliant bunch (with excellent taste, of course) they can also be really valuable brand ambassadors.
With a dash of creativity and planning, even the smallest business can have an active and engaged online community. Here are 5 steps to growing your social media presence….
1. Set realistic social media goals
Creating a vibrant community space doesn't happen overnight. You need to think of it as a long-term project with bespoke social media goals set (by you) along the way. Every time you answer a comment or post a picture, you're adding another brick to your virtual clubhouse. It doesn't have to take over your life – try a little-and-often approach, checking in every day and spending 5 to 10 minutes fielding any questions or comments.
2. Set up your community spaces
To keep things sustainable, it's important to create your online community on a platform that suits your own style and way of doing business. Facebook is great for finding new audiences – its huge membership and easy sharing mechanism mean your posts can reach lots of people. Instagram is a match made in heaven for artistic or luxurious brands. And Twitter is your friend if you use wit, insight and knowledge to engage people.
Make sure all your community spaces include a prominent link or 'About' section that points back to your main online presence, whether that's your own website, online shop, or another social channel. That way, not only is it easy to make a purchase, customers also get a choice of channels for staying in touch.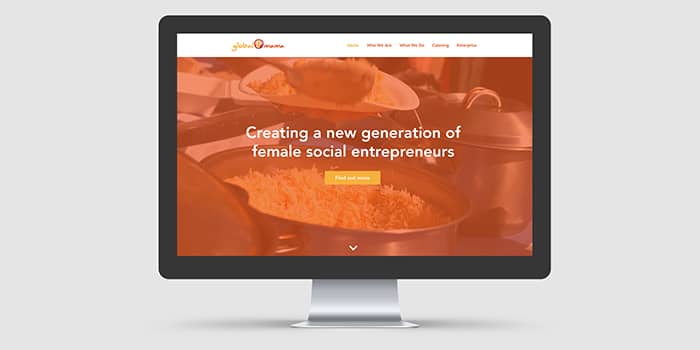 3. Nail your branding on social media
If you're working across multiple platforms (Twitter, Behance and Facebook for example), think about how you'll keep consistency across them all. Will you have a 'main' channel that automatically posts the same content elsewhere? Or multiple accounts which you use to link through to one another?
Whichever sites or apps you choose, use an account name that matches your brand or shop, and keep things visually consistent by customising wherever possible with your signature colours and graphics. Your social media branding should marry up with the design of your Business Cards and other offline marketing tools like Postcards or Stickers.
4. Gather insights into your online community
Large companies spend thousands on data and research into customer preferences. As a small business, you can find out what your customers think and feel about your product using tools you already have – your eyes and ears. That's the beauty of being small-scale!
Your customers know what they want and what they like – so why not ask them what they think of your products and whether they've got any suggestions for improvement? They're the ones who use your products and services, so their advice and opinion is invaluable. And when feedback is given, make sure you respond.
Being a little smaller doesn't mean you can't use data as well. Most mainstream web-publishing and social media platforms have built-in data and analytics tools. These can give you handy metrics like visitor counts and a run-down of your most popular pages. Depending on the type of account you have you may also be able to access deeper-level data analysis about how people interact with your brand.
5. Be your own best community member
If someone asks a question on an Instagram post or via Twitter, reply as soon as you can. The online community is built around you, so make sure you're available and actively participating in it when you can.
Don't just wait for questions – a friendly comment or shout-out to your customers is bound to be appreciated. The same goes for behind-the-scenes updates and your personal tips and advice on getting the best out of your products.
Explore our Wow from home range and find everything you need to get your brand out there (even if you can't get out there).
Keep in touch
Get design inspiration, business tips and special offers straight to your inbox with our MOOsletter, out every two weeks.
Sign me up!