Co-marketing 101: Does it make sense for your next campaign?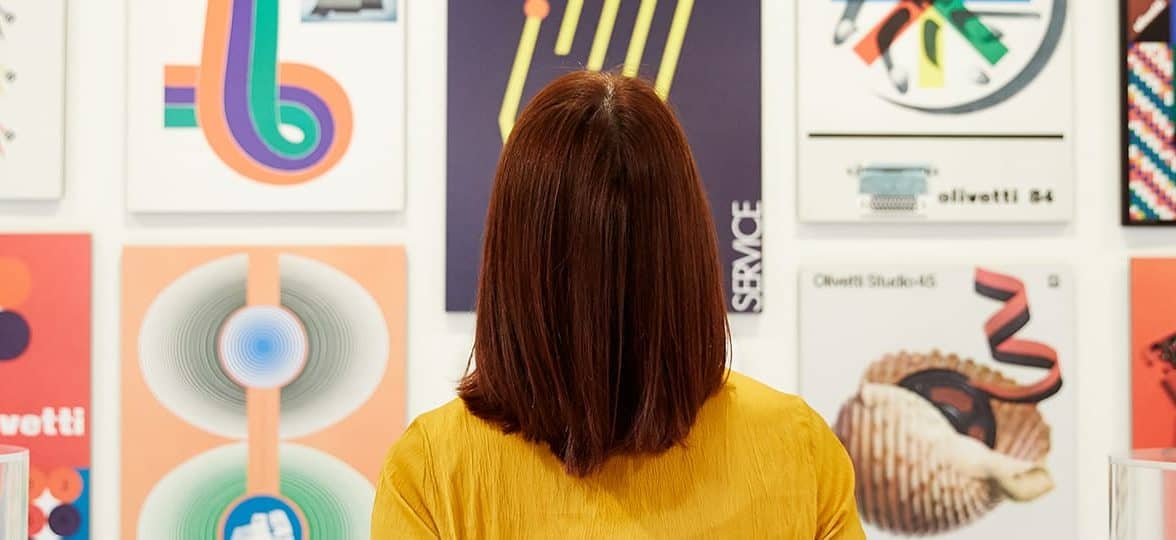 Co-marketing campaigns: Done right, they can empower both you and your partner brand to gain access to a larger audience than ever before. Done wrong, it can feel like you're left with more of a Frankenstein-esque campaign rather than an organic blend of two brands.
So, what's the secret to achieving the former outcome? To find the answer to that question, we spoke to Rebeka Fluet, Head of Marketing & Partnerships here at MOO. As she explained to us, it all comes down to finding a partner brand that will help you expand your reach and your business.
Developing a brand partnership: What are the benefits?
Whether it's a celebrity's personal order at your favourite fast food joint or a clothing label dropping a line with an unsuspecting '90s pop culture icon, brand partnerships are popping up everywhere. However, not all strategic partnerships are created equal. 
Just take co-marketing and co-branding for example: Although these two terms may look similar, don't let the shared prefix fool you. While co-branding and co-marketing both have their benefits, picking the right one depends on your team's long-term goals.
Both co-branding and co-marketing campaigns can help you unlock an entirely new target audience: your partner's. By building a shared product, campaign or platform that plays off your individual brands' unique personalities and shared synergies, both you and your partner will be able to expand your reach, elevate your positioning and increase awareness.
Two brands joining forces, sharing resources and developing an idea together
So, what's the catch? Well, with all of that said, choosing the right strategy for your partnership — and unlocking all of those benefits we mentioned — comes down to figuring out what you actually want your campaign to achieve.
"Both co-branding and co-marketing ultimately involve two brands joining forces, sharing resources and developing an idea together," said Fluet. "But the major differentiator is the actual product of that partnership."
Choosing between co-marketing and co-branding
To understand which campaign will work best for your brand, Fluet broke down the major differences for us:
Co-branding
Let's start from the top: What does co-branding actually mean?
"Co-branding is a strategy where two or more brands align to increase exposure in their industry to create a new product or service together," explained Fluet. "So a lot of the collaborations you'll see out in the market fall into this bucket." Some examples of co-branding in practice? Think Air Jordan by Nike or the Marriott American Express credit card. 
When it comes to deciding whether or not co-branding makes sense for your next campaign, Fluet offered us some clear guidelines, "Co-branding really makes the most sense if you have a product idea that wouldn't really fit with your own audience, but it would align with a partner offering."
So, some pros and cons? Co-branded products receive twice the marketing buzz thanks to the separate audiences both brands appeal to. However, it's important to keep in mind that building a product from the ground up can prove to be a tricky balancing act. While you'll be opening the door to a brand new market, your team will be facing twice the amount of approvals to receive buy-in from both sides. The challenge will be finding the perfect blend of both brands' unique voices and potentially competing roadmaps.
Co-marketing
Not really looking to create a product from scratch? Then Fluet said co-marketing may just be the solution you're searching for:
"Co-marketing is the process of two brands promoting their respective offerings to each other's audiences without having to create a new product or service. This all happens through your own marketing channels, be it email, direct mail or social — really it can be any channel you already use."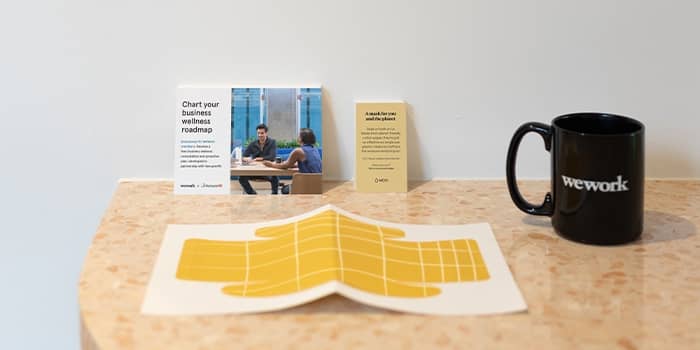 This strategy is the personification of the age-old saying that two heads are better than one. Here, your team will work with your partners' to figure out how to create a campaign and messaging strategy that brings together your separate services in a way that drives value for your shared audiences. One recent example Fluet provided to illustrate this concept is the co-marketing partnership between Uber and Spotify. 
The two companies came together to allow riders to stream their very own playlists while taking an Uber. This helps create a more personalised experience for Uber riders and gives both brands a competitive advantage over other rideshare offerings and streaming services respectively.
Co-marketing is a great way to test the waters
Plus, after you see success with your co-marketing project, you can always maintain the partnership and move toward a co-branded product down the road. Think of it as a way to introduce the idea of pairing the brands.
"Co-marketing is a great way to test the waters to see if a partner, brand or message resonates with your audience," explained Fluet. "At MOO, if we're looking at a larger relationship with a partner, we'll use co-marketing as a test to see how our audience reacts through a social promotion or email inclusion. From there, we'll determine whether it makes sense to invest in a long-term partnership."
All in all, a co-marketing campaign will help your team to expand your reach and foster wider visibility — minus the costs, time and resources associated with launching an entirely new product or service.
Raising brand awareness through co-marketing 
As Fluet told us, businesses in virtually every industry can benefit from this comparably low-cost strategy that aligns their own brand with another well-known company's. Aside from clout on social media (which believe us — it is pretty fun to see that engagement rate tick upwards), a co-marketing partnership can help your team to seriously grow your business.
Still not convinced about the power of co-marketing? That's OK — we get it. You've spent some major time curating your unique brand personality. Introducing another team to the mix can feel a little daunting. However, combining your one-of-a-kind voice with another brand's is exactly what makes this type of marketing campaign so powerful.
Co-marketing partnerships are playing a key role in driving revenue for the companies that participate in them. In fact, according to a survey by software company Partnerize, 54% of teams have reported that partnerships are driving more than 20% of their total company revenue.
Personally, we're pretty big fans of those numbers.
As you work to determine whether a co-marketing partnership makes the most sense for your brand at this time, Fluet recommended keeping the following questions in mind: 
If you answered yes to all or most of the above, a co-marketing campaign is the perfect next step for your company. Now, it's just a matter of finding your perfect brand partner.
Creating a strategic partnership: Finding "the one"
Don't get us wrong — there are plenty of companies in the sea. But when it comes to forging your strategic co-marketing relationship, it's important to take the time to find your brand's perfect match.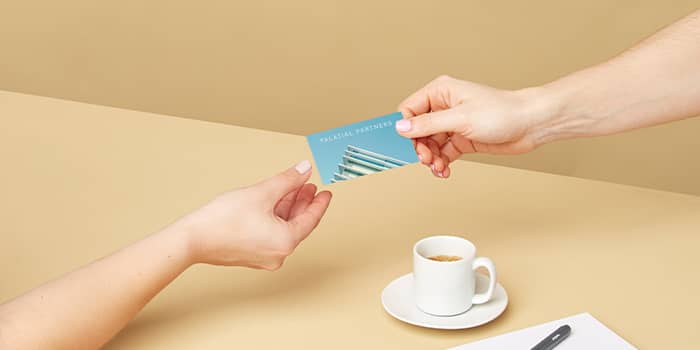 As you vet your options, Fluet offered some tips for finding the right partner:
Audience:

What is the size of your potential partner's audience? Do you share complementary synergies between your two target markets? If there's too much —

or

too little — overlap between your brand's and their own, a partnership together may not make sense at this time.

Expertise:

Do they have some in-house expertise that your team is missing and is important to your audience? A co-marketing relationship should draw on the strengths of both your company and your partner's. 

Brand fit:

Are they a competitor? Do they offer products that complement your own? What is their company known for? While a piece of a successful

partnership

stems from your unique characteristics as brands, you and your partner shouldn't be

totally

different. Think less mint and orange juice and more like peanut butter and chocolate.
"I think one of the most important considerations are your shared goals," noted Fluet. "You need to have mutual objectives. Not only should they be aligned, but both teams need to clearly understand what the anticipated results are."
While it's possible to have separate objectives, there should be a clear agreement between your end goal and their own when it comes to your partnership together. 
Getting started with your campaign
OK. Ready to start on your journey to a next-level co-marketing campaign?
Fluet recommends starting by reaching out to people who are already in your network: Think about your customers, vendors and companies that your audience is already familiar with. Once you've found your partner, it's time to work together to create your co-marketing campaign. While the exact process may vary, Fluet outlined what the typical steps will look like:
Develop your idea:

Here, your teams will work on the initial concept that has brought you together, taking it from its earliest stages and transforming into an actionable game plan.

Align on your goals:

Create a shared vision and an objective definition of success.



Define ownership of content and assets:

Where will content be hosted? Who will be responsible for creating specific assets and maintaining where they live over time?



Contract:

Getting everything down in writing and signing on the dotted line will be the official start of your partnership together.

Timeline for creation and promotional schedule: Be sure both brands have a clear understanding of their specific responsibilities and deadlines. Host this calendar in a shared location that all team members have access to.
Defining what a reporting plan might look like: Remember that objective definition of success we created? Here, you'll determine which key performance metrics will help you to measure progress and how often you'll be performing an analysis on these data points.
When it comes to co-marketing, you won't have to reinvent the wheel — you'll just need to come up with a new way to rebrand it.
Co-marketing in action: Making moves with MOO
We like to practice what we preach — if you couldn't tell, we're pretty big fans of co-marketing here.
In our conversation with Fluet, she broke down some of MOO's past co-marketing work with various partners:
Working with Hubspot
When MOO originally began providing business subscription offerings, the team quickly realised they were heading into a totally new direction. 
"Originally, we targeted smaller businesses with roughly one to ten employees," explained Fluet. "As we planned to target larger businesses, we were looking at an entirely different type of marketing for us compared to our original process. We needed to start generating inbound leads and prospects for our sales team."
As Fluet said, when it came to meeting that challenge, Hubspot made "perfect" sense given the company's capabilities as a content marketing wizard as well as their customer base that matched MOO's own target personas.
"As partners, we shared the responsibilities of writing co-branded eBooks on topics that were relevant and valuable to our shared audiences," shared Fluet. Just some of the content the two teams produced included:
Digital Marketing for Small Businesses: The complete guide for small businesses getting started with digital strategy"

Brand Essentials & Checklist

The Ultimate Toolkit for Social & PR Branding
Together, MOO and Hubspot were able to drive awareness of MOO, and as of today, each co-branded eBook has driven thousands of leads — the most successful of which delivered over 15,000 prospects.
Teaming up with WeWork
As mentioned, sometimes the most valuable co-marketing partnerships stem from the business relationships you've already established. 
"At MOO, we've been long-term partners with WeWork," said Fluet. "This year, the two of us partnered to bring sustainable, single-use masks to WeWork locations all over the U.S."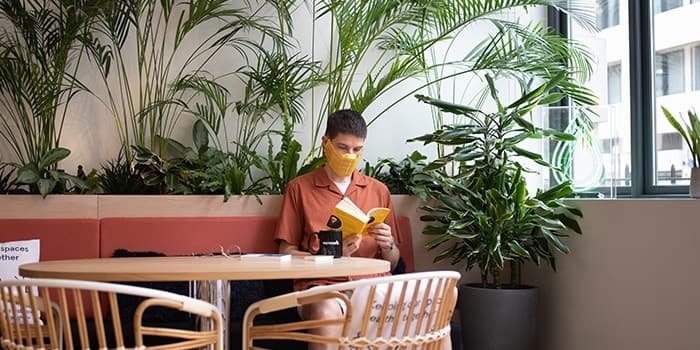 The team at WeWork has been working around the clock to reimagine their spaces to prioritise health, safety and personal space, so the collaboration made complete sense. And, alongside MOO's new masks, WeWork launched their all-access global membership plan with an exclusive discount for MOO customers — who, by the way, are already major WeWork fans. 
Take it from Fluet: You never know how your most valuable co-marketing campaign may start. Through the shared co-marketing campaign, MOO and WeWork were able to reach over 300,000 WeWork members with MOO's masks and messaging. The lesson here? Keep in touch with your network and always have an eye out for new opportunities.
Getting your campaign started
When it comes time to launch your new co-marketing campaign, just remember: Look toward a partner brand whose goals and products align with your own. In doing so, you'll be well on your way to creating a joint strategy that drives awareness and visibility for both your teams.
Whether your co-marketing campaign is fully planned out or you're looking to get the ball rolling, it's important to ensure all of your assets are aligned. If you need some extra support maintaining your branding while introducing new materials, check how MOO's business printing services and in-house design team can help.

Keep in touch
Get design inspiration, business tips and special offers straight to your inbox with our MOOsletter, out every two weeks.
Sign me up!