How Ampersand turned a side hustle into a thriving business
Studio partners Carrie Kiefer  and Morgan Georgie tell us how gift wrap patterns and a taste for typography lead them to open their own studio.
It took eight years of debate and late-night freelancing to convince Carrie and Morgan to make the jump from full-time employment to launching their own business, Ampersand Design Studio.
We caught up with Carrie and Morgan to find out how they transitioned from running a 6-11 to launching a thriving business, and what they learnt along the way.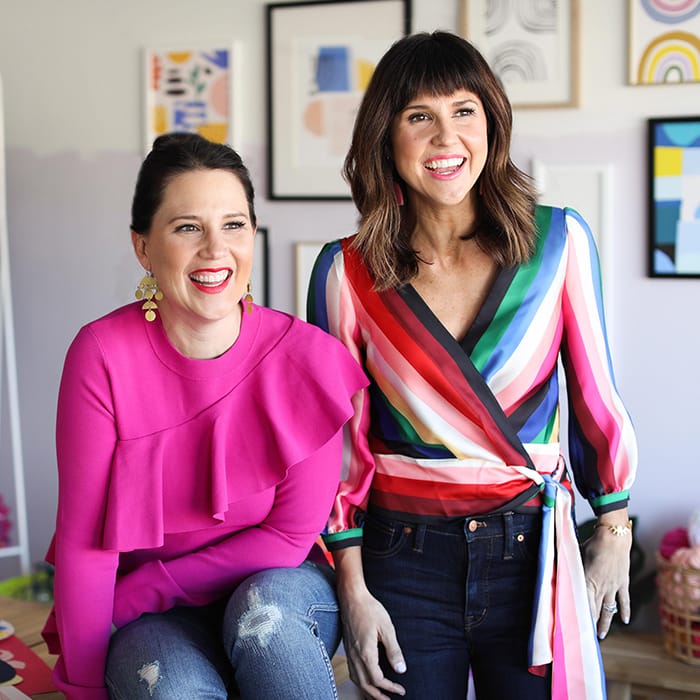 How did you two meet?
We studied graphic design together at university, and we think it's no coincidence that we first met in a typography class – even though we had no idea that we'd eventually start Ampersand together.
After graduation we were both hired by Hallmark Cards, where we worked together for almost a decade. After about two years, although our careers were fulfilling, we naturally starting talking about starting a company together.
We'd always dreamed of paving our own path and making our own unique mark on the world. After dreaming, scheming, and countless late nights of freelancing on the side, we finally followed our long-time dream to start a business creating patterns and artwork for modern, everyday living. 
How did working at Hallmark influence your design perspective?
Most of our options for jobs were in the advertising world, but at Hallmark, we designed actual products instead of marketing pieces, with the goal of connecting people and creating memories. We learned how to design for products, source new materials and processes, and bring whole collections in various formats to life.
We spent the majority of our time working on gift wrap, which is where we learned the art of repeating patterns. Prior to that, we'd both loved surface pattern design, without truly knowing how it worked. Hallmark is where we became familiar with that whole branch of design.
What did working on a 6-11 teach you?
Launching a business wasn't an easy choice, and we had a hard time making the leap. So instead of cutting ourselves off from our paychecks cold turkey, we tried things out on the side for a while.
In those early days, we were all over the place. We knew we wanted to create unique art and patterns, but didn't know how to turn that into a business. We experimented with everything from patterned handbags to modern wedding invitations.
We learned a lot of lessons the hard way, but that time was a game-changer for us. We'd sit side-by-side at one computer, designing invitations alongside branding and other graphic design jobs, tweaking the smallest details, night after night.
We met clients at coffee shops and listened to their needs, estimated our expenses (inaccurately at times!) and, on a small scale, learned to run a business. We didn't make the jump to set out on our own until a series of life events gave us both the push we needed. In 2010, we launched Ampersand Design Studio, and we've never looked back.
How did you choose the name Ampersand?
With there being two of us joining together, the '&' was the perfect mark to symbolize that union. Having a strong love of typography, we were happy to discover that the ampersand is historically the character that a typographer can use to infuse personality and playfulness into a font.
It's the symbol that gets to have a little more fun, and once we realized that, there was no question about what our business name should be.
What inspires your designs?
We find inspiration everywhere we go, from the floor of a favorite restaurant to an accidental color palette of painted buildings placed next to each other. Traveling and experiencing new things, whether it's food, art, or an experience, always gives us a creative boost.
Our work is frequently full of bright, fun and bold color, so we joke that we never grew out of that whole rainbow-loving phase from our childhood in the 1980s.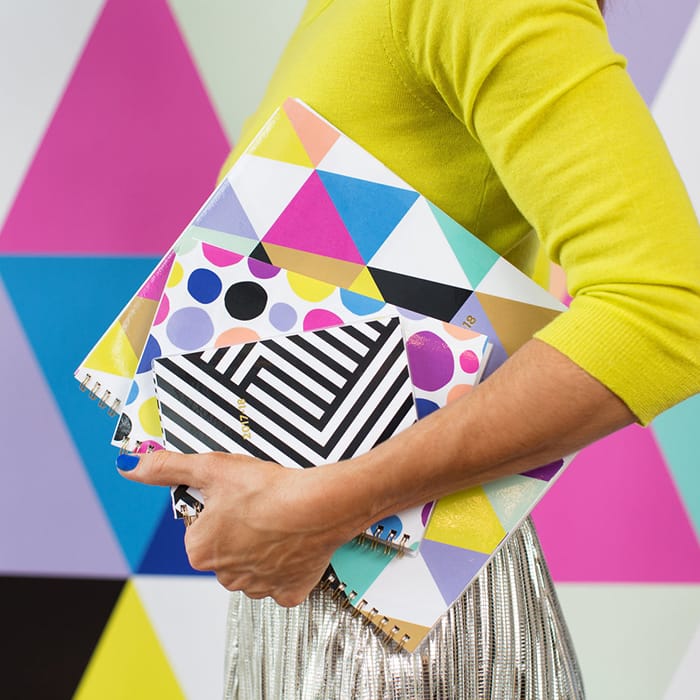 You're great at getting creative with MOO products. Tell us about that.
We first fell in love with MOO when we discovered the possibility of printing multiple patterns on the back of Business Cards. As surface pattern designers, it was an 'ahh!' moment.
Each year, we update our cards with new patterns, and we fan them out and let people pick which pattern is their favorite. We also give out Postcards as take-home pieces from our trade shows, add them as mini art-prints to slip into our shop orders, and use Stickers, too.
How does your partnership impact on your business?
What sets us apart is our shared design aesthetic. Although we have different inspirations and points of departure, our strongest work comes from combining our viewpoints.
Sometimes, we both concept for a job, then one of us will take it to completion. At others, one of us will start and the other will fine-tune. But we both work with paint, pen and ink, cut paper and anything else we can get our hands on.
Neither of us has a natural business mind, so that side will always be a learning process for us, but we've organically started to own different aspects of our business, such as finances, social media, brand strategy and scheduling.
Overall our priority has always been our friendship. We've heard horror stories about companies going south and owners never speaking to each other again. We always promised that we'll fold the company and walk away before endangering our friendship.
Want to shout about your designs by getting creative with MOO? Choose your perfect product
here
.
Keep in touch
Get design inspiration, business tips and special offers straight to your inbox with our MOOsletter, out every two weeks.
Sign me up!