Freddy Throne: when pop art meets Native culture
We met Freddy Throne to talk about how pop art, graffiti & cartoons inspired his colorful work.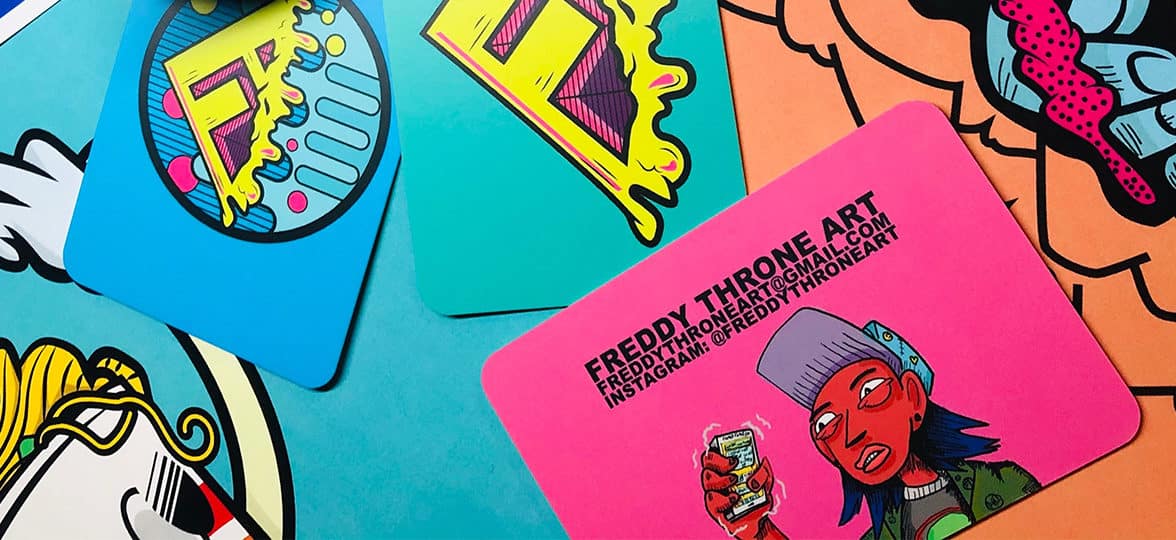 Artist Luis Brigman-Harris – or Freddy Throne – draws inspiration from 90s pop culture to create bright and fun designs reminiscent of the golden age of childhood entertainment. He sums it up himself: "Freddy Throne is what the cool kids watch every Saturday morning".
We met Luis to talk about his love for pop art, graffiti and cartoons and how 90s culture inspired his work.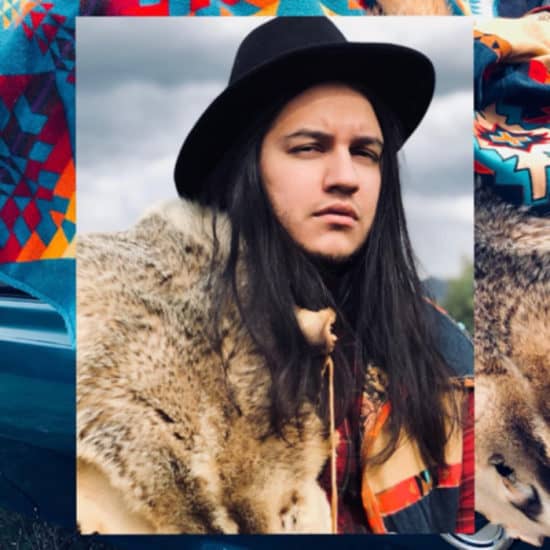 Tell us a bit more about yourself and your background. Where does your love for pop art come from?
My name is Luis Brigman-Harris and I am known as Freddy Throne. I was born and raised in Washington state which is the traditional territory of my ancestors, the Spokane people. I'm a Two-Spirit* Native & Hispanic American, Spokane tribal member, US veteran and digital artist.
We, the people of the "free world", are consumed by pop culture's iconic logos, music and fashion – this is where my love for pop art comes from. I remember being in an art class when I was 13 and having to draw out a single image and replicate it like a kaleidoscope. All the other kids were drawing dogs, flowers and circles but I took a character from a popular skateboard brand and mixed it with other patterns. Besides watching karaté kicking turtles eating pizza and reading gamer magazines with bright, colorful pages, I had become obsessed with these now iconic characters and saw them as a form of art rather than advertising.
*An umbrella term used by some Native American cultures for non-binary definitions of gender and sexuality.
How would you define your take on pop art? How did your style evolve over time?
Pop art immortalizes our emotions through the experience of consumerism and communication. To me, Andy Warhol's Campbell's soup can piece is one of the most iconic examples of taking an everyday item that millions of people have consumed for years and changing its meaning over night. Warhol changed how we see, experience and consume pop culture. 
To me, pop art should take people back to a younger time of their lives, it can be a bit nostalgic, and the fact it's rooted in pop culture also makes it relatable. I started illustration using ink and paper, which I feel is the first step for most. I got a lot of good feedback from people I had never even met and was presented with opportunities such as art direction despite my lack of experience. I found my own style by exploring my emotional experience dealing with anxiety and depression and expressing myself through freehanding. Finding my voice as an artist helped me accept who I am and what I really want in life.
Your art's sweet spot seems to be at the crossroads of graffiti, cartoons and pop art. Where do you get your inspiration from?          
These questions make me reflect on my own life! First, I still love cartoons from my childhood and I know many people can relate to those Saturday mornings. From life lessons to storytelling and visual inspiration, they are much more than just kid's entertainment. Some cartoons also helped people of different backgrounds and cultures feel included, which is very important.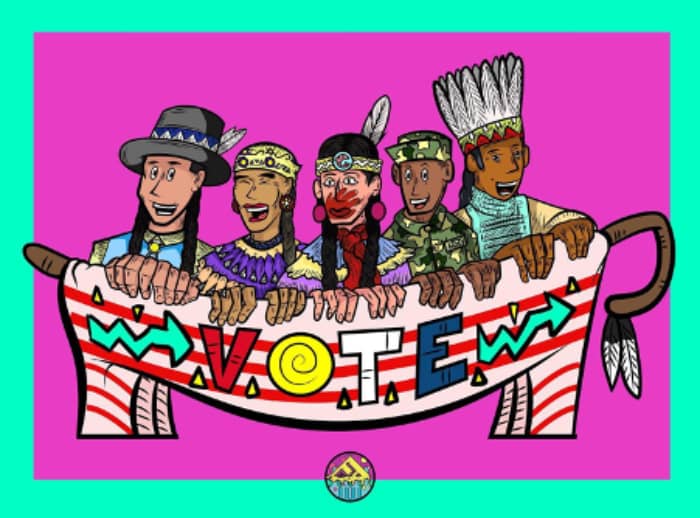 Graffiti influences come from my teen years, with hip-hop and that culture of dance, music, fashion and art. Growing up in a small town, I felt disconnected from the community and hip-hop culture helped me feel inspired and showed me there is more to life. I also remember a lot of trains going through our town were covered in graffiti bombs and throw ups. I couldn't take my eyes off what those unknown artists were trying to say! These different styles of graffiti from all over the country gave me a peek into places I had never been.
Pop art reflects my adult life, from going to college and learning about art to actually understanding what pop art is, how inspiring and relatable. In the end, I get inspired by revisiting these memories of different times of my life and adding my own creative touch. I'm also inspired by Salvador Dali's captivating work as well as French comic book artists, heavy metal (both the music and magazine), manga, comic books and video games. I'm a nerd at heart!
You've cited Salish art as an inspiration. Can you tell us more about that style of artwork and its significance to you as a Native American artist? 
The Spokane tribe identifies as interior Salish which is different from the coastal Salish tribes. Our people were nomadic and traveled up to the now Canadian border and down the Columbia river to harvest and gather for food and such. Coastal Salish art is more identifiable but it's not the true representation of our people like the totem pole. 
A couple years ago, I was hired on as an illustrator for my tribe's language and culture department. Language is huge for the Native communities, so taking my digital art and working to connect to our oldest form of storytelling was an honor and challenge. The style had to be unique and refreshing, which to me was something very invigorating. There have been quite a few Native American artists coming out of the Pacific NorthWest, so it was a little intimidating to come up with a new concept for our stories. Modern art is really interpreted as what we want to create as Native and interior Salish people. I've been trying to break out more with Native art because it's really meaningful that I have something that's admired but not a carbon copy.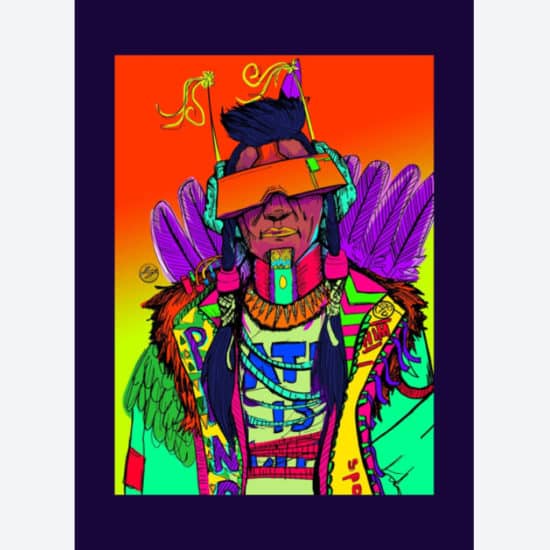 Do you face any challenges as a Native American artist? What outlook or tools have helped you persevere in your career?
As a Native American artist, I do feel that we are sometimes put in boxes, but I view this as a positive challenge for me. Native symbols like the buffalo or eagles and Native spirituality are sometimes exploited by non-Native artists appropriating the sacred things we identify with. This takes away opportunities from great Native American artists who don't have access to the same platforms to sell their art or get discovered. 
If you go to the Santa Fe art market, you'll see the Native American art scene is huge. It's so inspiring to see the different kinds of art other Natives create and sell, inspired by various Native cultures from across the North American continent. I chose to take the modern and pop art styles and "reinvent the wheel" to show we can adapt and use digital tools such as Photoshop and Illustrator to create unique pieces inspired by Native cultures. To me, being able to adapt and being ahead of the curve is what gives me the edge as a career artist. Marketing and branding have also been crucial to my success.
What stories are you telling through your artworks?
With my traditional illustrations on ink and paper, I want to tell my own story and express my thoughts, vulnerability and imagination. I enjoy details and line work and my larger illustrations can get very abstract and expressive. I let my emotions carry the pen and a lot of my work I choose to do freehand. With digital art, I create stories and characters based on my own experience, life, family and friends, it can also become very personal. I'm excited to really dig into writing as I have been working on a story for a few years now which I'd like to share in 2021.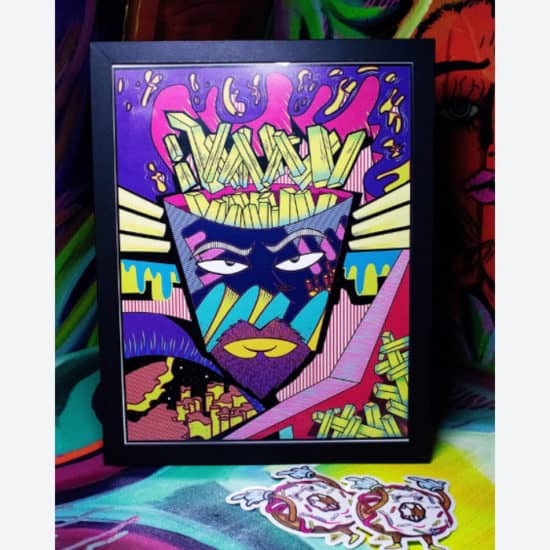 How do you use MOO to promote your art?
I use MOO as a tool to catch people's attention. Clients and customers just boast about my Business Cards and I love sharing my story with people I meet! My Business Card is bright and fun, with a quality that strongly represents me. I'm all about personal connection with people I encounter because a first impression is what gets me through the door. 
I need the company I choose to reflect my love for what I do! It's been a great process working with MOO, from ordering my cards to receiving them in hand. I am not lying when I say people can't stop asking me, "Who makes your business cards?" to which I reply "moo.com"!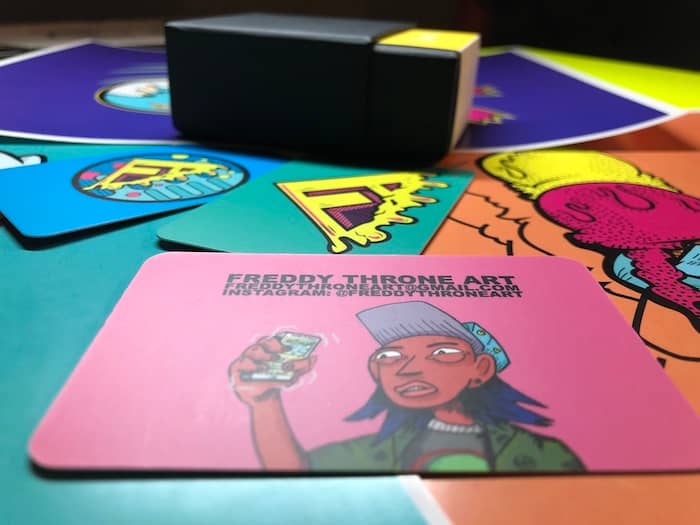 Any projects coming up you're excited about?
Yes, I've been keeping busy this last quarter of 2020! I actually quit my day job to become a full-time artist and entrepreneur. It's been wonderful collaborating with people and working with other creatives on so many different jobs. I just finished working on a short film called "Manic Macabre" with my husband, which I fully scored and for which I also did concept art and character creation. On top of that, I've been working on my own comic called "Totally Neon", which I'm trying to get on Web Toon. I also have some animation projects because I love storytelling and creating art to bring these worlds to life. It's fun being "imagiNative" and I'm very excited about 2021!
If you had one piece of advice for fellow creatives, what would it be?
Don't be afraid, be yourself and inspire the world. If you're trying to really get yourself out there, my advice would also be to make marketing and branding a big part of your plan. It's really crucial to showcase your uniqueness with the digital world, as that's the quickest way to get noticed. And there are so many great tools out there you can use for free!
If you browse social media, you'll notice that there are many other artists out there already working and creating. For a new artist, it can be limiting, intimidating and require a lot of grinding. People that have been established on social media will get opportunities because they have a bunch of followers or people checking out their work, that's why it's important to give people a good story to invest in. It takes a lot of work and dedication, but it does pay off. The best fruit is at the top!
Showcase your portfolio in style with MOO's Square Business Cards.
Keep in touch
Get design inspiration, business tips and special offers straight to your inbox with our MOOsletter, out every two weeks.
Sign me up!