Calligrapher Nicolas Ouchenir talks invitations and inspiration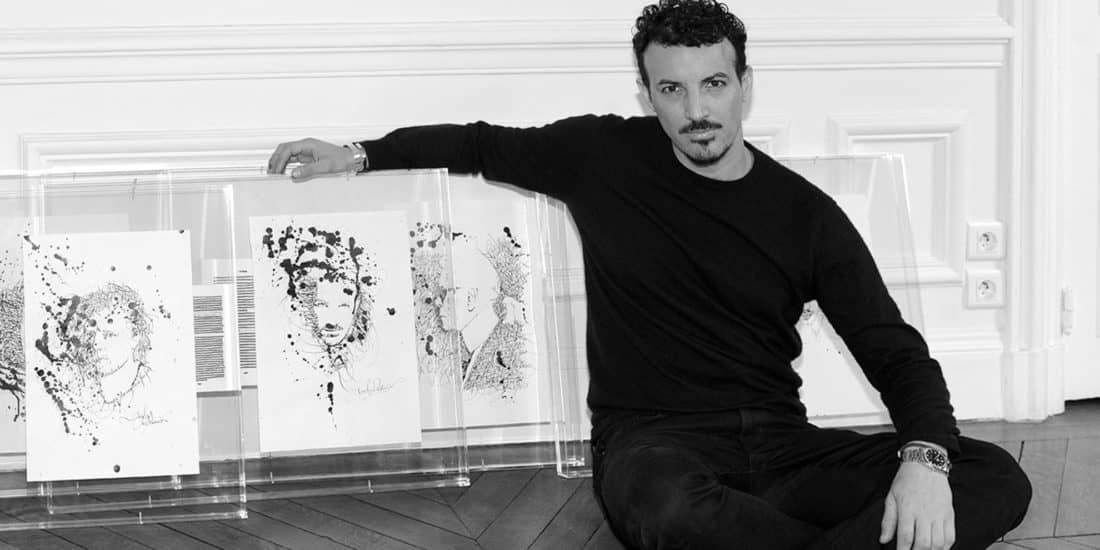 After setting up his own calligraphy practice in a former Parisian butchery twelve years ago, Nicolas Ouchenir has gone on to become one of the most sought-after penmen in the fashion world. Invitations for swanky events need to be equally slick, so repeat custom from likes of Vogue, Rick Owens and Hermès suggests he's on to a winning formula.
We spoke with the dab hand himself about calligraphy, the inspiration for creating a typeface, and just who has the most memorable signature of all time.
You wanted to be a butcher as a kid, then you went to college to study Economics. How did you end up as a calligrapher?
I've always been passionate about writing because writing is everywhere – especially in Paris, the city I was inspired [in]. I did business school because I didn't know what else to do. After an internship in finance that I didn't like, I decided to work in a gallery because it had always intrigued me. I started calligraphy when I was working for the JGM Galerie in Paris, which represents contemporary and neo-realist artists. We did an exhibition of drawings by Andy Warhol, and art by Niki de Saint Phalle, and I sent hand-signed cards to all of my invited guests. The feedback we received was amazing, and the exhibition preview was a great success. This is when I completely abandoned the idea of group mailing and digital invitations, and started to invite everyone with handwritten letters. After that, my first contract was for the Palace of Versailles – an evening held by the American Friends of Versailles with over 700 people. I still wasn't sure what I was doing, but everything went well. From then on, I only focused on calligraphy.
When you're doing fashion week invitations, you're doing hundreds and thousands of them every day, 11 hours a day. Is there a trick to staying so focused?
I always work surrounded by people, which I think helps. I can do many thousands of invites without even noticing. I don't mind working like crazy, so fashion week suits me very well!
What is your process for making a character or font style for a brand? How do you decide which elements to focus on?
Sometimes it's immediate, and sometimes it can be very long. There is no rule. It begins with a discussion, then I develop a mood board, and then there are interactions between fashion houses and me to arrive at the final project. But everything inspires me. I use all my senses to create.
You've said before that you practice every day, and you once worked with a 102-year-old master Chinese calligrapher for three weeks without talking. How do you push yourself when you're already at the top level?
I don't really see my art as work in the first place. To be a good dancer, you have to train to improve as well. Above all it's [about] finding inspirations that help me to improve myself – travel, thought, music, drawings, paintings…
How much do you think the aesthetic of calligraphy impacts people? Can it have more effect than the words themselves?
Writing is a way to express feelings in a particular context. The choice is made according to the emotions of the moment. It's recognised by the rhythm of writing. People write less because they're afraid of themselves, and afraid of their feelings. The way we write is signed, and it scares people. It reveals much more than any other form of message.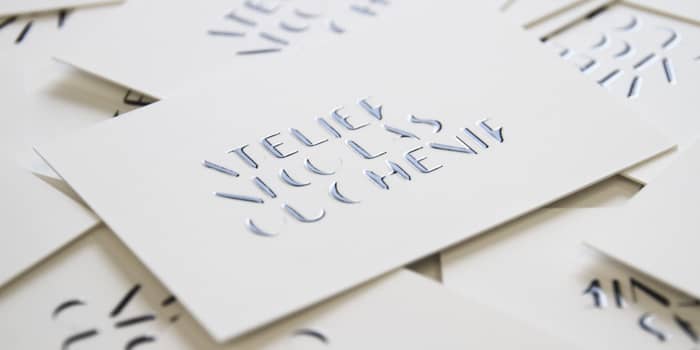 If you could pick any person or brand, dead or alive, who would your last client be?
Hugo Matha, who is very important for me.
You only agree to non-exclusive contracts. Has this led to losing business in the past?
Art is freedom and self expression. If I want to stay creative, I can't imagine locking myself in exclusive contracts. The most important thing in my work is interactions with people and brands.
You've said that your inspiration for characters come from everywhere. What's the weirdest thing you've been inspired by?
Generally I am inspired by everything around me. The street inspires me enormously. One day, though, I was drawing with a cut finger. The blood running down the paper created beautiful stains.
What about you, what are you inspired by? Let us know in the comments below!
Written by Jonathon Bartlett 
Keep in touch
Get design inspiration, business tips and special offers straight to your inbox with our MOOsletter, out every two weeks.
Sign me up!