How to brand a tattoo studio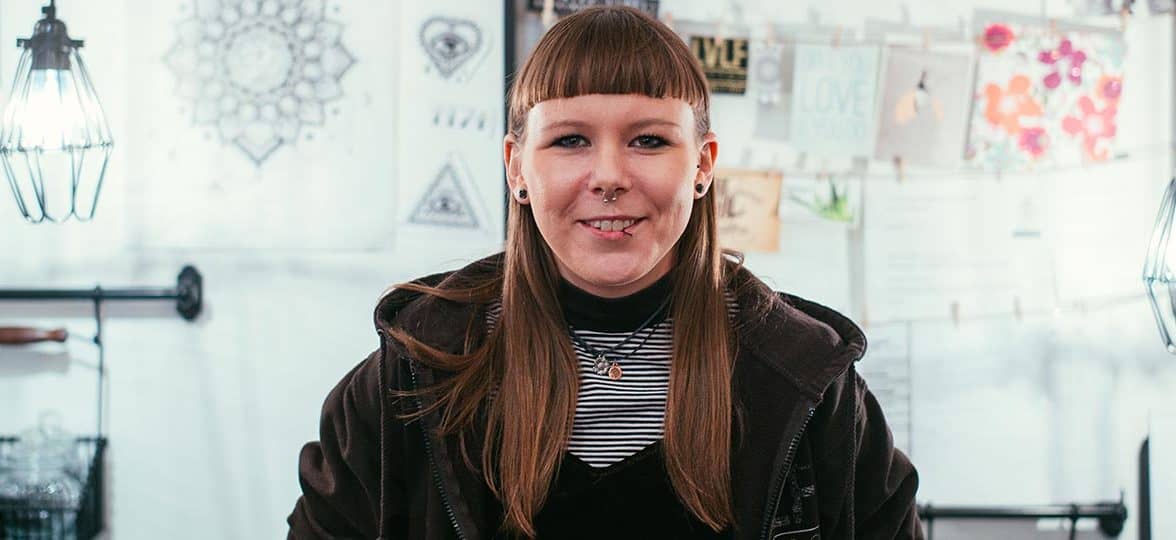 Graphic design, illustration and a meticulous attention to detail make Lucy Frost a formidable artist and business owner. We met her to find out how she's forging her own path and how she brings her individual style to her commissions – and her brand.
Leafy Ascot, an hour outside London, is known around the world for its racecourse. But today, it's also home to a tattoo studio, LVLF, run by a young, ambitious artist: Lucy Frost. For most in the industry, the usual career path follows a well-trodden route, working in a series of studios before starting your own. Not so for Lucy – after a year as an apprentice working under the famed artist Dan Gold, she launched her own studio, with a brand and feel that's firmly her own.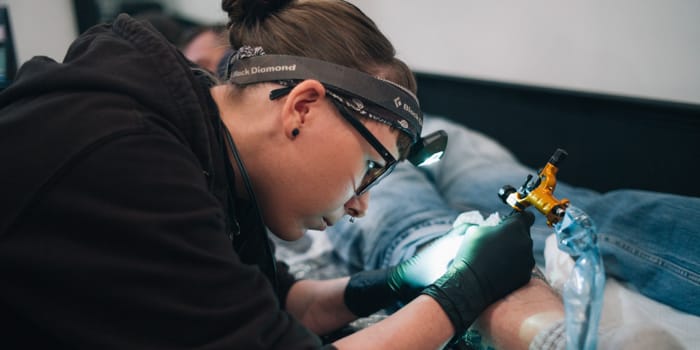 How did you get into tattooing?
My background's in graphic design, originally. While I was at college, I interned at (London superclub) Fabric, then worked at Peterborough Speedway for 5 years, creating their branding and programmes.
It wasn't until later when I was travelling round Guatemala that I came to tattooing. I met some people I really got on with, so went back to live in a tattoo studio with some local guys. As I was constantly drawing, they offered to teach me how to tattoo. When I moved back to London, I must have emailed over a hundred shops to find an apprentice role. I was offered 3, and went with Dan Gold.
At first, working in tattooing was really nerve-wracking – you're constantly thinking about how you can't make a mistake! But, like anything else, over time I got used to it. After about a year, I was looking for a new position. I'd also decided to leave London, and this place popped up for rent. It just seemed like the right thing to do – everything flowed really naturally and felt right. I've always been really ambitious – my parents run their own business too so it's in the family.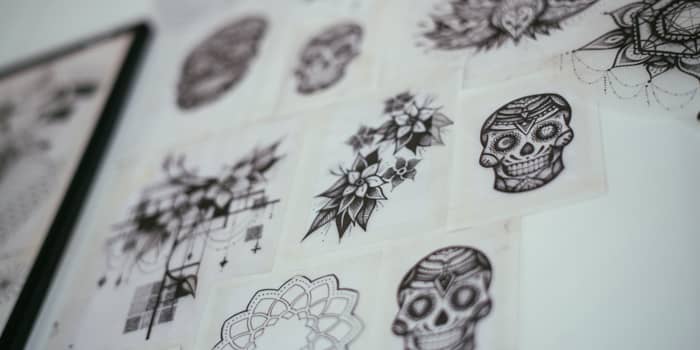 Your style is beautifully intricate – how did it develop, and how do you tailor it for each client?
I come from a graphic design background and I think you can see that in my work. I'm really precise and a massive perfectionist. It's all my original artwork, I think you could look at all my work and know it's mine.
I see every client for a consultation. If they're local they pop in, but if not we talk online. I think it's really hard to convey what you want creatively, in an email or a message, so I prefer to talk to people. We go through the feel of the piece and share reference images to help develop the design. Some people want heavy and bold, some people light and intricate, some organic. I also take a tracing of the area where they want to place the piece so I know how big it's going to be. Next I'll sketch the design, then finally take it into Adobe Illustrator, where I'll draw the template.
Alongside your tattoo work, by starting your own business you're also building a brand. How did you design LVLF's look and feel?
I did all the branding myself. With my tattoos, a lot of my inspiration comes from the natural environment, as well as the art that inspired me whilst I was travelling. I carried that through. I really loved the gold foil printing at MOO, and was immediately set on it. For my cards, I created the designs in Illustrator and uploaded as final pieces. A business card is the first thing somebody sees of my business, and MOO's quality is second to none.
At the moment, most of my promotion is through social media and my website. I was planning on flyering around the local area, but so far I've been busy enough to not need to yet. A lot of work comes from Facebook and Instagram, as well as word of mouth. I end up tattooing whole groups of friends, as well as people I met travelling when they're in the UK.
I haven't been in the area too long, so I'd say probably only around 25% of my work is local at the moment. The rest of my clients come from all over. I'm working with a client at the moment who comes over from Paris, and a lot of clients come from London and my old studio. They moved with me. Every piece is different, every person's different but all my work is uniquely my own.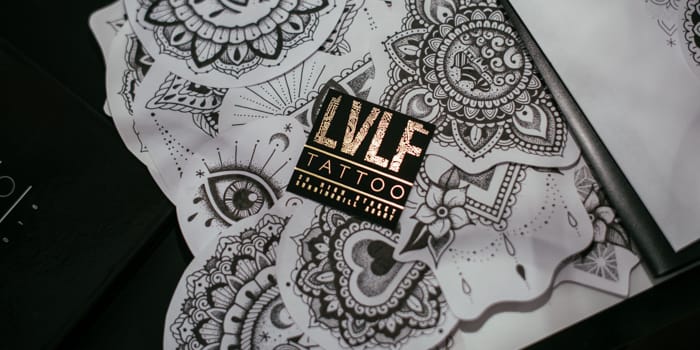 A lot of people would be nervous about following your path and launching their own business so soon – do you have any words of advice for them?
Just go for it. Don't be scared. If you've got something you're good at, and people want to work with with you then take the leap and go for it. It's so much better working for yourself, and seeing your own profits. You've got to invest at first, which is where a lot of people get scared, but it's worth it. I'm excited about everything coming up, because I just love what I do.
Sparkle like LVLF: get your own Gold Foil Business Cards
Keep in touch
Get design inspiration, business tips and special offers straight to your inbox with our MOOsletter, out every two weeks.
Sign me up!