HO HO NO: The cliché-free holiday marketing guide
Discover how to make your brand stand out with our holiday marketing guide.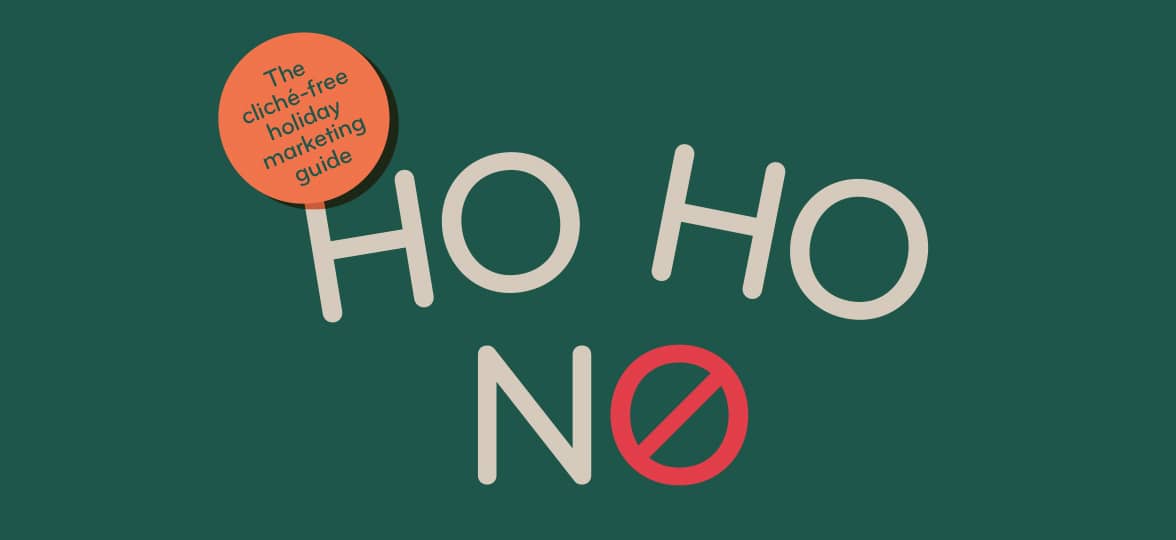 When it comes to holiday marketing, it's hard to stand out during one of the busiest times of the year. Marketing teams have to do a lot more to cut through the noise, make sales, and meet those all-important targets. 
There are so many #HolidayClichés swirling around, with lots of brands doing and saying the same thing. (Think done-to-death copy like "We've got Xmas all wrapped up" or the misadventures of Elf on the Shelf.) 
How can you avoid rolling out the same old marketing clichés year after year so your brand really stands out? Find out in our holiday marketing guide.
1. Send gifts your clients will love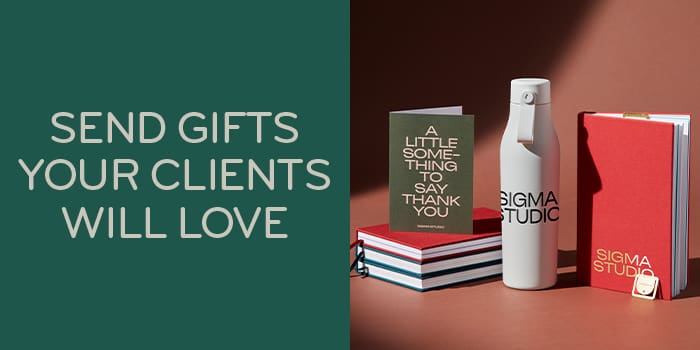 Sending foodie hampers to clients has become a bit of a holiday staple. But why not shake up your gifting this year and do something different? You could send them something that they'll actually use (and love) for years to come like unique Water Bottles or personalized Notebooks and Planners. Creating premium, customized gifts shows your clients just how much you appreciate them.
2. Don't get lost in a sea of red & green
The 1930s Coca-Cola ads have ingrained the red and green color scheme into our holiday marketing psyche. To help make your brand pop, perhaps give the traditional color palette a miss this year. You can still evoke the festive feeling even if you go for something a bit more out there. Bright blues, teals and metallics are perfect for bringing some winter sparkle – and will give your audience a break from those neon reds and greens!
3. Create customized messaging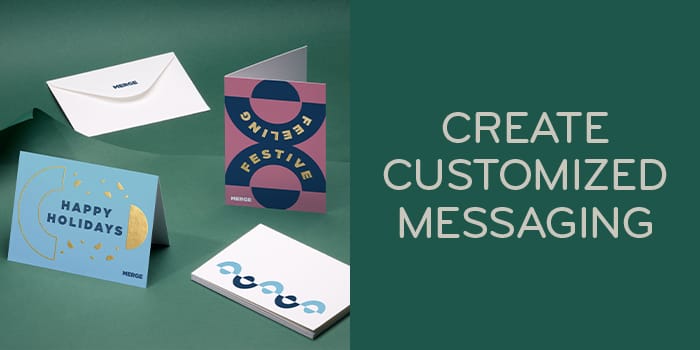 December is full of traditional holidays like Christmas, Diwali, Hanukkah, and Kwanzaa. The holidays mean something different to everyone so it's important to think bigger than Santa. Holiday messaging usually celebrates our shared values but you could go the extra mile by creating meaningful, custom messaging that delights different segments of your audience.
4. Simplify your customer's buying journey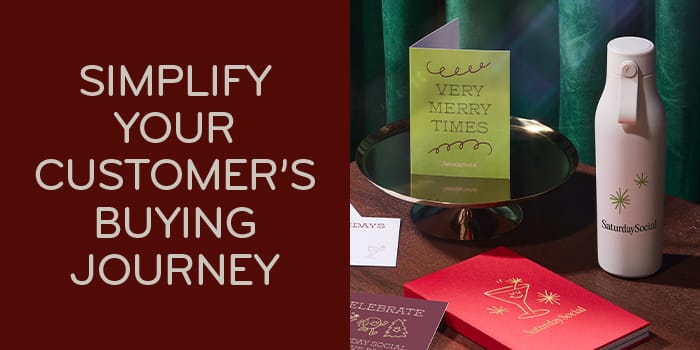 So many brands try to sell everything to everyone. But you can treat your customers like individuals rather than just another sale. A curated gift guide is the perfect no-fuss way to help your customers find what they're looking for. It takes the jargon (and stress) out of buying gifts during the busiest and most overwhelming time of year. Offering a more tailored shopping experience shows your customers you care.
5. Offer more than just the product
We get it – you've got sales to make. And so do your competitors. Avoid relying on the same old product photography and give something a little extra. Create valuable content marketing that's genuinely useful to your customers – such as this holiday checklist. Not only is it fantastic for SEO and getting more eyes on your brand, but it's also a free resource that helps build trust and positions your brand as the expert.
6. Use inclusive visuals
Another way to avoid holiday clichés is to create campaigns that authentically speak to diverse audiences. Feature people of all ethnicities, ages, genders, abilities and body types in your holiday marketing material. When your audience sees themselves represented in your brand, it can help foster a sense of belonging. (Check out one of our favorite inclusive holiday marketing campaigns from Target.)
7. Choose sustainable options
The holidays generate a huge amount of paper waste. From cards, and printed mailers to receipts, your business will be churning through paper at this time of year. Opting for recyclable, responsibly sourced paper is a great way to elevate your brand and cut down on waste. There are plenty of alternatives that don't cost the earth. And when you order in bulk, you can save money on packaging and delivery costs and help slash carbon emissions.
We hope this holiday marketing guide has given you lots of cliché-free ideas to make your brand stand out. If you want to create stunning corporate gifts or place a bulk mail order, we can help bring your holiday plans to life. Simply fill out this form and one of our team will be in touch.
Keep in touch
Get design inspiration, business tips and special offers straight to your inbox with our MOOsletter, out every two weeks.
Sign me up!