Premium without the pretension: McBride Sisters x MOO
When looking for a partner for an ambitious endeavor, the McBride Sisters immediately thought of MOO.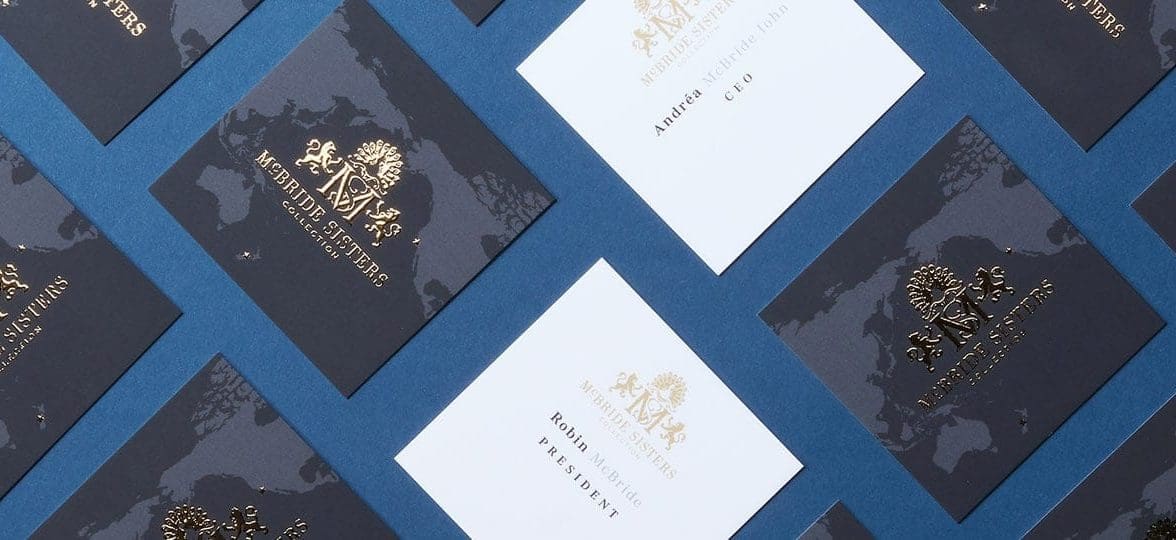 Rule-breaking winery The McBride Sisters Collection needed a paper supplier who could deliver premium materials for a new product launch, their first-ever Reserve Collection of wines. They found what they were looking for in MOO.
About McBride Sisters
As owners of the largest black owned wine company in the U.S., the McBride Sisters, Robin and Andréa, are used to standing out from the pack. Their namesake winery has built a reputation by breaking away from the stuffy attitudes and ingrained conventions typical of the wine industry, earning them a nomination for Wine Enthusiast's Wine Star Awards "American Winery of the Year 2021". Whether it's working to break down gender and racial barriers through their SHE CAN Fund or naming a Pinot Noir "Cocky Motherf*cker," the company fights the good fight and has fun doing it.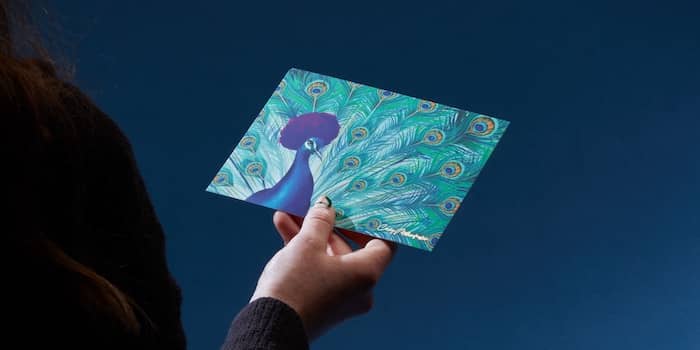 Getting started
The McBride Sisters story began in 1999, when Robin and Andréa, long-lost sisters raised on opposite sides of the world, were reunited. With both McBrides growing up in iconic wine regions of the world — Monterey, California and Marlborough, New Zealand, respectively — the pair soon discovered they had a shared passion for wine that transcended geography and the years apart.
When the sisters started out, they had limited experience and contacts in the wine industry. Breaking through as outsiders — in an industry where knowing the right people is key — took serious grit and confidence.
"At the time the wine industry was a very close-knit, closed-off industry, with a lot of deep tradition, which we respect. But at the same time not a lot of innovation, not a lot of disruption. So we looked very foreign in these situations," said Andréa McBride John, speaking about the company's beginnings on NPR's How I Built This, a podcast where entrepreneurs and innovators tell their stories.
A new approach
In addition to their unique origin story, the sisters set out to handle their business a little differently than the competition. They wanted to sell wine that was as accessible as possible, no snooty posturing needed. In particular, the sisters wanted to speak to those who, as they saw it, had been largely spurned by traditional wine culture — including women, people of colour and younger people. Each wine from the McBride Sisters is crafted to represent the place the grapes are grown and to reflect the sisters signature style of powerful aromatics, elegance and balance, exactly what appeals to their target audiences. Wine collections like McBride Sisters Black Girl Magic Bubbly Rosé and Bubbly Red bring visibility to black women in the wine industry. Other efforts include complimentary wine education courses on Facebook that help new wine drinkers feel comfortable with the norms and terminology of the space.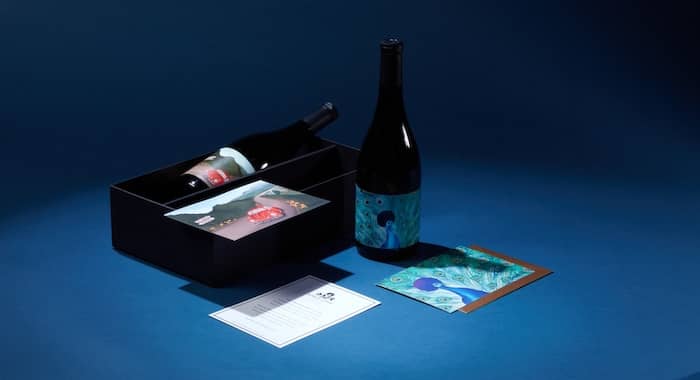 The challenge
With the launch of the Reserve wine collection, McBride Sisters once again wanted to do something a little different. Each bottle would use world-class grapes and adventurous branding to tell personal stories that connected to the Sisters' childhoods. Each wine uses grapes hand selected from vineyards near the sisters' childhood homes. The label artwork, meanwhile, is meant to represent  "pivotal stories" from the sisters' lives — both together and on opposite sides of the world. Their Reserve chardonnay, "The Great Escape," features a red Volkswagen Bug cruising the Pacific Coast Highway in Monterey, California. The aforementioned "Cocky Motherf*cker," is a tribute to the sisters' father and his confidence and presence — with his trademark afro featured prominently on the head of a peacock.
The goal? Become the top-end celebratory bottle of choice for everyone — not just in-the-know wine snobs.
To truly capture these visuals, the team at McBride Sisters wanted an unboxing experience that used premium materials that matched the premium wine found in each bottle. This attention to detail helps McBride Sisters fully develop the customer experience and offer buyers the bells and whistles they expect when spending more for a special bottle of wine.
When looking to find a partner for this ambitious undertaking, the McBride Sisters marketing team "immediately thought of MOO."
The solution
Fortunately for McBride Sisters, MOO was able to offer premium materials and finishes that emphasized the luxurious nature of the Reserve series. Together, the companies created a unique unboxing experience that tells a story about the wine in each bottle, the sisters who made it and the special community who drinks it.
Each bottle comes with a special postcard that's not to be missed. The front of each card displays the label artwork while the back has detailed tasting notes and an invitation to learn more with a QR code that links to the McBride Sisters website. Each postcard was printed with a full bleed watercolour design on MOO's Super Postcards with Soft Touch, a thick paper stock with a coating that adds a velvety look and feel. The postcards also utilize MOO's Gold Foil to up the luxurious appearance.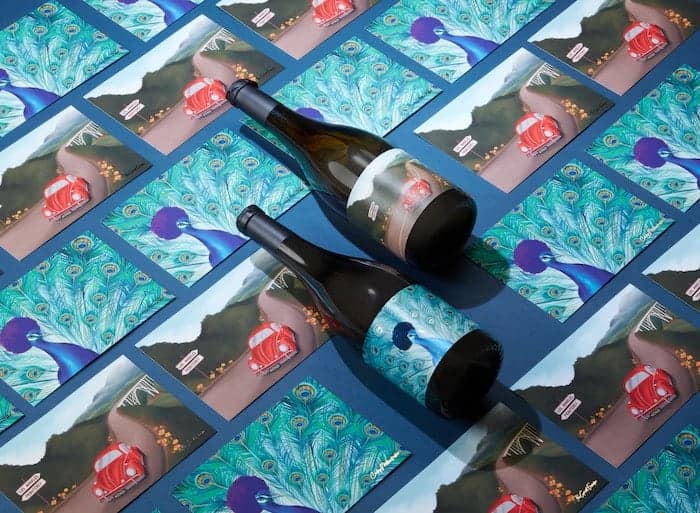 The result has been a product that stands the test of time.
"The postcards were created as a keepsake, informative enough to reference while tasting the wines but beautiful enough to post on a pinboard," said Stephanie Shore, Senior Vice President of Marketing for the McBride Sisters Collection.
Postcards weren't the only place in the branding that the sisters injected a bit of their unique personal story. The McBride Sisters logo, a family crest that includes an interlocking 'M' and 'S' surrounded by a peacock and two lions, features prominently throughout the company's branding. Getting the crest to jump off the page took the right materials for each project. MOO was up to the task.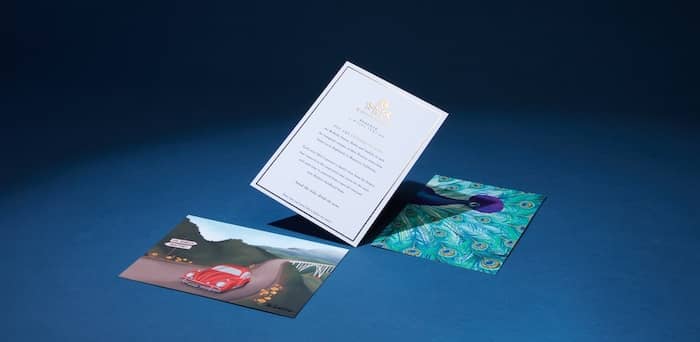 "We have a very intricate, detailed McBride family crest that appears on all our materials. MOO's printing perfectly replicated the crest across all our brand collateral, ensuring the marketing materials stayed true to our brand standards," said Shore.
In addition to working with MOO on the Reserve collection, McBride Sisters has leaned on MOO for employee business cards and to print informational postcards for a brand influencer event. Working with MOO has made each of these projects significantly easier. Using the online platform that's a key feature of any MOO business subscription, McBride Sisters can upload their custom artwork and print in bulk — a must for any company working on such a large scale.
Results
First released to the public in 2021, the Reserve collection tasted great, looked beautiful and was a big hit with customers, who overwhelmingly responded to an unboxing experience that went above and beyond.
"Our goal was to create a beautiful unboxing experience for our Reserve Collection gift set. Customers definitely appreciated the extra care and thought that went into the packaging. We got fantastic feedback on our social feeds and during the virtual tasting event," said Shore. These gift sets have also sparked interest among both consumers and corporate clients for the upcoming Holiday season. Shore says companies interested in supporting black-owned businesses for corporate gifting can email shop@mcbridesisters.com.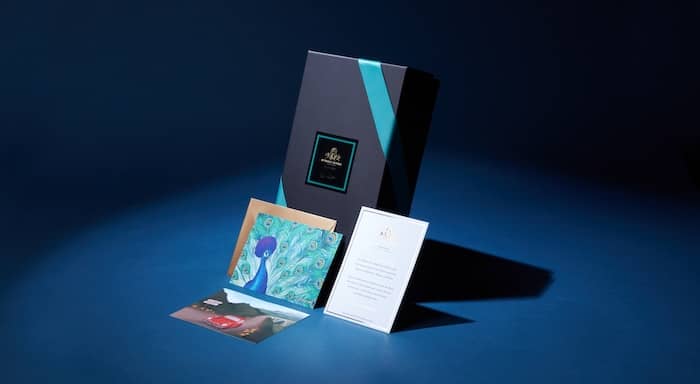 Overall, for McBride Sisters, the value of working with MOO was having a partner they trust to maintain the high levels of quality that match their brand standards. In addition to high-quality materials, the MOO subscription service's online platform has made repeat orders simple, and constant access to a dedicated account manager has helped the McBride Sisters team complete projects easily on a tight timeline.
"Working with MOO has made it easy to meet our deadlines, thanks to their quick turnaround times. Their team was easy to work with, highly communicative and responsive to all of our questions," said Shore.
From their unlikely origin story to their innovative unboxing and philanthropic efforts, McBride Sisters winery is always looking for new ways to share great wine. An uncompromising spirit is a part of everything they do. Luckily, when they work with MOO, they know that compromising won't be necessary.
For more information on how a Business Plan with MOO can help your organization take its branding to the next level, check out our business printing services.
Fill out the form here and a friendly Account Manager will reach out to you.

Keep in touch
Get design inspiration, business tips and special offers straight to your inbox with our MOOsletter, out every two weeks.
Sign me up!