Making movement fun with Kitty and Vibe
Kitty and Vibe continues its mission to drive positivity and self-love with long-time partner MOO.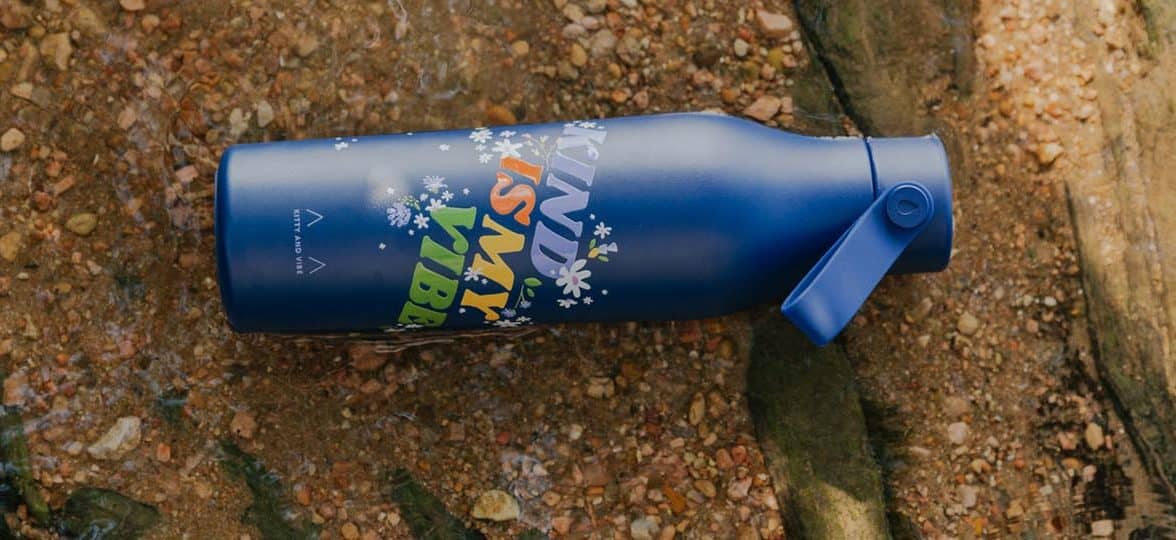 When the positivity-driven clothing brand Kitty and Vibe, made the decision to enter the athleisure space, the team needed a partner who could match their energy: inclusivity, kindness and sustainability all wrapped up into one well-designed product.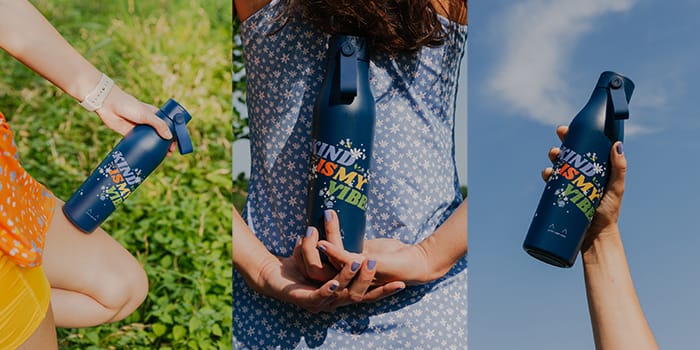 About Kitty and Vibe
The team at Kitty and Vibe, a direct-to-consumer clothing company, is accustomed to making a big splash.
The inclusive company is changing the way women experience shopping for swimsuits, offering the very first bikini bottoms tailored to shoppers' specific sizes. Each pair comes in two options for every hip size, ensuring customers get the perfect fit. But, when CEO and founder Cameron Armstrong first created the company in 2018, she set out to build a community driven by more than just a great product.
Kitty and Vibe exists to awaken and fuel self-love for a kinder world. The team believes that the ability to feel self-love is within everyone and a great-fitting swimsuit can manifest that feeling. However, the good vibes don't just stop there. Kitty and Vibe is also committed to being a sustainable and ethical label. This includes ensuring high-quality conditions for all workers, using 100% recycled packaging and manufacturing nearly half of its swimwear line using sustainable fabric with 82% recycled polyester.
Now, the brand is bringing that commitment to an entirely new product space with its latest offering: the Play Dress.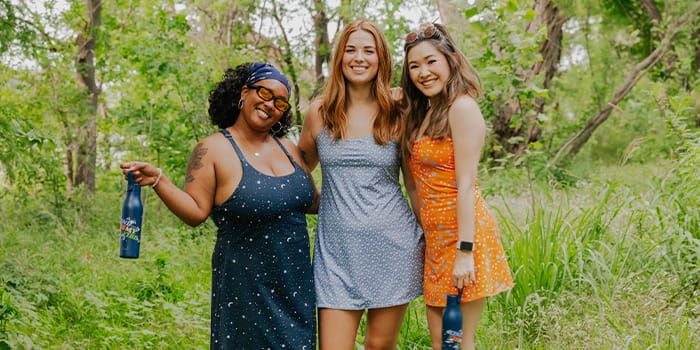 The challenge
As Sarah McRae, assistant brand manager at Kitty and Vibe, shared, for many people, movement and exercise can be an unenjoyable activity.
McRae and the team at Kitty and Vibe knew that the next step in the brand's journey was changing that narrative by creating a product in which people could feel safe, comfortable and actually enjoy movement. The Play Dress seeks to do just that. Made from the same sustainable and comfortable fabric as Kitty and Vibe's swimsuits, the ultra-supportive athleisure garment is perfect for exercise, water activities or just day-to-day life.
"Swimwear is our bread and butter, and we knew expanding into a new category, like athletic wear, was going to bring in some hurdles," explained McRae. "Making sure the final product was on par with our current sizing and that the messaging was digestible and made sense to our community was a challenge."
As McRae shared, the team at Kitty and Vibe knew that expanding into a brand new category would bring potential risk. To incentivise customers to try the brand's very first take at athleisure, the team wanted to create an exclusive offer that shoppers couldn't resist. Bringing this idea to life meant working with a partner who shared similar values — one that was design-focused, value-led and committed to achieving more sustainable practices.
Fortunately, Kitty and Vibe has been working with a brand that checked each of those boxes since the very beginning.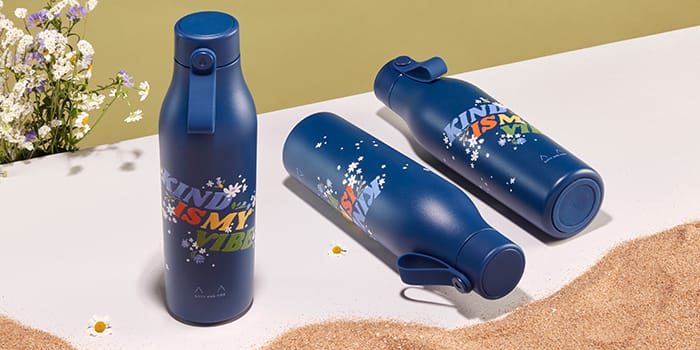 The solution
Great brands think alike. This is why Kitty and Vibe has partnered with MOO since it was first founded. Since 2018, the clothing line has used MOO's Square Postcards for its 'Intention Cards', which are included in every Kitty and Vibe order. 
"When you order a swimsuit from Kitty and Vibe, it comes to your doorstep with a mood-boosting playlist that matches the 'vibe' of your suit," explained Cameron Armstrong, CEO and founder of Kitty and Vibe. "We provide what we call an 'Intention Card' with a link to the playlist as well as instructions on how to get into a positive mental state for a more comfortable and enjoyable try-on experience. We've been ordering our intention cards from MOO since day one."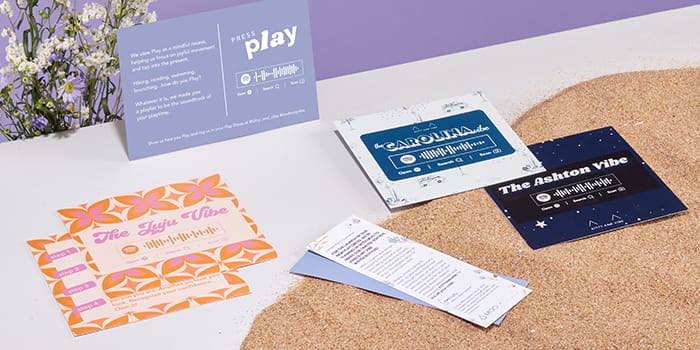 With shopping online, it's easy to lose some of the experiential components of a brand. However, the Intention Cards truly capture the ethos of Kitty and Vibe while allowing the customers to become familiar with the personality of the brand. In addition to creating new Intention Cards, Kitty and Vibe wanted to go the extra mile with MOO's support to truly delight loyal shoppers.
Taking kind vibes a step further with Water Bottles
Kitty and Vibe had three key asks when it came to developing this special offering. First, the product needed to reflect the brand's motto, "kind is my vibe." Second, it needed to align with living a sustainable lifestyle. And finally, given the fun, colourful patterns that help make the Play Dress so unique, the product needed to share the same energy. Given those needs, the MOO team had the perfect solution up their sleeve: the Water Bottle with a custom, 360° wrap. 
"The Water Bottle was a natural addition to help launch our Play Dress, as we wanted to show that this dress is for every activity and for everybody," explained McRae.
To get started, MOO's design services team drew inspiration from the brand motto and the Play Dress colours to create a bottle that truly embodied the brand's spirit. And, by using the reusable bottle to hydrate throughout the day, Kitty and Vibe customers are carrying that very spirit with them, being kind to both themselves and the planet.
"It was so special and rewarding to see our ideas come to life"
"The design process was awesome," said McRae. "It was so special and rewarding to see our ideas come to life by the MOO's design team. They listened to all our feedback and crafted something that feels 100% true to the brand. Our favourite part of the process was seeing all of the iterations of the logo and the water bottle. In the end, it was a tough choice because all of them were so beautiful and thoughtfully designed."
After working with Kitty and Vibe to perfect their vision, the team at MOO hit the ground running, offering the brand support and guidance along the way to ensure the products would be ready to go in time for the big launch.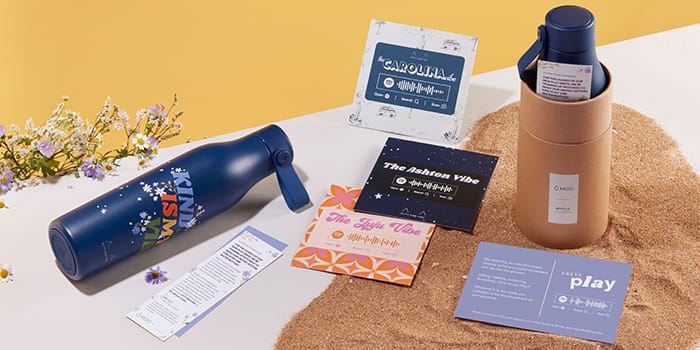 Results
The Play Dress officially launched on May 23, and the Kitty and Vibe team is delighted to share that customers are loving it.
"Typically we see a 25% repeat customer rate on new launches," explained Armstrong. "With the help of the Water Bottle, we saw a 47% repeat customer rate on the first 200 sales of the dress!"
Overall, Kitty and Vibe shared that the feedback has been overwhelmingly positive. The team has even received a few messages from customers saying they were so pleasantly surprised with their gift, and they're so excited to have a matching bottle to go with their dress.
"With the help of the Water Bottle, we saw a 47% repeat customer rate on the first 200 sales of the dress!"
"It's exciting to see our slogan, Kind Is My Vibe, come to life with the MOO Water Bottle," concluded McRae. "This item helps spread our message because it feels like such a conversation starter between a passionate customer and someone who may have never heard of our brand. It's a conduit for people to understand what we stand for and what our community stands for."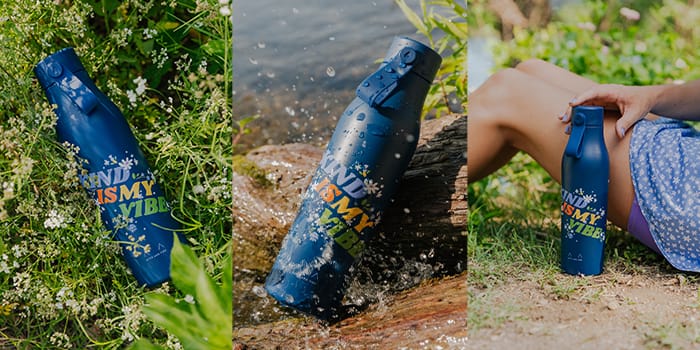 From lake activities to hiking to running errands, the Play Dress and the Water Bottle make the perfect pair for staying cool this summer. And, a co-branded bookmark that came in every package helped explain the partnership and the synergies between MOO and Kitty and Vibe while also offering shoppers an extra treat from the team at MOO.
Although Kitty and Vibe quickly sold out of the original 200 bottles it offered to the first Play Dress buyers, the brand is excited to announce that the Kind Is My Vibe Water Bottle is now for sale on kittyandvibe.com.

Whether you're looking to spread the good vibes this summer or simply get the word out about your brand, the Water Bottle is here to help you make a big splash.
.
Keep in touch
Get design inspiration, business tips and special offers straight to your inbox with our MOOsletter, out every two weeks.
Sign me up!