Letting the good times flow with MOO Water Bottles
The launch of our Water Bottle was a way to bring the team together and celebrate our accomplishments.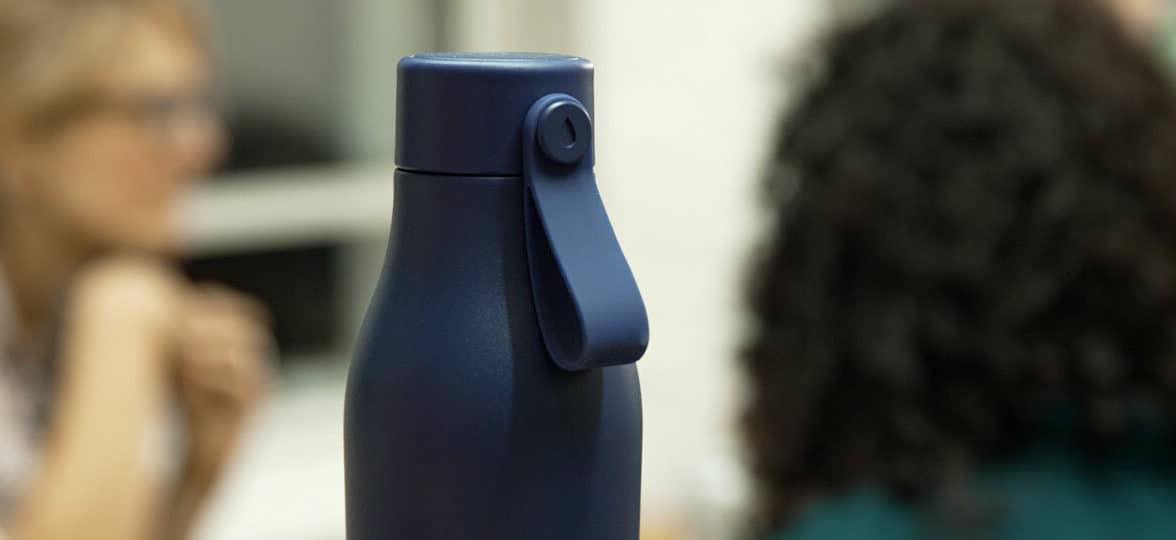 When we first launched in 2006, our company had two goals: disrupt the trillion-dollar global print industry and bring great design to everyone who wanted it. Now, following our 15 year birthday, MOO is continuing to make history with our pivot into branded merchandise. 
About MOO
For MOO, paper has always been the name of the game. However, as employee engagement continued to emerge as a critical driver of success in today's competitive marketplace, our team knew it was time to do what we do best: get creative. From our own experience, we know that thoughtful gifting can go a long way when it comes to recognizing and cheering on team members. The more you reward and celebrate your employees, the more likely they are to feel fulfilled and valued.
After nearly two years in concept and development and several requests from our customers, the solution became clear: Water Bottles.
"We wanted to disrupt the branded merchandise industry as we did for print"
For employees and employers alike, gifting can make a huge difference. Teams feel noticed for all of their hard work and contributions, and in response, an organization can use its positive culture to continue to attract and retain talented employees. At the end of the day, a well-chosen gift from an employer represents far more than a piece of free swag — especially when that gift is sustainable, long-lasting and great-looking.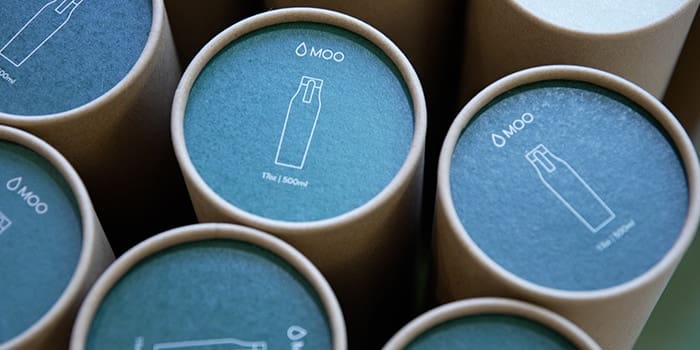 "The market lacked any premium branded merchandise options, offering either fully bespoke solutions for companies which have resources and volumes to afford it or mass single-use items," explained Elisa Orlandi, Associate Director of Product Marketing here at MOO. "We wanted to disrupt the branded merchandise industry as we did for print: bringing great design to everyone, by creating products to be kept forever and which can foster a sense of community among employees and customers — this is what we call 'creating sustainable impressions'."
The challenge
With a pivot so major, it was hardly a surprise that the Water Bottles quickly became an all-hands-on-deck initiative within MOO. 
"'Tackle it together' is one of the key MOO values and it is embedded in everything we do," explained Ebba Long, Head of Brand Marketing at MOO. "The development process was a learning exercise, and all of our teams rolled up their sleeves to step into a new category, making sure they never compromised on the high-quality standards that MOO is known for."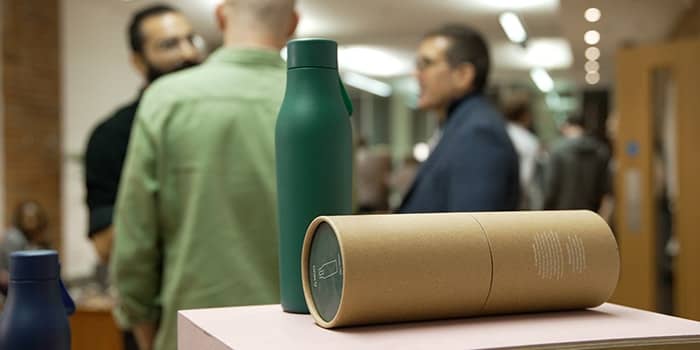 As our entire company continued to forge ahead on the Water Bottles, the team at MOO faced the very challenge we were working to solve for customers. Building a personal connection with employees has never been a "one and done"-type of initiative, but remote working has only proved to make it that much more difficult. As so many departments joined onto the project, we knew we needed a way to really reach out to our team members and say thank you for all of their hard work. 
Fortunately, we realized we already had the answer sitting in our arsenal: MOO Water Bottles.
The solution
As it became safer to gather in person, MOO was presented with the perfect opportunity to showcase the new product and celebrate everyone's achievements: our company's 15th birthday.
"We couldn't wait to hand bottles out to all of our employees in person (finally!) and put together an event, taking advantage of celebrating the 15 years MOO has been in business as well as the launch of our new Water Bottle," said Long. "We wanted to create a moment where everyone could see the bottle up close and personal. Each one features a special branded MOO logo in silver etching created specifically to mark the achievement."
"We wanted to create a moment where everyone could see the bottle up close"
Gifting Water Bottles to all of the employees at MOO not only represents a massive thank you, but it's also a way to show appreciation to the entire company for the success of the launch. A tangible product has the ability to speak volumes on what great teamwork can look like and what they can achieve together in a way that can't be achieved digitally.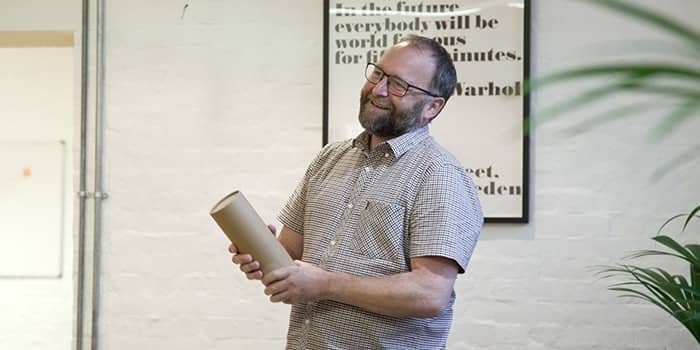 While the Water Bottles officially dropped on the MOO website at the end of September, the company's birthday bash served double duty. Not only did the team come together for an informal launch party, but they were also able to celebrate the brand's 15-year long history as well as what's to come.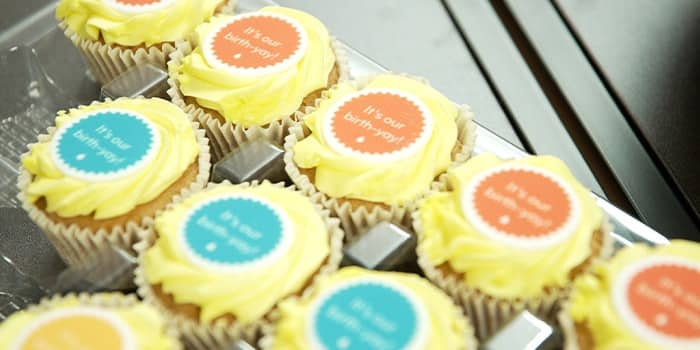 Results
Following the big celebration, it's clear that our teams can check off Water Bottles as a major win. 
"[The Water Bottle] has been on our radar for a long time," shared Efé Esomitoje, Email Marketing Manager. "It's been so great to see it come to fruition. It took a lot of hard work and a lot of intelligence and creative people coming together."
The Water Bottle not only demonstrates the hard work and dedication of every team at MOO, but it also goes to show how far MOO has come during our 15 years.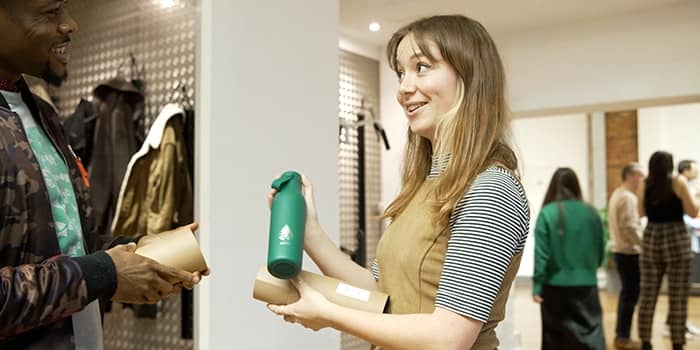 "I've been at MOO for about a third of its life, and in that time I've seen it grow enormously," said Calum McGee, Senior Technical Product Owner. "It's exciting thinking about all the new products and vendors we can onboard outside the world of print. I think for MOO, making Water Bottles serves as a demonstration that our design quality really isn't limited to print. We can do anything we put our minds to." For teams here at MOO, it's also been incredibly rewarding to see firsthand how customers are using the new product.
"Any reason to make people feel special"
"We're seeing lots of different reasons why customers are buying the Water Bottle," explained Gina Cothey, SVP of Marketing. "From opening up new offices to customer gifting to new employee start boxes, and really just any reason to make people feel special."
After 18 months of not being able to come together in person, the party also served as a chance for colleagues to catch up on all of the moments they couldn't share together.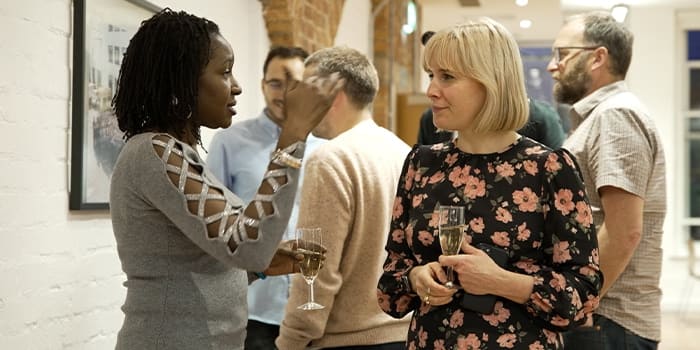 "What I've missed most about having the team together is having the chance to speak to those I may not directly work with and learn from what they're doing," explained James North, Creative Director. "Those things happen so much quicker in person and you really can't get that working remotely. Tonight, there are all of these little moments of serendipity happening that we've all missed so much."
As team members got re-acquainted and celebrated the successful launch of MOO Bottles, all it took was a glance around the room to find a tangible reminder of the accomplishment that was two years in the making. Following the party, MOO employees took to social media to share their excitement about the Water Bottle.
"What an exciting first couple of months I've had at MOO —  joining on just in time for the launch of the #MOOwaterbottle," posted Helen Daglish, Social Media Manager at MOO. "It feels great to have my very own custom bottle, helping me stay refreshed and focused working from home. Thanks MOO!" Daglish was far from alone in her excitement as several other team members similarly showed off their new swag.
When asked about the Water Bottle, employees here at MOO were excited not only by the gift but also at the prospect of what lies ahead.
"There was this tremendous feeling of pride after having crossed the finish line"
"MOO has grown in the paper industry and is now ready for a new challenge," concluded Orlandi. "When the water bottles were first given out to employees, there was this tremendous feeling of pride after having crossed the finish line. Now, we're all excited to see what we have coming down the pipeline."
If one thing's for certain, it's that Water Bottles are just the beginning of new and exciting products for the company.
Want to create your own Custom Water Bottles? Fill out the form here and a friendly Account Manager will reach out to you.

Keep in touch
Get design inspiration, business tips and special offers straight to your inbox with our MOOsletter, out every two weeks.
Sign me up!